Research & Trends: Free Reports, White Papers & Videos
Best practices in training are constantly evolving. Indeed, even the most effective training methods need to be modified over time to ensure top results.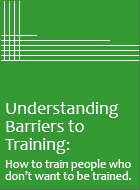 We understand that free training resources are critical to helping small to midsize business owners stay on top of the latest research and trends. That's why we've created these free well-researched training resources to help you. Read, download and share any information you see here. Don't forget to also get your free eLeaP account to see if training management software or a learning management system can help you develop, deliver and track your employee development efforts.
More Resources & Reports…
New: Audio White Papers
New: Video Discussion Topics
To help you get started, we have also added a video discussion topics section. We analyze and discuss topics in training, e-learning and talent management and development. Download these free resources now.
More Well-Researched Blog Articles