Comprehensive Learning Management System
A validated Learning Management System – Free trial available
Take your training to the next level. The eLeaP Learning Management System gives you a choice of 3 powerful modules (Standalone, Enterprise or eCommerce) to take care of every aspect of your training needs. There's a reason we're a top 10 LMS among learning platforms.
Did you know companies that use eLeaP generate 26% more revenue and have increased employee retention? If 41.7% of Fortune 500 companies use top Learning management systems like eLeaP, shouldn't you? Did you also know that eLeaP cuts down instruction time by up to 60% and provides better compliance documentation? Click here to schedule your free learning management live demo. Can't wait? Call us 877-624-7226 to speak to someone right away.
Why Choose eLeaP Learning Management System?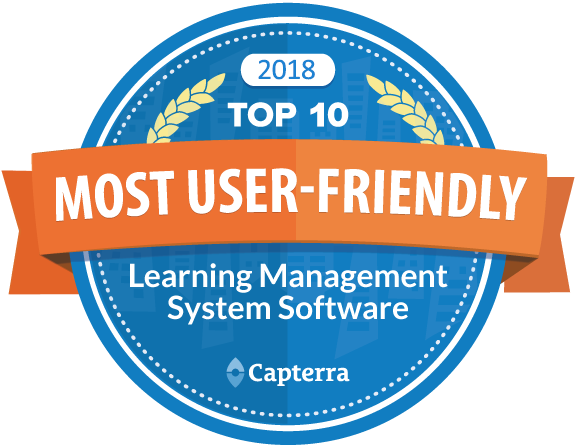 eLeaP is a leader in the e-learning industry because its validated learning management system is flexible, adaptable and customizable. See how organizations like Quanticate, Agos IT, Dealer Solutions and Hohman Plating transformed from a people-dependent environment to a process-dependent system. eLeaP is so easy to use and can be up and running in no time. In fact, we are so confident, you can ask us anything; including competitors. With eLeaP, there is nothing to download, no hardware or software to maintain and no IT staff needed. Your custom, secure e-learning system can be ready in less than 30 seconds.
What You Get With An Online LMS
Use eLeaP learning management system to easily create and track training.
It's so simple. You don't even need a credit card to get started free.
And, that is why you need a Learning Management System!
A robust Learning Management System (LMS) can save you time, reduce costs, and provide increased flexibility.
If you are still in doubt about whether to invest in an LMS or not, here are top seven benefits that are sure to convince you about its true potential.
#1: Save time and money
An LMS software helps you create training programs in a jiffy. Unlike traditional face-to-face training, programs created on an LMS are convenient and can be organized as per the convenience of the learner. This saves precious time that can then be utilized for other productive tasks. Online learning, also, saves a lot of money. You do not need to spend on transportation and accommodation. You don't need to invest in venues and training equipment. It saves you money on stationery too, and that way, you get to reduce your carbon footprint, by using less paper. Online courses created on the LMS can be reused multiple times. So, you need not invest in hiring instructors every time.
eLeaP™ allows you to create, manage, and launch your web courses with ease. There are easy-to-learn tools that guide you through the process. Features like course listings, prerequisites, interactive tools, assessments, feedback forms, release rules, and much more add to the design components. Connect with our in-house experts if you have custom course development requirements.
#2: Advocate self-service
A good LMS encourages your employees to take charge of their own learning. All learning collaterals are uploaded to a centralized location. Employees can access them anytime they want, from anywhere (most times using any device they have). The system ensures that every learner has access to the same content and the user experience is consistent. The LMS allows the learner to choose their learning path and decide what they wish to learn and when. Microlearning is a trend that is sweeping companies because this method of learning works to fit the learner's schedule, not the other way around. Another benefit of being centralized located is that you can update the existing training content, without any hassle. You can add new content or edit existing content and it will get updated within a very short time.
The eLeaP™ LMS is web-based. You do not need to install any new software. Our system encourages self-service and provides a seamless user experience. We keep adding new features and, also, provide free backup of your files.
#3: Improve performance through reporting tools
The LMS can go a long way in enhancing learner performance with the help of the right reporting and tracking tools. It can track the progress of the learners, store learner scores, and point out the areas that need improvement. An efficient system will have a reporting functionality that saves time. It is even better if the reports and notifications are delivered to your inbox, automatically.
The eLeaP™ LMS has automated Smart Assigning rules and flexible reporting features. It helps you improve your courses by implementing suggestions and feedback loops from users. You can export the report data to Excel, just with a click of a button. There are also APIs to integrate the report with your Human Resource Information System. Reports are available in numbers as well as graphic representations. You can send out invitations and reminders, collect feedback, and document the results.
#4: Customize content easily
You can create customized e-courses with the help of text, graphics, video, and audio content. Not all learners like to learn in the same manner. Some may like to learn with the help of videos. Others may prefer text and graphic. The LMS allows you to customize your training content based on learner needs.
eLeaP™ has flexible branding and customization features where you can personalize course content, add your logo and color scheme, and even instructions for your participants. Consultants and HR companies can even check out our White Label LMS option.
#5: Conduct online tests
Most LMSs provide options for creating assessments and quizzes. It enables you to assess the learning levels and learner understanding of the concepts. Evaluation is a crucial step towards knowing how the learners have learned the concepts.
eLeaP™ has robust assessment features that help you create your quizzes. You have the option of choosing from several different types based on your need – Multiple Choice/True False, Sequence/Sort/Order/Ranking, Essay/Short Answer/Explanation, Multiple Choice with Explanation and Hotspot, Find Errors. You can randomize the order, allow multiple tries, set a time limit, and so on. For continuing education, eLeaP provides the robust platform to enable your accreditation application to be successful.
#6: Manage classroom training
Web-based learning is convenient. But, there are topics that may need classroom training. You cannot write off instructor-led training, completely. With the eLeaP™ instructor-led training tracking system, you can schedule and track classroom learning with its powerful tools. It also has s forum system where you can create group discussion topics for the learners to collaborate. The privacy of the forum is secure. So, you can post without any fear of it landing up on the social networks.
#7: Manage regulatory requirement
Most industry sectors and organizations are required to use assessments to ensure regulatory compliance. It is a good idea to use the LMS to plug human errors and ensure that your employees are on track with the regulatory and compliance requirements.
eLeaP™ has a wide-ranging library of pre-built compliance courses. You can choose the ones that apply to you and get started. There is no need to reinvent the wheel
Myth Vs Reality
So, are you convinced about the benefits of Learning Management Systems? A robust LMS can really help maximize the Return-on-Investment for your organization. However, there are many organizations that have fallen prey to various myths and assumptions related to LMS's. and, as a result, they are yet to utilize the system to its full potential. But, they are just myths and need to be busted.
Here are top five myths that are associated with an LMS. We have busted them with logical explanations.
Myth 1: Cost incurred on an LMS should be treated as an expense.
Most organizations view the cost incurred on an LMS as an expense. That is a huge mistake. There is, definitely, a cost involved in the installation and regular operation of an LMS. But that should not be viewed as an expense only. It is an investment. The return brings to the organization in terms of productivity and profitability, cannot be ignored. In fact, in the long run, if you are to calculate the cost versus benefit ratio, the benefits will far outweigh the costs.
Myth 2: You need to buy all the modules in an LMS
There is a common belief that you need to buy all the modules of an LMS in order to conduct effective training online. This is far from the truth. There is no reason for you to buy all the modules from the entire range. The ones you buy will depend on the training needs of your organization and how your target audience prefer to learn. So, it is essential for you to set your learning goals and chalk out the training plan before you choose the relevant modules from an LMS.
Myth 3: LMS is only effective for delivering e-learning content
This was true a few years ago; LMS was able to deliver only e-learning content. But, with time, the system has developed. It can, now, offer a variety of features to the end user. Delivering e-learning is only one of the many features of an LMS. It is capable of conducting live sessions, enabling social learning, and so on.
Myth 4: It takes a lot of time and effort to manage an LMS
Yes. It does take some time and effort to manage an LMS, initially. But, you need to focus on the long run, where this effort will pay off. Once the LMS is set up, you can choose to automate various functions. Also, an LMS will reduce the number of manual hours you were spending on training your employees.  The time and cost-saving it brings about, offset the time and effort spent during the initial installation period.
Myth 5: Switching to a new system is a challenge
Yes, switching to something completely new is a challenge. But nothing good comes easy. If you have decided to adopt a new system, use these LMS implementation steps to educate your employees and prepare them for whatever challenges that lay ahead. The initial phases can be difficult. But, at the end of it, you will emerge a winner and that's all that matters.
Hopefully, busting these myths will help you take the right decision regarding your training needs.
Future trends to look out for
The evolution of the LMS brought about numerous changes to the learning ecosystem. What do you think the future holds for the humble Learning Management System? We may not be able to predict exactly, but here are some trends that show where we are heading.
Open Software-as-a-Service (SaaS) Solutions
Cloud-based SaaS solutions ensure that the LMS can be set up without inconvenience. But, they too have their limitations. The most prominent one is the lack of customization. Open-source platforms allow customization and personalization. But, the expenses incurred for administration is high. So, we need a delivery model merging the best of both – Open SaaS.
Gamification
Gamification refers to using gaming elements and mechanics in non-game scenarios. It enhances knowledge retention and learning speed amongst learners. The learning sector has taken to this trend in a big way. We might see an enhanced integration of the gamification concept in the LMS.
Socializing
Social networks have been able to lure an entire population into sharing information. Social is a huge trend in learning, too. LMSs employ the familiarity that the learners have in their social circles and encourage them to learn in a collaborative manner.
Blended learning
Blended learning modules merge the best of digital and practical learning experiences. LMSs are built in a way to facilitate this mode of learning. It makes scheduling assessments easier and more organized.
How to choose the LMS that is a perfect fit for you?
When you consider investing in an LMS, there are numerous factors to keep in mind. Here are the top four factors that will help you take the right decision.
#1: Set your goals and expectations
Before you start comparing the numerous LMS that are there in the market, you need to set your own expectations and goals. Analyze your needs. What are the skill sets that you wish to improve? What is the outcome you expect? Who is your target audience? Move ahead only when you have clear answers to all your questions.
#2: List out the features you need
There is a wide range of features that you can choose from. You need to narrow the list down to the top few features that are important for you.  Some features that might interest you can include, assessment quizzes, discussion forums, robust security, automated notifications, and so on. Prioritize the list and shortlist the LMS vendor on that basis.
#3: Figure out how much support services you need
You need to decide on the kind of support services that you need. Some organizations need minimal support from the vendor. Others will need regular handholding. You need to check with your vendor on the kind and frequency of support services they have.
#4: Keep the technical limitation of the audience in mind
Your employees may not be tech-savvy. Or they may be technologically progressive. Whatever it is, you need to keep this factor in mind, as it will determine the kind of activities and multimedia you can use for your course. You have to choose an LMS that supports the activities.
Choose wisely. The right LMS will open up the path of huge opportunities as far as the learning needs of your organization is concerned. eLeaP is a leader in the e-learning industry because its learning management system is flexible, adaptable and customizable. Click here to schedule your free learning management live demo. Can't wait? Call us 877-624-7226 to speak to someone right away.
Don't Just Take Our Word…