Learning Management System Made Easy
Not all learning management systems are the same. Get one that is comprehensive, intuitive and easy to use. See how eLeaP Learning Management is different.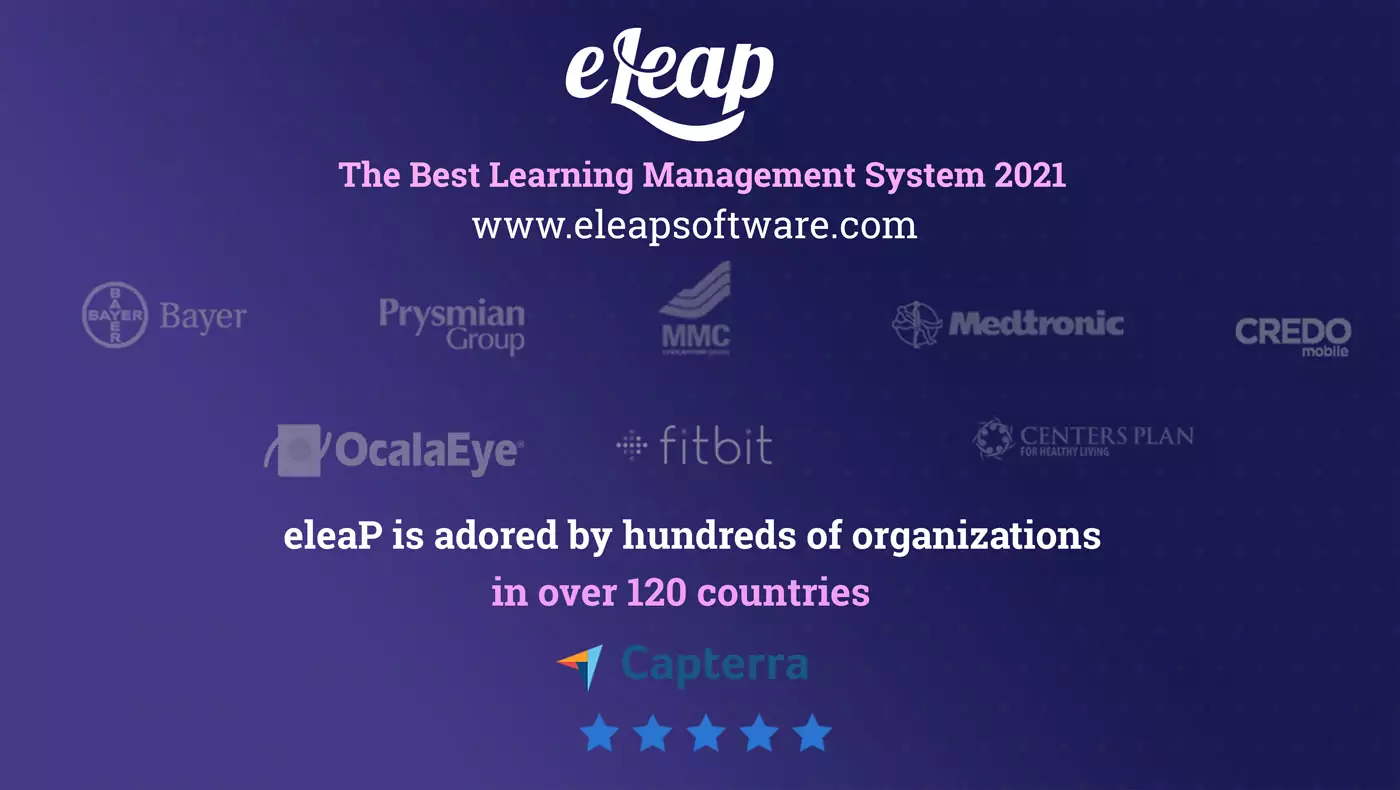 Why you need a Learning Management System
Maximize efficiency, minimize expenses, and enjoy unparalleled adaptability with an advanced Learning Management System (LMS). Still weighing the value of an LMS investment? Discover the eight pivotal advantages that underscore the transformative impact of a leading-edge LMS solution on your organizational learning and development strategy.
Save Time and Money

Firstly, harness the power of a comprehensive Learning Management System (LMS) like eLeaP™ to save time and cut costs. Importantly, this approach does not compromise the quality of your training programs. An LMS streamlines course creation, management, and tracking, thereby enabling you to achieve and exceed your learning goals easily.

In contrast to traditional training methods, an LMS offers flexible learning. For instance, learners can access e-learning courses at their convenience, freeing time for other activities.

Moreover, an LMS reduces financial burdens by eliminating the need for physical venues, transportation, accommodations, and training equipment. As a result, this leads to significant cost savings. Furthermore, the eco-friendly approach cuts down on paper use and reduces your organization's carbon footprint. Also, the reusability of online courses means repeated dividends from your initial course development investment, thus eliminating the need for recurrent hiring of instructors.

Advocate Self-Service

Empower your workforce with a premier Learning Management System (LMS) like eLeaP™. This system centralizes all training materials, allowing employees to access resources anytime and from any device. Consequently, this fosters self-directed learning.

This accessibility ensures a consistent user experience and uniform content delivery. It also allows employees flexibility in choosing their learning modules, thus tailoring their development to fit personal and professional needs. This method emphasizes efficiency and convenience, moving away from the rigid schedules of traditional training.

Improve Performance Through Reporting Tools

Enhancing learner performance is crucial with a top-tier Learning Management System (LMS) like eLeaP™. Advanced reporting and tracking tools monitor learner progress and record scores. This personalizes learning paths and streamlines administrative work. For instance, reporting features automate the delivery of reports and notifications.

The system takes this a step further with automated rules and flexible reporting. These features are essential for refining courses based on user feedback. Additionally, exporting reports to Excel and API compatibility for integration with HR systems enhances performance analysis. Moreover, the system efficiently manages communications, sends timely invitations and reminders and collects feedback.

Easily Customize Content

Customizing educational content is essential in a sophisticated Learning Management System (LMS). An LMS should cater to diverse learning preferences by integrating various media forms. This customization ensures learners' needs are met, whether they prefer visual aids or detailed text.

eLeaP™ enhances customization with advanced branding options. You can infuse your courses with your organization's identity, aligning the learning experience with your brand. For consultants and HR firms, eLeaP™ offers a white-label solution, providing opportunities to offer a branded learning platform.

Conduct Online Assessments

Assessments and quizzes are fundamental in any Learning Management System (LMS), like eLeaP™, measuring learners' understanding and retention. Online evaluations indicate each learner's grasp of concepts. Regular testing ensures effective communication and comprehension.

eLeaP™ streamlines quiz creation with robust assessment tools. Instructors can choose from various question types to suit different needs. These features contribute to a comprehensive and adaptable testing environment, supporting accreditation efforts in continuing education.

Manage Instuctor-led Training

While web-based learning offers flexibility, certain subjects are best taught in traditional classrooms. Recognizing this, eLeaP™ includes functionality to manage in-person training events. This feature allows the integration of traditional and digital learning methods. Additionally, the system provides a secure forum for collaborative discussions, encouraging open communication while ensuring privacy.

Manage Regulatory Requirements

Regulatory compliance is crucial in many industries. An efficient Learning Management System (LMS) like eLeaP™ simplifies compliance training with pre-designed courses. These resources enable quick training deployment, ensuring teams are informed and compliant, streamlining regulatory adherence.

In addition, eLeaP is a validated platform to help organizations in life sciences, aviation and other industries meet stringent federal and international compliance standards.

Future-Proof Learning & Development

Finally, it's crucial to ensure that learning and development initiatives remain relevant over time. eLeaP™, an adaptable Learning Management System (LMS), is engineered with the future in mind. It continually updates and advances, adapting to emerging trends and new technologies. Such a platform ensures the longevity and relevance of your learning programs, making it a growing investment for your organization.
Myth Vs Reality
Are you fully onboard with the transformative benefits that a Learning Management System (LMS) can offer? Leveraging a robust LMS can significantly amplify your organization's return on investment. Nonetheless, misconceptions and unfounded myths about LMSs often hinder many from harnessing their full capabilities. It's time to dispel these myths with clear, rational explanations.
Below, we debunk the top five myths surrounding LMSs, providing the facts to appreciate the full spectrum of possibilities that a well-implemented system can unlock for your organization.
LMS is Just an Expense

The view of LMS costs as merely an expense is a misconception. While there is an upfront investment for setting up and maintaining an LMS, it should be considered a strategic investment, not a one-time expense. The value of an LMS goes beyond its initial cost. It streamlines training processes, enhances learning outcomes, and improves organizational efficiency. This investment yields returns such as increased productivity, improved employee performance, and profitability. These benefits accrue over the LMS's lifespan, showing a favorable cost-to-benefit ratio.

Additionally, investing in an LMS is an investment in your organization's human capital, its most valuable asset. The LMS's ability to provide tailored training, scalability, and flexibility make it a continually contributing asset to organizational growth. Therefore, from a long-term financial perspective, the benefits of an effective LMS outweigh the initial and operational costs, validating the investment decision.

Need to Buy All LMS (Learning Management Software) Modules

The idea that buying every module in an LMS is necessary for successful training is a myth. The effectiveness of an LMS depends not on the number of modules but on selecting features that align with your organization's training objectives and learners' preferences. Every organization has unique training needs, and an LMS should adapt to these.

Therefore, by evaluating your training goals and understanding employee learning preferences, you can choose relevant modules. This targeted approach ensures effective, engaging training and avoids spending on unnecessary features. Customization is critical: select modules that best serve your organizational training plan and offer the most value to learners.

LMS is Only for E-Learning Content

Believing that an LMS is only effective for e-learning content is outdated. Modern LMS platforms have evolved, offering versatile features for various learning experiences.

Today's LMS can handle live training sessions, replicating the interactivity of a classroom online. They support social learning through forums and community features and integrate multimedia elements. More so, LMS platforms offer sophisticated analytics for tracking progress and support mobile learning. These developments make the LMS a comprehensive learning tool, extending far beyond just delivering e-learning content.

Managing an LMS is Time-Consuming

There's a misconception that managing an LMS is overly time-consuming and labor-intensive. Indeed, the initial setup and getting familiar with the system require time and effort. However, this is an upfront investment that you should balance against the long-term benefits.

Once the LMS is operational, its efficiency in training and development processes becomes apparent. Automation within an LMS handles repetitive tasks, scheduling, and follow-ups, saving human resources. This significantly reduces the manual workload for training facilitators.

By making training administration more efficient, an LMS allows employees to focus on work that directly contributes to the organization's goals. Thus, the time and cost savings from an LMS usually outweigh the initial setup efforts, proving it to be a smart investment for efficient organizational learning.

Switching to a New System is Challenging

It's common to feel apprehensive about moving to a new system, like an LMS. Change brings challenges, but the idea that switching to an LMS is too complicated is a myth. Embracing change is crucial for growth, and with a well-planned implementation strategy, the transition can be smooth and successful.

Therefore, a structured approach with clear communication, employee training, and phased rollouts eases the adoption of new technology. These steps prepare your team, giving them the needed knowledge and tools. While adopting an LMS might initially require some adjustment, the long-term benefits, such as improved training outcomes and development opportunities, are significant. The initial time and resource investment is temporary, but a fully implemented LMS offers profound, lasting benefits. Hence, this positions your organization to excel in a dynamic business environment.
Future trends to look out for
The Learning Management System (LMS) has radically transformed how we approach education and training. As we look ahead, the trajectory of LMS development points towards exciting advancements. While the future may hold surprises, certain emerging trends provide a glimpse into the evolving landscape of digital learning. Let's explore these developments that signal the direction in which LMS technology is moving.
Open Software-as-a-Service (SaaS) Solutions

The emergence of Open Software-as-a-Service (SaaS) Solutions marks a significant shift in the Learning Management System (LMS) industry. Traditional cloud-based SaaS LMSs are popular for their easy setup and maintenance. However, they often lack flexibility, offering limited customization to meet diverse organizational needs.

In contrast, open-source LMS platforms boast extensive customization capabilities. Organizations can tailor these platforms to fit their specific learning requirements precisely. The drawback here is the need for more resources in administration and maintenance, which can increase operational costs.

Looking ahead, the future seems to be merging these two models into what's termed Open SaaS. This hybrid model aims to combine the ease of cloud-based solutions with the customization of open-source platforms. Open SaaS strives to offer the best of both worlds, reducing administrative burden while providing a personalized learning experience. It's set to revolutionize how LMSs are deployed and managed, making them more adaptable for various organizations.

Gamification in Learning

Gamification is about integrating game elements into non-gaming contexts, reshaping the learning sector. In the LMS space, this approach is gaining popularity by incorporating gaming elements into learning environments. More so, Gamification uses the natural motivation and engagement of games to enrich learning, making it more interactive and enjoyable.

This method improves knowledge retention and speeds learning by incorporating rewards, competition, and interactive challenges. Future LMS platforms are likely to integrate gamification more deeply. This evolution will not only make learning more dynamic but also align with different learning styles, enhancing the overall educational experience.

Socializing in LMS

Integrating social networking principles into Learning Management Systems (LMS) is a significant trend. It uses the engaging nature of social platforms to promote social learning, where learning occurs through observation, imitation, and modeling among peers.

This approach to learning isn't new, but its digital application is a notable advancement. It supports knowledge sharing, peer interaction, and collaborative learning, moving beyond the traditional learning models. Therefore, modern LMS platforms incorporate social features like forums, group challenges, and shared spaces to facilitate this.

These social tools not only make learning more engaging but also mimic real-world professional networking. As this trend grows, future LMSs will likely offer more advanced socializing features, blurring the lines between social networking and education. This shift towards community-oriented learning is becoming a vital aspect of the LMS landscape.

Blended learning

Blended learning represents a pedagogical strategy that combines the strengths of digital media and traditional classroom methods, creating a hybrid instructional approach. This method leverages the efficiency and flexibility of online learning with the personal touch and immediacy of face-to-face instruction. Thus, Learning Management Systems (LMS) are increasingly designed to support this dual approach, seamlessly integrating various learning modalities.

LMS platforms facilitate blended learning by allowing educators to structure courses that incorporate both online and in-person elements. They offer tools for scheduling live sessions, managing virtual assignments, and organizing in-class activities, thus simplifying the logistics of course management. Additionally, the convenience of an LMS in a blended learning context is notable in its ability to organize assessments, track progress, and gather resources in one accessible location.

The future trends in LMS for blended learning point towards more sophisticated synchronization between online and offline learning experiences. We can expect to see features that allow for smoother transitions between different modes of learning, enhanced communication channels for real-time feedback, and analytics that measure engagement across digital and physical classrooms. The aim is to create a more cohesive and comprehensive learning journey that maximizes the benefits of both worlds.
How to choose the LMS that is a perfect fit for you?
Embarking on the journey of selecting a Learning Management System (LMS) requires careful consideration of various pivotal factors. To guide you through this crucial decision-making process, we have distilled the essential criteria into four key elements. These will serve as your compass to navigate the vast landscape of LMS options and help you identify the system that aligns perfectly with your organization's needs.
Set your goals and expectations

Establishing your goals and expectations is the foundational step in choosing an LMS that fits your organizational needs like a glove. Therefore, before diving into the sea of available LMS options, take a step back to thoroughly assess and define what you aim to achieve with the platform. Identify the specific skill sets you're seeking to enhance within your team. Clarify the desired outcomes of your training programs. Are you looking to improve performance, compliance, onboarding, or continuing education? Understand who will use the system: is it for employees, external partners, or customers?

A clear roadmap of your objectives, desired results, and audience will streamline the selection process. It ensures that the LMS you choose will be a tool and a strategic asset tailored to propel your organization towards its educational and business goals. Only when these elements are clearly outlined should you proceed to the next stage of the selection process. More so, this clarity will act as your guiding criteria, making it easier to match your needs with the right LMS features and capabilities.

List out the features you need

Selecting the suitable LMS is akin to picking the best-suited tools for a job; you must list the features crucial for your organization's unique training requirements. With the myriad of functionalities available, pinpoint the ones that align with your established goals and expectations. More so, consider if assessment quizzes are necessary for gauging learner progress or if discussion forums are vital for collaborative learning. Evaluate the importance of robust security measures for protecting your data and the convenience of automated notifications for keeping learners informed and engaged.

This prioritization is not just about preference—it's about impact. Thus, rank each feature based on its potential to enhance the learning experience and meet your educational objectives. With this prioritized list, you can efficiently narrow down your search to LMS vendors that offer these key features, thereby ensuring that the system you choose will be well-equipped to support your vision for training and development.

Figure out how much support services you need

Determining the level of support services you require is a critical aspect of selecting an LMS. Support needs can vary significantly from one organization to another. Some may require minimal assistance, capable of independently managing the LMS with little to no intervention. Others might need extensive, ongoing support, relying on the vendor for regular updates, technical troubleshooting, or user training.

Assess your internal capabilities and resources: Do you have an IT team that can handle most technical challenges, or will you rely on the LMS vendor for technical support? Additionally, consider the preferred support channels—24/7 online assistance, phone support, or regular in-person consultations. Understanding the scope of your support needs will enable you to select a vendor whose service offerings match the level of involvement and responsiveness your organization will require. This alignment is crucial for ensuring smooth operation and quick resolution of any issues.

Keep the technical limitation of the audience in mind

Accounting for the technical proficiency of your end-users is essential when choosing an LMS. The spectrum of tech-savviness among your employees can significantly influence the complexity and type of LMS functionalities you should consider. For those less familiar with digital tools, an LMS with an intuitive user interface and straightforward navigation is crucial to facilitate a smooth learning experience. In contrast, a workforce comfortable with technology may benefit from a feature-rich platform that offers advanced capabilities and multimedia options.

The key is to select an LMS that is compatible with the technological comfort levels of its users to ensure effective engagement and prevent frustration. It should support the multimedia and interactive activities you plan to utilize without overwhelming users who may be less tech-inclined. Balancing these considerations will help ensure that the LMS is an enabler of learning, not a barrier.
Fill Your Learning Management System With Engaging Content
Beginning your journey with the eLeaP Learning Management System (LMS) starts with an important step: choosing the right content. This process is made simple and user-friendly with eLeaP. You have two options: utilizing our comprehensive library of varied materials or creating custom learning experiences. We offer all the necessary tools and guidance to enhance your LMS. Let's walk through the options to jumpstart your content strategy.
Leveraging eLeaP's Extensive Course Library for Your Industry-Specific Needs
The choice of content for your LMS greatly depends on your industry's nature and your organization's unique roles. For instance, the skills needed by your Human Resources team differ from those of your customer service staff. To address this diversity, eLeaP provides over 600 specialized courses. These courses are designed to cater to a wide range of industry needs and different departmental functions.
The choice of content for your LMS greatly depends on your industry's nature and your organization's unique roles. For instance, the skills needed by your Human Resources team differ from those of your customer service staff. To address this diversity, eLeaP provides over 2000 specialized courses. These courses are designed to cater to a wide range of industry needs and different departmental functions.
Here's how to effectively utilize our vast course library:
Identify Industry-Relevant Topics

eLeaP's comprehensive course catalog covers crucial subjects. These include workplace safety, HR compliance, harassment prevention, security skills, customer service excellence, and project management. Select courses that best align with your industry's specific needs and compliance standards.

Select Targeted Courses

Delve into the selected subject areas to uncover the courses that most effectively meet your company's needs. Given the extensive selection, focus on those that best match your organizational objectives and culture.

Evaluate Course Suitability

Take a closer look at each potential course by reviewing the descriptions and overviews provided. Assess the duration, learning objectives, and relevance to your intended audience to ensure the content is an ideal fit.

Preview Before Commitment

Utilize the option to preview course content before finalizing your selection. This step confirms that the course content meets your expectations and provides the value your employees need.
By systematically selecting from eLeaP's library, you can efficiently populate your LMS with content that is both relevant and engaging, ensuring your workforce is equipped with the knowledge and skills essential for their roles.
Customizing Your eLeaP Experience: Creating Content That Resonates
Embrace the flexibility of eLeaP by creating tailored content, turning your unique vision into reality. Our platform is not just about providing content; it's about offering you the opportunity to craft personalized learning experiences. Whether it's to address topics outside our extensive course library or to infuse your company's unique ethos into each lesson, eLeaP stands ready to support and inspire your content creation journey.
Utilize our robust course content creator to develop in-depth courses complete with chapters, lessons, prerequisites, and assessments, all while incorporating valuable feedback mechanisms. Upload your custom content effortlessly to your LMS, enriching your educational offerings and providing a learning experience that is both polished and personalized. With eLeaP, your path to custom course creation is clear, supported, and always focused on excellence.
Start Designing

Embarking on the course creation journey within eLeaP begins with your vision. You are the architect of your content, and you have the liberty to shape it in any way that serves your educational goals. Structuring your material into a series of lessons housed within well-organized chapters can significantly enhance the learning experience, making it easier for users to navigate and absorb the information.

Interspersing the curriculum with pop quizzes adds an element of interactivity and serves as a vital tool for knowledge reinforcement. These quizzes offer immediate feedback, helping learners pinpoint areas that need more attention and better preparing them for comprehensive assessments.

But why stop at quizzes? With eLeaP, you can bring a dynamic edge to your content. Infuse your courses with multimedia elements like humorous videos, interactive slideshows, or educational games. Such rich, engaging content captures attention and transforms the learning process into an enjoyable, memorable experience. With these tools at your disposal, your LMS content will not just educate; it will inspire and energize your learners.

Post Your Content

Once your content is ready to shine, eLeaP simplifies the process of bringing it to your audience. Our platform is engineered to accommodate various content formats, ensuring that technical limitations do not constrain your vision for learning material. From PowerPoint presentations that lay out concepts in clear, bullet-pointed elegance to engaging video and audio files that bring lessons to life, eLeaP can host them. You can even embed YouTube videos for an interactive edge or utilize SCORM packages for a seamless e-learning experience.

Our commitment at eLeaP is to be the wind beneath the wings of your creativity, constantly advancing education by embracing diversity in content formats. Flash files or interactive HTML5, our LMS is designed to support and deliver your educational content in whatever shape it takes. Therefore, with eLeaP, rest assured that your content, no matter how diverse or complex, will find a home in our system, ready to educate and inspire.

Unveil Your Course

The moment has arrived to reveal the fruits of your labor: your meticulously crafted course is ready for its debut. In eLeaP, the unveiling of your course is as seamless as its creation. Introduce the course to your learners with ease—whether you're assigning it to individuals for self-paced learning or to groups for a collaborative educational experience.

Getting started is simple. Provide your learners with unique login credentials, ensuring secure and personalized access to the course. Once logged in, the educational journey you've designed is at their fingertips. Enhance their learning management by setting clear due dates and scheduling automated reminders, keeping your learners on track with their assignments and deadlines.

For an added layer of oversight, activate non-completion alerts. These notifications are a proactive measure to inform you of any learners falling behind, allowing you to offer support or intervention when necessary. With these tools, eLeaP ensures that launching your course is not just about making it available but also about fostering an environment where learners and educators alike are set up for success.

Track Their Performance

Monitoring your learners' progress is a critical component of the educational process, and eLeaP's tracking system is designed to make this as effortless as possible. Our platform offers real-time progress reports, providing a comprehensive overview of each learner's journey through updates, assignments, quizzes, and tests. These reports are not just informative; they're actionable, allowing you to pinpoint successes and identify areas where learners may need additional help.

The convenience extends to reporting, with the ability to download detailed insights as PDF or Excel files. This means you can easily share performance data with learners, educators, or other stakeholders, fostering a transparent and collaborative learning environment.

Furthermore, eLeaP encourages a two-way feedback loop. Learners can actively participate in the educational process by providing feedback directly through the LMS. They can leave comments on courses or reach out with suggestions, enabling them to shape their learning experience actively. This level of learner engagement is invaluable, as it empowers students and provides educators with critical feedback to continually refine and enhance the course offerings.
eLeaP is Here to Help
Whether you go for premade or custom-built, eLeaP is ready to help you make the most of your learning management system. Sign up and start filling your platform with premium content.
Empowering Career Advancement with a Learning Management System
Meta: Anyone willing to work to move up in their company should be able to do so. Our learning management system is the answer your employees are looking for.
Climbing the corporate ladder traditionally involves a long-term commitment and the hope of gaining recognition from decision-makers. As more and more workers are aging into retirement, perhaps it is time to open paths for younger talent to assume their roles in the business. eLeaP's Learning Management System equips your employees with the resources to master new skills and prepare for upward mobility on their schedule, ensuring that when the time comes, they are ready to ascend to leadership roles with confidence.
Offer Continued Education Through Your Learning Management System

Continued education is a hallmark of progressive organizations that value the growth and development of their employees beyond basic perks. Leading corporations set a precedent by offering substantial educational benefits, recognizing that investment in employee development is an investment in the company's future.

Embracing this philosophy doesn't necessarily require grand gestures like tuition reimbursement. With eLeaP's Learning Management System, you can offer a practical and cost-effective continuous learning platform tailored to your company's needs. This approach not only enables employees to enhance their skill sets and industry knowledge but also equips them with the competencies needed for career progression within the organization.

Hence, by incorporating a continuous education program into your LMS, you are opening doors for your employees to advance their careers on their terms, fostering a culture of learning and internal opportunity. This can increase job satisfaction, retention, and a reputation as an employer genuinely investing in its workforce.

A Learning Management System Puts Training In Employees' Hands

Empowering employees with direct control over their professional development is a strategic advantage of a Learning Management System (LMS). eLeaP's platform, with its robust mobile capabilities, democratizes the learning process, allowing employees to access training materials anytime and anywhere with internet connectivity. This level of accessibility means that schedules or physical locations no longer constrain motivated employees; they can actively engage in upskilling and reskilling.

This autonomy can transform downtime into productive learning sessions, where employees can work through courses, engage with interactive materials, and even complete certifications necessary for their next career milestone. The ability to self-direct their learning journey not only accelerates professional growth but also instills a sense of ownership and empowerment as employees take the reins of their career trajectory into their own hands. Therefore, with eLeaP, the pathway to the next promotion is just a click away, fostering a proactive and self-motivated workforce.

Gauge Where Talent Lies Using Your Learning Management System

Identifying and nurturing organizational talent is pivotal for sustained growth and innovation. eLeaP's Learning Management System (LMS) is a powerful tool in this endeavor, offering sophisticated training tracking capabilities. With comprehensive progress reports, management can effortlessly monitor which employees are actively engaging with training modules, dedicating extra time to their learning, and consistently improving their performance.

These insights are invaluable for recognizing not just the most active learners but also for pinpointing potential leaders who demonstrate the drive and competence to take on more complex roles. The proactive employees who go the extra mile in their training are often the ones who can rise to new challenges and drive the company forward.

eLeaP's real-time feedback mechanism is more than just a monitoring tool; it's a strategic asset that can help predict and shape the future leadership trajectory of your organization. Hence, by leveraging these analytics, businesses can make informed decisions on succession planning, talent retention, and internal promotions, ensuring that the company's future is in capable and skilled hands.

Reap The Benefits of Better Educated Employees

Investing in the education of your employees yields dividends beyond individual growth—it catalyzes the overall advancement of your organization. By providing educational opportunities, you attract top-tier talent, individuals who are not just looking for a job but a place to excel and make a significant impact. This environment of mutual benefit, where employees are given the tools to ascend to higher roles, creates a virtuous cycle of improvement and innovation within your company.

Moreover, when employees know their employer is invested in their future, it results in loyalty and job satisfaction. They're more likely to invest their growing expertise into the company, driving productivity and bringing new insights to their roles. Far from being a risk, empowering your employees through education with eLeaP ensures that your company doesn't just retain talent but also becomes a hub for the kind of talent that propels businesses forward. Thus, this investment in your workforce is an investment in the sustainable success of your company.
Boost Your Selling Power With A Learning Management System
Meta: Equip your team with the skills to excel in customer service, fostering positive interactions and driving sales growth with our Learning Management System.
Mastering the art of customer satisfaction is a crucial driver of sales success. A genuine smile and a positive interaction can make the difference between a one-time sale and a loyal customer. By empowering your employees with superior customer service skills, you're directly investing in the prosperity of your business. With eLeaP's comprehensive Learning Management System, you can systematically upgrade every sales associate's ability to engage with and understand your client's needs, ensuring that each customer interaction is an opportunity to amplify your sales potential.
Knowing What the Customer Wants
Understanding customer needs is not just about the hard sell; it's about fostering trust through expertise and insightful guidance. Today's customers are well-informed and expect quality — they seek assurance that what they're purchasing is not only of high quality but also perfectly aligned with their requirements. The depth of product knowledge within your sales team can define a standard interaction and an exceptional one.
In-depth knowledge of the product range allows your team to confidently present factual information and articulate the distinct benefits that resonate with the customer's situation. A well-trained sales associate can anticipate customer queries and provide informed responses, thereby building a sense of reliability and understanding.
An LMS like eLeaP can facilitate this level of proficiency by providing your team with detailed product training, ensuring they have a comprehensive understanding of each item or service. When sales representatives have this knowledge, they are better prepared to demonstrate how a product fits the customer, creating a personalized and satisfying purchasing experience.
More Than Just the Details
Beyond the product specifications, the true essence of a memorable sales experience lies in the personal connections made between the sales associate and the customer. The ability to reel off product features and benefits is a fundamental skill; however, salesmanship flourishes in the human touch — the genuine, empathetic interactions that make a customer feel valued and understood.
Training your team to embody courteousness, warmth, and empathy is crucial. These soft skills can transform a routine transaction into a relationship-building opportunity, laying the groundwork for customer loyalty. Customers are more likely to return when they recall not just the product they purchased but the pleasant and helpful interaction that accompanied it.
Interestingly, an effective Learning Management System (LMS) like eLeaP can deliver this nuanced training, focusing on the interpersonal skills that turn sales staff into customer experience ambassadors. By integrating role-play scenarios, customer service best practices, and communication skills development into your LMS, your employees can learn to engage customers meaningfully, ensuring that each encounter is more than a sale — it's an invitation to return.
Listen to Feedback
Customer feedback is an invaluable resource for refining the quality of customer service your employees provide. It's a direct line to understanding the customer's perspective — what delights them, what could be improved, and what they expect from your service. By actively listening to and incorporating this feedback, you can shape a customer service strategy that directly addresses the needs and wants of your clientele.
Equally important is the feedback from your employees. They are the frontline ambassadors of your business and often have keen insights into where they excel and where they might need additional support. Encouraging a culture where employees can voice their training needs ensures that your customer service education is comprehensive and responsive to the real-world scenarios your team faces daily.
Therefore, utilizing an LMS like eLeaP to collect, analyze, and act on both customer and employee feedback means you can continuously evolve your training programs. This dynamic approach to learning and development helps ensure your customer service team has the skills and knowledge necessary to meet and exceed customer expectations, fostering a strong, service-oriented culture within your organization.
How a Learning Management System Can Help
Implementing a learning management system into your training program can address all three of these points. Let's take a look at how!
Choose wisely. The right learning management system (LMS) can open up a world of possibilities for your organization's learning needs. With eLeaP, you choose an industry leader known for its flexible, adaptable, and customizable LMS solutions. Discover the eLeaP difference for yourself. Schedule your complimentary live demo today, or if you're ready for immediate assistance, call us at 877-624-7226 to speak directly with our expert team. Your journey toward transformative learning begins here.
Don't Just Take Our Word…
Thank you for all your help. I'm really pleased with how easy it is to set up courses, upload content and assign users in eLeaP.

The eLeaP training platform has streamlined our processes, reduced costs, and provided our users with a comprehensible learning management system. I was able to configure and launch this SaaS-based LMS within weeks, using SCORM to effectively track user progress with built-in reports.
Thanks to the entire staff at eLeaP, your support and response time is exceptional

Thanks again for all your help. eLeaP's Customer support is second to NONE!!! You guys at eLeaP LMS are GREAT!!"