Learning Management System Made Easy
Not all learning management systems are the same. Get one that is comprehensive, intuitive and easy to use. See how eLeaP Learning Management is different.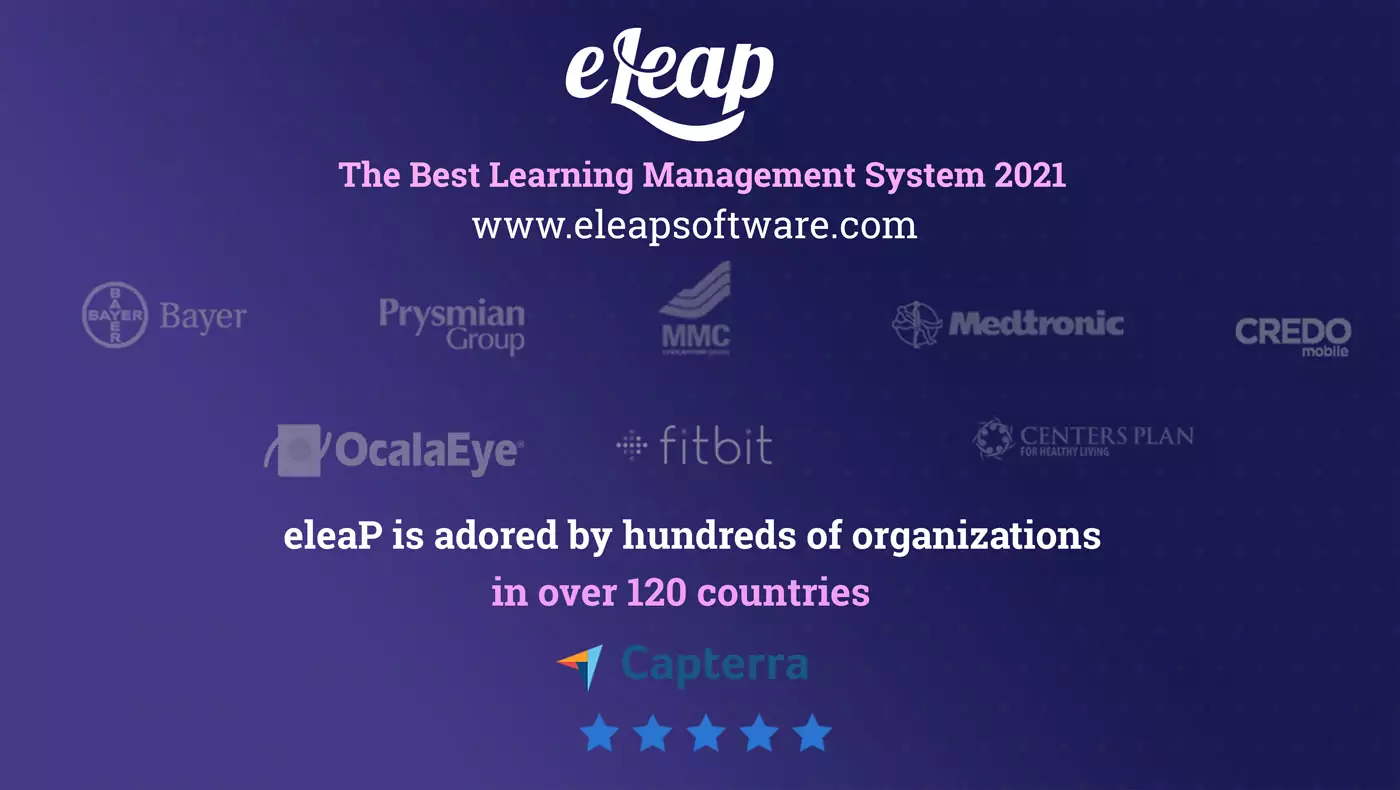 Why you need a Learning Management System
A robust Comprehensive Learning Management System (LMS) can save you time, reduce costs, and provide increased flexibility. If you are still in doubt about whether to invest in an LMS or not, here are top seven benefits that are sure to convince you about its true potential.
Save time and money

A Learning Management System helps create, manage, and track training quickly and efficiently making learning goals easy to achieve. Unlike face-to-face training, e-learning courses created on a Learning Management System are convenient and can be organized as per the convenience of the learner. This saves precious time that can then be utilized for other productive tasks. Online learning, also, saves a lot of money. You do not need to spend on transportation and accommodation. You don't need to invest in venues and training equipment. It saves you money on stationery too, and that way, you get to reduce your carbon footprint, by using less paper. Online courses created on the LMS can be reused multiple times. So, you need not invest in hiring instructors every time.

eLeaP™ software allows you to create, manage, and launch your web courses with ease. There are easy-to-learn tools that guide you through the process. Features like course listings, prerequisites, interactive tools, assessments, feedback forms, release rules, and much more add to the design components. Connect with our in-house experts if you have custom course development requirements.

Advocate self-service

A good LMS encourages your employees to take charge of their own learning. All learning collaterals are uploaded to a centralized location. Employees can access them anytime they want, from anywhere (most times using any device they have). The system ensures that every learner has access to the same content and the user experience is consistent. The LMS allows the learner to choose their learning path and decide what they wish to learn and when. Microlearning is a trend that is sweeping companies because this method of learning works to fit the learner's schedule, not the other way around. Another benefit of being centralized located is that you can update the existing training content, without any hassle. You can add new content or edit existing content and it will get updated within a very short time.

The eLeaP™ System is web-based. You do not need to install any new software. Our system encourages self-service and provides a seamless user experience. We keep adding new features and, also, provide free backup of your files.

Improve performance through reporting tools

The Learning Management System can go a long way in enhancing learner performance with the help of the right reporting and tracking tools. It can track the progress of the learners, store learner scores, and point out the areas that need improvement. An efficient system will have a reporting functionality that saves time. It is even better if the reports and notifications are delivered to your inbox, automatically.

The eLeaP™ LMS has automated Smart Assigning rules and flexible reporting features. It helps you improve your courses by implementing suggestions and feedback loops from users. You can export the report data to Excel, just with a click of a button. There are also APIs to integrate the report with your Human Resource Information System. Reports are available in numbers as well as graphic representations. You can send out invitations and reminders, collect feedback, and document the results.

Customize content easily

You can create customized e-courses with the help of text, graphics, video, and audio content. Not all learners like to learn in the same manner. Some may like to learn with the help of videos. Others may prefer text and graphic. The LMS allows you to customize your training content based on learner needs.

eLeaP™ has flexible branding and customization features where you can personalize course content, add your logo and color scheme, and even instructions for your participants. Consultants and HR companies can even check out our White Label LMS option.

Conduct online tests

Most Learning Management Systems provide options for creating assessments and quizzes. It enables you to assess the learning levels and learner understanding of the concepts. Evaluation is a crucial step towards knowing how the learners have learned the concepts.

eLeaP™ has robust assessment features that help you create your quizzes. You have the option of choosing from several different types based on your need – Multiple Choice/True False, Sequence/Sort/Order/Ranking, Essay/Short Answer/Explanation, Multiple Choice with Explanation and Hotspot, Find Errors. You can randomize the order, allow multiple tries, set a time limit, and so on. For continuing education, eLeaP provides the robust platform to enable your accreditation application to be successful.

Manage classroom training

Web-based learning is convenient. But, there are topics that may need classroom training. You cannot write off instructor-led training, completely. With the eLeaP™ instructor-led training tracking system, you can schedule and track classroom learning with its powerful tools. It also has s forum system where you can create group discussion topics for the learners to collaborate. The privacy of the forum is secure. So, you can post without any fear of it landing up on the social networks.

Manage regulatory requirement

Most industry sectors and organizations are required to use assessments to ensure regulatory compliance. It is a good idea to use the LMS to plug human errors and ensure that your employees are on track with the regulatory and compliance requirements.

eLeaP™ has a wide-ranging library of pre-built compliance courses. You can choose the ones that apply to you and get started. There is no need to reinvent the wheel

Future-proof learning & development

A platform like eLeaP is designed to ensure that you don't have to worry about future-proofing your learning and development program. Our technology continues to evolve with the latest best-of-breed learning and talent development strategies. Our DNA is innovating.
Myth Vs Reality
So, are you convinced about the benefits of Learning Management Systems? A robust LMS can really help maximize the Return-on-Investment for your organization. However, there are many organizations that have fallen prey to various myths and assumptions related to LMS's. and, as a result, they are yet to utilize the system to its full potential. But, they are just myths and need to be busted.
Here are top five myths that are associated with an LMS. We have busted them with logical explanations.
Cost incurred on a Learning Management System should be treated as an expense.

Most organizations view the cost incurred on an LMS as an expense. That is a huge mistake. There is, definitely, a cost involved in the installation and regular operation of an LMS. But that should not be viewed as an expense only. It is an investment. The return brings to the organization in terms of productivity and profitability, cannot be ignored. In fact, in the long run, if you are to calculate the cost versus benefit ratio, the benefits will far outweigh the costs.

You need to buy all the modules in an Learning Management Software

There is a common belief that you need to buy all the modules of an LMS in order to conduct effective training online. This is far from the truth. There is no reason for you to buy all the modules from the entire range. The ones you buy will depend on the training needs of your organization and how your target audience prefer to learn. So, it is essential for you to set your learning goals and chalk out the training plan before you choose the relevant modules from an LMS.

LMS is only effective for delivering e-learning content

This was true a few years ago; LMS was able to deliver only e-learning content. But, with time, the system has developed. It can, now, offer a variety of features to the end user. Delivering e-learning is only one of the many features of an LMS. It is capable of conducting live sessions, enabling social learning, and so on.

It takes a lot of time and effort to manage an LMS

Yes. It does take some time and effort to manage an LMS, initially. But, you need to focus on the long run, where this effort will pay off. Once the LMS is set up, you can choose to automate various functions. Also, an LMS will reduce the number of manual hours you were spending on training your employees.  The time and cost-saving it brings about, offset the time and effort spent during the initial installation period.

Switching to a new system is a challenge

Yes, switching to something completely new is a challenge. But nothing good comes easy. If you have decided to adopt a new system, use these LMS implementation steps to educate your employees and prepare them for whatever challenges that lay ahead. The initial phases can be difficult. But, at the end of it, you will emerge a winner and that's all that matters.
Future trends to look out for
The evolution of the LMS brought about numerous changes to the learning ecosystem. What do you think the future holds for the humble Learning Management System? We may not be able to predict exactly, but here are some trends that show where we are heading.
Open Software-as-a-Service (SaaS) Solutions

Cloud-based SaaS solutions ensure that the LMS can be set up without inconvenience. But, they too have their limitations. The most prominent one is the lack of customization. Open-source platforms allow customization and personalization. But, the expenses incurred for administration is high. So, we need a delivery model merging the best of both – Open SaaS.

Gamification

Gamification refers to using gaming elements and mechanics in non-game scenarios. It enhances knowledge retention and learning speed amongst learners. The learning sector has taken to this trend in a big way. We might see an enhanced integration of the gamification concept in the LMS.

Socializing

Social networks have been able to lure an entire population into sharing information. Social is a huge trend in learning, too. LMSs employ the familiarity that the learners have in their social circles and encourage them to learn in a collaborative manner.

Blended learning

Blended learning modules merge the best of digital and practical learning experiences. LMSs are built in a way to facilitate this mode of learning. It makes scheduling assessments easier and more organized.
How to choose the LMS that is a perfect fit for you?
When you consider investing in an LMS, there are numerous factors to keep in mind. Here are the top four factors that will help you take the right decision.
Set your goals and expectations

Before you start comparing the numerous LMS that are there in the market, you need to set your own expectations and goals. Analyze your needs. What are the skill sets that you wish to improve? What is the outcome you expect? Who is your target audience? Move ahead only when you have clear answers to all your questions.

List out the features you need

There is a wide range of features that you can choose from. You need to narrow the list down to the top few features that are important for you.  Some features that might interest you can include, assessment quizzes, discussion forums, robust security, automated notifications, and so on. Prioritize the list and shortlist the LMS vendor on that basis.

Figure out how much support services you need

You need to decide on the kind of support services that you need. Some organizations need minimal support from the vendor. Others will need regular handholding. You need to check with your vendor on the kind and frequency of support services they have.

Keep the technical limitation of the audience in mind

Your employees may not be tech-savvy. Or they may be technologically progressive. Whatever it is, you need to keep this factor in mind, as it will determine the kind of activities and multimedia you can use for your course. You have to choose an LMS that supports the activities.
Fill Your Learning Management System With Content
Once you are set up to start using eLeaP, you will first need to identify with what content you will train your employees. Don't worry, we make it easy for you. Using our learning management system, you have a couple of different options. You can either utilize our vast collection of material or create your own custom, personalized content. Here's how you can get started.
Use Our Library to Fill Your Learning Management System
The type of industry you are in will dictate much the content you use to fill your learning management system. Even within your company, the intended audience will affect the material you present. Human Resources requires a different set of skills than customer service. With eLeaP, we have you covered. Using our comprehensive library, you'll find over 600 available courses covering a range of topics. Here's how to make use of them.
Find the appropriate topic

Our detailed course library covers a wide range of topics! From workplace safety, HR compliance, and harassment prevention to security skills, customer service, and project management, we offer hundreds of video and training courses to fill whatever your industry's need may be.

Pick a course

Once you have selected which topical field you need content from, it's time to start sorting through the courses. Remember that, considering the sheer number of videos and courses available, your search must be exhaustive. Even within a single topic, there could be a hundred different options. Therefore, you must find a course that appears to best suit your company's needs.

Read About the Course

Before you pay for course content, you should have a general understanding of what you are buying. Each course offers a blurb with details and an overview of the content. You should identify how long the course is and who the intended audience is. It would be a waste to purchase a course that is overly long or not intended for your employees.

Request a preview

Before purchasing, you can also request a free preview of the course content. Simply submit your name, your business's name and email, a phone number, and the number of employees you intend to train. If you have more than five employees, you can even get a discount when you finally make a purchase.
Build Content for Your Learning Management System
The benefit of choosing eLeaP as your go-to learning management system is that you have the option to create your own personalized content. Maybe there is a topic we have not yet covered in our library of courses. Perhaps you just want to add your own brand to the material. Whatever the reasons, we are here for you and we support your creative drive! We will even guide you through how to do it.
Using our course content creator, you'll be able to build thorough courses with chapters, lessons, pre-requisites, assessments, and feedback. Then simply upload them onto your learning management system. Your employee training or student course work will be more sophisticated and streamlined than ever before!
Start Designing

It's your content so craft it how you see fit! You have complete creative freedom to format the material in any way. Implementing a series of lessons within chapters can provide support and make it easier to follow along with the curriculum.

Throwing in a few pop quizzes throughout the lesson can reinforce what users have so far learned and provide them with crucial feedback. They'll have a good idea where their weaknesses lie and how to prepare for a higher-stake test.

Make it fun! One of the main selling points to an online learning management system is that you can incorporate multimedia presentations in a way that's nearly impossible in a standard classroom. Humorous videos, interactive slides, or even a game can boost the material from dull to dead-on.

Post Your Content

No matter what the format of your content, eLeaP can likely support it. We are compatible to host a variety of different layouts including PowerPoint, video and audio files in a range of formats (including embeddable YouTube videos), sharable content object reference models (SCORM), and even Flash files.

Our objective is to assist your creativity and continue to improve education. No matter the file type, we will do our best to support it and ensure that your learning management system fulfills your every desire.

Unveil Your Course

You have gone through the painstaking process of building a course. You have poured hours of creativity into making it as perfect as possible for your organization. It's all uploaded onto the site and ready to be unveiled. With eLeaP, we've simplified the launching process.

First, open the course up to your intended learners. You can assign them individually or as a group. To access the course, they will need individual login details—a username and a password. Once they are in, set due dates and reminders so your users know when by when they should turn in assignments. You can even turn on non-completion alerts to inform you when someone has not done their learning management system course work.

Track Their Performance

With eLeaP's user-friendly tracking system, you can follow how well your learners are doing. We provide progress reports in real-time to keep you up to date on every update, assignment, quiz, or test. Reports can be downloaded as PDF or Excel files to be shared with users.

If users wish to submit their feedback, they can also do so through the learning management system. They can leave comments or submit their opinions to the administrator. With eLeaP, you'll give your learners some control over their education.
eLeaP is Here to Help
Whether you go for premade or custom-built, eLeaP is ready to help you make the most of your learning management system. Sign up and start filling your platform with premium content.
A Learning Management System Offers Employees Future Opportunities
Meta: Anyone willing to put in the work to move up in their company should have the opportunity to do so. Our learning management system is the answer your employees are looking for.
Moving higher on the proverbial ladder takes years of grinding through the corporate chain, hoping to be noticed by the higher-ups. As more and more workers are aging into retirement, perhaps it is time to open paths for younger talent to assume their roles in the business. With a learning management system from eLeaP, your employees with have the means to train into higher positions in their own free time.
Offer Continued Education Through Your Learning Management System

A sign of a good company is that it offers its employees opportunities beyond the standard insurance package and two-week vacation. For example, many of the big-name corporations such as Disney, Bank of America, and Proctor & Gamble offer their employees tuition reimbursement packages to continue their education. Now, you don't have to pay off employees' student loans just to help them further themselves. You could offer them continued education through your platform in a relevant manner to help them move up in the company.

A Learning Management System Puts Training In Employees' Hands

Upgrading to an online training platform gives employees control over their training. Thanks to our mobile capabilities, with eLeaP, they can access material from literally anywhere, given that they have a Wi-Fi connection. For the dedicated employee, this means that they don't have to wait for the next training conference to up their skills. From the comfort of their homes, they can gain certifications needed to gain the next promotion.

Gauge Where The Talent Lies Using Your Learning Management System

Employees looking to make a splash are not going to go unnoticed. With eLeaP's training tracking abilities, you'll get regular progress reports showing exactly who has promise. Suss out the worker who's putting in some overtime and making strides in their overall performance. These are the employees who are ready to move up in the company. eLeaP's real-time feedback offers you a glimpse into the future of your business.

Reap The Benefits of Better Educated Employees

Offering educational options to your employees can benefit your company, not just the worker! Cream of the crop employees are attracted to where they can make the most of their talents. Consider it a quid pro quo. They can up-work into higher positions and you get the benefit of their skills. While it may seem counter-intuitive to train employees to potentially move on to different jobs, workers will feel more satisfied and fulfilled in their positions if they know their employer cares about their futures.
Boost Your Selling Power With A Learning Management System
Meta: Updating your employees' training will translate to better customer interactions and higher sales
Half the work of a sale is a friendly smile. If the customer is happy, the customer will gladly pay for your services and come back for more. But keeping the customer happy can be a true art form. Train your employees to boost their customer service and you will see the boost in your bottom line. Using eLeaP's online learning management system, you can bring every sales associate up to speed on the latest in how to interact with clients.
Knowing What the Customer Wants
Making a sale takes more than just simple persuasion. Customers want to know that the product they're buying is high-quality and will fill their needs. No matter what your industry, your sales team should know the ins and outs of every product. If they can state the facts, they can better explain why something is right for the customer. Customers want to feel that the sales representative already knows what they need.
More Than Just the Details
Listing of specifications isn't going to it cut, though. While you might make a sale or two by just giving the stats, the customer who comes back does so because of the relationship built with the sales associate. You should be training your employees to be courteous, friendly, and empathetic to the customers' needs. A warm smile can do wonders for bringing buyers back in.
Listen to Feedback
Taking and heading customer feedback is the ultimate method of improving your employees' customer service. Listen to what the buyer wants and train workers to fit that mold. Yet, it's also crucial to consider employees, too. Listen to where your workers feel they need to most training and you can offer a more well-rounded education in customer service.
How a Learning Management System Can Help
Implementing a learning management system into your training program can address all three of these points. Let's take a look at how!
Choose wisely. The right LMS will open up the path of huge opportunities as far as the learning needs of your organization is concerned. eLeaP is a leader in the e-learning industry because its learning management system is flexible, adaptable, and customizable. Schedule your free learning management live demo. Can't wait? Call us 877-624-7226 to speak to someone right away.
Don't Just Take Our Word…
Thank you for all your help. I'm really pleased with how easy it is to set up courses, upload content and assign users in eLeaP.

The eLeaP training platform has streamlined our processes, reduced costs, and provided our users with a comprehensible learning management system. I was able to configure and launch this SaaS-based LMS within weeks, using SCORM to effectively track user progress with built-in reports.
Thanks to the entire staff at eLeaP, your support and response time is exceptional

Thanks again for all your help. eLeaP's Customer support is second to NONE!!! You guys at eLeaP LMS are GREAT!!"