Simple. Innovative. Trusted.
Enterprise Learning Management System Made Easy.
Use eLeaP, a top-10 learning management system, to easily create, deploy and track training to increase knowledge retention by up to 60%.
A complete, validated training management solution with ready-to-go content or customized courses. Get started in minutes.
Learning Management System
for Training Managers, Sales Managers, IT, HR, LMS Administrators
eLeaP LMS is a leader in the e-learning industry because its learning management software system is flexible, validated, adaptable and customizable – and so easy to use it can be up and running in a matter of minutes with no special training. eLeaP also has an extensive library of over 850 ready-to-go training courses which you can easily deploy to your team. Many of our LMS software customers greatly benefit from our free professional training services to help them make sense of the confusing and expensive training and e-learning landscape.
Employees must be engaged to be most effective and productive. Using a customizable e-learning system that provides relevant employee training will better engage staff, with the potential to increase productivity and revenue. It's been estimated that nearly 25% of all employees leave their job because there simply aren't enough training or learning opportunities.
eLeaP is a web-based e-learning solution with a simple and intuitive user interface, allowing both technical and non-technical training managers to create, manage and track interactive training courses and learning programs for all levels of users. eLeaP's training tracking software can also be used to register and track classroom training or instructor-led training.
Designed to fit any organization, big or small, eLeaP has the sophistication favored by big companies – with a price that fits the budget of smaller organizations. Use eLeaP for as low as $0.50 per user per month.
How's this for simple? With eLeaP, there is nothing to download, no hardware or software to maintain and no staff needed to manage it. Your custom and secure e-learning system can be ready to launch in minutes.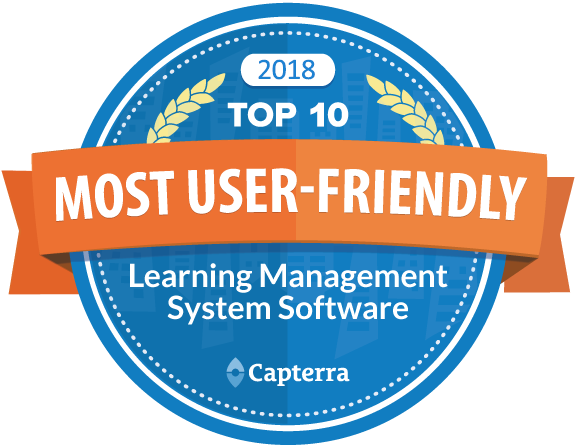 eLeaP delivers personalized learning and training to thousands of employees at hundreds of organizations worldwide. Whether you are a global enterprise or local operation, leverage the power, simplicity and scalability of eLeaP Learning Management System to provide a seamless self-service, on-demand e-learning solution. So what is the "Strategic Value of Workplace Training and Development"?
Most User-Friendly LMS For Trainees and Students
Collaborative feedback: eLeaP monitors each employee's progress and creates reports for you.
Mobile compatible: eLeaP works with all mobile devices including smartphones and tablets.
Interactive: eLeaP incorporates advanced learning tools like quizzes and surveys to keep your employees engaged.
It's A Jungle Out There. Call 877-624-7226 For Helpful Advice.
Quick start
You can be up and running in a few minutes! No downloads or special technical knowledge necessary.
Start Creating Courses
Training videos & free support
Free 24/7 customer support and access to free training videos.
Watch Free Tutorial
Money-back guarantee
If not fully satisfied at any time, you'll receive a 100-percent refund no matter where you are in the contract.
Read more
Custom Pricing To Fit Your Budget
Easy monthly or annual usage fees are based on the number
of individual users in your account
What Our Clients Say
We recently rolled out the eLeaP solution with 100+ courses and 200+ trainees across our 9 offices in 6 different countries. Roll out was flawless and the trainees have stated how user-friendly the system is to use. Support in setting up the system, and ongoing support in maintaining the live system has been second to none, with support staff being available out of standard office hours has been ideal as a UK-headquartered company.I cannot praise Don and his team enough for their product and support, and look forward to growing our solution as our company continues to expand across the globe.
– Richard Underwood, Quanticate
The eLeaP training system is very user-friendly, and it significantly improved our current training process. The thing that was most impressive to me was the customer service. It's very rare that a CEO would take the time to sit with a client and help them with their every need. Don Weobong was instrumental during the implementation of eLeaP for our company. He was very quick to answer any questions we had and helped us with any issues we ran into during implementation. I would recommend eLeaP to any company that is looking to move to a web-based training system.
– Nate Barin, Halozyme Therapeutics, Inc.
I am writing this letter to express my utmost appreciation for the great work that the eLeaP Team has done my business.
About a year ago I became unemployed at age 52 and had no idea what I was going to do. I decided to look for a company that could help me present my skills online. I had spent numerous years as a Training Manager but, my experience was primarily hands-on i.e. non-technical. Finding eLeaP made the development and implementation of my business not only possible but actually fun. They made it easier and understandable for a non-technical guy like me. All I can say is thanks eLeaP!
– Maurice B. Faust, Advanced Training and Education Systems, LLC.
Save Money, Train Better. Start A Free Trial Now.
No experience? No problem. We'll do the work.
You don't even need a credit card to get your free trial account.