Does Your LMS Need a Custom Domain? Pros, Cons, and Things to Consider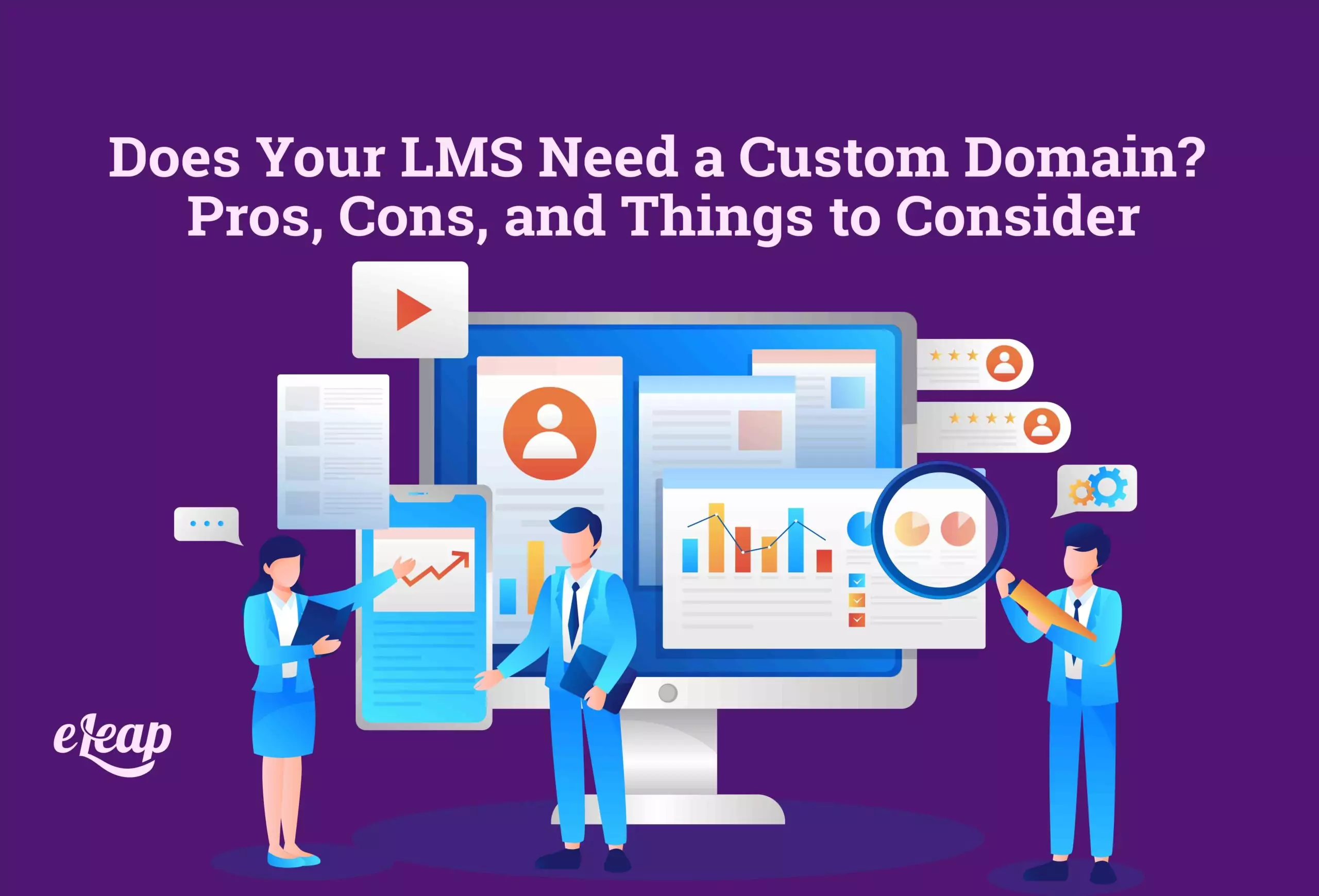 Does your team know where to turn for education and support without having to look it up or spend a lot of time getting to the right URL? There's something to be said for creating a custom domain for your LMS and other eLearning resources—in addition to helping brand your content, it also ensures people know exactly where to go, and if you do it well, they'll find that they can easily access all the information and learning resources that they need without a huge effort.
Many LMS vendors give companies the option to create a custom domain for their LMS platform. This allows the company to get a URL designated specifically for employee development and ensure that no one has to worry about that long, scrambled mess of a link that will lead to the training module. For those who are creating their own LMS or getting a hosted LMS, it's always better to go with a custom URL when possible.
Here are just a few reasons why this could benefit your organization.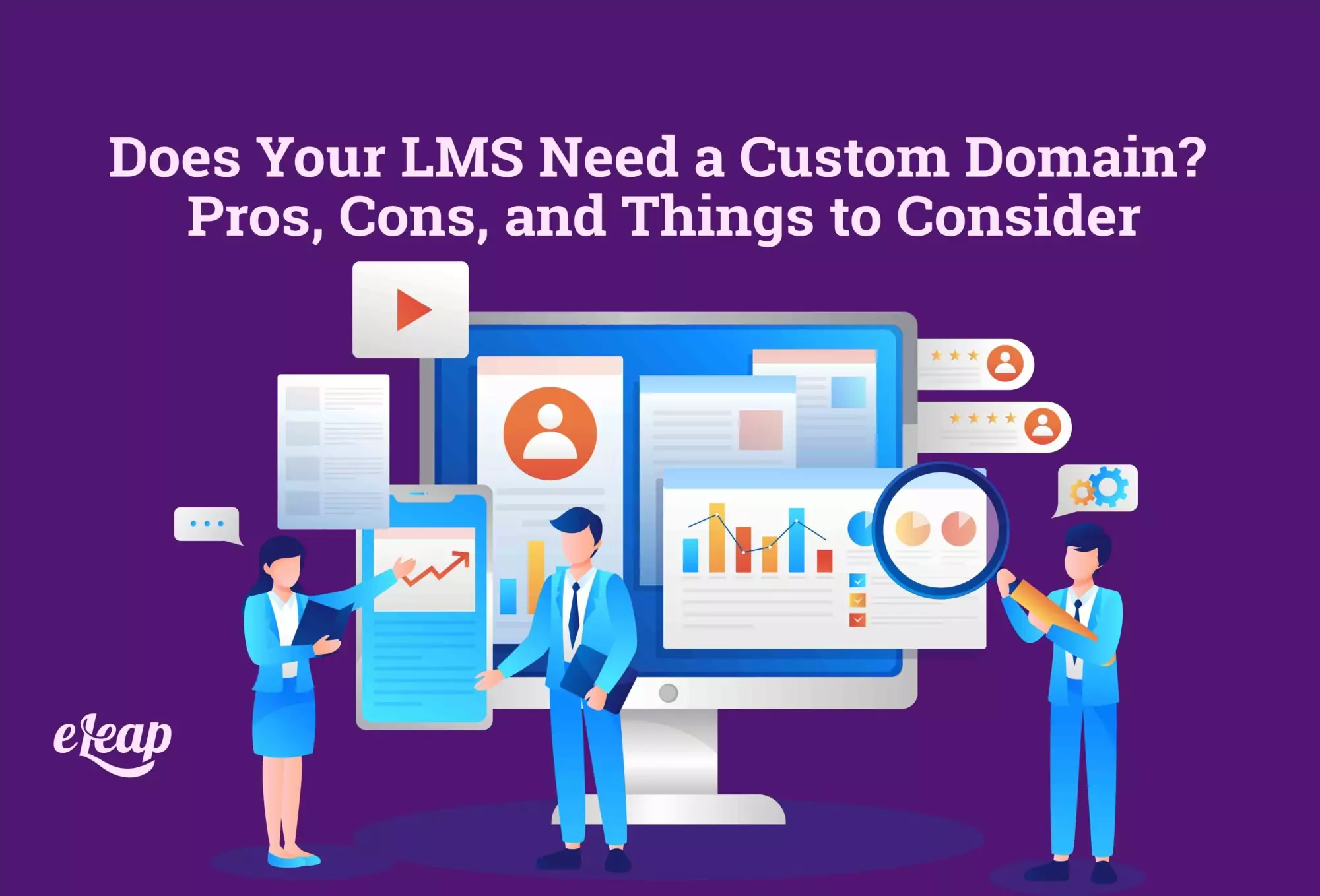 Brand Cohesion and Consistency
A custom URL allows your organization to carry through its brand consistency even in a training platform that's hosted by another company or based in a different platform than people are used to. Organizations that have better consistency in their branding, including in the training and onboarding process, will appear more professional and deliver resources that people know they can trust.
The fact that a custom URL is added ensures that your team knows how committed you are to training and development. Just as online stores can't sell as well from sub-domains and URL extensions, your training and learning platform won't see as much success without a direct domain URL. This creates a professional image and ensures that your organization continues its reputable operation.
Easier Access
A custom domain means anyone can get to training, at any point in time. People don't have to look far to find what they need and will always know where to look when they need training or other resources. You can even separate and organize training by department or training type, such as [company]complianacetraining.com or [company]marketingtraining.com to guarantee that everyone gets up to speed and doesn't miss out on any training opportunities.
Having a custom domain will take away all of the excuses about missed training, being unable to find the link, and so forth. It can also ensure that employees can get training and learning modules done even when they're not in the office or at a computer when you choose a mobile-friendly LMS for your team.
Increased Engagement and Satisfaction
When trainees and employees can access the platform quickly and don't have to wait for someone to send them the right link, they are going to be much more involved and engaged in the training process. Using a custom URL ensures that people can access training from any device, anywhere in the world, which also lets your people know they're no longer tethered to their work PCs.
This kind of freedom and mobility will change the way that employees feel about their role and the organization with which they work. Employee satisfaction and engagement will be much higher because you are providing resources that fit people's busy schedules and still deliver the training and education that they need. When people are more engaged, they learn better, perform better, and are more likely to add their own user-generated content to the LMS to help others learn.
Increased Security
Of course, you can't discuss the value of a custom LMS domain without taking a moment to talk about the security enhancements. Having a custom domain will ensure that you can create your own security measures and protocols, determine who can access content, and ensure that content is even assigned based on role, paygrade, and other factors. Most LMS providers today will require companies to utilize SSL, or Security Sockets Layer, connections, which safeguard the connection between the server and the browser.
Of course, you'll want to check with the LMS provider that you choose to ensure that you have the domain security features and encryption tools that you need. If those also include compliance and regulatory issues like HIPAA, you'll find plenty of vendors that can deliver that level of security in every single training module and by helping you create a custom domain instead of using their auto-generated URL extension.
The Disadvantages of Custom Domains for LMS Training
There isn't a lot to say against the use of a custom URL, but there are some factors that are worth noting so that everyone can determine what's best for their needs. For starters, you will have to spend more to get a custom domain in the first place. You will also have to spend more time customizing the platform and domain to your needs and you may have a more hands-on role than you anticipated. For those who are busy, it might be a good idea to hire someone to handle the LMS, even when it's hosted on a private URL or domain. Otherwise, the work will be entirely up to you.
A custom LMS domain also doesn't guarantee engagement or security—that only comes if you take the time to find a reputable LMS provider or host. You will need to clarify how LMS providers handle security and what kind of solutions they offer for employee engagement and satisfaction at the same time.
Conclusion
While a custom domain for your LMS is an additional expense that may not seem relevant or useful, you can see here that it offers a lot more than most organizations realize. From the ease of use for your team to the ability to improve brand consistency and credibility, there's a lot to consider here. eLeaP offers an LMS that is customizable to the organization ensuring that everyone gets the right training and support and perhaps even help expand your profits and market reach.