Use Social Learning to Improve Engagement, Retention, and Collaboration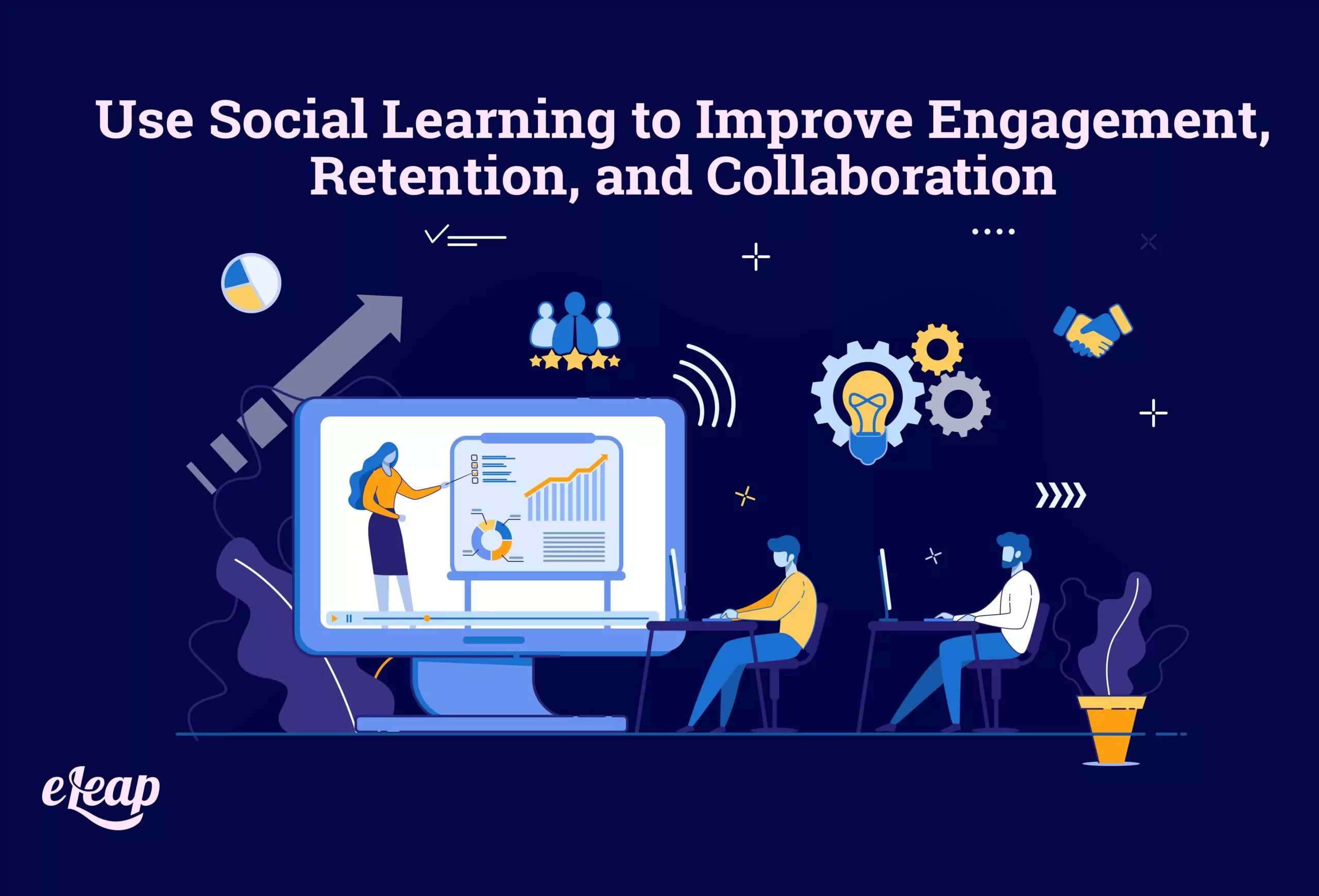 Learning and development are evolving just as quickly as the technology created to assist with them. Today, people are no longer willing to spend hours sitting in training courses, taking online assessments, or even worse, doing this training after-hours or on their time because there's no room for it in the workday. To take it one step further than just revamping the L&D model, companies are starting to embrace social learning for its many benefits and opportunities.
In remote companies as well as those who have adopted a hybrid business model, employee engagement is an even more critical part of the success recipe. Fortunately, social learning offers a unique way for organizations to increase engagement, encourage motivation and commitment, and support development for employees. All of this will ultimately lead to increased employee retention, but only when you do it right.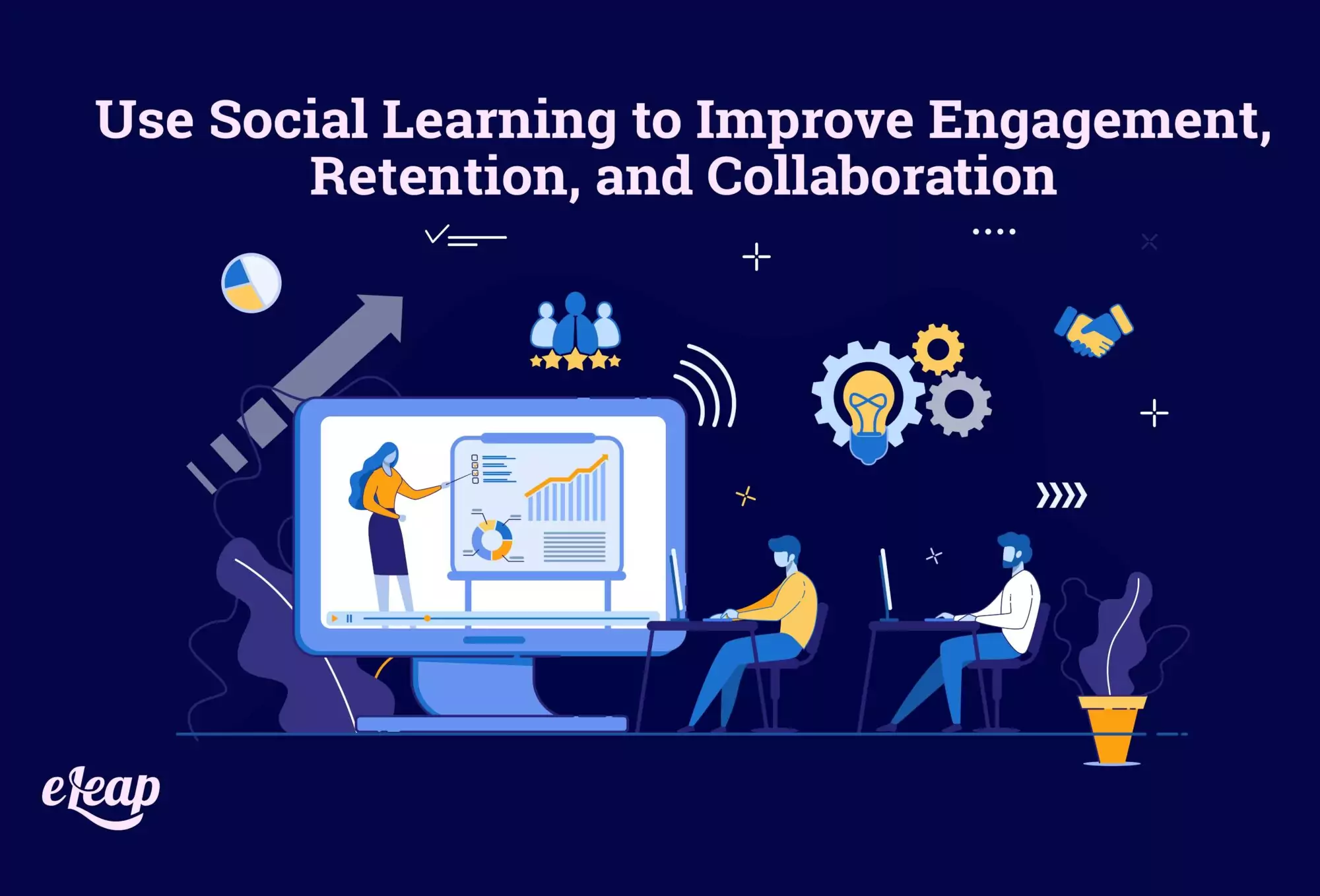 The Case for Social Learning: Numbers Don't Lie
A lot of people have enjoyed transitioning to remote work—they get to skip traffic, business attire, and the hassle of forgetting lunch, again, when there's nothing even remotely nearby to satiate their hunger. The caveat, of course, is that remote work can also increase disengagement, due to employees feeling isolated, disconnected, and just plain lonely.
As many as 20% of those surveyed said they missed communicating with coworkers, and another 20% said they struggle with loneliness when working from home. That's not all, though.
A peer learning program set up by the US airline JetBlue provided some impressive results. The program coupled mentoring and online tuition, ensuring that everyone felt connected and engaged in the learning process. Upon surveying the employees, 96% reported they were more likely to stay at JetBlue, while 85% of employees felt more engaged.
Connection from Collaborative Learning
A Gartner survey noted one skill that sets leaders and managers apart, making their teams 40% more engaged. Managers with this skill were also three times more likely to create top performers within their team than those without it. And it links to social learning, employee engagement, and even retention: connection.
The best teams feel like they are led by people who foster meaningful connections and build teams that focus on highlighting each employee's specific capabilities or best skills. Humans develop best when working collectively. In the case of work, you get employees that are more engaged and teams that feel more connected, which will increase peer communication and reduce reliance on management.
If your organization is embracing knowledge management as a holistic approach, collaborative, social learning is going to be a key part of that methodology. And it will be a win for everyone. Companies get the full extent of their employees' experience and knowledge, while employees feel valued by their employers and feel more like a part of something than just another worker.
How to Create Your Social Learning Program
Like all training and development resources, one of the best things about your social learning strategy is that it doesn't have to cost a fortune or take a lot of time and effort to set up. You can easily transform your L&D to deliver the perfect community-based learning environment with a few simple tips.
Make sure that your LMS offers a messaging tool. Nothing is worse than feeling like you're struggling through a training lesson alone. You can even use messaging to collaborate and brainstorm, nudge employees about learning initiatives, and more.
Create an internal employee directory for networking. If you want people to learn from within, you need to let them know who's the authority on what. Otherwise, your management will be inundated with questions and your employees could be asking peers who are totally unqualified for assistance. You could even have employees flag and tag areas of expertise so that they're searchable, giving your employees an invaluable resource.
Create a resource section for employee-generated content. You should promote your learners by creating and uploading resources that help with organizational problems or tasks. This includes providing feedback to peers and improving existing content to continue the social learning efforts.
Encourage feedback—as frequently as possible. You can do this through surveys and polls, simple messages with suggestions or input, or even by having collaborative brainstorming and problem-solving sessions virtually. When employees feel like they have a voice, they'll want to continue to contribute to the learning community.
All of this depends, of course, on having a next-gen learning management system that can help you set up a community learning model so that your employees can embrace all the perks of social learning.
Mandate More "Face" Time
Social learning can't happen through disconnected emails, messenger apps, and company LMS platforms alone. In addition to everything we've already covered, you need to also make sure that your teams are getting more face-to-face time. Especially for full-time remote teams, being able to see a coworker in a tutorial they recorded to share with the group can do wonders for their feeling of being connected and involved.
Schedule meetings and events and make them take place via video. Have people self-record walkthroughs, training topics, tutorials, or other content, and then share it with the rest of the organization. This provides more focused training resources while also reaffirming that feeling of connection among the team. Some people feel like videos are awkward, or that they're awkward in videos. Reassure them that the more they do it, the easier it gets.
Conclusion
Whether you call it social learning, community learning, or anything else, it's a great shift to make for your organization if you want to improve learning and development across the board. It will also increase employee engagement and make people feel more valued and included in their roles. Fewer employees will feel isolated and alone, and the collaborative environment will encourage growth and development into the future. If you are ready to start creating an organization where people take pride in their careers and embrace all of the learning resources that are offered, take advantage of the eLeaP LMS.