How to Migrate From an Old LMS to a New One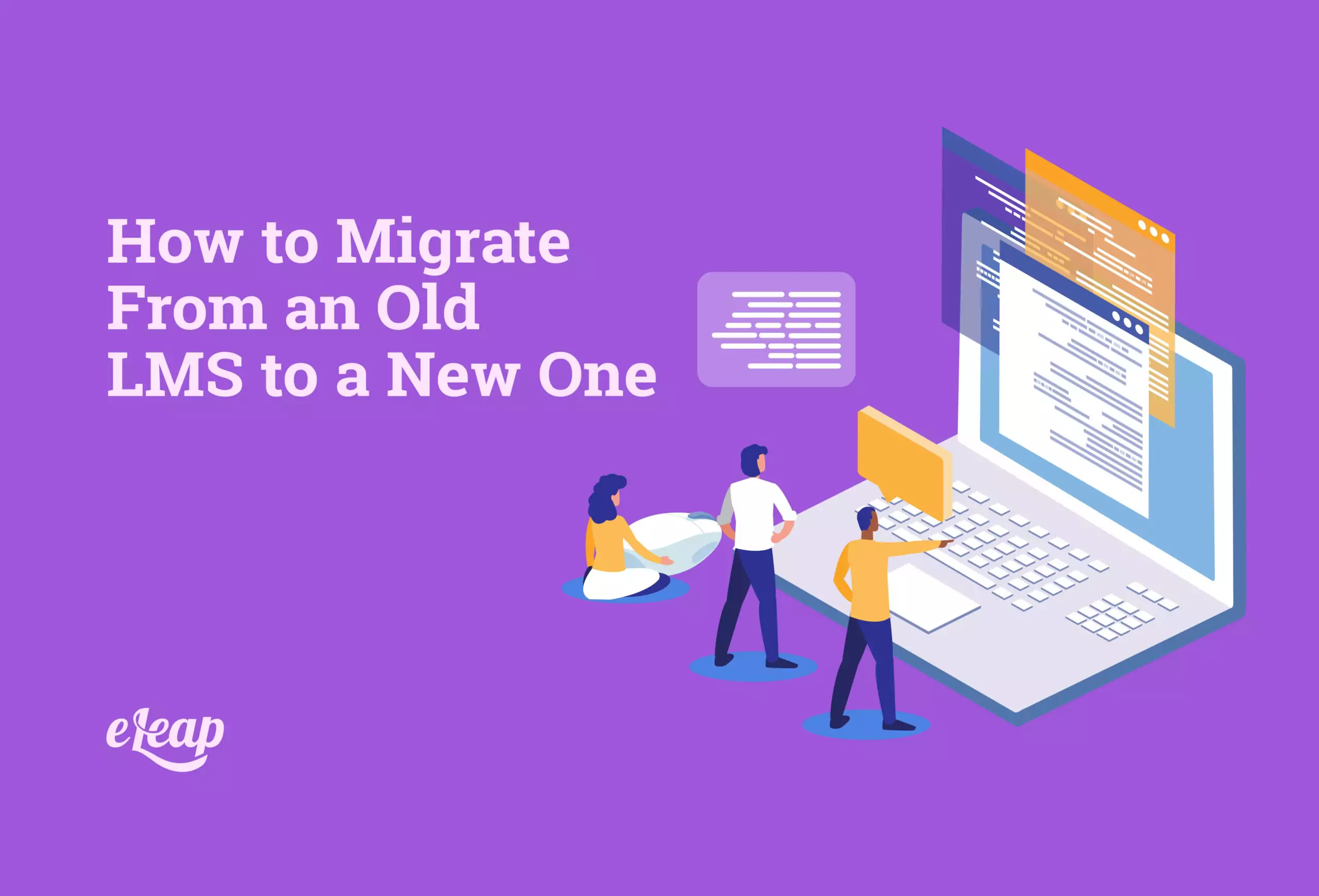 Migrating to a new learning management system can be a tedious and overwhelming process. Migration of LMS systems can be difficult and expensive since many complex steps are involved. But there is no need to worry if you plan to switch to a new LMS from an old one. To simplify this process, we're here to give you an overview of migrating your LMS.
It is crucial to migrate data first. If you intend to use a new LMS, be mindful of the differences in technical infrastructure and limitations. You really don't need to be limited or obliged to losing data because you decided to migrate to a new LMS. This is where it might be useful to speak with our solutions experts on how to safely and expeditiously migrate your current LMS instance.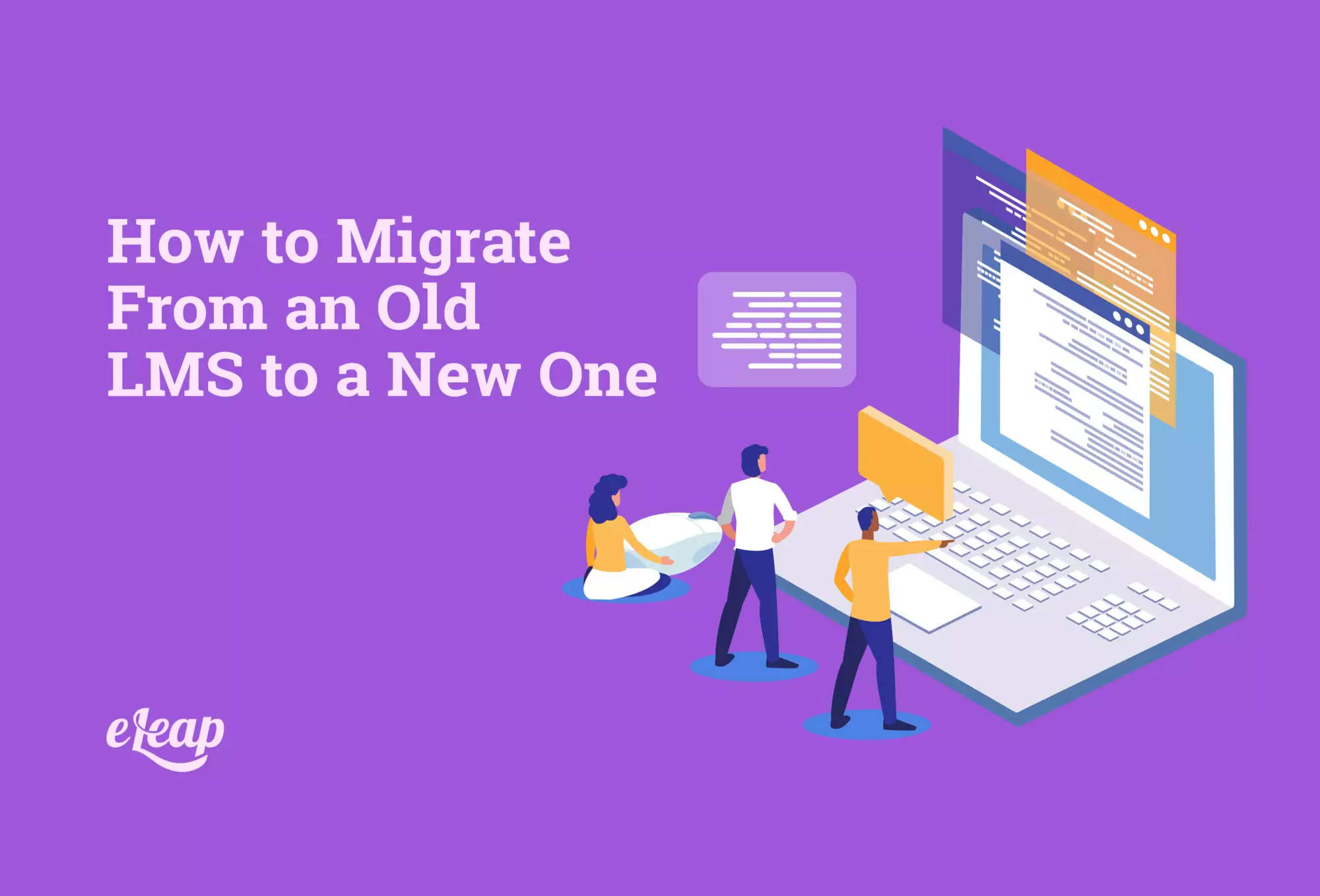 Common Reasons for Changing LMS
The first and most important thing you need to do is to determine why you want to change your existing LMS in the first place. We get it. A crappy LMS can lead you to further complexities and resource loss throughout your organization. Not to mention the headache and frustration of managing such a system. To determine the reasons for LMS changes, you must identify them. Let's talk about some of the most common reasons why organizations choose to migrate from an old LMS to a new one.
Your Current LMS is Outdated
Learning management systems that are customized can quickly go out of date. It is imperative that eLearning industry standards must be adhered to and regular updates performed since things tend to move quickly in this industry. Unless you hire a team of developers to modify your software, the software's functionality may be compromised. Learning management systems are expensive, so if yours is outdated, you might end up wasting a bunch of money on updates, maintenance, and hardware costs and even end up with a barely effective LMS. The SaaS model definitely promises some advantages here, so be sure to talk to our solutions consultant.
Too Confusing or Too Expensive
For users, ease of use is one of the most important aspects of any platform. Ease of navigation and straightforward user-friendliness are some of the most important factors of an LMS. It will be difficult for your eLearning platform to sustain itself if learners cannot navigate it easily. Your LMS probably isn't very user-friendly if your end users have questions despite working their way through content or using the platform regularly. As a result, and after a lot of time and money has been spent on fixing the platform, switching to another user-friendly LMS becomes the only viable option.
There Are Limited Features
One of the most significant benefits of a good LMS is that it offers features that make learning seamless and straightforward for your users. If your existing LMS does not have many useful features, then there is a high likelihood of learners being unsatisfied. Your learning management system can restrict your ability to create online courses that are of high quality. Having this issue can leave you at a disadvantage compared to your competitors. You might benefit from switching to a different LMS with more features that meet your needs and requirements.
A Guide to The LMS Migration Process
In preparation for the LMS migration process, you must first switch to a new learning management system. Make sure you choose a platform you know suits your organization and its needs and will benefit you more than the old one you're migrating from. Here's a 7-part deep dive on how to implement an LMS.
Create a Timeline
Your migration must start with a schedule that can be followed throughout the entire process. Goals should be time-bound, realistic, and achievable. It can help to create a chart or diagrams for your team, so they're able to understand and visualize how the process will work. Migration can be time-consuming and confusing, so make sure your team is aware of how things will unfold.
Map Out Your Data and Features
Data and features that you need to migrate from your existing LMS must be mapped to the new LMS. It is crucial to follow this step since each LMS has a different structure and logic. As you review your existing LMS, it helps you identify which data and features you want to carry over into your new LMS. The process of migrating each feature implies modifying its configuration settings, which can take some months.
Data Cleaning
It's best practice to clean your data properly before migrating from one LMS to another. However, data cleaning can get expensive, so determine what is necessary to move and don't move anything you don't think you'll actually need. Migrating absolutely everything to the new LMS is not recommended. It will actually cost you more and cause further complications.
Move Your Data
You should now organize your data into logical groups so that it can be migrated to the new learning management system. It's important to note that data migration won't happen overnight. There are a lot of important steps when moving data, so be ready for a lengthy process.
It can be very helpful to create a sequence of steps when moving data. This will help you avoid complications. In order to migrate the remaining data categories, the first batch of your data would need to be installed. Every category within your LMS should be migrated step-by-step.
Complete a Pilot Run and Quality Check
Create a prototype of the new functionalities in your LMS before you begin the migration process. Run different courses on your new LMS to test your prototype and look for errors. You should migrate the LMS data entirely to the new LMS once the pilot testing is completed and the errors have been corrected. Check all features to ensure all the goals you have set before the migration, such as scalability and compatibility, are achieved.
Once you've gone through all the technical steps of migrating your LMS, make sure that you train your users on how to use the new system. They might be confused at first, particularly if they're used to using your old LMS and aren't ready for the change. Take the migration process slowly, and make sure to be patient, both with the new system and with your learners.