Is Your Training Missing the Mark? Here Are Four Big Reasons Why You Need to Rethink Your LMS Content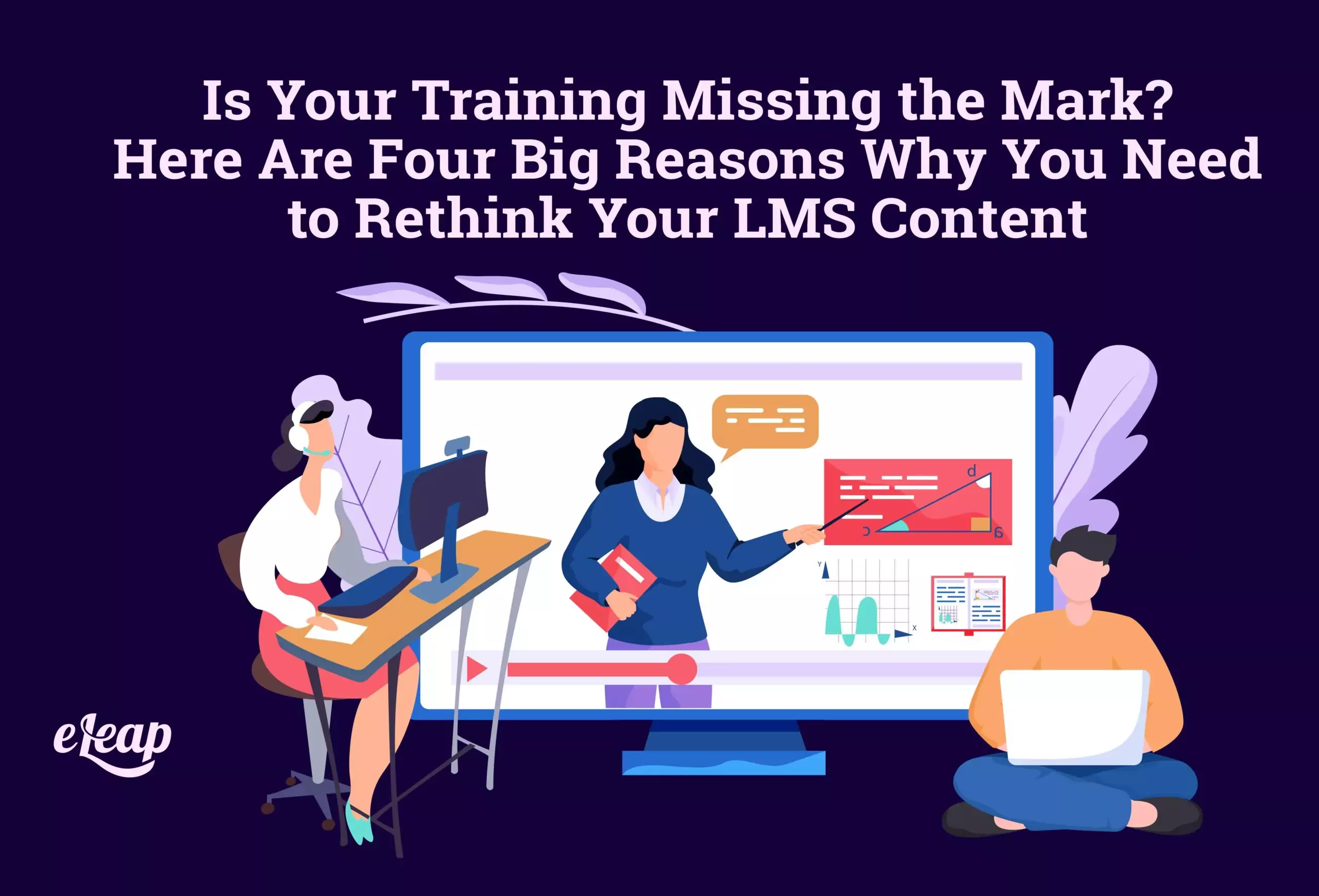 In the digital age, many organizations are embracing tools like the digital learning management system. This is usually hosted in the cloud and provided by a company that's experienced in LMS and PMS topics. They should also be branded to the organization using them and designed in a custom format for their specific needs. Off-the-shelf courses do still have their place, but an entire off-the-shelf LMS is no longer effective. Companies need to embrace digital tools and customization of resources, including a custom LMS that offers a completely white-label solution.
For those struggling to be successful with the LMS, there may be certain things going on that are causing the issues. Although it could be any number of issues, here are four of the most common reasons that LMS content, and platforms in general, fail to deliver the training and education that people need (and deserve).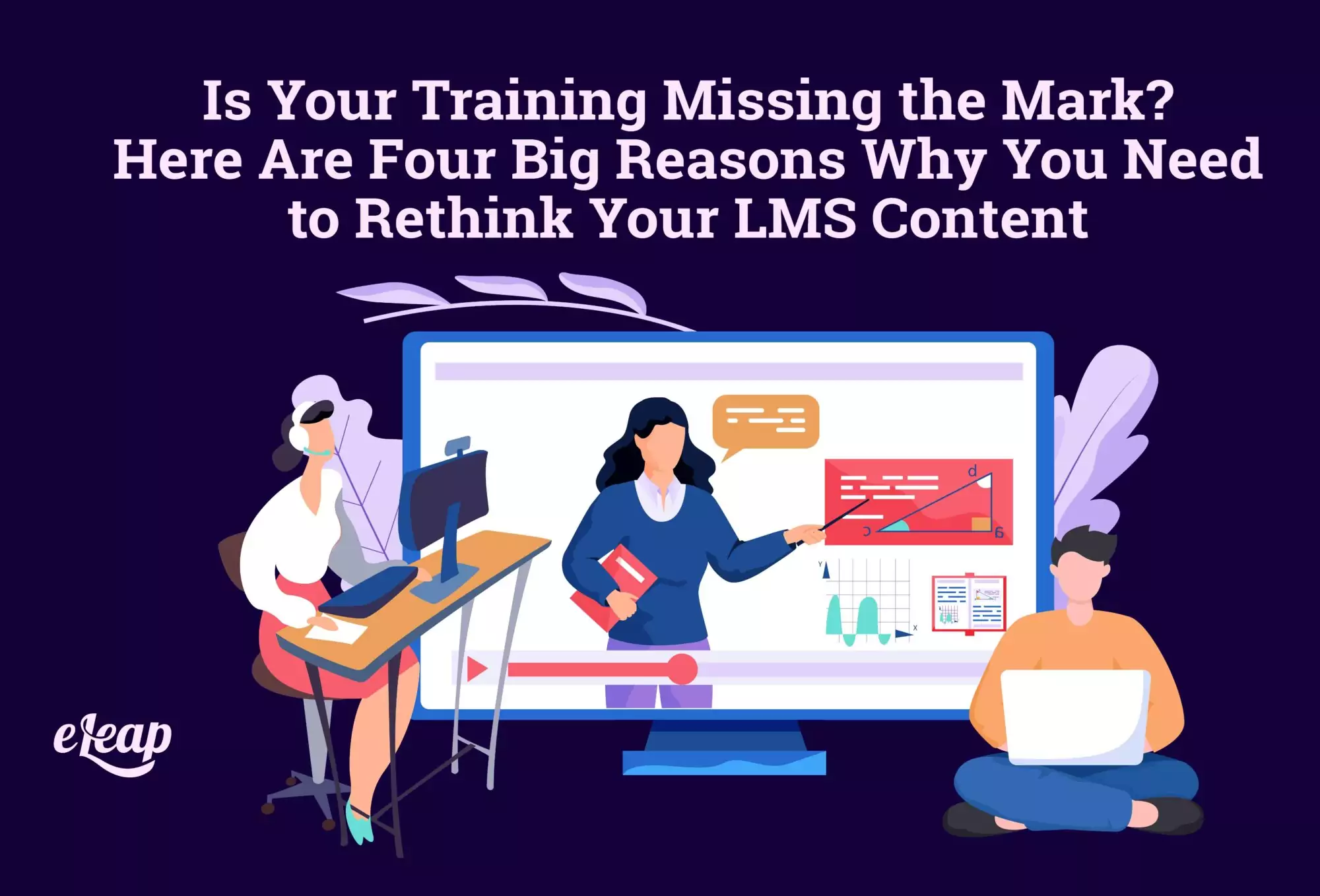 Courses Are Too Generic or Outdated
The last thing people want is to take a training course that was developed 20 years ago—it's not going to be relevant, even if the information hasn't changed. It's important to update training courses and learning modules regularly and ensure that they are focused on teaching a specific skill or set of skills.
Too often, people are overwhelmed with courses that offer very broad training but then try to hyper-focus on the learning process- that's conflicting and can be stressful for anyone. Organizations trying to improve the LMS and learner engagement need to reconsider and restructure their courses to ensure that they hit the mark with all learners.
Content Is Irrelevant or Boring
A lot of people will sidestep the "b" word here by talking about engagement, relevance, and other key buzzwords. However, the fact of the matter is that most LMS content is just plain boring. No one wants to sit through the same snooze-worthy training modules the company has been pushing for the past decade. More than that, employees today want to engage with content and feel like they have an active role in the learning process.
Companies need to utilize AI, virtual and augmented reality, and other technologies to make learning content engaging, interesting, and valuable. When people are engaged and enjoy what they're learning, they tend to retain more information and do better in terms of performance—it's a win-win for everyone.
There's No User Content
Today's digital learning space needs to have user-generated content (UGC). There are several different ways to incorporate this, but what matters is that people are taking the time to do it and doing so rather effectively. Encourage comments, discussions, and collaboration in this space. Give people a chance to share information with others and even help with training modules or specific skills. They can add a lot to the LMS and it will help everyone feel more engaged and involved.
Peer-to-peer engagement in the digital space is at an all-time high. It should be for your organization, as well. When people are encouraged to create and share content, they are held accountable for keeping up their professional knowledge and expertise. They're also given a sense of power over their learning, which engages more learners than traditional training solutions.
User-generated content should be curated and monitored, but it should allow interaction between all employees so that it can help create a more collaborative space within your LMS.
The LMS Interface is Difficult to Use
This has less to do with the information in the LMS and more to do with the software itself. No matter what platform an organization chooses, it should have simple navigation and a user-friendly interface to make learning and development simple and engaging. Most companies are also choosing a mobile-friendly design that can be accessed from smartphones and tablets. That way, learners truly can interact and learn from anywhere, on any device.
You can have a robust LMS that's packed with information and resources, and still not have a complicated user interface or user experience. It's all about setting it up properly and utilizing the best LMS solutions for the job at hand. Work with the experts to create a white-label, customized learning journey for every employee of the organization and watch how much engagement and success rates rise.
The Customized LMS Is the Key to Success
While off-the-shelf products still have their place, they should be part of a greater LMS that is customized to the needs of the organization in question. LMS platforms come in all shapes and sizes, but companies are encouraged to choose a platform that is scalable and agile, offering easy transitions with company growth and changing learning and development needs. There are no two LMS platforms that will work the same for different organizations.
This is often where many organizations struggle—they try to avoid investing in a white-label LMS or limit the customization because they don't want to go "too far" with their efforts and lose their users along the way. Fortunately, the products and solutions available today make it much easier to create the perfect learning management system, no matter what a company needs.
Work with the Experts
For those who aren't sure how to make their LMS hit the right benchmarks and accomplish the right goals, it could be helpful to work with a learning management provider that can assist in the creation of the custom LMS platform that each organization deserves. These providers are experts in LMSs and how they work, as well as which learning trends are most effective and used today. This can all lead to a better, more effective LMS that's tailored to the needs of the organization.
In addition to the ways that companies may be missing the mark mentioned above, having the right people on your side should be high on the list. Partnering with a dedicated company that understands learning management systems and offers complete white label solutions is almost always the way to go.
Here at eLeaP, we can provide you with the solutions you need to improve your employee training program and garner your results. Go ahead and set up a 30 day free trial today to check out how our system can work for you and your team!