What is a Manufacturing LMS? Why Organizations Need to Upgrade Their Training Tools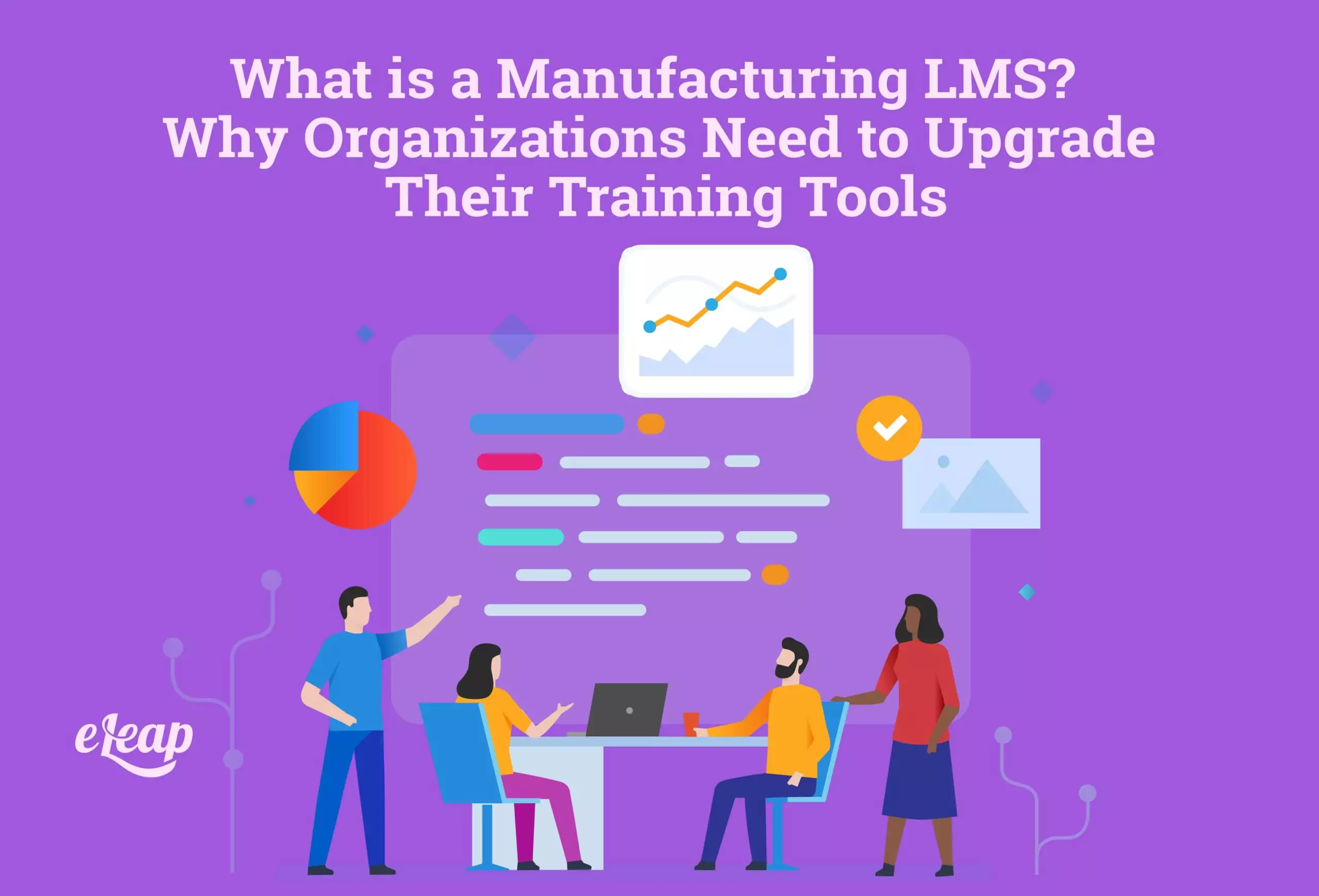 Today's companies have a lot of different options for training and educating employees. The old ways of training—long meetings, videos that were made decades ago, and sending people away to a week of training with other newbies from around the country—are no longer as effective as they once were. The Internet has created a society that is content with instant gratification and that expects nothing less than easy, accessible solutions for everything. This includes their job training and education.
In the manufacturing sector, an LMS can be used to train employees that work the factory floor, provide virtual "hands-on" training for equipment and machinery, and even train employees on customer service or client interactions. The flexibility of LMS software makes it easy for organizations to create and assign their own e-learning materials, track and report learners' statuses, and ensure that everyone is learning the skills they need based on their role within the manufacturing organization.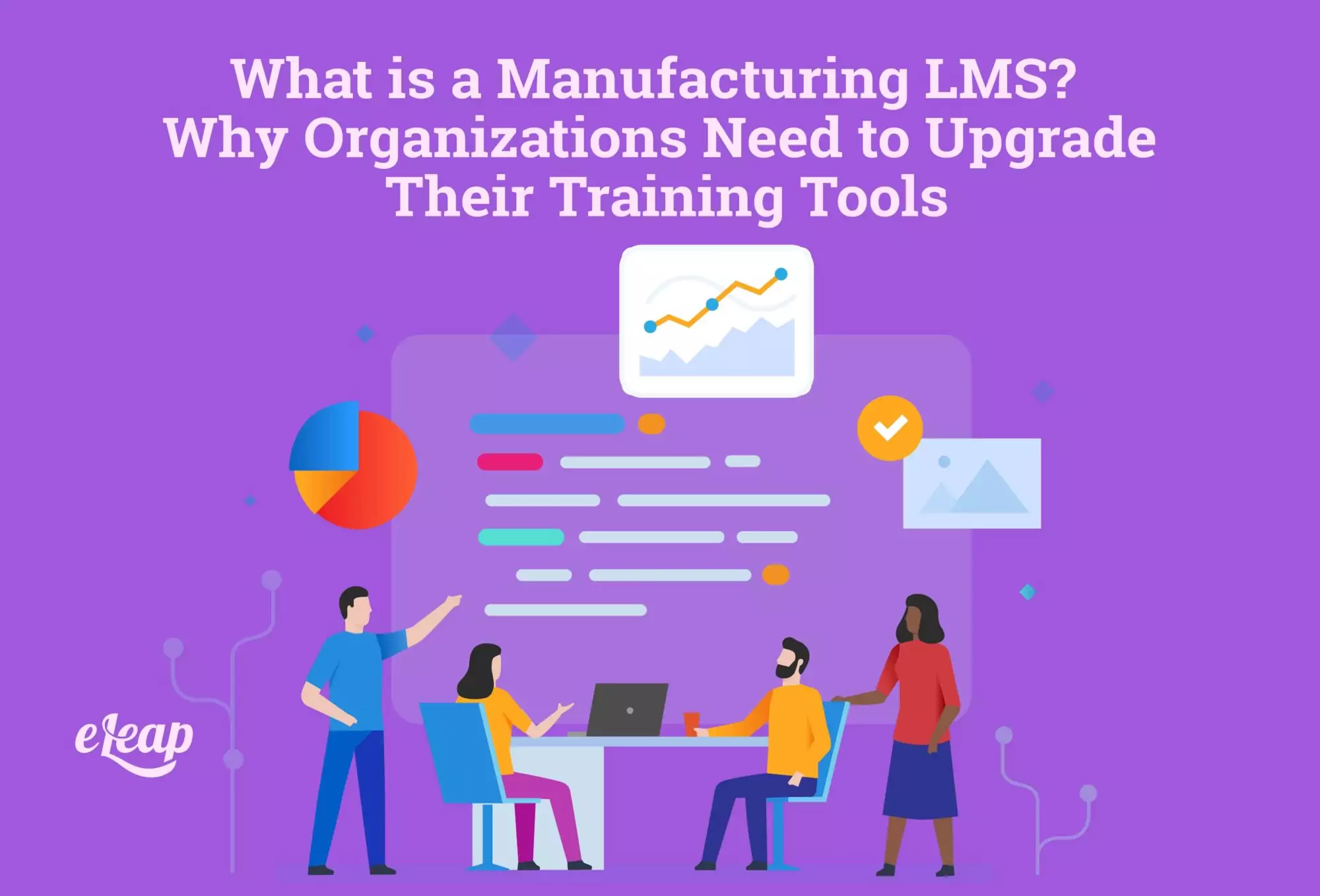 Automate Training and Improve Performance
With a manufacturing LMS, companies can set up their own training and learning initiatives, as well as curate and share related content, making it easy to improve performance across the board by delivering better training resources in the first place. A modern LMS includes a full resource library of tools and information, along with plenty of training resources for the employees within the organization. Courses and training modules can be whatever organizations need and there are even white-label LMS solutions to allow brands to create their own custom learning platform that stays on brand.
A learning management system will allow manufacturers to set up necessary training courses and onboarding sessions and ensure that everyone meets their educational requirements. It gives people the latest education and training in the manufacturing sector and it allows companies to improve operations by improving the education and expertise of the people that work for the organization.
There are also advanced reporting tools that come with LMS platforms to ensure that manufacturing organizations can ensure that all insights are being utilized to improve learning and development across the board.
AI and Augmented Reality
The future of learning is in the virtual world, as we've seen with new innovations like the Metaverse. In manufacturing, having access to augmented or virtual reality as a part of the LMS can cut down on a lot of on-the-job training, reduce injuries and accidents that can occur during training, and more. It gives people the chance to get their hands on the job, without actually having to disrupt the business, send people away for training, or worry about how to fit in what they need to learn.
Organizations can set up the perfect scenario for their employees, launch it through the LMS, and then see how employees perform virtually to save the risks of doing the training in the real world. Whether it's because it's not something that can be replicated or if the manufacturing process just can't be interrupted for the sake of training, these automated and virtual training tools will continue to grow and thrive for manufacturing LMS platforms and plenty of other industries, as well.
Customized Content for Every Organization
Even if manufacturers know little about setting up an LMS or what kind of content it needs, working with a dedicated LMS provider will ensure that custom content is available for training and development that is in line with the organization's goals and expectations. It also gives companies a chance to put learning and development in the hands of the employees, putting the managers in more of a support role instead of actually delivering all of the training directly.
Customized content comes standard with an LMS, too, so it's not even an extra expense. So many organizations focus on lean manufacturing and ways to cut costs on the floor, but few look at training and onboarding. For those that do, a good look at the LMS will allow them to see just where they can make changes and improvements to deliver a better experience for people throughout the organization.
Compliance and Standardization
Another feature of the LMS that manufacturing organizations love is the ability to add in compliance training and regulatory standards, such as OSHA requirements and other guidelines. Companies can set up safety training and use the learning management system to ensure that every single employee gets the exact same training from the very first day. The "assembly line" process of most manufacturing environments can't be effective if the employees working the line aren't part of the process.
In manufacturing, it can be hard to teach compliance training without making people feel like numbers, but if you take a personalized approach, the success rates will be much higher. People understand that compliance is an essential part of their job and that in manufacturing, safety is a big concern. Therefore, they will embrace these learning modules provided that you deliver them in a way that's appealing and that is in the best interests of the employee.
The Bottom Line
Manufacturing is changing in several ways. The pandemic made sure of that. The one thing that shouldn't change, however, is the quality of training that people get, even when they're working remotely or they can't attend traditional training seminars. With customized solutions like a learning management system, manufacturing organizations can ensure that they have the tools to set their team up for success, no matter what that entails.
Every industry has its own concerns and considerations with the modern LMS platform. For manufacturing, it seems to be poised to do far more good than people anticipated, helping create a collaborative, goal-focused environment from the manufacturing floor to the back offices and everywhere in between. When organizations choose a white-label LMS, they can even brand it to fit their needs and deliver a truly personalized learning experience for each and every employee.
That is just the beginning of what will help the manufacturing sector make the cultural shift to embrace employees as people and value their abilities as a part of the organization. To start having greater production and an overall increase in the quality of your organization, contact us today for a free consultation!