What Should Your LMS Accomplish?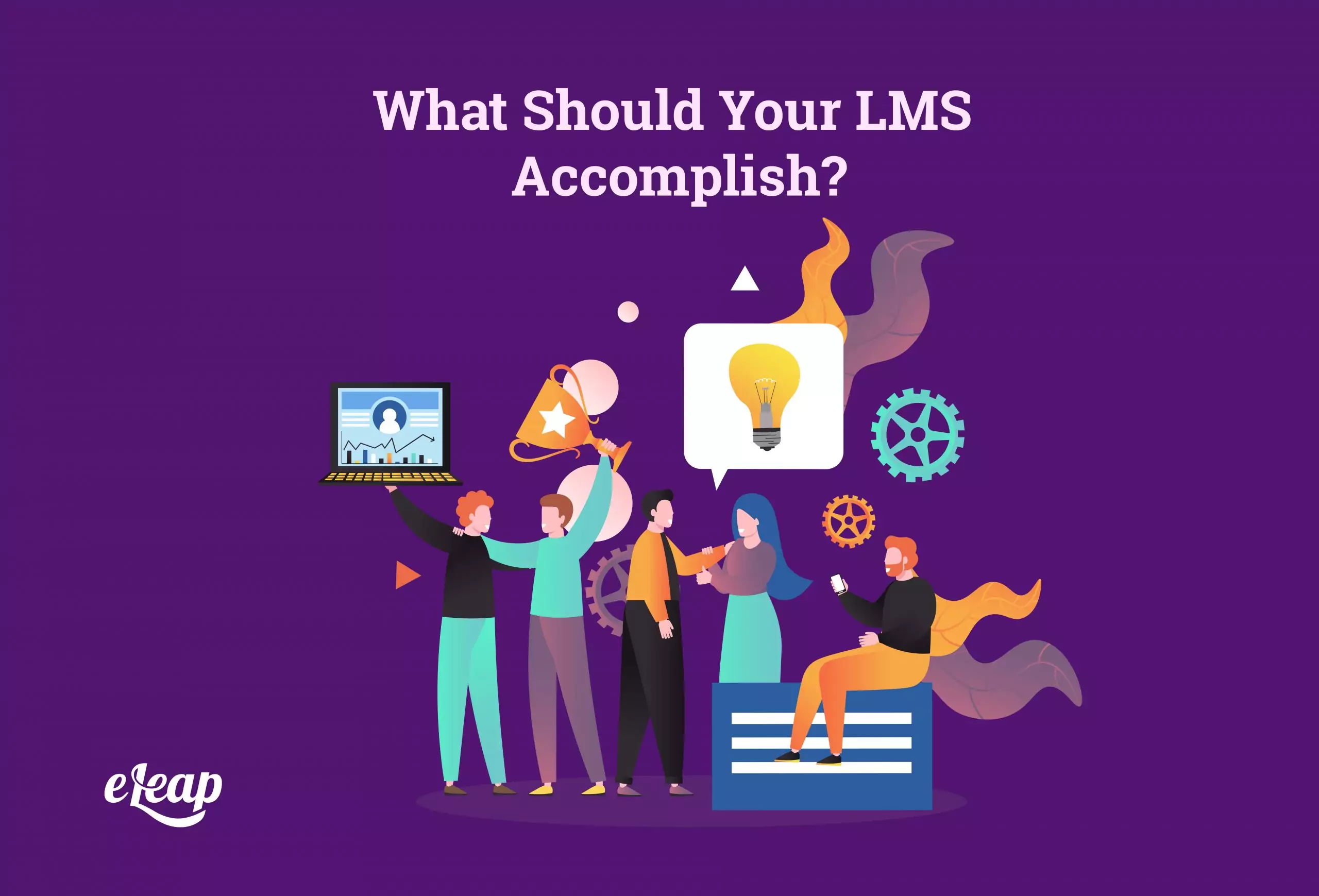 LMS (Learning management systems) are well worth the investment, and they're fast becoming an industry standard across all different industries. Many companies have only the best things to say about the positive ways in which an LMS has upgraded their employees and their organization. But how? What goals exactly are learning management systems helping employees and companies to accomplish?
You probably heard all the amazing things about learning management systems and finally took the dive and got your organization set up with its very own LMS. You've invested time and effort in choosing a learning management system, and money in purchasing it and getting it set up. So, now you have this shiny new LMS that you expect to do great things. But what exactly should your LMS accomplish? What goals and expectations should you have now that your new LMS is up and running?
If you don't know what to look for in terms of improvements you see that are influenced by your company's LMS, you won't know how to measure. And, how well the learning management system is functioning overall. But understanding exactly what you hope your LMS will accomplish for you, you will know how to make necessary adjustments to ensure your organization is meeting those goals. Here, we will go over some of the key goals that your company's learning management system should accomplish.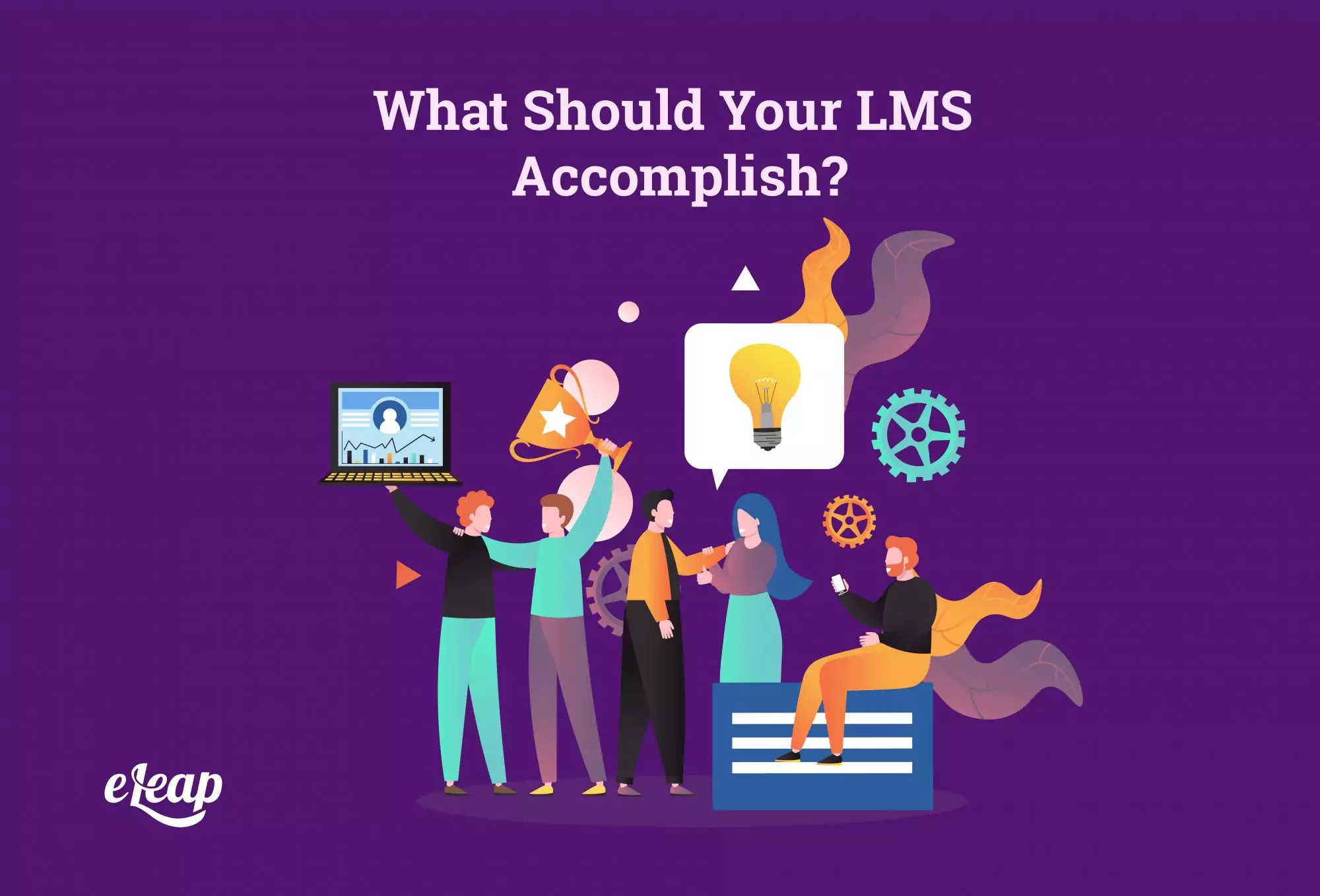 Your LMS Should Improve Your Employee's Ability to Do Their Job
Obviously, one of the primary reasons you got an LMS in the first place is to help your employees perform their jobs better. After all, that's the ultimate goal of a learning management system. Your LMS should help your employees to perform their job functions more efficiently and productively. It hopefully features courses to teach your employees what they need to know to perform their job. But it should also feature assessments so you can accurately judge how well the LMS is teaching employees what they need to know, and how much they're paying attention to the lessons.
Your LMS Should Bolster a Positive Learning and Development Environment
Job performance can be further bolstered by your learning management system's ability to bolster a positive learning environment. This will further encourage and inspire your employees to improve their knowledge and develop their skills. It will also encourage employees to learn of their own free will; because they want to, rather than because you require it of them. An environment that fosters learning and development as a core value is essential, and one of the great indirect benefits of an LMS. The learning management system itself doesn't directly teach employees how to create a learning environment. But indirectly, it's encouraging employees to adopt development and learning and showing them how positively it can affect their jobs. And when more employees enjoy such environment, the more it will continue to grow.
It Should Improve Company Efficiency
A good learning management system that's set up correctly should work wonders for improving your organization's efficiency. It starts by boosting individual employee efficiency, which in turn, boosts that of your company overall. Proper training and development that comes hand in hand with a well-selected and functioning LMS will be hugely beneficial for efficiency levels. This is mostly because the learning management system is teaching employees how to do their jobs in the most productive and effective way. The more they know and understand how to complete their jobs, the more efficient they will be overall.
It Should Encourage Innovation
Your LMS should be able to easily store and distribute information to employees. This actually helps your employees to innovate and improve on the overall training and learning process. A good learning management system can actually help employees to think outside the box. And, work more creatively by utilizing everything that the LMS has to offer.
It Should Lead to Better Engagement
Employee engagement rates are absolutely critical to how well a company functions. When there is no engagement, employees won't work as hard, lacking motivation, and will likely be largely unproductive. eLearning, when done right, has the ability to massively improve the overall engagement of employees. Why? Because training is more accessible and more engaging in itself. And, employees have easy access to learning whenever is more appropriate for them. Furthermore, your LMS should inspire employees and align with their personal goals, which will help to intrinsically motivate them and thus increase engagement rates.
Improving Workforce Professionalism
Your LMS must facilitate thorough, top-quality training. Training and knowledge are what helps to turn your employees from workers to industry professionals. Your LMS should help bolster professionalism in the workplace by ensuring your employees have all the expertise and knowledge they need to do their jobs to the highest of their ability. A learning management system should help your employees to hone their core abilities. Then build upon those abilities even further. Additionally, good core knowledge can help to boost confidence in their skill set, which goes even further in turning them into seasoned and well-informed professionals.
The positive benefits and effects of a properly selected, set-up, and implemented learning management system are endless. A good LMS has the ability to completely change the way your workforce functions for the better. But many organizations invest in an LMS without a real understanding of exactly what goals and milestones they can expect to achieve.  If you don't have a good general understanding of exactly what improvements and positive changes you're looking for, how can you measure change? Knowing what to expect of your LMS can help you put measures in place to judge its overall effectiveness. That way, if there are still areas where you are lagging or wish to see more improvement, you can make the necessary adjustments.