5 Ways to Customize Your LMS for Better Individualized Training and Support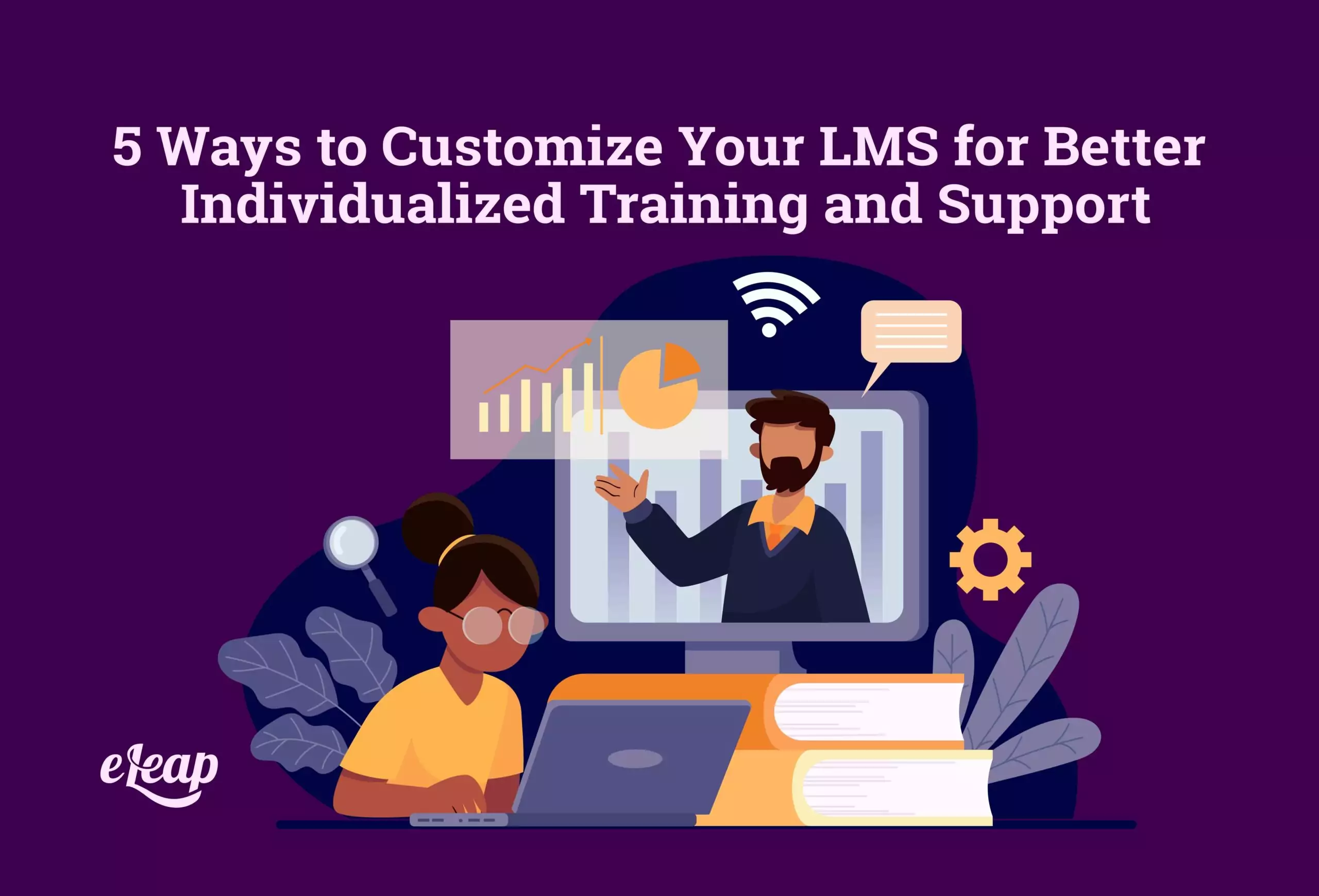 Employee training and upskilling are at the top of every organization's list right now. As cultures shift and companies continue to seek out new talent that is demanding a better culture, understanding how to reach them and deliver the things that they need will ensure that you get the right people on board and that you can continue to grow and thrive.
Hiring is great but upskilling and promoting from within is always going to be better for your organization. Not only does it save on valuable resources, but it gives you a chance to show your employees that you appreciate them and want to offer them the chance to succeed and grow with your organization first. And even if you're not filling new roles, you still need training and support for your existing team to keep them current on their industry knowledge and ensure that they have the best skills for the job.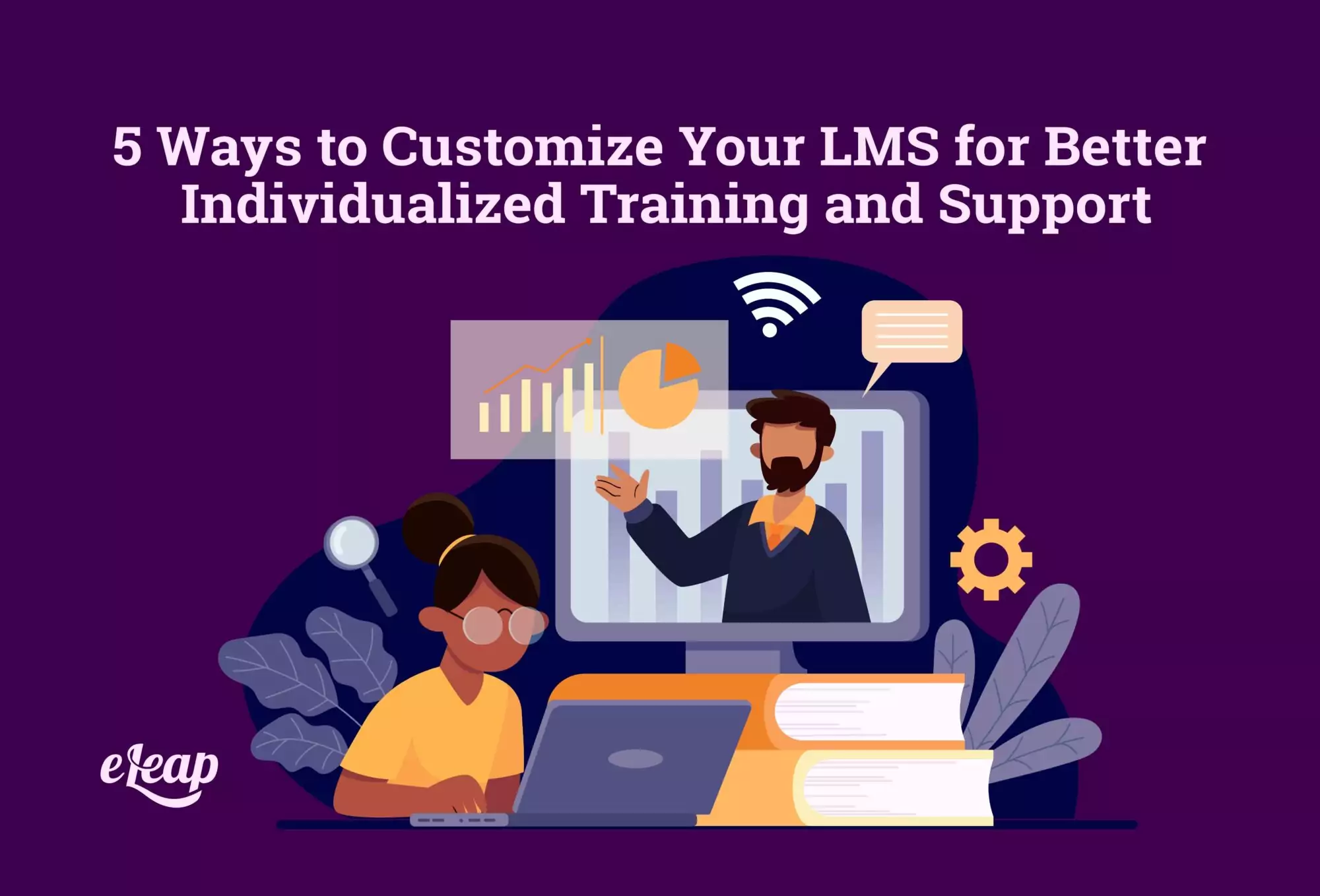 Beyond Organizational Personalization
Yes, you can and should customize the LMS interface with your company logo, colors, and other relevant elements. However, this isn't about creating a look that reflects your brand. It's about creating training and learning solutions that are tailored to each employee in your organization. Fortunately, the modern learning management solutions out there make that easy. Customizing your LMS to be reflective of your organization is standard protocol, but what about personalization and more?
That's where personalized learning modules and LMS interfaces come into play. Creating a secure system that allows individual users to log in and see their own training path will be much more effective than just tossing out random training assignments to be completed on a static basis at your command. Employees also perform better when they can see the path, or the steps involved in the process, which is another way that personalized learning can make a huge impact.
5 Ways to Customize Your LMS for Employee Training
Tailored training and educational resources will change the way that employees engage and improve their chances of success within the organization. Just as you would customize a job advertisement to draw in the most credible and successful candidates, you want to make sure that your LMS is ready to deliver the type of training that your employees need.
Create Individual Learning Journeys: Creating the individual journey does many things. First, it allows you to address the specific needs of an employee and ensure that those needs are covered in the training and learning that they are offered. It also gives people ownership of their training and helps them feel better connected to the organization.
Offer Department-Based Upskilling: Promoting growth and upskilling is going to be crucial for any organization that wants to succeed today. Of course, you can't promote training and development if you're not going to offer it to your staff, so the LMS needs to be up-to-date, dynamic, and designed to deliver the ideal personalized learning experience.
Survey Employees: If you're not sure how to create a customized learning experience but you know that it could be beneficial, take the time to ask employees what they want. Who better to tell leaders what their organization needs in terms of training than the people who are doing it? Even a simple Q and A session could go a long way in getting valuable insights.
Encourage User-Generated Content: Some companies work strictly by the book, following the rules and training from a top-down perspective. They curate and create all of the content in the LMS and on the website, ensuring that it meets specifications. What if, however, you added user-generated content to your database and training resources? Just like surveys, this ensures that people have a say in how they're trained and what kind of personalized learning works best.
Make it Flexible and Enjoyable: The last thing that people want is a list of training classes or tests they have to take during their workday. This not only interrupts their regular work, but it can take up valuable time, seem tedious, and more. Choose customized LMS solutions that make the process flexible and enjoyable for those who need to learn for the best results.
Benefits of a Customized Learning Experience
In addition to everything discussed thus far, there are a handful of benefits that come from personalized corporate training and education:
The needs of individual learners are addressed, which means that training isn't wasted.
Better engagement is achieved and enhances the user experience.
It becomes easier to customize the learner experience over time.
Admins and leaders can provide valuable feedback.
According to Harvard Business Review, as many as 70% of employees report that they don't feel they've mastered the skills to be effective at their job. A lot of this is due to poor training or a lack of personalization that is holding people back.
Your LMS is Your Employees' Future: Use it Well
Companies today are embracing the modern LMS for a variety of needs, and in doing so, they're seeking to create a customized learning and training portal that can take their employees to the next level. Improving performance is becoming increasingly customized in the world around us and it is only a matter of time before you're outpaced by the competition if you don't get on board. Taking the dynamic skills approach and creating a custom learning journey will ensure that your LMS delivers the best possible results, no matter what your goals might be.
Take the time to think about and re-evaluate your training. Work with a company that offers total personalization and that helps you to customize your learning solutions for the needs of each employee. You will quickly find that organizational improvement is much better across the board. Employees will be excited to learn and embrace their training, taking ownership and holding themselves accountable to a higher standard than if they were just tossed the same old static training resources. Get personal and get better performance all-around. Take advantage of online learning with the right LMS platform to start having greater production and an overall increase in the quality of your organization.