HIPAA Compliance Training and the Modern LMS: Keeping Your Healthcare Staff Up to Date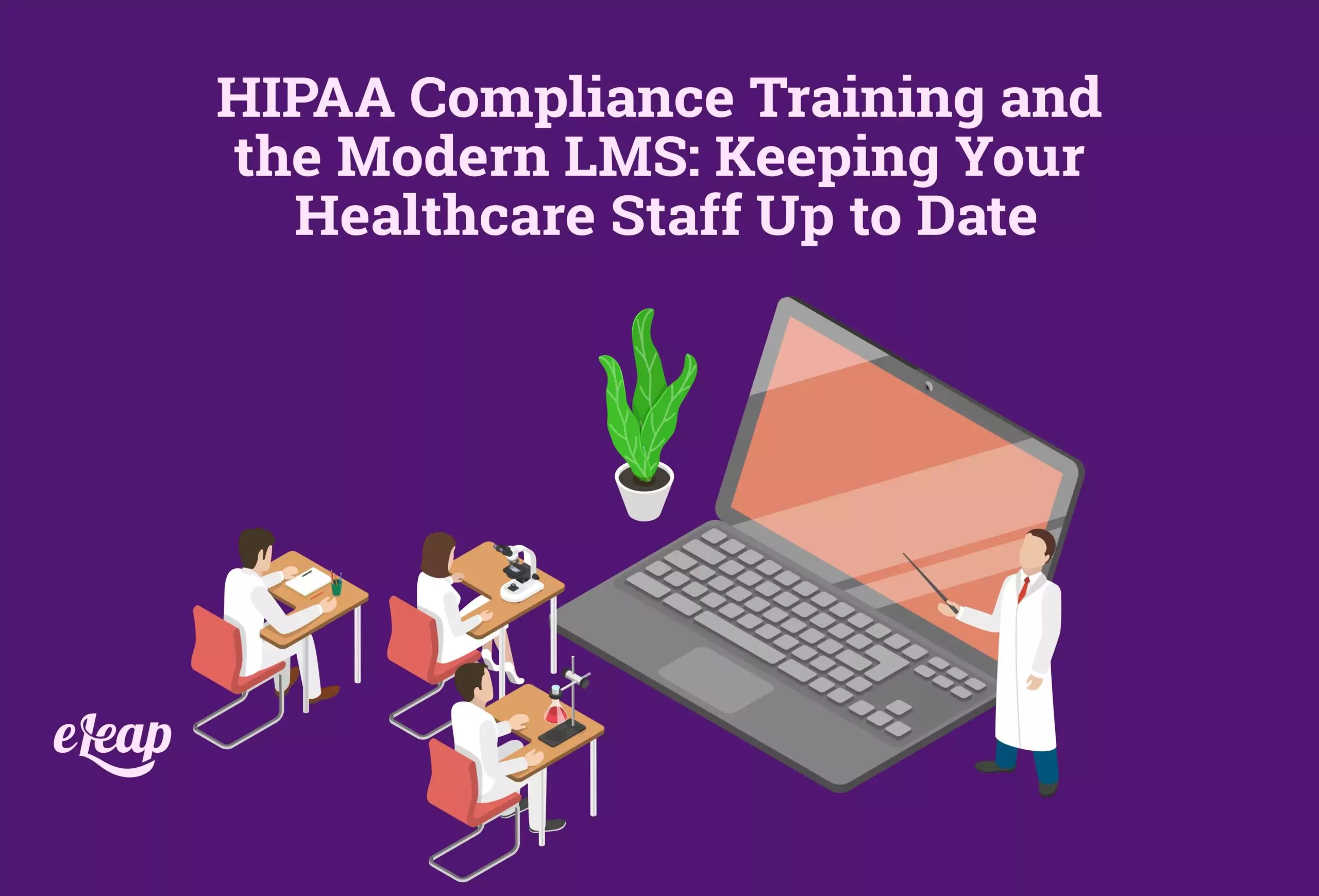 Nothing is worse than hours of endless compliance training, seminars, and mandatory meetings to "learn" about the latest rules and guidelines of HIPAA compliance and other topics. It's an exhausting topic to have to understand and yet, there are different ways to approach it that can often take that sense of dread and boredom out of employees right away. It all depends on how effectively an organization utilizes its LMS (and what approach they take to learning).
It's estimated that the LMS market is expected to reach a global value of more than $23 billion by 2023. After all, as many as 83% of all organizations utilize some type of LMS and many of those are healthcare organizations. Not only does the modern learning management system make learning and development easy, but it also ensures compliance with things like HIPAA and other privacy or healthcare standards.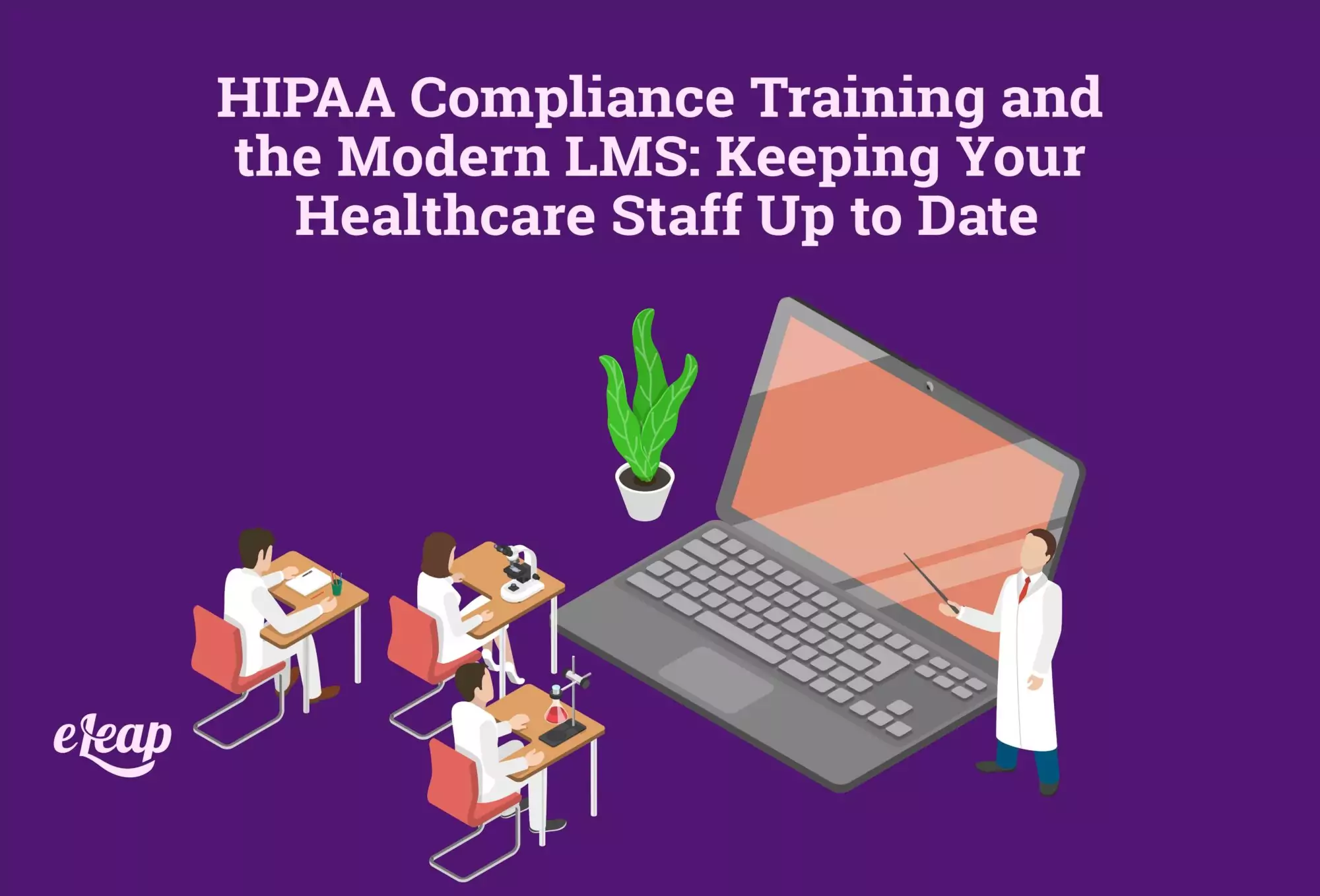 What Is a Healthcare LMS?
A learning management system designed for the healthcare industry is a software or cloud-based platform that allows companies to create, deliver, and manage educational and training content as it relates to various healthcare facilities and job roles. Several healthcare organizations today utilize LMSs to deliver training modules and online learning to their employees. In addition to making compliance easy, these platforms are also customizable so that they can deliver exactly what each organization needs.
A healthcare LMS should have specific provisions and security features in place that are relevant to healthcare organizations. This includes HIPAA compliance, as well as other regulatory standards. Aside from that, the features that an organization chooses will depend entirely on what they need out of a learning management system.
Keeping Up with HIPAA Compliance
Anyone who's been in healthcare for any length of time knows how the far-reaching and never-quite-well-explained standards of HIPAA rule each decision and move in the industry. This is one place where organizations cannot afford to not train, and it's important to train well. Employees working in healthcare need to be kept up on things like regulatory standards and patient privacy and safety issues. There is a process for PHI (public health information) and there are guidelines for how it is (and can be) handled and disseminated.
Although vague, HIPAA has a couple of rules about training requirements:
The HIPAA Privacy Rule states that all new employees need to receive up-to-date HIPAA training in a "reasonable amount of time" from their start date, or as soon as possible whenever there's a change in policy/procedure.
The HIPAA Security Rule is what dictates the security and digital protection procedures within healthcare organizations, requiring things like monitored logins, password management, security reminders, and more. This rule is much more flexible, allowing each organization to create its own Security and Awareness Training based on what is "addressable" within the company.
How the LMS Can Help
When companies implement a modern LMS platform to handle their training, onboarding, and compliance-based learning, they are doing a lot of favors for both employees and the organization alike. First of all, training and travel costs are reduced because all learning can be done virtually, even if live seminars or meetings are required. In addition to offering cost savings, utilizing the LMS for HIPAA compliance and other competencies provides:
Easy progress monitoring
Training consistency
Better compliance across the board
A more dynamic onboarding experience
Increased knowledge retention
Companies are surprised to learn that an employee's decision to stick around is largely based on the onboarding process—it's been shown that people are 69% more likely to remain with an organization for 3 years or longer when the onboarding process is dynamic and comprehensive. It sets the tone and helps engage recruits from day one, making compliance a natural progression in the learning and development process.
How to Get Employees Back on Track
If the organization is behind in training or struggling to choose the best platforms or resources for continuing education (CE), employees will see this and take note. It can impact their experience from day one and even shape their decision of whether to stick around or not. Fortunately, implementing an LMS that is dedicated to delivering the latest education and training for staff is an easy way to get people back on track quickly and without wasting a lot of effort or money. Plus, organizations can even customize the learning management system and the various courses to suit the needs of their employees.
Make compliance second nature with a HIPAA-ready LMS from a provider that delivers the perfect platform that can be customized to your needs. You should choose a cloud-based LMS that offers mobile-friendly access so that your team can learn and train from anywhere. The LMS is becoming a valued asset because it allows organizations to streamline regulatory tasks and monitoring, and even helps with the streamlined development of policies and procedures, risk assessments, and more.
Pass Every Audit with Flying Colors
Thanks to modern technology, audits are becoming much more streamlined, too. Nonetheless, they do still happen, and they can impact the operation of a healthcare organization significantly if things aren't on track. Thanks to the LMS, it's easy to monitor learning and development, including compliance training, and to have records proving that everyone has done their part. Organizations that have integrated a dynamic LMS report much better audit ratings and a much less stressful experience throughout the audit, too.
Even though there seems to be a lot of leeway with the "rules" of HIPAA compliance, it's still something that needs to be taken seriously. It needs to be done, and it needs to be done in a way that prepares employees for their role within the organization. They need to know how to treat patients, what they can and can't say, and how to ensure that everyone's health information remains protected, at all costs. When using the right LMS for compliance training, these outcomes can all be had.