LMS Software for the 21st Century: A Guide to eLearning Solutions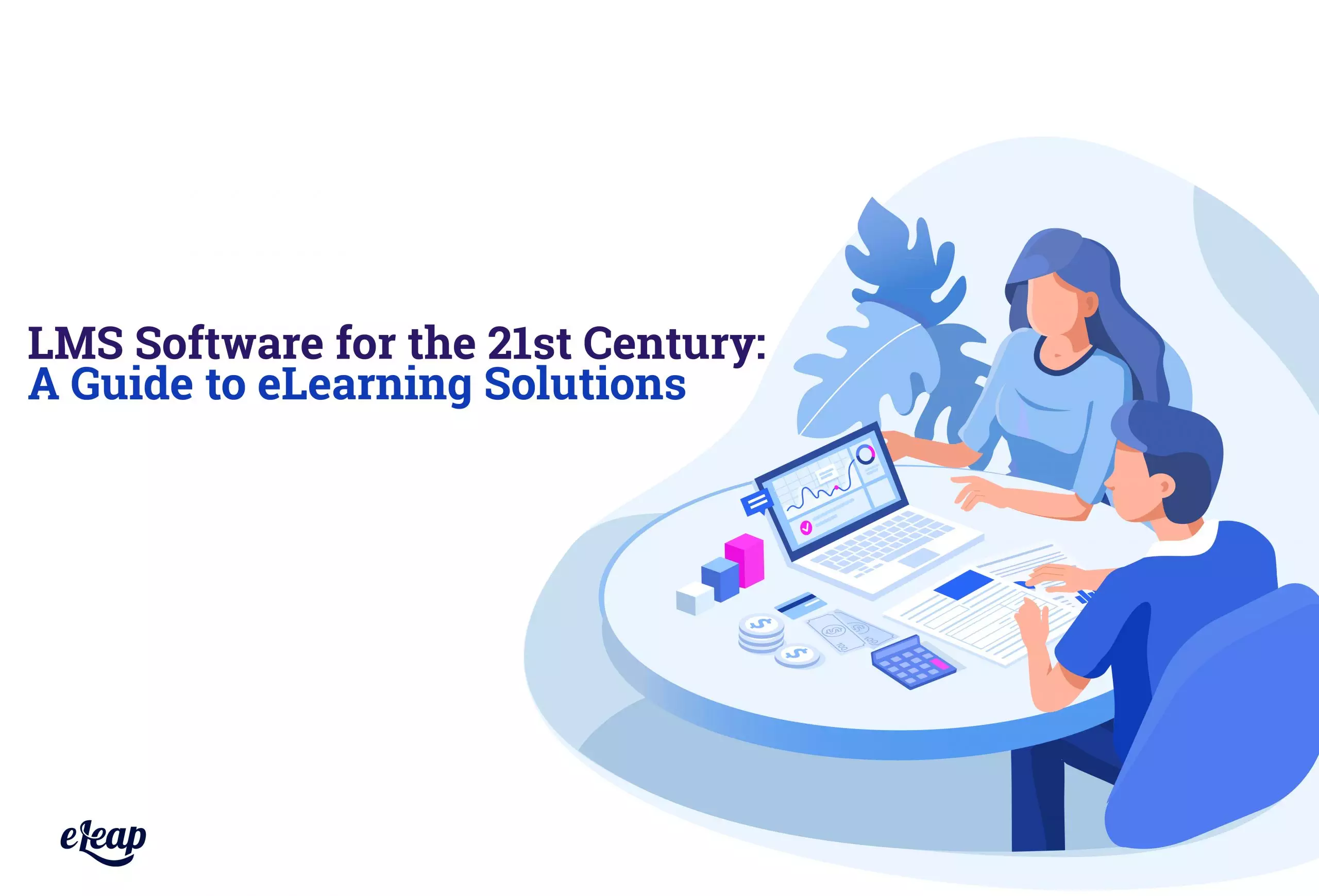 The demand for online learning solutions is constantly growing and evolving. As such, the available solutions need to do the same. When you have a larger audience and you need to convey a lot of information in an easy-to-access format, eLearning through an LMS software (LMS Learning Management System) presents the ideal solution. It is important, however, to take the time to get to know the various resources that are available and see what they have to offer. By taking a deeper look at the benefits and uses of these platforms, it may be easier to see what your company stands to gain from employing technology as a teaching tool.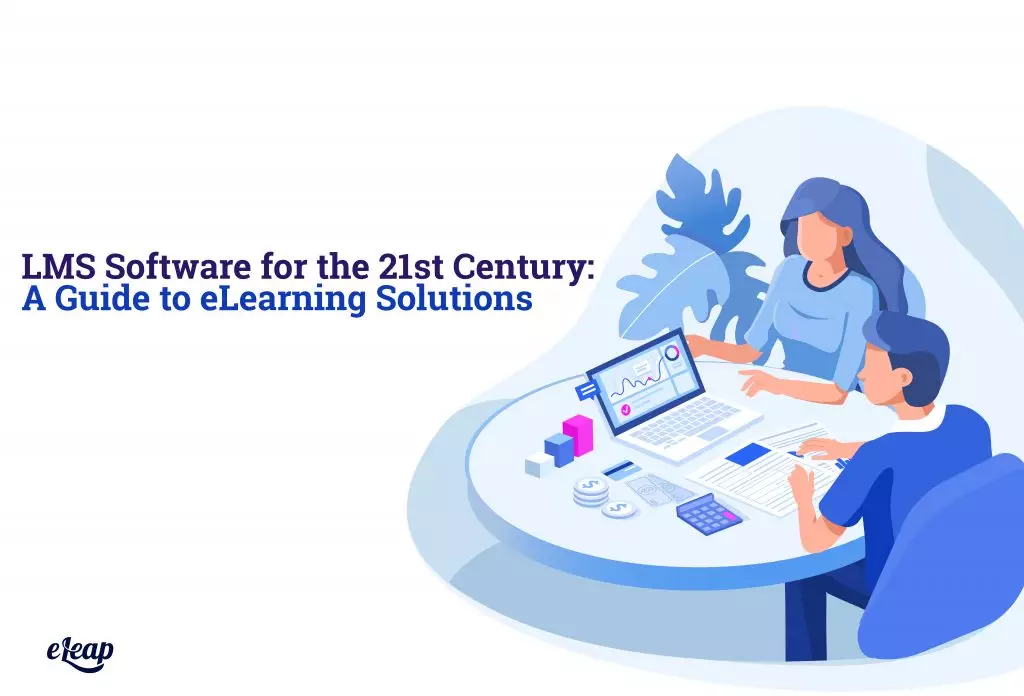 The eLearning Industry
There are literally thousands of vendors and companies promoting their own LMS software solutions today. That can make it a challenge to figure out which platforms are going to be best for the job at hand. In fact, in 2021, it is expected that this market will be worth close to $16 billion, with the majority of the revenue generated in North America.
Studies have shown that over 40% of the global Fortune 500 companies out there are now using some type of online learning to help instruct employees with formal job training and other educational needs. With the growing trend of online learning, it's expected that as many as half of all available college courses are now online or somehow based in eLearning technology. It's becoming glaringly obvious that the growing demand for virtual learning systems is there and that companies need to get on board.
The eLearning industry is changing the way people look at skill acquisition and job training. The ability to implement and manage a learning solution virtually can save companies a lot of time and money on their training efforts. Of course, because there are so many different solutions out there, it is important to take the time to explore the industry and find the solutions that work best for your specific training needs. Keep reading to learn more about LMS platforms and what you should be getting from them, as well as how you can use them to revolutionize your own training programs.
LMS-What It Means to You
Simply put, an LMS software is a Learning Management System or an integrated platform that is designed to organize and manage training materials and educational courses, providing a user-friendly interface through which people can access the materials and courses. These platforms are typically hosted online and cloud-based, making them easy to modify, adapt, and access for everyone in the organization. This system is designed to make training easier, so if you find that you are struggling to actualize that goal, you might be going at things from the wrong direction.
Just because you have and use an LMS doesn't mean that you're making the best use of it, after all. Some people are employing these systems without a full understanding of what they offer or they simply roll out the first LMS software that they find without taking the time to do their homework and figure out which systems are actually going to be best for their needs. Fortunately, this guide has all of the insights and information that you need to ensure that you capitalize on your investment in a learning management system, no matter what type of training you have that needs to be done.
Features of a Strong LMS Platform
There are definitely some things that you should be looking for when you're investing in an LMS software solution for your e-learning needs. There are a seemingly endless number of features available on various platforms, but you really need to take the time to figure out which features are most important to you. Do you know what you are looking for? If you are trying to make the most of your investment in this training tool, here are some big features that you really need to think about.
Data Migration
Your online learning platform should be able to move and integrate data seamlessly. Whether you are just investing in a new system and merging your previous LMS data or you are just trying to keep things integrated, the migration process in the software that you choose should provide you with all of the resources that you need to keep everything in one place.
Built-in Social Media Support
People are social creatures by nature. Now that social media plays such a large role in careers and other parts of life, having social media support and integration can be a value-added asset to any LMS. You can often incorporate social media groups and blogs that allow users to connect and work with their peers, as well as social tracking tools that will help you keep an eye on things like participation and engagement.
Gamification (Badges, etc.)
Who doesn't love a good competition? People are naturally competitive and if you give them the tools to gamify their learning, they are going to feel more accomplished and be more likely to succeed. Motivating people is easier when you have points, leaderboards, and other tools that appeal to the competitive nature of people. When you choose a platform with these features, you're giving people a fun way to learn and challenge themselves while also challenging their peers.
Reporting and Analytics Tools
It does no good to have the best LMS in place if you don't know how it's doing or how well the training is going for your employees. Any software worth its weight is going to include reporting and analytics tools, and the best ones will have customizable reporting options. While pre-built reports are nice, you are also going to have specific metrics that you want to track that other companies might not think about. That's why having a robust platform that offers pre-planned reports and customized reporting together is the best solution.
Collaborative Learning Resources
Although eLearning is a rather effective means of training, there is definitely something to be said for taking a collaborative approach, as well. Some people experience the best learning in social media groups, online discussions, and other collaborations. Even if most of your training is a solo activity, you should still have engaging tools that allow people to collaborate and communicate during the training process. If your platform doesn't have integrated collaborative tools, you should at least make sure that it has the option for plug-ins or add-ons so that you can capitalize on these resources in the event that you need them.
Branding and Corporate Integration
While it might not occur to you that something like your logo and company name could impact the quality of your training materials, you really need that cohesion across the board. People might not need to see the logo on every single training page, but having a branded, personalized training program that incorporates this can definitely give people the sense of cohesiveness that they expect from online training programs that are offered at a professional level.
Personalized Learning
The ability to provide your employees with personalized learning solutions is invaluable when you employ the use of an LMS platform. Everyone knows that "one size fits all" training is not effective in any situation. Some programs will allow you to create unique non-linear courses or personalized paths to learning for your trainees to help them learn the things that they may be missing. You can customize this to people's specific gaps or areas where they struggle to ensure that you address what people need the most.
Easy-to-Use Interface
Finally, there is no value to an LMS software that isn't easy for people to use. It doesn't matter how well the rest of the features work or how many other checkboxes are marked off when you invest in one of these tools. The fact of the matter is that if the platform isn't intuitive and user-friendly, it's not going to be successful. Make sure that you test out the platform for yourself and do so from the perspective of the least-experienced Internet or computer user. That way, you'll know that it's the best solution and that everyone can use it to succeed with their eLearning programs.
Cloud-Based Learning
Although most LMS software platforms are already cloud-based, there are some installed software programs available, as well. Of course, hard-installed systems won't have as much flexibility and customization. Plus, cloud-based systems are easier to change and update, and you can allow users to access the information from just about anywhere that they desire. While cloud-based learning isn't absolutely necessary, it certainly makes things easier. Imagine if you lose connectivity in the office or if people suddenly decide they need to check in on a training module while they're at home. Having a cloud-based solution with access from just about anywhere can make the difference. Plus, then when you need to scale up or down, or change anything in the LMS, you aren't investing in expensive new hardware upgrades or other costs because everything is virtual and easy to scale.
Accessibility Across Devices
Although you might only have your team training in the office, having access to the LMS platform across devices can help your team. You should choose a platform that is responsive and can be accessed across a variety of devices just in case you need smartphone or tablet access for any reason. Plus, then your trainees will be able to come back and access training resources whenever they need them. Imagine that you find yourself in a situation where the Internet is down and you still want to get the training done. Having an LMS platform that offers offline connectivity can save you from a wasted day. These are all things that are important to think about, even if they may not seem like pressing issues. The more prepared you are, the better your eLearning will be. The right platform can make all the difference.
Customized Support 24/7
The most important thing with any LMS is being able to get help when it isn't working as it should, or in the event that you need assistance for anything. Can you reach your support team via phone, email, and/or live chat? Make sure that you ask about support services before you commit to a solution. You should also check reviews and see what other users say about ongoing support. The company might be on the ball when you are ready to sign up to work with them, but will they offer the same resources and support when you have paid for the services? That's where it really counts.
LMS Spotlight: eLeaP Review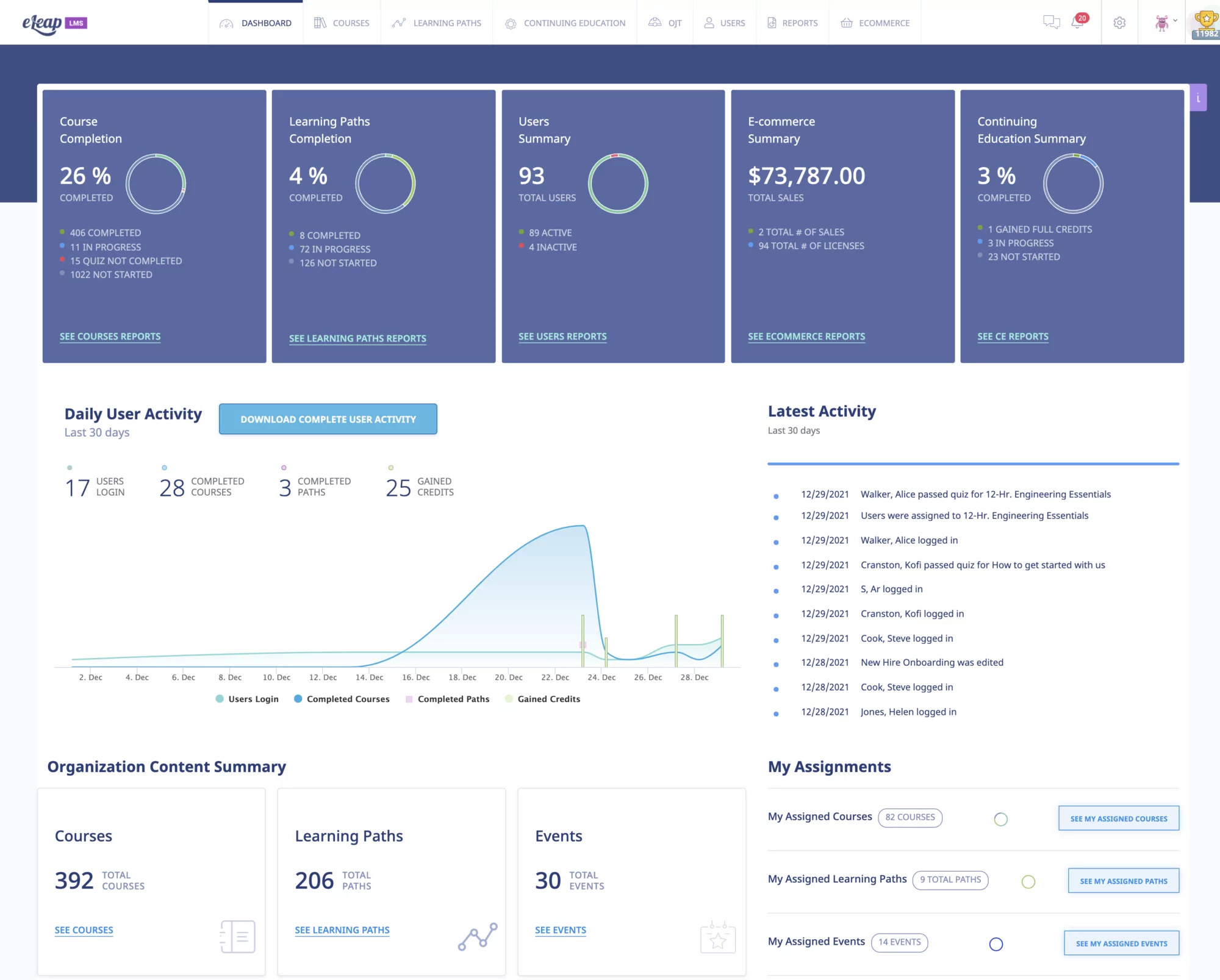 eLeaP is one learning management platform that has been receiving a lot of attention as of late. This cloud-based platform is offered in an array of languages and it includes a robust set of features and resources for your eLearning needs, including popular elements like:
Classroom-based training
Multi-account management
Custom branding and corporate integration
API, Single Sign on, SAML, OAuth
Continuing education (CE's, CEU) management
On-the-job training tracking – OJT, Observation assessments, Learning paths
Gamification and badges
Discussion forums and social collaboration
Status reports and compliance reporting
Course library
eLeaP has a long list of included features and perks, making it a premier learning choice for those who want a robust system that provides optimal user support and professional training resources. There are a variety of different reasons that people choose this specific program for their online training needs, including the fact that the user-friendly interface makes training easy and that the company is always there to support any technical or other needs that people may have with the training platform.
This solution is designed to assist in managing overall organizational compliance and team performance, including new hire and ongoing employee training and eLearning opportunities. The platform enables management to create online courses from existing files and training materials, saving the time and effort of creating an entirely new training guide when you switch platforms. Keep reading to learn more about the features of this LMS software and what it can do for you.
Key Features
The eLeaP LMS offers a number of different features and user tools, with a big focus on social learning and competition. You'll find quizzes, forums, surveys and discussion groups, certificates, and other unique tools that help users engage and get more out of their online training. Plus, users can enjoy the ease of a single sign-on process and the management and HR staff will appreciate the access to reporting and tracking modules that can monitor progress and performance.
In addition to monitoring, the reporting feature also offers invitations, reminders, and feedback collection to ensure that every aspect of training is taken care of in a timely manner.
Another big selling point of this program is its flexibility and scalability. The platform can be integrated for almost any size organization or scale of training needs. Whether you have a huge training program to roll out nationwide or you're just trying to offer some quick learning to your new employees, there are opportunities to scale the eLeaP platform to your exact needs. Some LMS programs are designed for a specific size or don't offer as much scalability, but the cloud-based nature of this platform makes it ideal for scaling and sizing to all kinds of organizations.
File access and integration are versatile and robust, as well. The platform can integrate PowerPoint presentations, audio and video files, PDFs, and other types of documents and files as a part of the training materials. That way, users can get all of the material that they need in one place instead of having to access different resources for different materials.
Custom Branding and Personalization
For your company image, branded training materials can make all the difference. It's going to be easy to include your logo and color schemes on this platform, which offers the chance for full customization of the training interface that your users see. You can even customize the base platform from where they access the software to create a cohesive, inclusive training solution that looks every bit as professional as your brand deserves it to be, but without spending a small fortune on customized training solutions.
Service and Support
One area where this specific platform excels is in support and user assistance. The service is one of the biggest reasons that people end up choosing the eLeaP platform, with live chat, email, and phone support available 24 hours a day to assist with a variety of needs. They can provide technical assistance and help with issues that people are having in all kinds of areas within the platform. However, they can also provide assistance with strategy and figuring out how to maximize your use of the platform.
When you're just starting out with an LMS software or you aren't sure how to maximize its benefits, having the company itself give you the best tips and resources is proof that they really are committed to their product and offering the solutions that you need. Their support staff can help you strategize and figure out how to make the most of your training tools, and may even come up with solutions that you hadn't thought of to help you get more out of your investment in eLearning.
Overall Selling Points
This is one of the easiest, most affordable LMS software tools available on the market today. With the prices starting at just $5.00 per month, per user and a free trial available, it's affordable to try it out and see what the cloud-based solution can offer. The platform includes plenty of different learning formats and options, including instructor-led and self-taught courses, along with course development and custom creation, advanced reporting and analytics, and a chance to integrate with SSO and APIs, among other tools and applications.
While eLeaP isn't the only LMS software on the market today, it is certainly one of the best for the features that it offers and its affordable pricing. Plus, it has some of the best service and support in the industry, which is crucial to your success with eLearning platforms. After all, if a company isn't willing to stand behind their product, why should you trust working with it? eLeaP is intuitive and user-friendly and offers a simple interface that gives people access to all of the information and tools that they need without feeling cluttered or overwhelming.
This platform has its pros and cons, but with the free trial, it's almost always worth the look for those who want more out of their eLearning solutions.
The Benefits of Using Learning Management Solutions Like eLeaP
There are any number of benefits to be had from taking advantage of technological resources like eLeaP and other online LMS platforms. The convenience and ease of access are definitely two great features, but there is a lot that you can appreciate from investing in one of these systems for all of your training and eLearning needs. Here are some of the biggest benefits that should be on your list:
Everything in One Place: When you use an LMS platform, you will be able to keep all of your training materials in the same place, meaning you won't lose important courses or misplace part of the information. It is easier to create eLearning programs this way and it offers easy access for all trainees. Whether you use a physical or cloud-based LMS, you're keeping things collected and accessible for your employees from a single place, which streamlines learning and training.
Unlimited Resources: Unlike a typical online learning course that completes and closes once you pass the test, having an LMS allows you to keep courses and information published and available to people so that they can review the information and learn as they go. Plus, the materials are accessible from just about anywhere, depending on the platform that you use, meaning users can even sign in from their smartphones or other devices to access online learning courses and materials.
Reduced Training Costs: A dedicated learning management system will give you all of the resources that you need in one platform, getting rid of things like instructors, training sites, and printed materials that can cost a small fortune. Companies spend millions of dollars on employee training and learning each year, but you don't have to. With this type of learning, you can present all the materials in an online forum that's accessible to everyone and doesn't cost nearly as much as a physical training class.
Easy Performance Tracking: When you are training employees, you're going to want to check in on them from time to time. With an effective learning management solution, you will get a robust suite of reporting and analytics tools that will help you see how people are doing. You will also get insights on where people struggle and even see if maybe a course design or lesson isn't done well because so many people are having a difficult time with the specific lesson. The analytics and metrics available with LMS software make it easy for you to ensure that your training implementation is effective and that people are on par with their learning.
Easy Expansions or Additions: Rather than having to start from scratch to create a whole new training module every time you want to add to your eLearning, an LMS will allow you to conveniently and quickly make additions to online training courses and eLearning programs. You can create whole new training modules or just update your existing ones in a matter of seconds, and since it's all hosted online, users will get the updates in real-time and no one will ever be left behind. Managing and modifying your training has never been easier than it is with one of these platforms on your side.
Guarantees Regulatory and Training Compliance: In some industries, compliance regulations are a big part of the job. Using a proper LMS platform will allow your learners to stay up-to-date on compliance training and allow you to update all of the training resources as new guidelines and compliance regulations become available. You will be able to guarantee that everyone is on the same page and that all employees have the latest training in regard to compliance standards and that people are on the same page.
Faster, More Streamlined Training: No longer are you going to spend hours and days in the conference room with a new team of employees and a stack of copied slideshows that reaches to the ceiling. With eLearning platforms, you can get new employees trained quicker and provide fast, easy training for existing employees at the same time. Streamlining the learning process in your organization will allow your employees to focus their efforts on their work, which is where it should be. Plus, when you have better training tools in place, people learn faster and retain more information.
How to Choose the Best LMS Software
Now that you know more about the perks of these tools and what they can offer, it's going to be easier for you to choose the right solutions for your needs. Since your organization has different requirements than the next, you'll have to take the time to go through your options and figure out what's going to be best for your specific eLearning demands. Fortunately, it's not a difficult task as long as you take a few things into consideration.
For starters, look at the reputability of the platform that you are considering. Who developed the platform and what kind of reputation does that organization have for eLearning or cloud-based training solutions? You don't want to employ just any LMS software that you stumble across online. You really need to take the time to find a platform from a reputable brand that is well-versed in online learning and all that it entails.
Another important aspect of your search should be the included features and tools. You don't necessarily have to find all of the features listed at the top of this guide, but those are the big ones that should be on your radar when you are looking to invest in this type of training tool. The best solution is to make a list of the elements that are most important to you, then compare the platforms that have them. Any other features that are included are a bonus.
Pricing is obviously a huge concern since most companies can't afford to spend a small fortune on training. And while you shouldn't focus on price exclusively, you should make sure that you know what your budget is for eLearning software and make sure that you find a platform that fits within your means. There is no sense in even looking at LMS platforms that are outside of your price range or expected budget because it will be a waste of your time.
Ultimately, your focus should be on finding the LMS solutions with the most features and best pricing for the money. Choose a platform that is customizable and scalable to your training needs so that you can launch it now and expand in the future without having to change your entire training system or platform down the line. Don't just choose your eLearning solutions for now. Choose the solutions for the future growth of your company, and you'll see much better results.
Just like these:
The Bottom Line
A proper learning management system can allow you to reap many benefits of streamlined online training. You do have to take the time to find the right tools for the job, of course, so be sure to take advantage of the resources available to sample what's out there. You can find trials and reviews that will help you go through the available platforms and figure out which ones best suit your needs. You can even have a customized LMS platform designed and integrated, making it easy for you to create the perfect learning environment, no matter what you have in mind.
If you're looking for cloud-based solutions to your training and other needs, you can count on LMS software to deliver. Just remember to take the time to explore what's out there and find the right solutions for your training and eLearning needs, no matter what those might be.