White-Label LMS vs. Hosted Solutions: What You Should Consider for Your Organization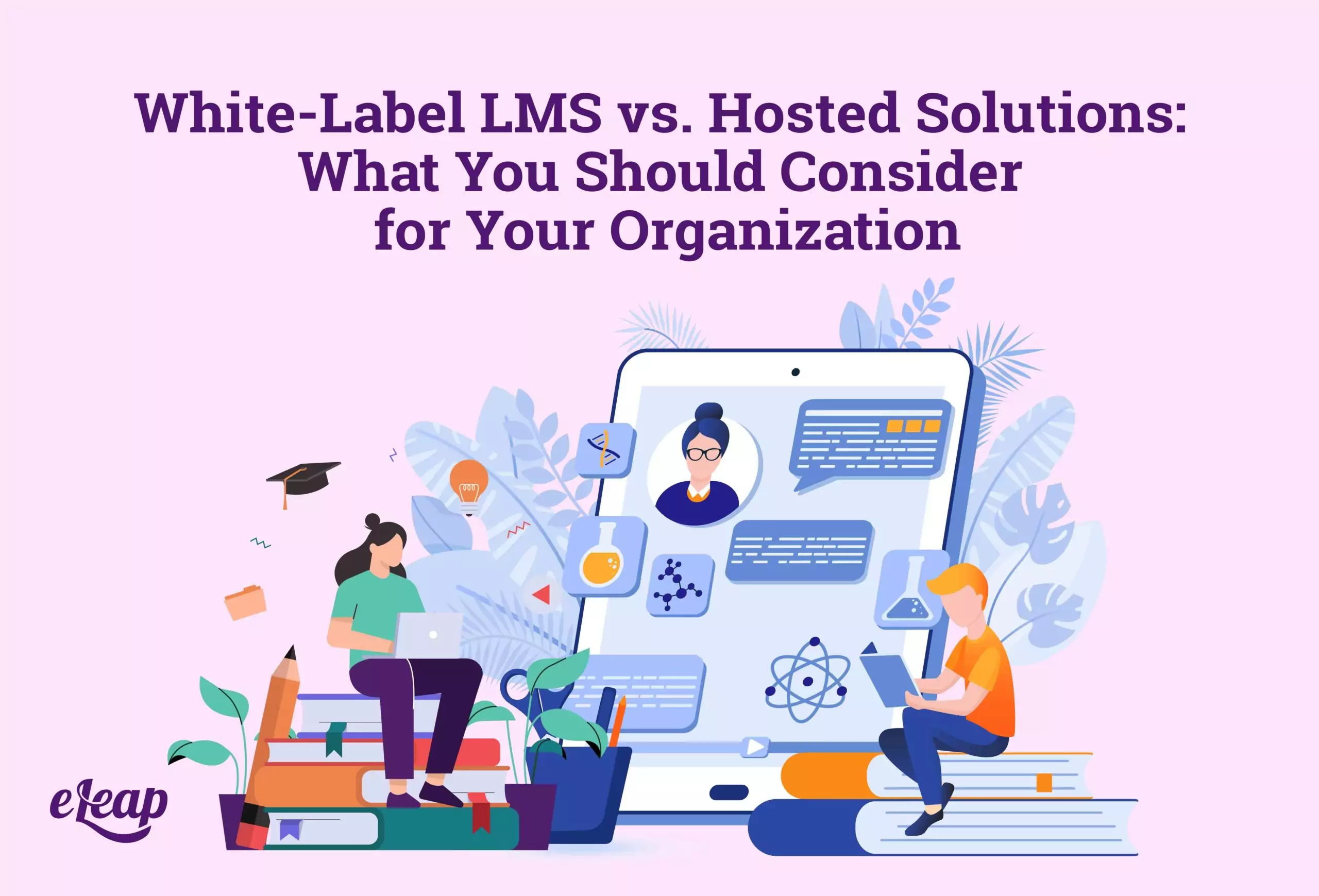 The right LMS can make all the difference in the success of your training, upskilling, and employee development. However, choosing the "right" option can prove to be a challenge. With so many solutions available today, companies often find themselves struggling to narrow down the options and find what truly is the best option for their organizational training and e-learning needs. One of the common decisions that come up in the process is choosing between a hosted LMS and a white-label solution that you can customize specifically to your brand and for your employees.
Do you need to go the extra mile and create a white-label solution, or is a platform hosted by a third party with no real "branding" the better option? That is a question only the organization can answer for itself, but here are some insights to help.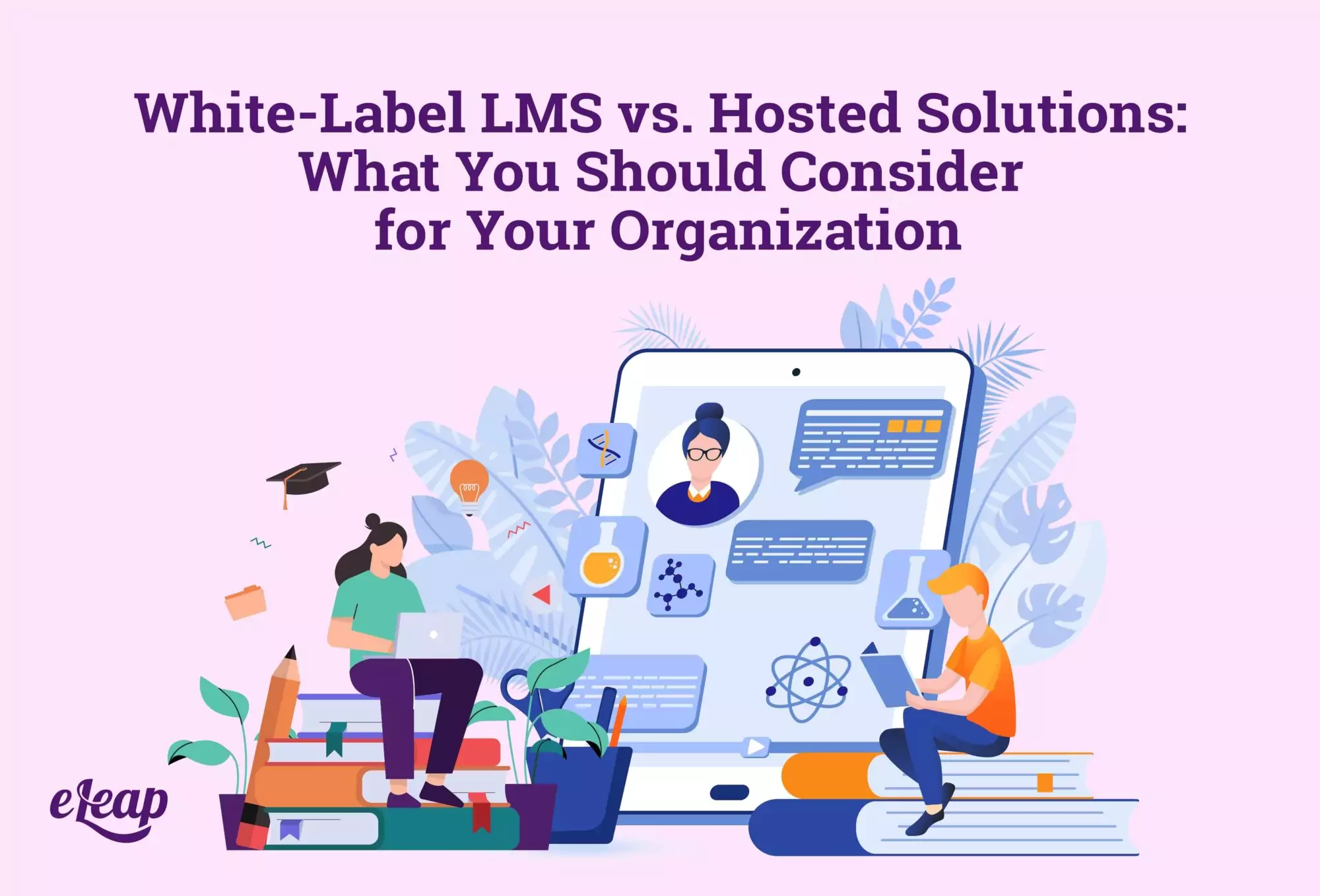 What is White-Label LMS?
A white-label LMS is a platform that allows you to customize several (or all) aspects of the experience so that you can create a training tool that is unique to your company and brand.  You can remove all references to the original company or vendor and the training product will appear to be 500% yours. It will sync with your website and brand and it will make it easy for you to get the most out of your LMS solutions without reinventing the wheel.
There are several different reasons to choose a white-label solution, but customization is definitely a big selling point. You can create a total user experience that feels and looks like your organization and only your organization created the platform. Plus, it's available at a fraction of the cost of custom-built training platforms that you have to develop from scratch. You'll be able to create stronger connections with your learners and expand the functionality of your training.
You can customize the training and features of the platform, and it will establish your reputation as an authority so that people believe that you are truly the best person for the job. Plus, this is a great way to enhance brand visibility and awareness. Use a great training platform as the foundation and create your own white-label LMS to ensure that you're giving your people the tools and resources that they need. From branding and logos to a custom domain, you need to create an LMS that reflects your brand if you want the best chances of success.
What are the Perks of Hosted Solutions?
Of course, for those who are on a budget or have limited resources, LMS platforms that aren't customized are providing a much more cost-effective option. It's not that these solutions don't work. It's just that it can be better for many organizations to personalize their LMS with a white-label platform that gives that total personal connection without the huge cost of other options. Hosted solutions, on the other hand, may be limited in their customization. For example, you might be able to add your company name or logo, but you may not be able to remove the watermark or other marking that denotes who originally created the platform.
Hosted LMS platforms will take away the stress and management, but that will also limit the customization and other features. A good hosted solution should deliver eLearning content effectively and help you lower the costs of online learning, but still provide a secure option for training and coaching employees.
In choosing this option, you will also get to pick between local LMS platforms and SaaS LMS solutions that are available today. SaaS platforms take only minutes to get started, making them a popular choice for many people today. They also allow the software company to do the hard work so that you are getting all the resources, time, and power that you need to improve your own learning programs. Some people will choose this path when they are first starting because it's more affordable and offers a more hands-off approach, but there are definitely reasons that a custom LMS is the way to go.
What about Free LMS Software?
Although it is readily available, free LMS platforms might not have all the tools and solutions that you need. You can check them out, of course, but you'll want to keep in mind that usually their free price tag is their main asset, and may be the only one. After all, nothing is ever "free" in life. Even if you find an LMS that doesn't charge you to use it, are you getting anything worth using? Free platforms often have their own draw, but it is rarely as advertised. The secret is to explore all the options and see just what it means when you find an LMS that's "free" and not going to cost a fortune.
Open-source LMS tools and dedicated LMS platforms are both readily available. The former, of course, will take up a lot of your time and energy. You might even need to invest in an on-site IT team to help with the open-source solutions, which is going to add to your overall budget in the end. Things could be difficult to get going and the time investment will be much greater—it's just not worth it in most cases.
Custom Learning Means Custom-Trained Employees
One of the biggest reasons that people choose a white-label solution for their LMS and PMS needs is because it allows them to create a custom program for training and educating their employees. It's not going to be about trying to get people as much information as possible even if you can't hit the mark. This is about creating a custom solution that gives your employees the upper hand because of their unique, customized training experience.
Check out the available white label LMS tools from eLeaP and see what kind of solutions you can find. With our valuable knowledge and learning platforms and your dedication to success with your organizational learning, we'll create a winning team that gets the job done right every time. Contact us today for a free consultation.