LMS vs. SUS: Another Contender to Challenge the Learning Management Status Quo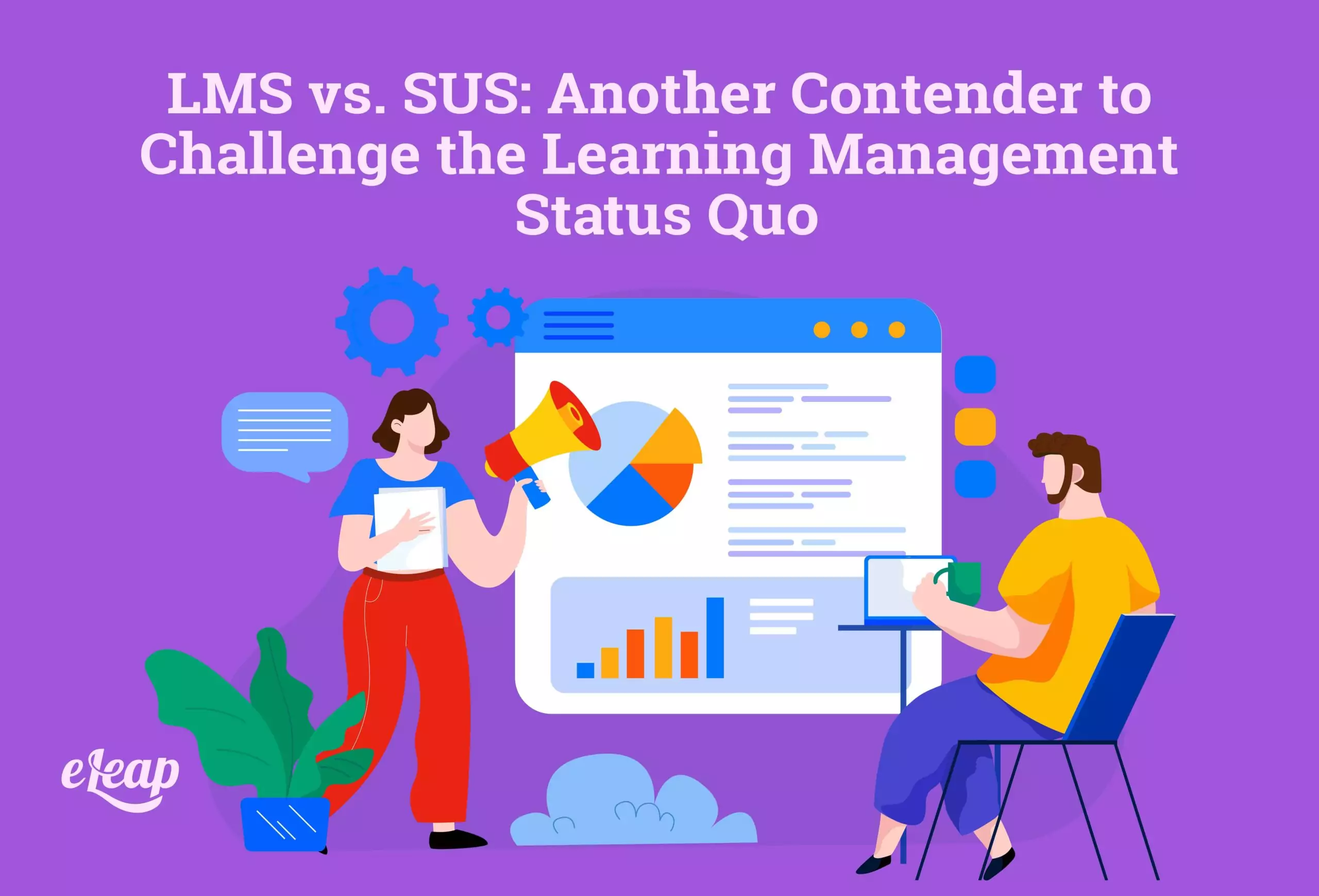 Since learning management systems have become popular, the world of innovation has already started creating new contenders that are further advancing learning and development opportunities. Along with the LXP (learning experience platform), there's another popular learning tool and philosophy that's making its rounds: SUS (sustainable upskilling solutions).
Is the LMS still delivering the value that it should and offering the best learning opportunities for your team? The only way to find out is to understand both options and what they have to offer your organization. The world is changing rapidly and with the after-effects of COVID-19 still seen everywhere around the globe, people are looking for some sign of security. For many, that is coming in the form of creating a learning organization and embracing all of the L&D opportunities that come your way.
In light of the growing popularity of the LMS and other solutions out there, it's important to compare what they have to offer and see which ones best suit your needs. If you take the time to consider the options, you might quickly realize it's not about which one, but how you can integrate all the right tools and resources to deliver the best environment for your team.
2020 taught companies the value of agility and adaptation to change. 2021 continued to convince people that remote work was here to stay, furthering the development of several technology tools and resources, including the LMS, LXP, and SUS.
To determine how you utilize these various resources for your organization's learning management solutions, you have to know what they are and what they offer in terms of value and development.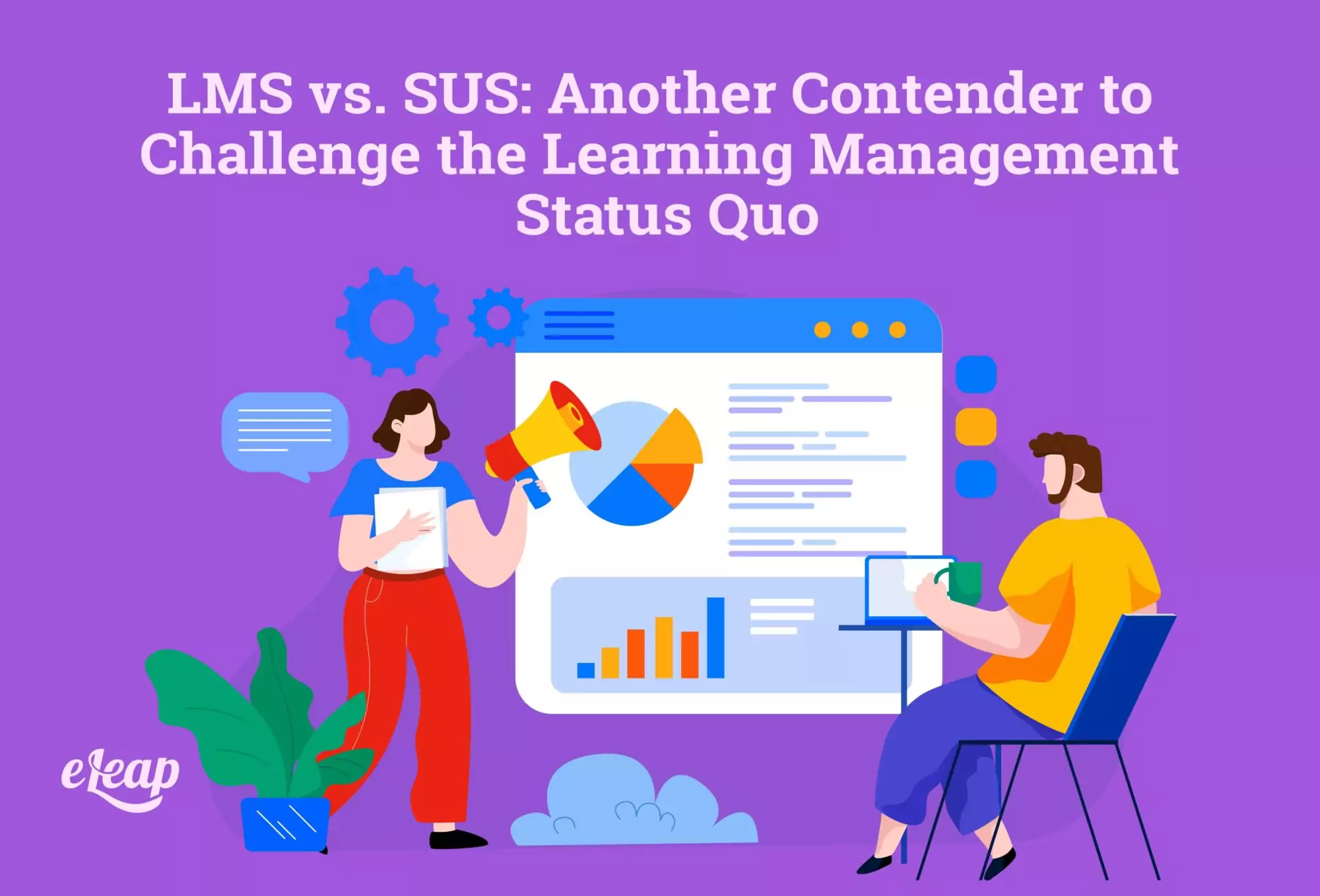 Getting Rid of Legacy Standards to Embrace the Value Proposition
Legacy LMS and eLearning standards are quickly falling by the wayside. Many of these limit advancement opportunities and that curtails the value proposition. SUSs offer the values of an LMS with native standards that are enhanced to include tools like Microsoft Word, Adobe, YouTube, and so forth. Legacy standards focus on content containers that most LMS platforms are built around. With modern methods and tools, you can deliver better, more valuable content that's flexible, accessible, and future-proof.
What's Up with SUS?
Sustainable upskilling solutions are like LMSs that have been super-charged, essentially. They not only deliver all the functionality of the LMS, but they add new training and development opportunities, increasing accessibility and creating a more dynamic, interactive, and beneficial development solution for your organization. When it comes to upskilling and creating a future-proof organization, embracing all the ways that you can take your LMS to the next level will make all the difference.
That includes adding the features and tools that will help people develop both within their roles and outside of them. More than standard learning and development initiatives, the SUS approach makes sure that everyone is ready for the future, whether it is your future or theirs, or both. It's less about which system is the right fit and more about how you can incorporate all of these L&D tools into creating a dynamic resource that can lead your organization into the future.
Consider the Reasons for Deploying a Learning Platform
Aside from the obvious benefit of giving your people a chance to learn and grow, it's time to take stock of why you're incorporating all the elements of an LMS in the first place. These systems are typically deployed as a means for the dissemination of training content in a way that offers easy distribution, tracking and reporting, and plenty of cost savings. While the LMS at its most basic is doing wonders to help the learning and development of organizations, people need more.
That's where the SUS comes in. The upgrade to a dynamic system like this will embrace the true goals and purpose of learning and development at its finest. When you enhance your LMS to deliver solutions like those offered through an LXP or SUS, you will be better able to deliver training and learning opportunities for your organization. Not only that, but the SUS can measure the value of training and ensure that models are properly deployed and that users are properly interacting, behaving, and getting results.
How SaaS is Involved
Software-as-a-Service is just one of the many "as-a-service" industries that are making huge waves today. Some SaaS companies offer hosted LMS solutions, but the majority of them are looking to further enhance the standard LMS and deliver a better, more comprehensive learning and development experience. That's where the sustainable upskilling solutions come into play. Many standard LMS platforms are remotely hosted or on-site, while the upgraded collection of SUS tools is typically deployed via the cloud, with full vendor management included.
Essentially, the business gets all the same benefits from real-time use of an LMS, but without having to do the management or deployment of the platform themselves. For the future of business, outsourcing with resources like this is an integral part of your business.
It's And, Not Or
As discussed, people often want to compare the various tools and resources available today and try to choose which one is going to deliver the solutions that they need. Unfortunately, too often that means that they want to try to use a single resource or they are comparing notes to choose between a standard LMS and a more advanced platform that enhances training like an LXP or SUS. Once people realize that they are making use of the latest and most innovative educational and training standards, they will quickly see how that can be incorporated into their own development and learning initiatives.
There will continue to be a growing number of resources and tools popping up that companies will rely on for all of their L&D needs. To make sure that your team is embracing them properly, it's time to get educated about your options. You can also partner with the team at eLeaP for all of your L&D needs, no matter what those might be.