How to Ensure Your Organization Chooses the Right LMS
Having the right training program is crucial for any organization to optimize its onboarding process. The right training can make a huge difference in your company's productivity, retention rates, and overall corporate culture.
A learning management system (LMS) can be the best way to develop your training program and provide new employees with the most efficient way to learn. These platforms are engaging, comprehensive, and provide several types of learning and content production options.
The task of choosing and deploying the right LMS for your company can be intimidating. However, it doesn't always have to be this way.
Naturally, every company is different. No two organizations are alike in the unique strategies they require to optimize their training and onboarding process.
However, using the following points to find the right LMS platform might make the job much easier. This article can help you navigate the challenge of finding a platform that meets your current needs and can accommodate future growth.
The points outlined are:
Your Implementation Plan
Deciding Your Desired Outcome
Aligning Your Goals with Your Vision
Be Realistic About What You're Getting
Evaluate the Finished Product
We'll break down each of these and outline how they'll help you with deciding on the most appropriate platform.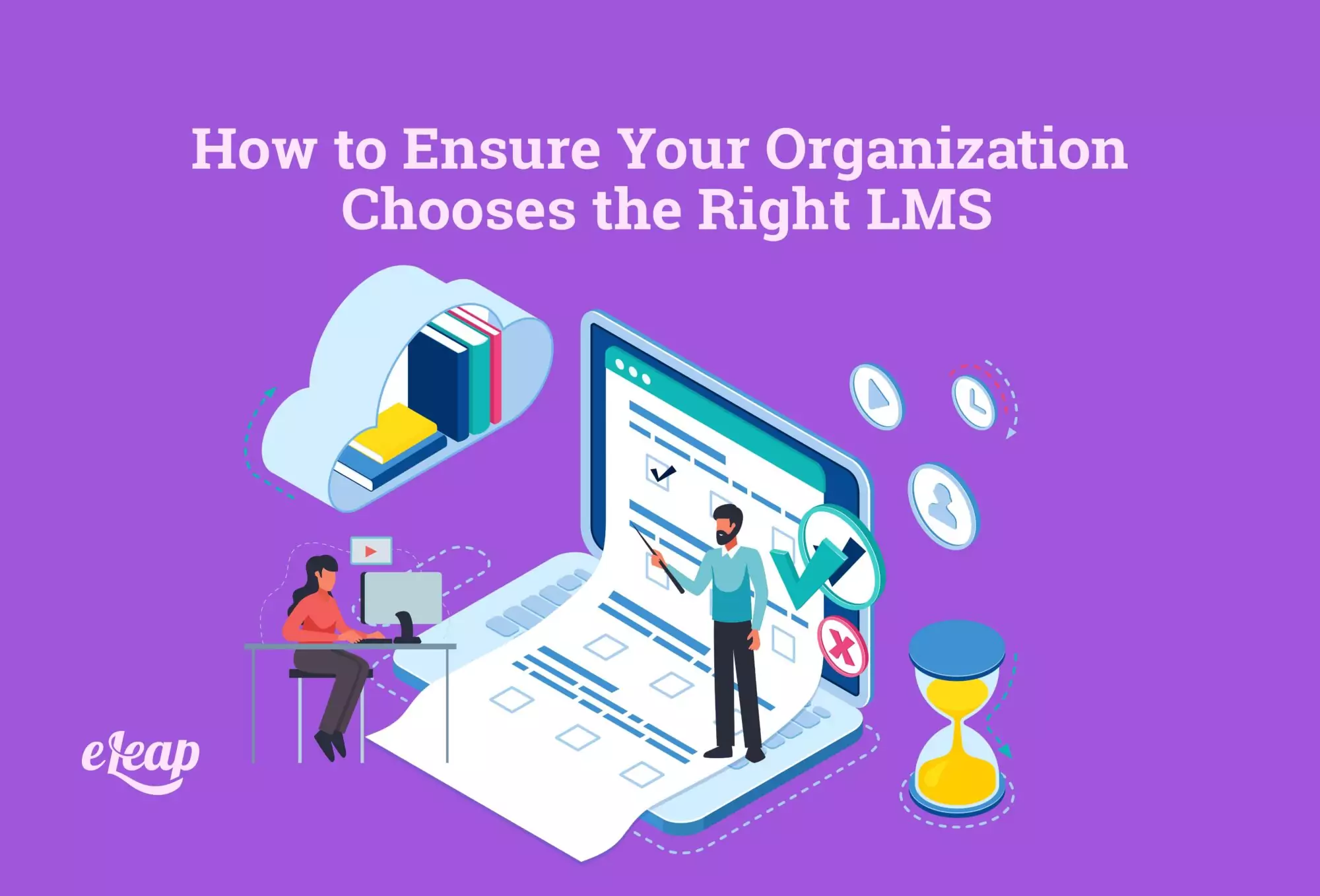 Navigating the LMS Journey
It's important to have the right plan in place instead of just diving headfirst into the decision process. Choosing the right LMS is crucial, so you definitely want to put the right amount of effort into this task.
Starting with the implementation step, we'll walk you through the process.
Your Implementation Plan
Before you begin the path toward selecting your platform, you'll definitely want to do some planning. You need to ask the right questions to properly understand what you need from your platform. The following questions will help you decide your goals and exactly what problems you're trying to find solutions for.
What does your current LMS consist of, and what features does it include?
What new features would you want with the next platform?
What are your corporate goals?
What problems does your LMS need to solve?
It doesn't matter if you have a current LMS or if this is your first rodeo. These questions should be asked to help you paint a clearer picture of what features you should watch out for when making your decision.
Deciding Your Desired Outcome
Now that you have a better idea of what you want and need. You can get more in-depth with your questions now. During this step, you should find answers to the following:
What type of employee are you training?
Who will log onto the system, and what roles will they have?
How are you going to transfer all of your data into the new LMS?
What type of content will you be using for training?
Does your timeline have any obvious constraints?
You need to be aware of the primary types of learners:
Audio learners digest information more efficiently when it's given to them through audio. Maybe these learners would do better in a regular or virtual classroom.
Visual learners do much better with visual elements like images and video.
Kinesthetic learners do best with actual physical activities and are known as hands-on learners.
We mean this by saying you need to understand who you'll be training. Knowing the types of learners that you're dealing with allows you to present the most efficient content. This gives you a chance to plan how you'd like to deliver the content.
You need to remain mindful of your timelines as well and understand what resources you need to make deployment possible. Will it allow you to save some time if you can automatically import all users into the platform instead of manually? If you already have LMS, is the import process easy to understand?
Align Your Goals With Your Vision
Now that you understand your goals and visions, your learners, and the types of content they'll engage with the best, you can align all features. Ask these questions:
What features are mandatory? Which would be nice?
Does it solve all of your issues?
Does it allow you to scale later?
There are many different options that exist, and writing down exactly what you require will help you develop a shortlist of your current and future requirements. Make sure your future goals align as well, and you select something that allows you to scale later without investing more time or money.
Be Realistic About What You're Getting
Now that you know your goals and what LMS you need to accomplish those goals, you can dig deeper into providers. Pose the following questions to your provider:
What's the buying process consist of?
How long does the onboarding process take?
What support and training come with the platform?
Having a firm understanding of these questions gives you an advantage when it comes to knowing what to expect. It also demonstrates how much you can rely on your provider.
Evaluate the Finished Product
You've probably seen some beta versions of your product already. If you haven't, you should request one from your provider. Communicate with them openly to ensure your needs are met moving forward.
If you're not happy with the final product, you can always tell your provider you'd like to go back with more revisions. Don't hesitate to request these revisions, especially considering how much you invest and the time you'll use your platform.
Continue to test until all of the bugs are worked out, and you're happy with the finished product. Afterward, you can receive your final and permanent version and start creating your content.
Choosing and purchasing your first LMS or upgrading your current platform doesn't have to be difficult or stressful. Following this list, it should make the process much easier.
The most important thing to remember Is to make sure you're satisfied with each step as the process rolls out. It's easier to go back and redo certain elements while you're at that phase instead of backtracking when you're already several steps ahead.
Here at eLeaP, we can provide you with the resources and solutions to improve your employee training program and garner your results. Contact us today for a free consultation.