Five Ways to Take Your LMS Beyond Training for Compliance and Competencies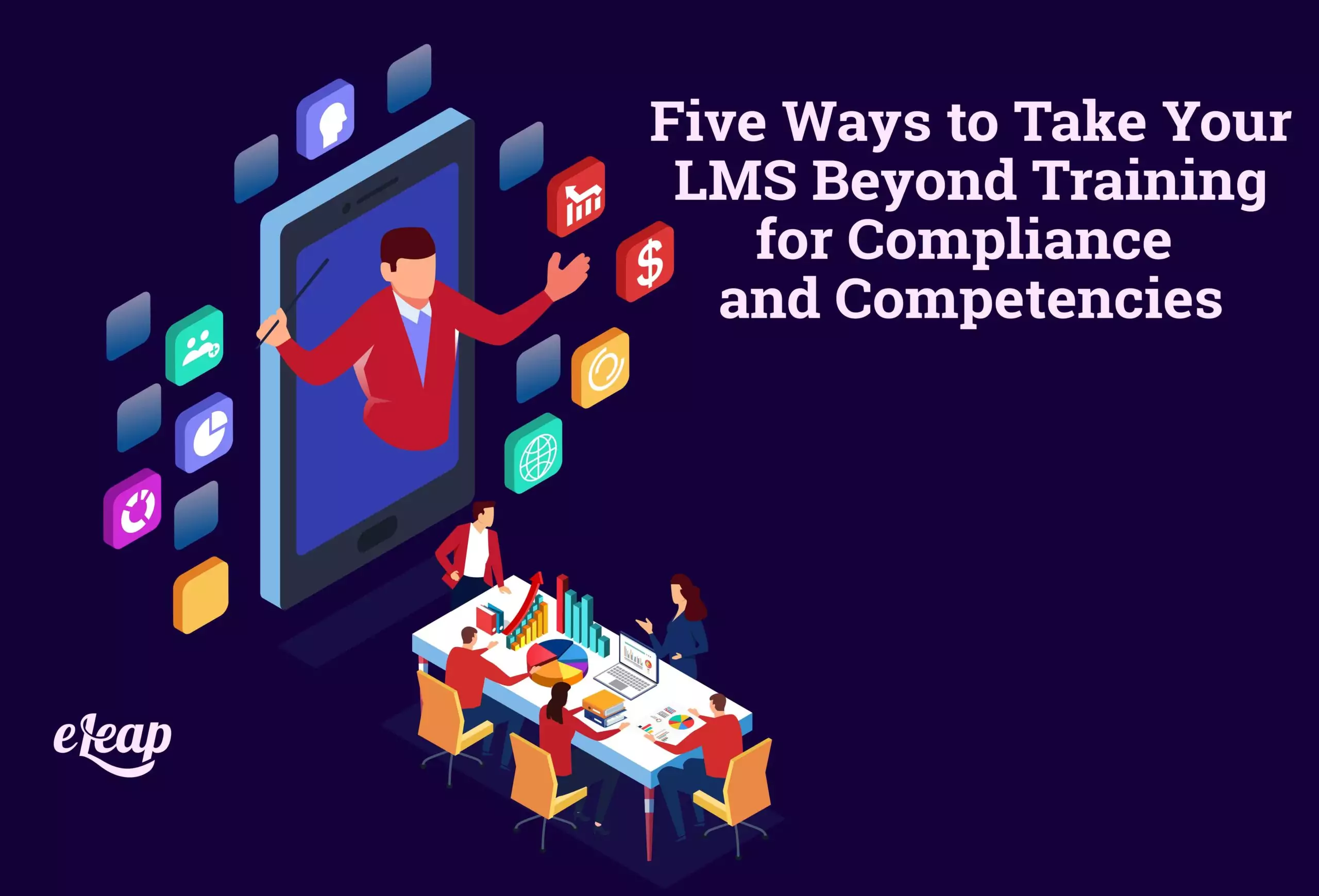 Today, several organizations have embraced the use of an LMS, but they might still be limiting all that it can do. Most companies, when asked what they use their learning management platform to accomplish, will state the (seemingly) obvious: it's for onboarding requirements and compliance training. You might even be proud of how well the system does at that type of training and learning for your employees—but that's not enough.
The modern LMS offers so many features and functions and it's a shame to not take advantage of them. Organizations that are embracing the new learning culture and the continuous feedback model are starting to find new ways to put their learning management system to work to enable their employees (and their leadership) to upskill, share information and knowledge, and collaborate to become better as a group for the success of the organization.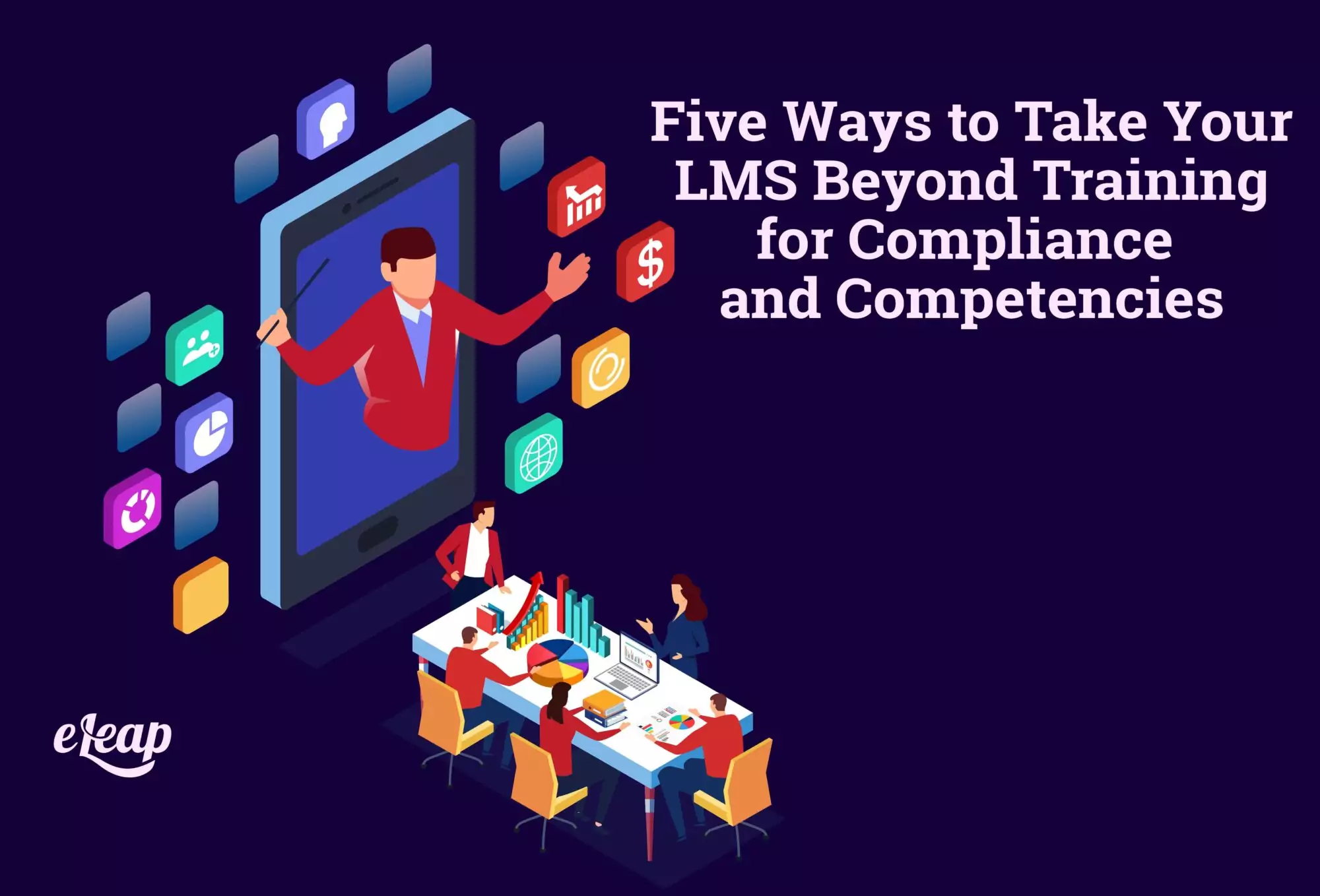 Start with a Personalized Experience
Today's digital world is no space for standard, boring online training modules. Users are going to be instantly turned off and they won't learn a thing from training if organizations stick to the age-old cookie-cutter training style. Today's LMS needs to start with a personalized experience right from the onboarding stages. Each employee should have their own journey through the LMS and interaction with it, based on their role, their skills development, and other factors.
When companies create a personalized experience in the LMS, people are far more likely to want to utilize all the resources they're given. After all, it feels like the system was curated just for them, and it was, so it's natural that they'll feel inclined to take advantage of that in as many ways as possible, including going beyond basic competencies and compliance training.
Use Compliance as the Baseline
Instead of making compliance or competency the goal, make that the baseline for learners when they are using the LMS. This will enhance the use of the platform in several different ways. It will also hold employees to a higher standard, making them feel more valued and inclined to help themselves grow and learn, too. Ideally, organizations will have an LMS that is used by employees outside of the standard and required training. If companies continue to only hold people accountable to basic compliance or competency standards, they aren't going to get the most out of their teams. With digital LMS platforms, it's easy to create an established baseline for training and development and then provide people with the means to go well above and beyond that.
Encourage a Growth Mindset
When organizations encourage their employees to embrace learning and career growth, they see a much more engaged culture. They also see employees who are more accountable and consider themselves a valued part of their own journey through the LMS. Companies that have strong cultures almost always have growth mindsets at the top of their list of must-haves. Hiring lifelong learners will ensure that employees continue to investigate growth opportunities and learning potential.
The growth mindset is about creating a love for learning. This learning can help people advance within the organization, so it's generally not hard to foster. However, today's employees are being held to a new standard and they're doing the same for their employers—when everyone is ready to embrace growth and change, it goes much more smoothly.
Facilitate User-Generated Content
If organizations embrace and encourage the creation and sharing of user-generated content within the LMS, it can become much more than just a training tool. It can become a place where employees help each other learn and develop skills, where people are proud of the contributions they make, and where everyone tries to embrace the LMS in as many ways as possible for the betterment of their own skills and the greater good of the organization.
Make sure that there is someone to manage and curate this content, of course, and that anyone contributing is aware of the (high) standards and guidelines in place for sharing content in the LMS. Make it a standard operating procedure (SOP). That way, everyone will know how to get involved.
Encourage Collaboration and Continued Use
In addition to all of the standard training modules, you'll also want to offer other learning and upskilling opportunities. As mentioned above, companies will need to ensure they are promoting an environment that encourages collaboration and sharing among users, along with continued use of the learning management system over time. When the competency has been established as the baseline, people will have more personal accountability to go further and grow more than they might with an organization that only expects people to meet the basic compliance requirements.
Training and Compliance Are Just the Start
The world of technology is changing the learning and development world for organizations of all sizes and from several industries. There are many changes taking place, but of them all, digital transformation of organizations is at the top of the list. And, as anyone who has been doing their homework knows, digital transformation is far more about changing the people (and their mindsets) than changing the technology.
Organizations just starting to consider upgrading or reinventing their LMS are on the right track—it's no longer about crossing training modules off the list so that employees can "get on with their actual jobs." It's about making sure that companies are maximizing the resources that they have, including the digital learning management system that they choose to utilize.
Companies that utilize the LMS for collaboration, growth and development, and more than just basic training tend to see higher retention rates and better engagement, as well as a more positive, success-oriented mindset. Take advantage of customizable and white-label LMS solutions that allow your organization to create the perfect learning and development space for its employees. Consider the versatile, customizable solutions from eLeap software to embrace this new LMS resource and all that it has to offer so that you can take your L&D to the next level.