Learning Solutions + People Success + Regulatory Compliance
For 19 years, we have delivered extraordinary value for our clients by aggressively augmenting our array of capabilities.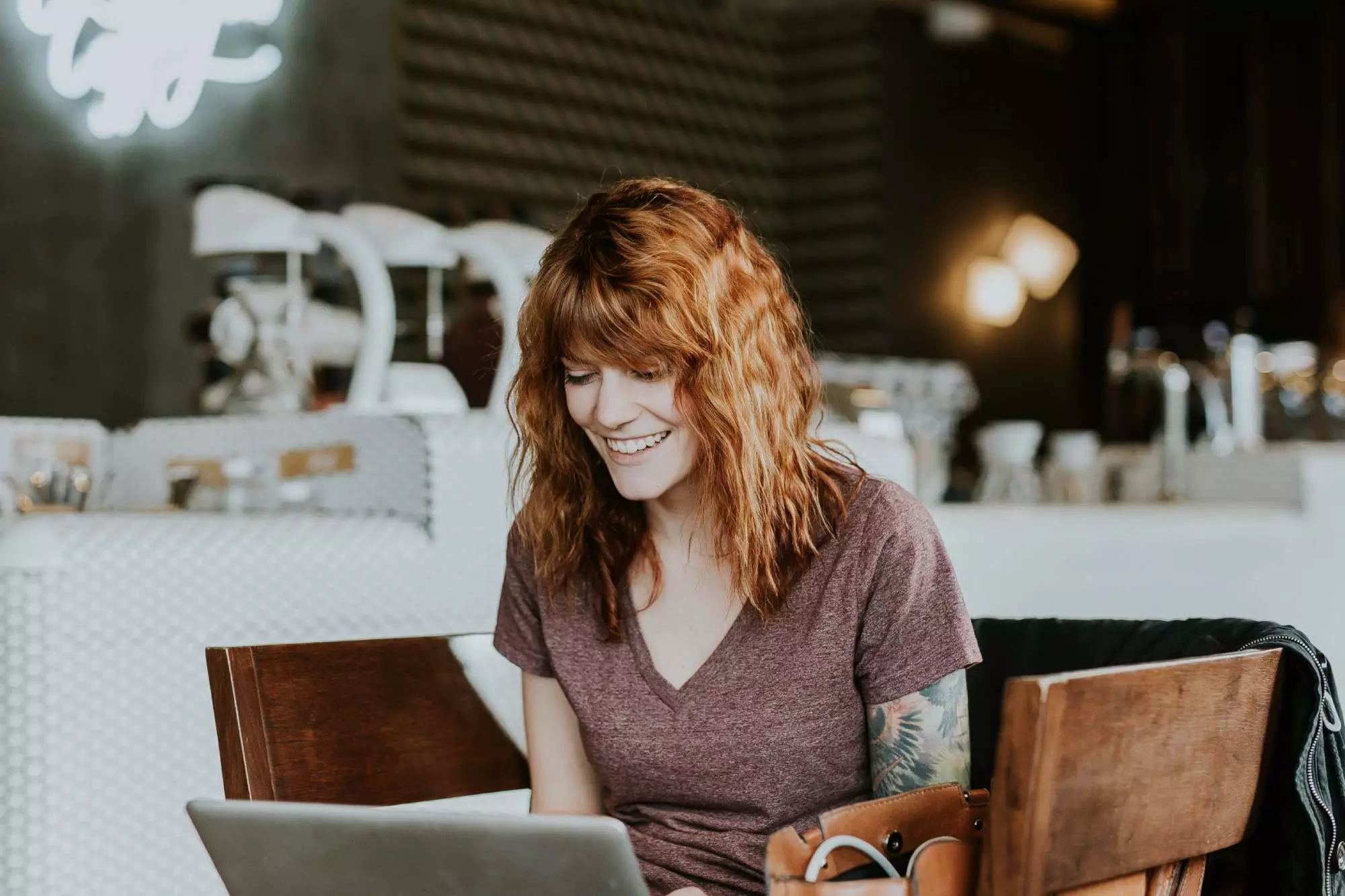 Learning Solutions
Unlock the full potential of your team with our cutting-edge learning solutions. Our Learning platform is customizable to meet your organization's unique needs, whether you're a small startup or a large enterprise. With eLeaP, you can: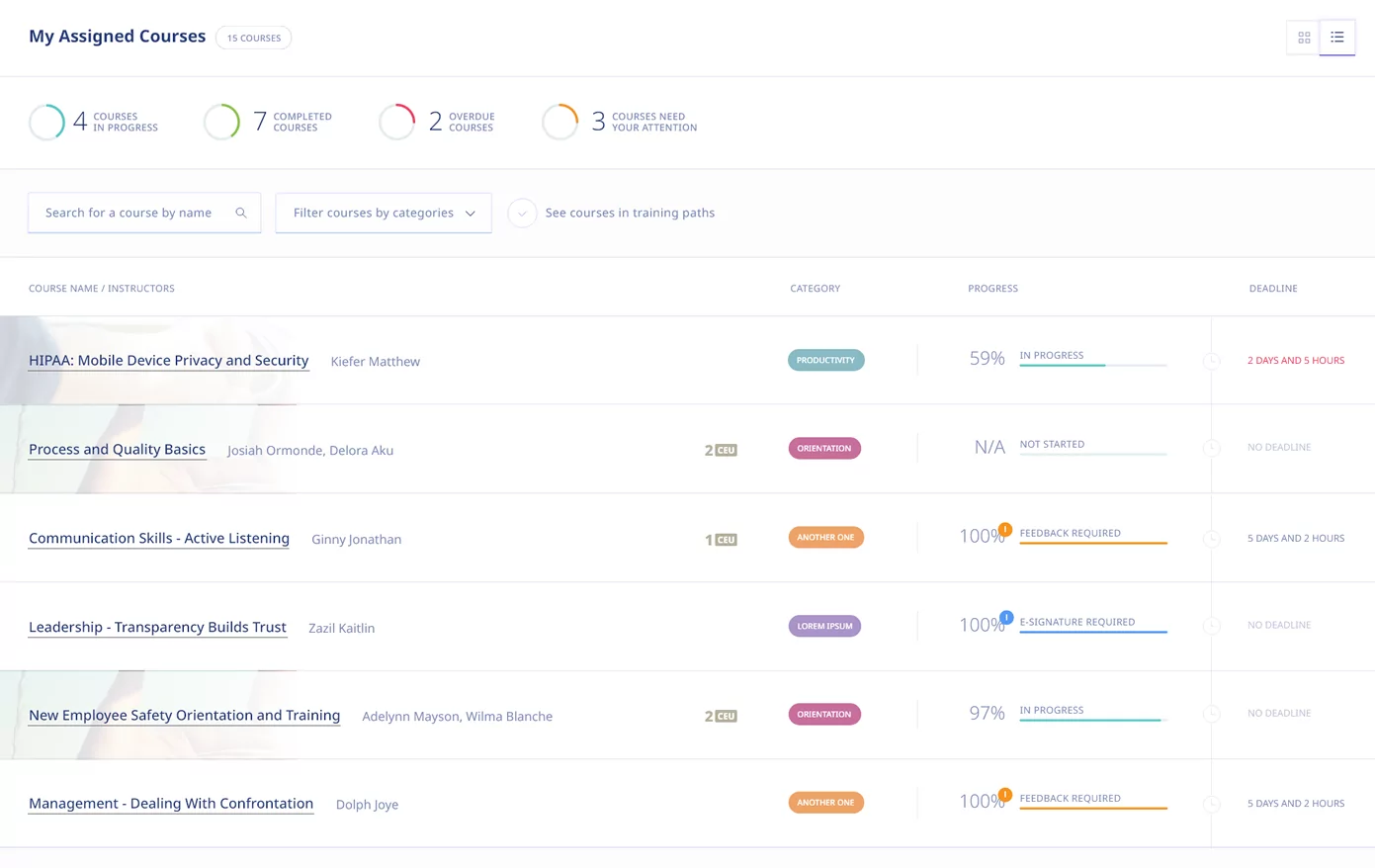 Streamline Training

Simplify the process of developing, distributing, and monitoring training programs.

Engage Learners

Enhance learner engagement through interactive content and assessments.

Drive Results

Boost performance, productivity, and knowledge retention with data-driven insights.
Learning Solutions are a core component of our offerings, and they play a pivotal role in enhancing the learning and development initiatives within your organization. Here is a more detailed explanation of eLeaP's Learning Solutions:
Comprehensive Training Platform
eLeaP provides a comprehensive and customizable Learning platform that empowers organizations to create, deliver, and manage training programs effectively. With our Learning Solutions, you can:
Streamline Training

Simplify the entire training process. Create and manage training modules, courses, and materials with ease.

Centralize Content

Store all your training content in one place, making it accessible to employees and learners at any time, from anywhere.

Track Progress

Monitor the progress of your learners and get detailed insights into their performance, helping you make informed decisions about future training initiatives.
Engaging Learning Experiences
We have designed our learning solutions to enhance and optimize the learning experience, making it more interactive, engaging, and effective.
Interactive Content

To maintain learners' active participation, it is crucial to create content that includes multimedia, quizzes, and interactive elements. These elements help to make the learning experience more interactive and attractive and allow learners to participate actively in the learning process.

Assessments and Feedback

Utilize assessments to evaluate learner comprehension and provide instant feedback, promoting better knowledge retention.

Mobile-Friendly

Ensure learners can access training materials on their preferred devices, promoting flexibility and accessibility.
Data-Driven Insights
Data is a critical component of effective learning management. eLeaP's Learning Solutions provide data-driven insights that allow you to:
Measure Success

Ensure your training programs are aligned with organizational goals and outcomes.

Identify Improvement Areas

Use analytics to identify areas where learners may be struggling and make data-driven improvements to your training materials.

Compliance Tracking

Easily track compliance training and certifications to ensure industry standards.
Scalability and Customization
eLeaP's Learning Solutions are scalable and highly customizable, accommodating the unique needs of your organization:
Scalability

Whether you have a small team or a large enterprise, eLeaP can scale to meet your growing training needs.

Customization

Tailor the eLearning platform to match your brand identity and specific training requirements, ensuring a personalized and cohesive learning experience.

Content Library

Choose from a library of pre-built training materials or create your own, having the flexibility to tailor content to your organization's needs.
With eLeaP's Learning Solutions, you can foster a culture of continuous learning, skill development, and knowledge retention that empowers your workforce and drives your business forward.
People Success
Align individual growth with company objectives.
Empower Your Workforce

Provide your employees with the necessary tools and resources to thrive in their roles.

Boost Employee Satisfaction

Foster a positive workplace culture and improve employee retention.

Drive Organizational Success

Align individual growth with company objectives.
We have designed the People Success Platform to support your organization's focus on developing, engaging, and empowering your workforce. It encompasses a range of tools aimed at creating a positive workplace culture and enhancing the well-being, performance, and satisfaction of your employees.
360 Reviews Management

The PSP includes a 360-degree feedback mechanism that enables employees to receive feedback from peers, managers, and subordinates.
These reviews provide a holistic view of an individual's performance, helping them identify strengths and areas for improvement.

Weekly Status Task Management

The platform offers a task management system that helps employees organize and prioritize their work.
Creating and sharing weekly task lists can help align your goals and objectives with your team. It ensures everyone is on the same page and working towards the same objectives.
Real-time progress tracking identifies and addresses bottlenecks.

Goals, OKRs Management

The PSP allows organizations to define and track their strategic goals and objectives.
It facilitates aligning individual, team, and departmental goals with organizational objectives.
Objectives and Key Results (OKRs)
The platform allows setting, monitoring, and updating shared priorities.

Check-ins, 1-on-1 Management

The platform supports regular one-on-one meetings between employees and their managers.
It offers scheduling tools and the ability to document discussions and action items from these meetings.
You can schedule regular check-ins to discuss progress, address concerns, and provide coaching and support.

PulsePoint Personal Check-up System

It allows immediate insights into employee sentiment, performance, and engagement, helping organizations address issues quickly.
Pulse Point can track and measure employee engagement, a vital indicator of organizational health.

Survey Management, including eNPS management

The PSP includes survey functionality to gather feedback on various aspects of the organization, including employee engagement, workplace culture, and satisfaction.
Customizable survey templates and reporting tools allow organizations to measure and improve key performance indicators.
Regulatory compliance
It is crucial to remain compliant in the intricate regulatory environment of today; staying compliant is non-negotiable. We have designed our solutions to ensure your organization adheres to industry-specific regulations and standards. With eLeaP, you can:
Mitigate Risks and Legal Compliance
We have designed our regulatory compliance solutions to help organizations mitigate risks and ensure they are in full legal compliance with relevant regulations. This includes:
Stay Informed

Keep your organization up-to-date with the latest regulatory changes, ensuring that you're aware of new requirements and standards.

Avoid Costly Fines

Staying compliant with regulations prevents costly legal issues.

Audit Readiness

Be prepared for regulatory audits with documentation, records, and reporting that demonstrate your commitment to compliance.
Training and Certification
Training is a cornerstone of eLeaP's Regulatory Compliance solutions, ensuring employees are well-informed and adequately trained to meet industry-specific requirements.
Customized Training Modules

Create and deliver customized training modules tailored to the specific regulations your organization must adhere to.

Certification Tracking

Track employee certification and ensure they have completed the required training to remain compliant.

Compliance Records

Maintain comprehensive records of employee training and certifications to demonstrate compliance to regulatory bodies.
Enhance Accountability
Beyond mere legal compliance, eLeaP's Regulatory Compliance solutions promote ethical business practices and responsible conduct within your organization:
Code of Conduct

Develop and communicate a clear code of conduct that outlines expected behavior and ethical standards for your employees.

Whistleblower Protection

Implement mechanisms to protect whistleblowers and encourage the reporting of unethical behavior or regulatory violations.

Ethical Leadership

Promote ethical leadership practices that set the tone for the organization.
Ensure a Culture of Compliance
eLeaP's approach to Regulatory Compliance is not just about checking boxes; it's about creating a culture of compliance within your organization:
Training and Awareness

Educate employees about the importance of compliance, raising awareness and fostering a sense of shared responsibility.

Accountabiity

Hold employees and leadership accountable for their compliance-related actions and decisions.

Continuous Improvement

Encourage ongoing evaluation and improvement of compliance processes and procedures.
By staying informed, implementing comprehensive training, fostering a culture of compliance, and tailoring solutions to industry-specific needs, we support organizations in maintaining their legal and ethical integrity while minimizing potential legal and financial risks. Trust eLeaP to help your organization navigate the intricacies of regulatory compliance.
Why choose eLeaP
A Commitment to Excellence

At eLeaP, our dedication to excellence drives all of our actions. We recognize that the success of your organization is contingent upon your ability to cultivate your workforce, ensure regulatory compliance, and create a thriving, engaged workforce. We've built our reputation on providing exceptional solutions and support that help you achieve these goals with confidence.

A Proven Track Record

You're choosing a partner with a proven track record of success. We have a rich history of helping businesses of all sizes enhance their learning initiatives, empower their people, and maintain strict regulatory compliance. With eLeaP, you're tapping into the experience and expertise of a company with a track record of success.

Cutting-Edge Technology

Our dedication to remaining ahead in the world of technology ensures that we provide the most up-to-date tools and resources. Our eLearning platform leverages cutting-edge technology to streamline training processes, engage learners, and deliver data-driven insights. With eLeaP, you gain access to a technologically advanced platform that empowers your organization to adapt and thrive in a rapidly changing world.

Tailored Solutions for Your Needs

We understand that each organization has unique needs, so we offer tailored solutions for your needs. Whether you're in healthcare, finance, manufacturing, or any other industry, eLeaP provides industry-specific solutions that ensure you comply with the regulations that matter to you. Our customized training and development modules allow you to align your learning initiatives with your company's goals and culture.

Comprehensive Support

Choosing eLeaP means choosing a partner dedicated to your success. Our support team is always ready to assist you, ensuring that your experience with eLeaP is seamless and productive. We're committed to your ongoing success, providing not only innovative solutions but also the support and guidance you need to make the most of our offerings.

A Holistic Approach

eLeaP's holistic approach means that we view your organization as a whole. We understand that all aspects of your organization's needs are interconnected and must work in harmony to achieve success. By choosing eLeaP, you're embracing a comprehensive approach that addresses the unique challenges and opportunities within your organization.

Empowerment and Engagement

Our People Success Platform is designed to empower your workforce and enhance engagement. We recognize that your people are your most valuable asset, and our solutions promote continuous learning, skill development, and well-being. When you choose eLeaP, you're choosing to empower and engage your employees, driving your organization forward.

A Partner in Compliance

Navigating the complexities of regulatory compliance is a challenge for any organization. eLeaP is your trusted partner in this journey. We're dedicated to helping you stay compliant, avoid legal risks, and promote ethical business practices. By choosing eLeaP, you're choosing a partner that understands the importance of compliance and is committed to helping you achieve it.
When you choose eLeaP, you're choosing a partner committed to excellence, has a proven track record, offers cutting-edge technology, provides tailored solutions, delivers comprehensive support, and takes a holistic approach to your organization's needs. We empower your workforce, help you achieve compliance, and support your journey to success. Choose eLeaP and experience the difference for yourself.
Access to more than 1,900 pre-built courses for your business
Access thousands of video training courses on Occupational Safety, Compliance, Communication, Ethics, Leadership, Management, and Supervision.
With eLeaP, your organization gains access to a comprehensive suite of tools, resources, and expertise that will drive your learning initiatives, empower your people, and keep your business compliant. Join us on this journey to excellence, and let eLeaP be your partner in success.
Case studies: a track record of excellence
See the results of so many who have used the eLeaP system