Efficient Compliance Training In the Pharmaceutical Industry: Features You Want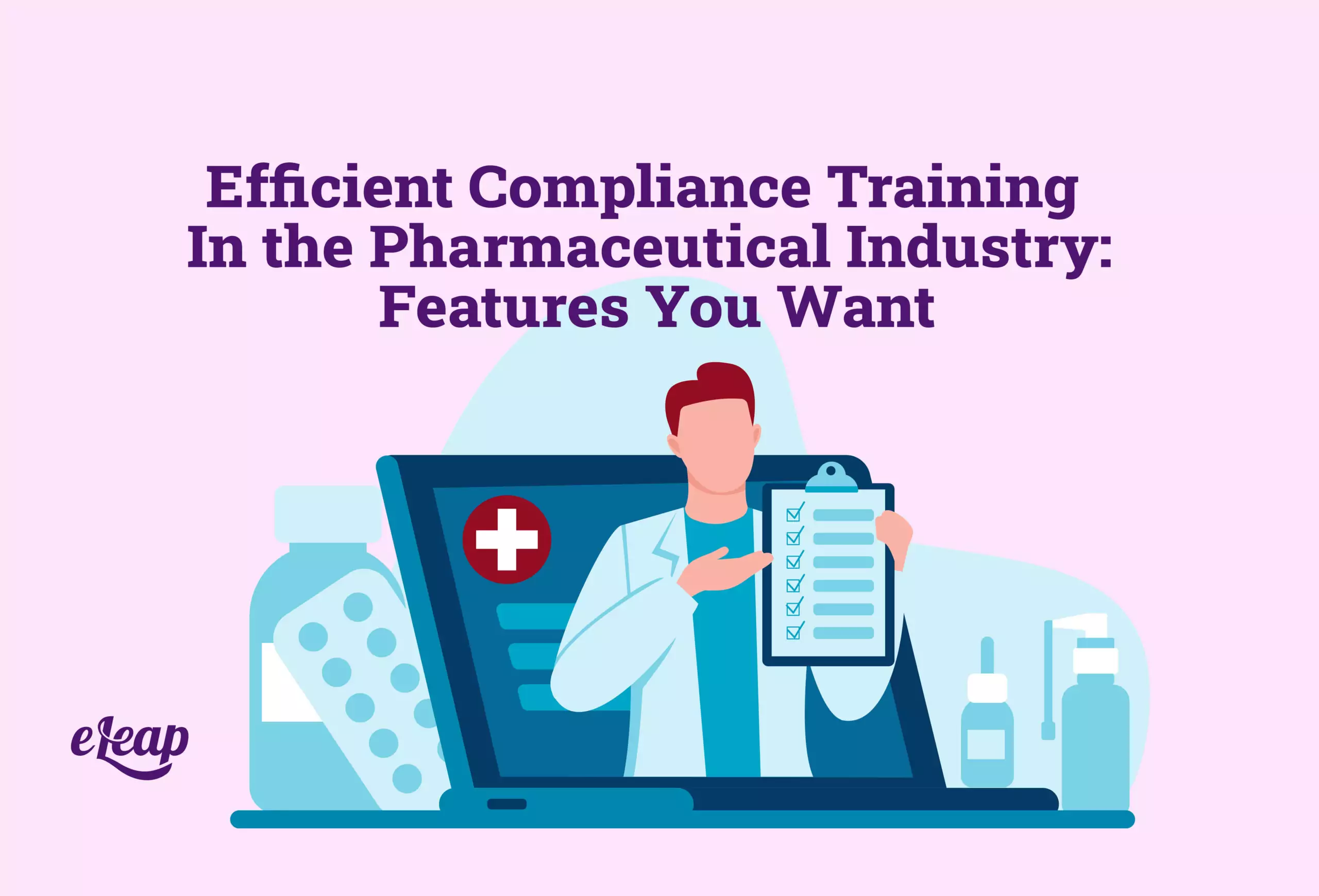 Few industries exist that are monitored for compliance awareness, as much as the pharmaceutical sector.  Every day different characteristics are changed regarding specific painkillers, anxiety medication, and other controlled prescription drugs.
Because employees are trained to follow certain protocols on different brands of medication, when regulations surrounding a medicine are altered, the employee training must be updated.  These regulations are created to ensure the safe handling and effectiveness of the products available to consumers from the pharmaceutical industry.
Three primary training procedures exist within the industry:
SOP (Standard Operating Procedure) training
cGMP (Current Good Manufacturing Process) training
Safety and Environment training
Failure to follow the protocols set forth by these training programs has serious consequences. Not only does it affect the productivity and efficiency of the production process, but it could have serious ramifications. Meeting the training criteria for each of these procedures is equally important.
Audits are conducted randomly on pharmaceutical organizations, so all training procedures must be documented according to employee participation. Failure to comply can lead to possible legal action being taken against the organization.
An effective LMS has e-courses available to help employees with meeting compliance requirements. Let's examine more how to implement an LMS program within a pharmaceutical organization properly.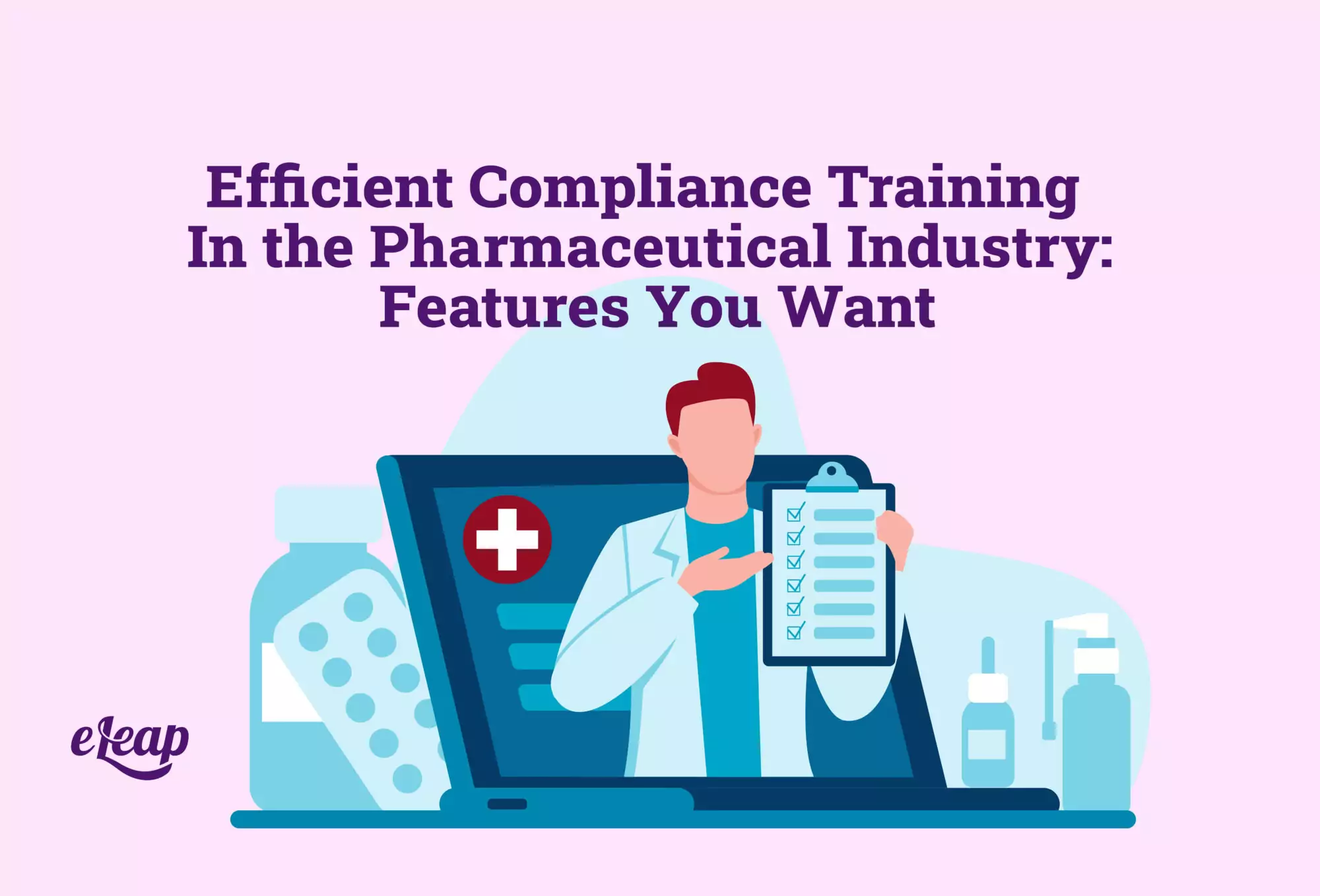 LMS for Pharmaceutical Regulation and Compliance
Pharmaceutical organizations can use LMS training in a variety of ways. These are some of the most effective training and assessment modules these organizations can take advantage of:
Onboarding for new employees with training packets and initial exams
Quarterly assessments for present employees
Recertification or revisiting certain training modules to ensure employee compliance
Vendor and third-party training for any other organization that is a part of day-to-day operations
Management training for supervisors within the organization
Online learning systems can be particularly effective in this industry. Chat forums and group discussions allow employees from different departments to share information, coordinate, and communicate regarding different topics.
In the pharmaceutical industry, solid communication between different departments is key to ensuring that production goes smoothly. Questions can be asked and answered promptly, and any changes or updates can be communicated in real time.
Important LMS Elements
Compliance is potentially the most important dynamic within any pharmaceutical organization. If these regulations aren't met and followed, it could dismantle the organization's structure.
At the minimum, fines will be levied, and certain licenses and certifications can be revoked. Each year, more compliance regulations are being added that organizations have to adhere to.
Most of these increases are because of the increased use of electronic records. Employees must be trained in the proper utilization and confidentiality of these records.
There are several features of an LMS that benefit this industry the most. Let's take a look at each of these features and how they are best utilized. By the way, use the validated eLeaP LMS to avoid headaches in complying with CFR Part 11.
Training and Certification
Any employee within the pharmaceutical industry must complete a certain amount of training and certification. Instructors can take advantage of an LMS program by utilizing video chats and message boards to interact with students. Exams and evaluations can easily be distributed to keep track of milestones.
Podcasts are a great way to conduct important instructionals. Each podcast can be geared towards a particular module or subject, after which diagnostic assessments can be given to ensure students are properly digesting the material.
Using these different elements in your LMS program can give your organization a large amount of credibility. This shows third parties that you have a strong eye for safety and proper procedure.
Compliance Certificates
An efficient LMS course will provide the option for compliance certificates in different subjects. The authenticity of courses like science and pharmacology can be verified by the American Society for Clinical Pathology.
Additionally, receiving certificates is a great way to motivate students. These are physical proofs of different milestones reached and may fuel them to continue course completion.
The FDA has also made it mandatory that protocols and certificates that are instructed are compliant with Title 21 CFR Part 11 of the Federal Code of Regulations. This is why efficient certification is extremely vital.
Managing Course Material
A good LMS program will allow instructors to manage the content within different courses. Slideshows, high-quality images, tables, and graphs can be added for students and future employees to interact with.
Courses like microbiology and pharmacology can benefit immensely from these features. Considering that students must familiarize themselves with labs, having interactive and high-quality graphics can be extremely helpful. Instructions for using and maintaining certain laboratory equipment can be added to course material as well.
Compliance Reporting and Tracking
An LMS program can also be used for compliance tracking within the company. Every individual who has taken and completed training can be documented and signed off on with the completion date and certificates included.
HIPAA and FDA regulations will both be satisfied with the efficient documentation in the event of audits. Different compliance activities can also be tracked on a daily basis when active employees meet them.
In the pharmaceutical industry, compliance is the most important dynamic that exists for any organization. Not only do compliance regulations need to be met and followed, but all of the training and necessary documentation must be kept track of. Without proper tracking and reporting, the regulations met are useless.
A good LMS program implemented effectively can provide all of these different features for a pharmaceutical organization. Not only will these programs provide more efficient training (which leads to more productive employees), but the reporting will satisfy all of the major associations that monitor compliance.
It is highly recommended that any industry that follows strict compliance regulations take advantage of a quality LMS. These LMS programs will certainly improve the day-to-day operation of your organization. Additionally, they will also provide your team with a higher level of credibility.