Title 21 CFR Part 11
Get the Answers to the Most Common FAQs about Title 21 CFR Part 11 Compliance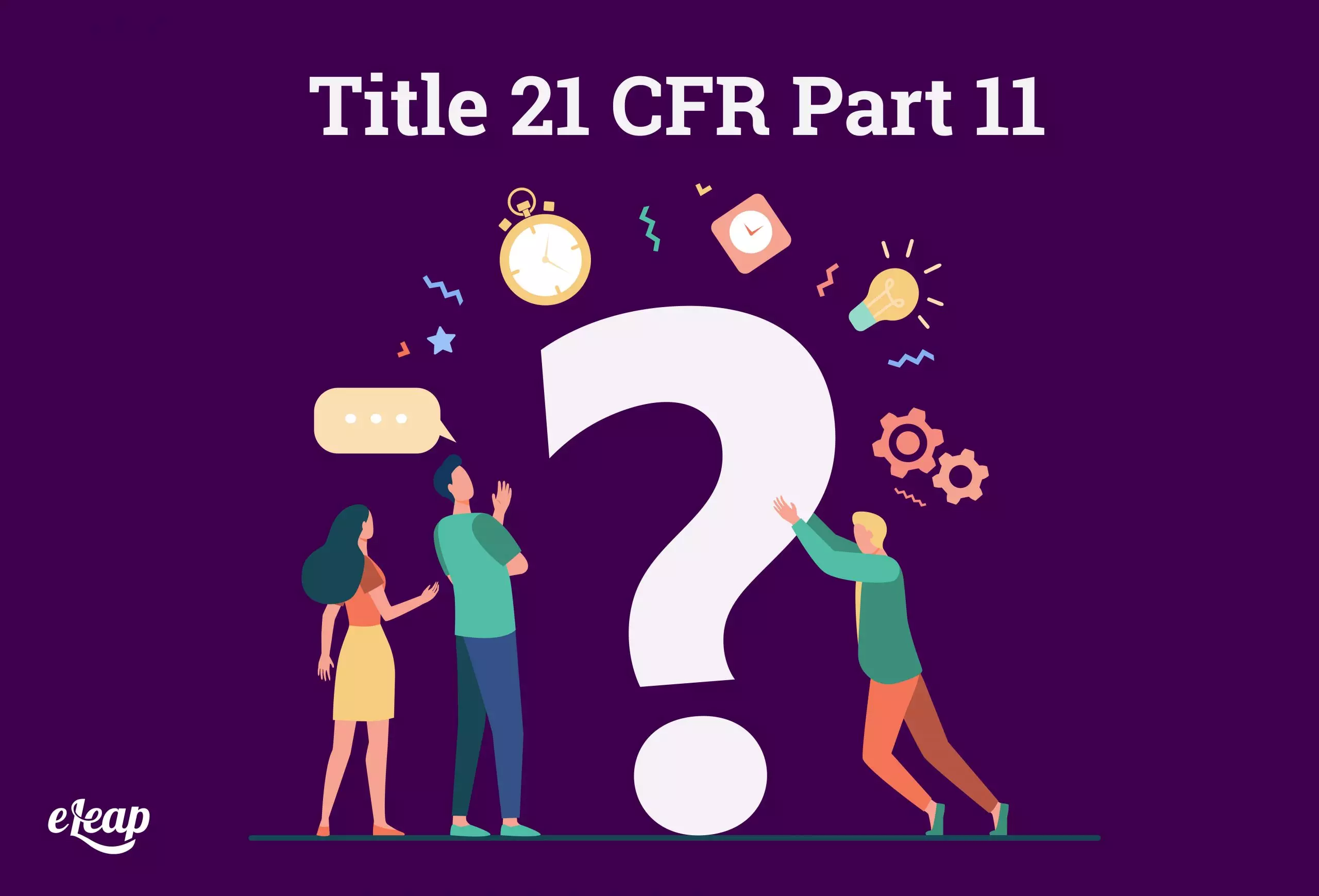 While Title 21 CFR Part 11 is nothing new, it has continually presented significant problems to businesses in the life sciences industry. While some of those challenges were eliminated with the ability to use electronic signatures and electronic records, many decision-makers still have questions and concerns. In this post, we'll answer some of your most pressing questions regarding Title 21 CFR Part 11 compliance.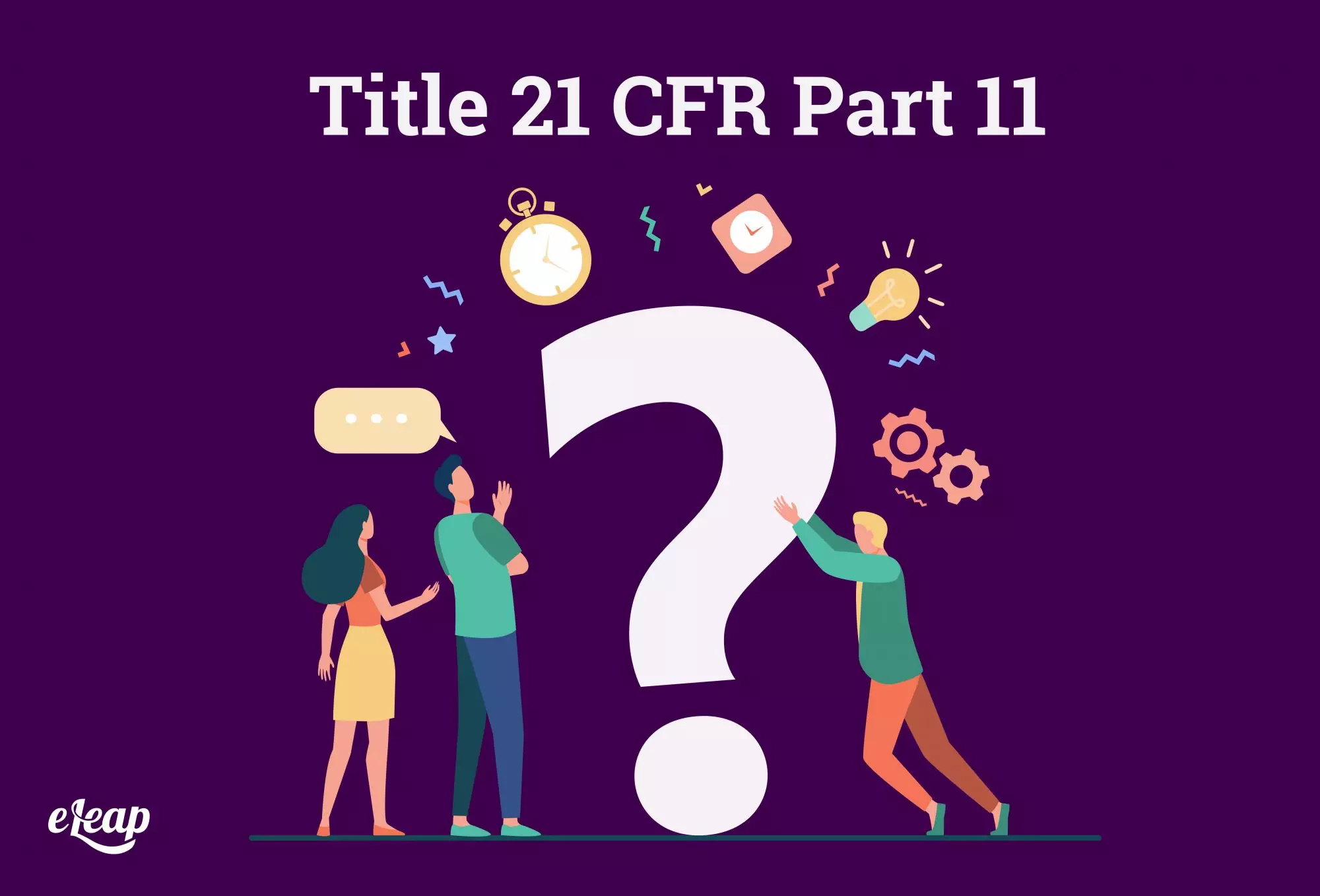 Is My Organization Covered by Part 11?
If your organization is in the life sciences industry and is regulated by the FDA (subject to FDA oversight), then, yes, Part 11 applies to you. This includes pharmaceutical companies, biotech firms, contract research organizations, medical device manufacturers, and many more. Even if your company does not fall under FDA governance, you may decide that complying with Part 11 is in your best interests in order to manage things like electronic training records.
How Do I Know If I Have an Electronic Records System?
Any "electronic records" system must comply with all parts of Title 21 CFR Part 11. However, how do you know if your system falls under that heading? Does it store records in electronic format for access or use later? Do you use electronic signatures to access the system and/or documents stored within the system? In those cases, your system certainly qualifies. All of today's learning management systems fall under this heading. We recommend the GAMP Approach to 21 CFR Part 11 Compliance course to help you navigate the FDA's compliance landscape.
If I Have a Commercial LMS, Does the FDA Require Validation?
In most cases, yes. Complying with GxP rules as well as FDA mandates for how electronic records are handled is required in all environments subject to FDA oversight. The FDA also requests that companies validate any LMS to ensure that it is fit for use within that organization. Note that LMS developers may claim "fitness for use", but this is not the same thing as being able to claim full compliance with Title 21 CFR Part 11. When considering LMS platforms, choose one that is fully validated.
Is My System Closed or Open?
The FDA makes a differentiation between closed and open systems. However, many decision-makers are unsure of the difference. The FDA defines a closed system as one in which the people responsible for the management or electronic records are the same ones that handle the network. An open system, on the other hand, is one in which the individuals responsible for electronic records do not control access to the system. So, a private cloud would likely be considered a closed system, while a public cloud would be considered an open system.
The FDA's differentiation hinges on the ability to restrict access, protect information, avoid damage or data theft, and more. In an open system, the individuals responsible for the data would need to take additional steps to ensure Title 21 CFR Part 11 compliance.
Is There Compliance LMS Software on Offer?
No software is compliant with Title 21 CFR Part 11 on its own. The FDA looks at these as "whole systems". That is, the software and hardware must both be considered to ensure compliance with rules and regulations. Therefore, no software developer can legally claim compliance because the software requires hardware in order to operate. The network on which the software is installed and operated would also need to be in compliance.
However, in a cloud situation, where the LMS is stored on the provider's hardware, and accessed remotely, the LMS developer can claim compliance (assuming the system meets FDA regulations, of course). This is because the LMS and the underlying hardware are part of a package – you get access to the software through the provider's hardware.
What Happens If I Don't Comply?
You might be able to run under the radar for a little while. However, if you operate in an industry under FDA oversight, you will eventually be subjected to an inspection. When this occurs and the inspection team finds that you're lacking proper controls over electronic records and verification, they will issue a warning (Form 483). This will detail the areas that you need to correct, and then you will have a specified amount of time to enact those changes and corrections.
Choosing the Right Learning Management System
As you can see from the information above, the right technology is vital for complying with federal rules and regulations. It's important to understand that not all learning management systems automatically comply with Title 21 CFR Part 11. It's also important to realize that some LMS developers may make it seem like their offering is compliant, but "fit for purpose" is not the same thing.
So, how do you ensure that you choose the right LMS? First, look for a cloud-based solution. There are several reasons for this. One of those is that you don't have to worry about validating your own network and hardware, which can be a pretty onerous burden. Second, make sure that the LMS vendor not only says their offering complies with all Part 11 rules and regulations, but offers the tools and capabilities necessary.
An LMS for Modern Life Sciences Organizations
At eLeaP, we work with life sciences clients in a broad range of sectors. Our LMS is state of the art, cloud-based, flexible, and fully tested for compliance with Title 21 CFR Part 11. Our groundbreaking talent management tools for life sciences organizations can help you do more, build the team you need for success, and more, all in compliance with the FDA's regulations.
We invite you to contact us today to learn more or to request a custom consultation on your needs.