Training Records and 21 CFR Part 11 Compliance: What Organizations Should Know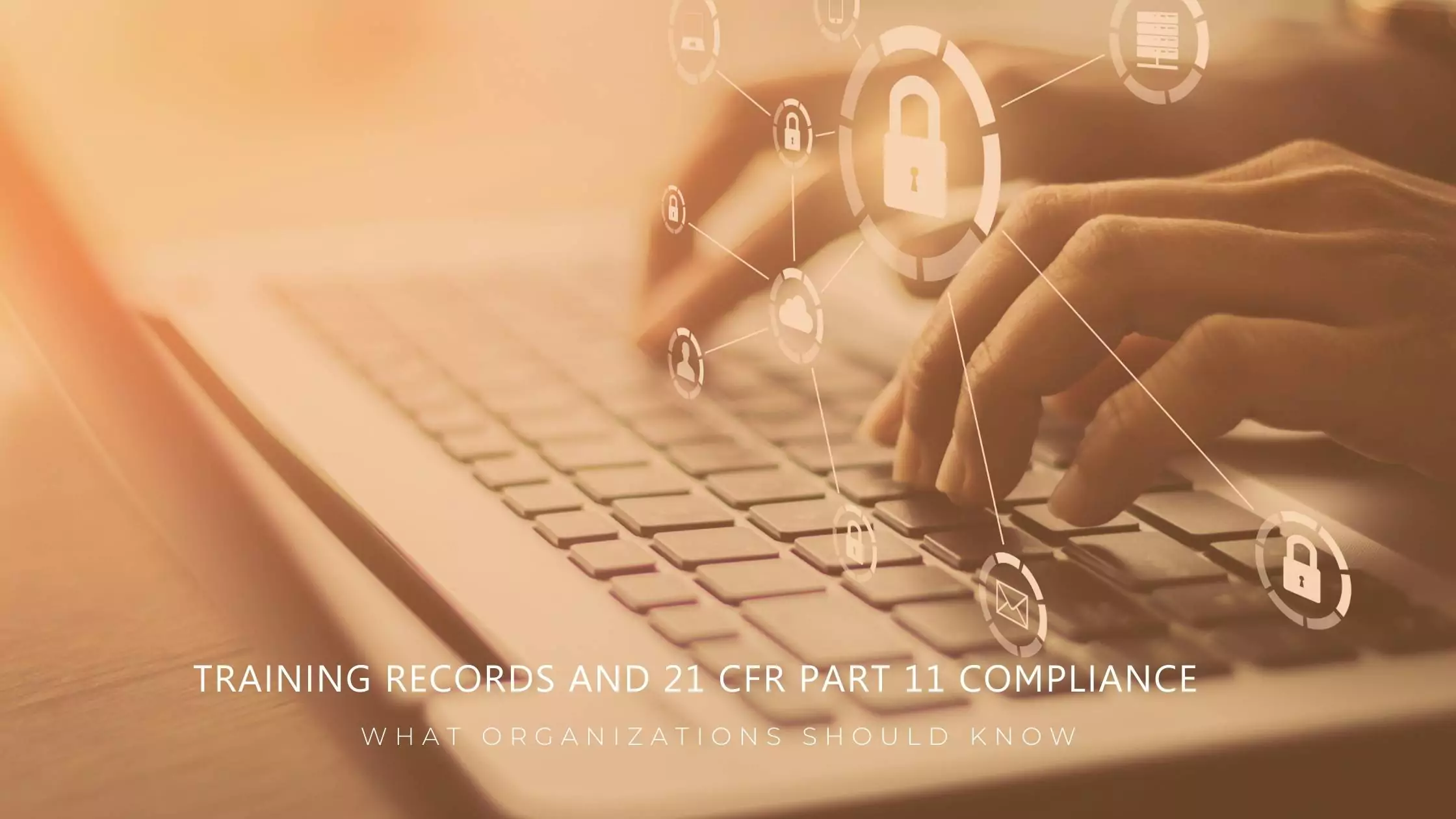 21 CFR Part 11 applies to all digital records within your life science organization. That includes your learning and development initiatives. It is important to understand how the FDA's rules affect training records, including their storage, access, and more. Of course, navigating this area can be confusing, so we created a guide to help ensure you can comply with legal requirements and avoid an FDA audit. You can download the whitepaper, "How to Prepare for a 21 CFR Part 11 FDA Inspection".
What Training Records Are Affected?
Technically, all electronically-stored training records fall under the purview of 21 CFR Part 11. In most cases, they must also comply with Good Manufacturing Practices, Good Clinical Practices, and Good Laboratory Practices. However, the most important training records include the following:
Course versions (to ensure versioning accuracy)
Course completions (to ensure accurate tracking)
Exam completions (to track knowledge retention)
Why Are Training Records Kept?
Training records serve several important purposes within life science organizations. Some of the most common reasons for storing and maintaining training records include the following:
Verify compliance with training requirements
Verify compliance with certification/recertification requirements
Develop in-house talent by training employees and closing skill gaps
Track employee learning and development over time
Make central decisions concerning promotions and informing hiring strategy
The Onus of CFR Part 11 Compliance with Training Records
While 21 CFR Part 11 is complex and can be confusing, its application when it comes to training records can be broken down and made more understandable.
The Purpose
The entire purpose of 21 CFR Part 11 is to protect training records (and the information they contain) from theft, loss, or damage. All industries have seen a dramatic rise in data breaches, data theft, and cyberattacks, which can compromise any form of electronically-stored data, including training records.
The Method
Given the purpose, how are training records supposed to be secured? The FDA leaves a lot up to the organization, simply mandating that all records be secured and protected, including when they are created, modified, or archived. Life science organizations must:
Ensure that the person making the changes is identified (with each change)
The reason for the change is noted in the log
Ensure that all training records are "trustworthy and reliable" to be interchangeable with paper records
All e-signatures are secure enough that they can replace physical signatures
The System
Electronic documents (including training records) must be stored in some sort of electronic system. For instance, employee workstations include Excel sheets, Word docs, and other electronic files. The organization's training records must be stored within a compliant learning management system (LMS). However, that LMS must meet FDA requirements, as well. While most of the onus falls on the life science company to design and then implement policies and procedures that safeguard electronic records, the systems the organization uses must also be "fit for use".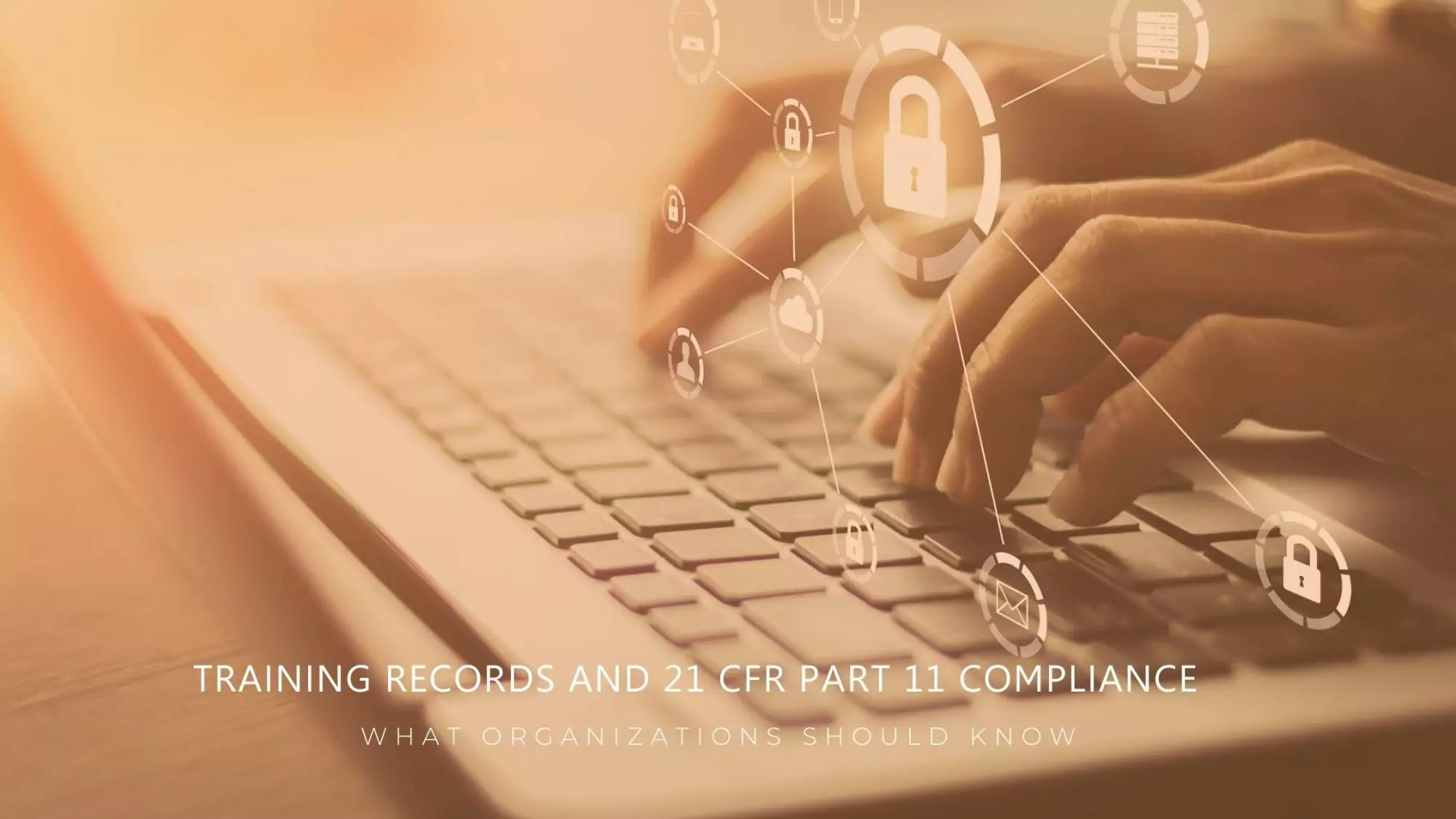 When it comes to learning management systems, there are several technical aspects of the rule that must be met. These include:
The LMS must be secure. This generally means secure usernames and passwords, which form part of an e-signature but also includes additional security tools, such as the ability to restrict access to specific information to only those with a need, the ability to remove usernames and passwords from the system, and much more.
The LMS must support audit trails. As discussed above, any changes made (including training record creation in the first place) must include not only the username and password of the person making the changes but also the reason for the change itself. All changes must be logged and accessible for auditing purposes, providing a clear trail showing who did what, when, and why.
The LMS must rely on robust e-signatures. Electronic signatures must be the equivalent of physical signatures in terms of trust and validity, but for that to happen, there must be trust that those signatures have not been falsified or obscured in any way.
The LMS must provide reporting capabilities. This ensures that those who need access to information have it, but also provides the ability to home in on specific data quickly, and the ability to share information (including with the FDA) when necessary.
Training the trainer matters, too. The FDA requires that "persons who develop, maintain, or use electronic record/electronic signature systems have the education, training, and experience to perform their assigned tasks". This means that administrators, and even employees who will complete training in the LMS, must be trained on how to use the system effectively and to ensure continued compliance with FDA rules and regulations, as well as the organization's own practices and policies.
How Does an LMS Meet These Requirements for 21 CFR Part 11 Training Records?
While the life science organization is ultimately responsible for actual 21 CFR Part 11 compliance, learning management systems must be up to the task. For instance, with an LMS like eLeaP, it becomes a simple matter to ensure that all training records are always up to date and ready for auditing or sharing with the FDA.
With robust reporting capabilities, in-depth tracking and learner management tools, and powerful e-signature and digital security steps, eLeaP delivers not only peace of mind, but a defined road to 21 CFR Part 11 compliance.
Will the Right LMS Guarantee 21 CFR Part 11 Compliance?
In a nutshell, no. No system can guarantee compliance with 21 CFR Part 11. The reason for this is that there are three controls needed for a compliant system. One of those controls, the technical aspect of everything, is provided by the LMS developer.
The other two, procedures and administrative processes, come from the organization. So, if the organization has not created robust policies and procedures, or fails to hold individuals accountable for actions taken with their electronic signatures, it will not be compliant.
Ready to experience the difference that a compliance-ready LMS can make? At eLeaP, we understand how critical it is to have a robust learning management system that delivers an ideal user and administrative experience, while simultaneously helping you move toward 21 CFR Part 11 compliance. Contact us today to learn more.