Your Guide to Converting Instructor-Led Training for Remote Learners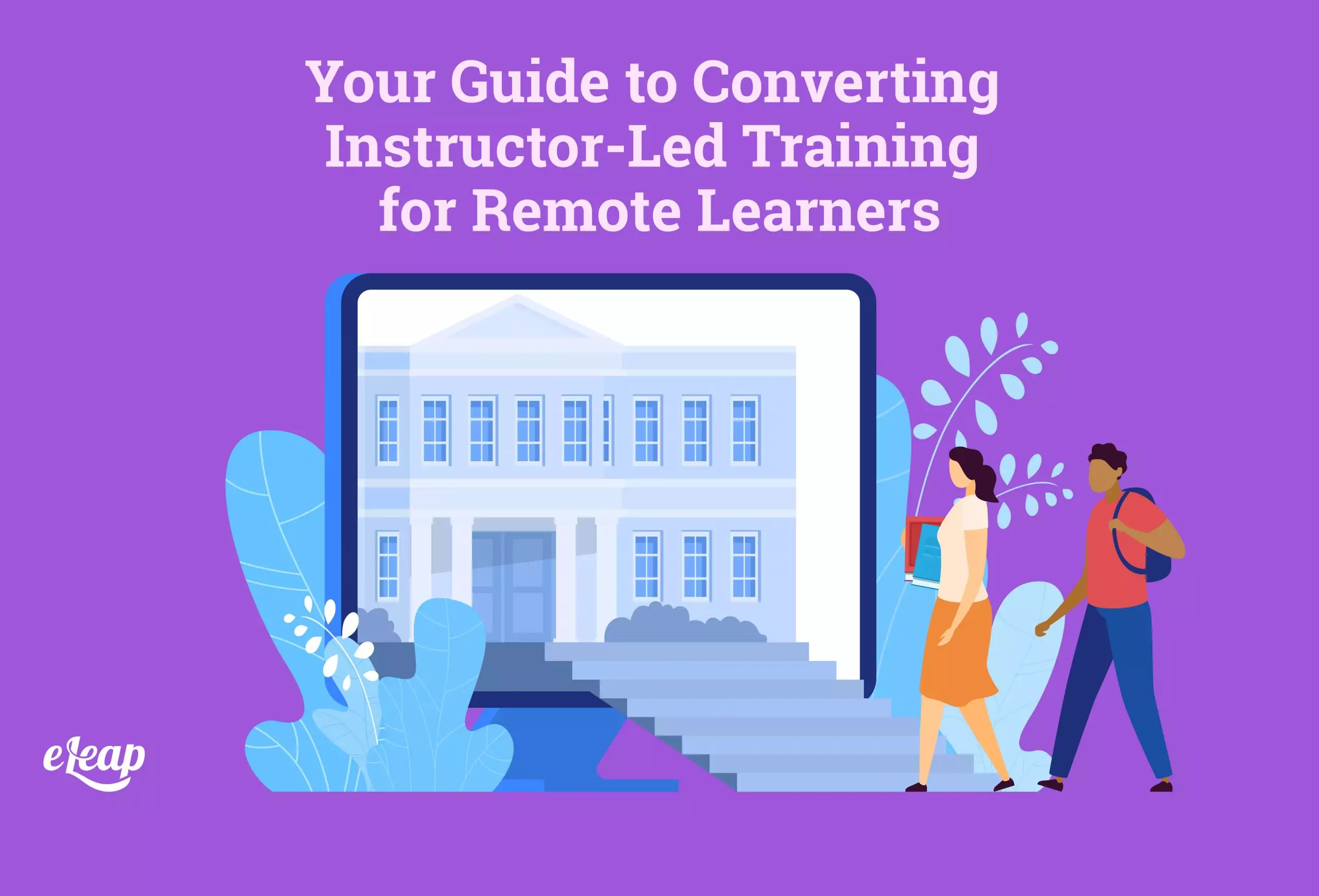 The toll the pandemic has taken is incalculable. It has affected virtually every aspect of our lives and our businesses. That includes your organization's L&D initiatives. We know with the COVID pandemic, in-person instructor-led training was the first casualty. However many organizations have been able to migrate their ILT training and adapted it for remote learners.
It has become more and more important for businesses to find ways to deliver optimized learning experiences in a remote work situation. However, that can be challenging. Do you invest in brand-new content? Is that wise considering that your business may be facing a financial shortfall?
Actually, repurposing existing content and transforming it into something suitable for remote learners may be a better decision. It offers an affordable solution, delivers learning that remote workers can participate in, and maximizes the return on your initial development costs. One good example here is converting instructor-led training into something that can be used by your remote workers.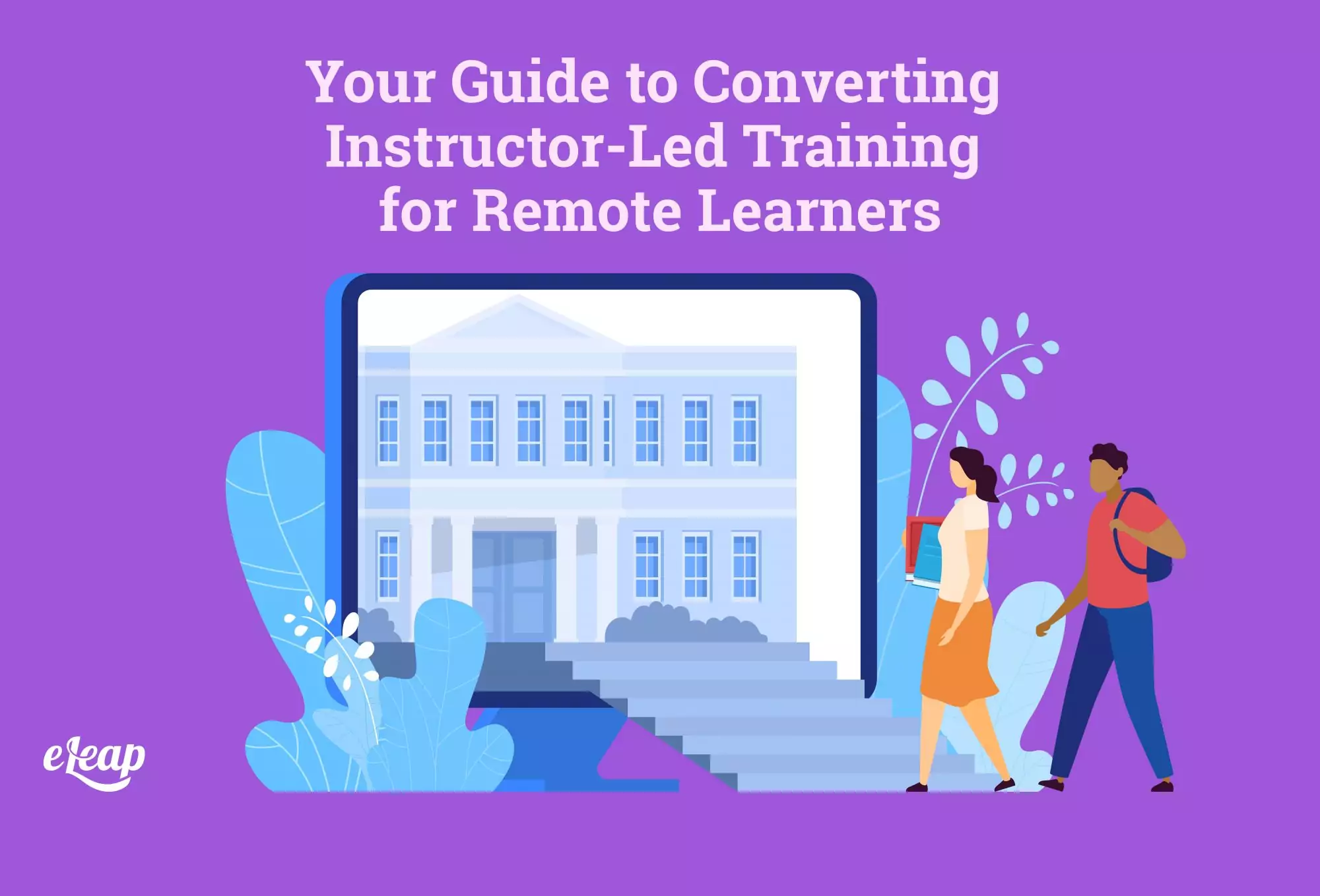 Virtual Instructor-Led Training
One option is to take instructor-led training and repurpose that into virtual instructor-led training. In this scenario, you would simply change how the instructor delivered training. Rather than presenting material in a meeting or conference room to a crowd of learners, they would present that information virtually, transmitting it via a webcam to learners who would participate virtually.
This can be done in any number of ways. Zoom is one option, depending on how many learners will need to connect to the training at a single time. You can also use webinar software. In most cases, you should be able to record the training so that it can be used later.
Note that in some instances, this training will be live, although participation will be virtual. However, that does not need to be the case at all times. Make sure that the instructor uses your existing learning objectives and resources to maximize ROI, and make sure to digitally record and store all training for future use.
Chunk It into Virtual Learning
Instructor-led training can be repurposed in many ways. One of those is by chunking it into smaller pieces and then using those in your virtual learning efforts. Of course, doing this successfully will require more than just the ability to cut the content into pieces. You'll need to follow a few best practices, including these:
Identify topic segments so that you can accurately chunk the recording. Each segment should be able to stand on its own but can also tie into others, allowing you to create a stepped progression course.
Optimize each chunked piece so that it doesn't feel like it begins and ends abruptly. Remember that the goal here is to impart important information while delivering an improved learner experience.
If possible, combine the new video segments with existing training assets to create a more robust experience and support your learners in their journeys.
It's also important to think about different purposes for your information chunks. While they can (and should) be used in the actual courses you create, could they be put to work elsewhere? For instance, might they be able to pull double duty in a knowledge-base or FAQ section?
Consider the Possibility of Blended Learning
Instructor-led training comes from many sources, including from vendors your organization has purchased from in the past. Use that information, along with other instructor-led training, to create blended learning courses that help your employees master the skills necessary for continued operations.
Here's a basic example. Zoom has become a go-to resource for most organizations now that working remotely is the norm. However, many people still struggle to master video conferencing technology. Zoom offers tutorial videos on the company's website, but finding them may be a challenge for some employees.
Instead of directing them to find the pages in the Zoom support section (which can be tough to navigate), find a way to simplify things, and provide those training videos to your employees.  You can also combine vendor video content with other pre-recorded content and educational/training assets.
This is similar to "curating" content for training and can offer you a means of delivering a better experience without the need to spend any money on having custom content created. Making a vendor's training content available to your learners can be as simple as sharing links to individual videos through a chat application, although there are better options, such as embedding the videos in a dedicated page accessible through your LMS.
The Ultimate Goal: A Complete Redesign of Instructor-Led Training
The tips we've covered above will help you translate instructor-led training into something that remote workers can access. However, all of them are stopgap solutions to some degree. They will work, but it may not be possible to deliver an ideal learner experience in this way. Instead, it may be time to think about a complete redesign of your learning and development assets.
Why consider a redesign? First, you can count on remote work being at least a big part of the new normal moving forward, even once the pandemic is brought under control. There are simply too many benefits to discontinue it entirely, although some businesses bring a large percentage of their employees back for in-person work.
By redesigning your training now, you future-proof it. Because remote work isn't going away, there will always be a need to deliver training to your remote team members. Creating a purpose-built, remote-focused training strategy now can pay off handsomely in the long run.
And remember, a cloud-based learning management system benefits in-person learners, as well as remote workers. With the right LMS, you can deliver the same content to your learners, whether they're in the office or working from a home office. Ultimately, that's the goal here – to deliver a seamless, positive learning experience that helps team members develop and grow, while boosting business success.
With that being said, make sure you choose the right LMS. At eLeaP, we offer an industry-leading, cloud-based learning management system that's ready to scale to fit your needs, whether you stay fully remote or bring some portion of the team back into the office. eLeaP combines instructor-led training with asynchronous learning modules.