How to Use an LMS To Improve Your Organization's Sales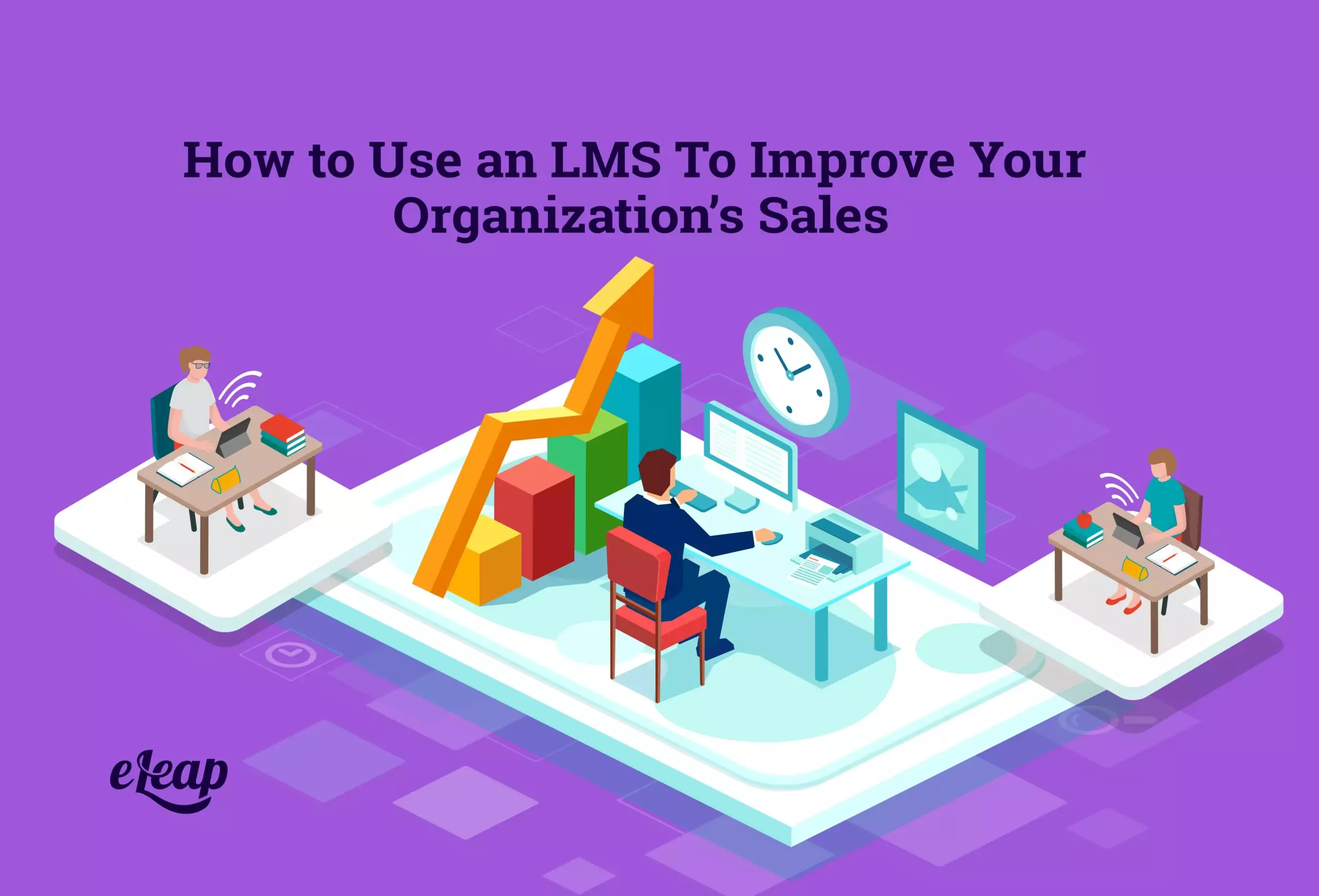 For organizations everywhere, sales training is crucial to success. Sales teams are competing for customer business each day. Winning isn't just great for the soul, but it's necessary in order for your company to stay competitive and maintain its reputation. But what steps can you take to improve sales?
Using a learning management system that can help you increase your sales team's product knowledge, share that knowledge with others, and conduct regular performance reviews, can significantly improve their productivity and success.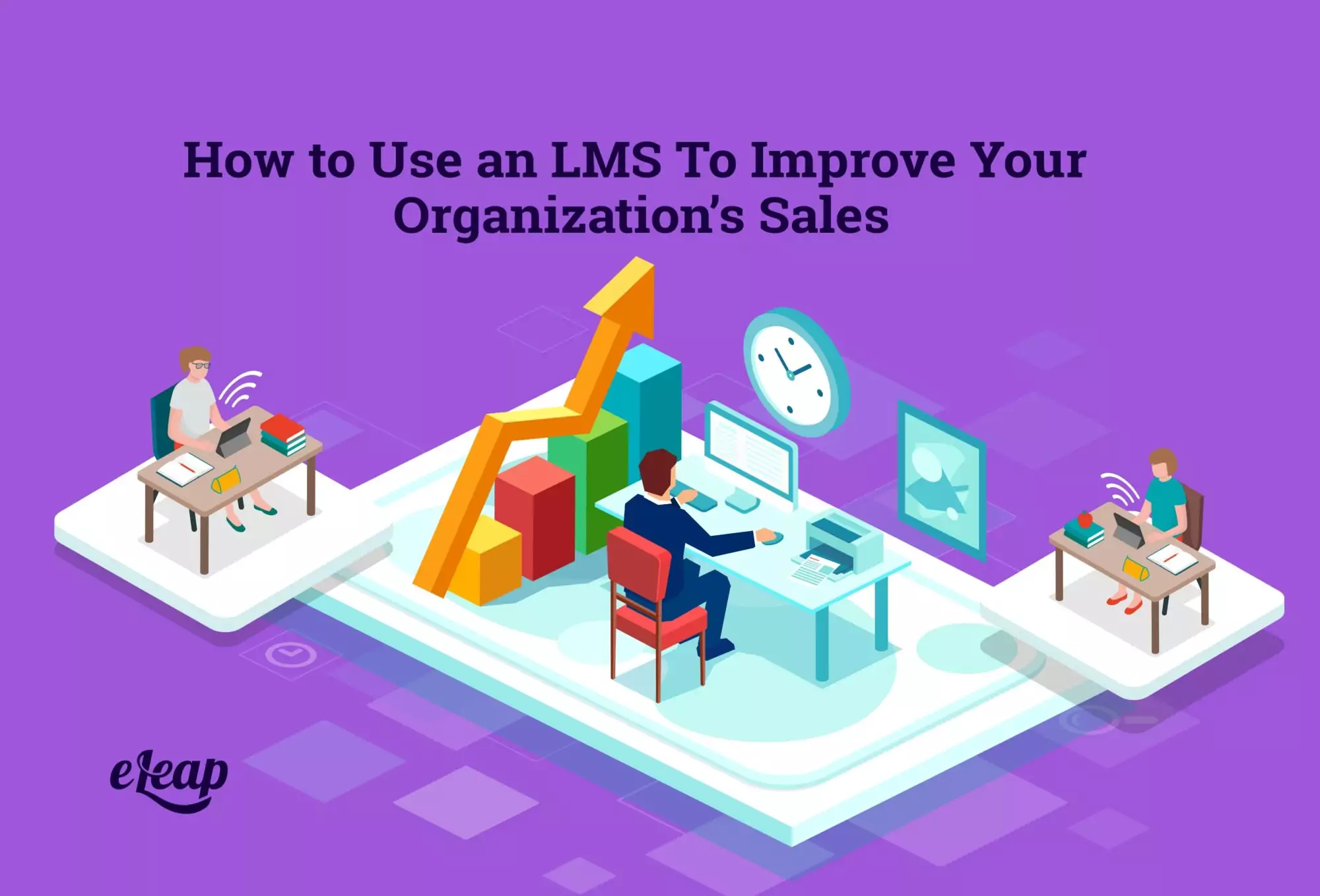 Why Is Sales Training So Important?
Your sales training is a critical component to achieving your organization's revenue targets. Sales training traditionally consists of occasional meetings and classroom training sessions. While these are good components, they aren't the be-all and end-all of good sales training. Traditionally acquired sales skills provide your sales team with product knowledge, but the retention needed for success in sales isn't always met by these conventional methods.
As part of your sales training, you need to reinforce what your team has learned continuously. Organizations that depend heavily on the success of their sales teams need more than just standard training and a subpar LMS. They need one that provides regular training opportunities. Your sales team deserves access to subject-matter experts, internal leaderboards, and learning paths to stay productive and capable.
A good LMS will provide salespeople with the information they need to succeed. In addition to that, they can access training remotely and receive information when they need it. This is critical since sales often requires reps to be constantly on the go, so online learning gives them access to training programs in real-time, no matter where they are.
While onboarding is a critical component to creating a successful sales rep, their training journey certainly doesn't end there. The LMS you choose needs to be able to keep up with consistent training. Onboarding programs might be okay with more traditional or subpar learning management systems, but they can't typically host sophisticated corporate training experiences. The LMS you choose needs to be capable of providing extensive, engaging, on-the-go learning experiences.
Information is readily available to the modern learner at all times with the right LMS. By providing your teams with the eLearning materials they need online, you're ensuring they can stay brushed up on their training even if they're rushing to meet with a potential client or give a sales pitch.
Tips For Proper Online Training
The first essential step to training success is to figure out what salespeople need, what they want, and how and what information you want them to learn. Having this in mind and meeting these expectations with a learning management system will prevent you from having to call on your sales managers for support in cases where your reps need additional help. Once you know the expectations you need to meet in order to effectively train your salespeople, you can start implementing the right eLearning.
Provide Varying Training Options
All learners learn differently. In order to ensure your entire team has access to the same learning experience, you need to provide varying training options. While some may respond well to more conventional training methods, they won't work for everyone. If you only provide one type of training, you'll be doing a lot of team members a disadvantage.
Differentiating learning content is essential for ensuring its effectiveness for everyone involved. For some learners, visual content such as online presentations and videos, or virtual instructor-led courses, is important. Others may prefer auditory learning, so they should be given materials that provide information but also encourage them to ask questions and hear answers.
Social Learning
Social learning is a critical step to ensuring your entire sales team is benefitting from the best possible training. Your top performers often have very little time to share what they know, which is why it is important to capture knowledge from them so it can be shared with others. A great way to build community with your sales reps who are less experienced is to let your subject matter experts answer questions and offer feedback to them. Knowledge retention is also improved by learning from peers.
User-Generated Learning Content
Observation and explanation are just two of the ways that people learn. By using user-generated content, you can accomplish two things. People can teach others what they know by sharing their own best practices and sales tactics, and students can reinforce what they've been taught by watching their peers.
Micro-Learning
It's well known these days that your team members will learn less if they have to absorb large chunks of materials at one time. Bite-sized learning, also known as micro-learning, is certainly the way to go. Not only does it make the material easier to retain, but it's also ideal for employees who are constantly on the move or have little time for training, such as sales reps. For your sales reps, especially, you want to make sure that learning can be done quickly, easily, and reliably. With short learning materials for reference and knowledge reinforcement, your sales reps can remain in the know even when they're busy.
Gamification
Games and gaming elements are a great way to keep your salespeople engaged, competitive, and connected with your learning management system. An LMS game design involves hosting contests, leaderboards, and rewarding participants. Gamification is also one of the best ways to encourage a little healthy competition. Since salespeople tend to be quite competitive by nature, gamification is particularly beneficial for them.
Hiring and training successful salespeople is notoriously difficult. For organizations that rely heavily on sales, there is no room for error when it comes to setting up salespeople for success. Without the right tools to train them properly and consistently, you'll be doing your organization and team members a huge disservice. Implementing a top-of-the-line learning management system can help guide your sales team to success and ensure they remain engaged and productive.