Hot, Hot, Hot: E-Learning Trends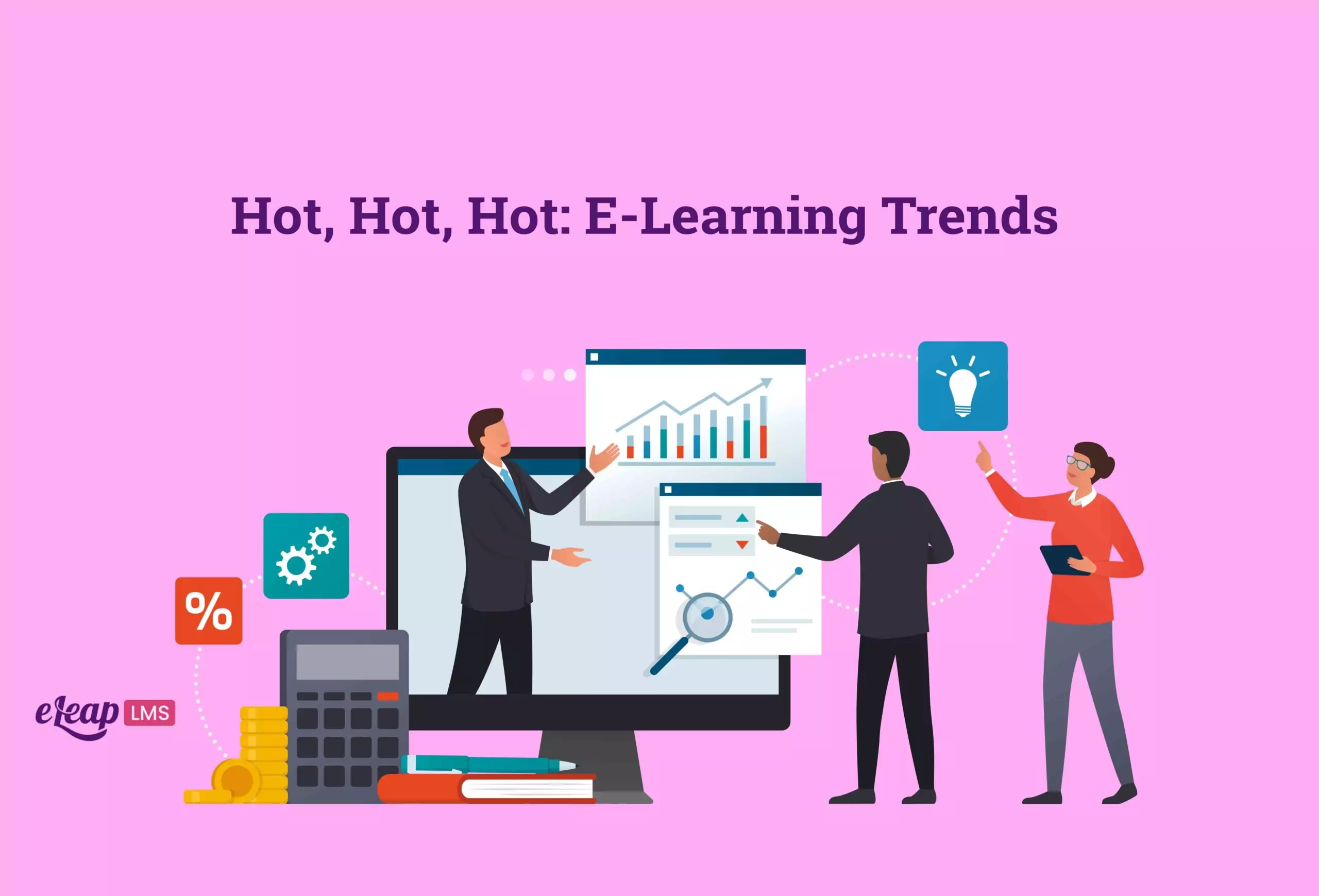 E-Learning trends has become the new norm in education, and its demand has skyrocketed in recent years. Although it has been around for a long time, it became more popular when the COVID-19 pandemic hit the world.
With technology constantly evolving, the e-learning industry is also transforming. From virtual reality to AI-powered personalized learning, the trends in e-learning are hotter than ever. So grab a seat, let's buckle up and explore the sizzling hot e-learning trends of today.
Artificial Intelligence
This hot E-Learning trend is making waves in the business and corporate world. Artificial intelligence packs the potential to overtake the E-Learning realm—the most exciting developments, whether new or upcoming, in E-Learning are offspring of artificial intelligence. Thus far, ai has made significant headways in continuous learning and contextual support. For instance, it shows extensive capability regarding the personalization of learning.
Ai-powered models utilize algorithms to gather data, such as the learner's weaknesses, strengths, proficiency, and interest. Analyzing this information, they use it to understand the learner's behavior and retrieve insights that simplify the extensively customized learning paths.
Adaptive Learning
This form of education involves customizing projects, activities, assignments, and resources to each student's needs. This form of learning accommodates learners with disabilities because it helps them to learn at their leisure, pace, and discretion. In this E-Learning context, adaptive learning is implemented using established assessments and algorithms, as opposed to the arbitrary determinations of the educators themselves.
Thus far, this learning method has been, for the most part experimental. Already, major E-Learning platforms are providing adaptive learning services. We see no reason why this trend won't continue further into the foreseeable future.
Gamification Learning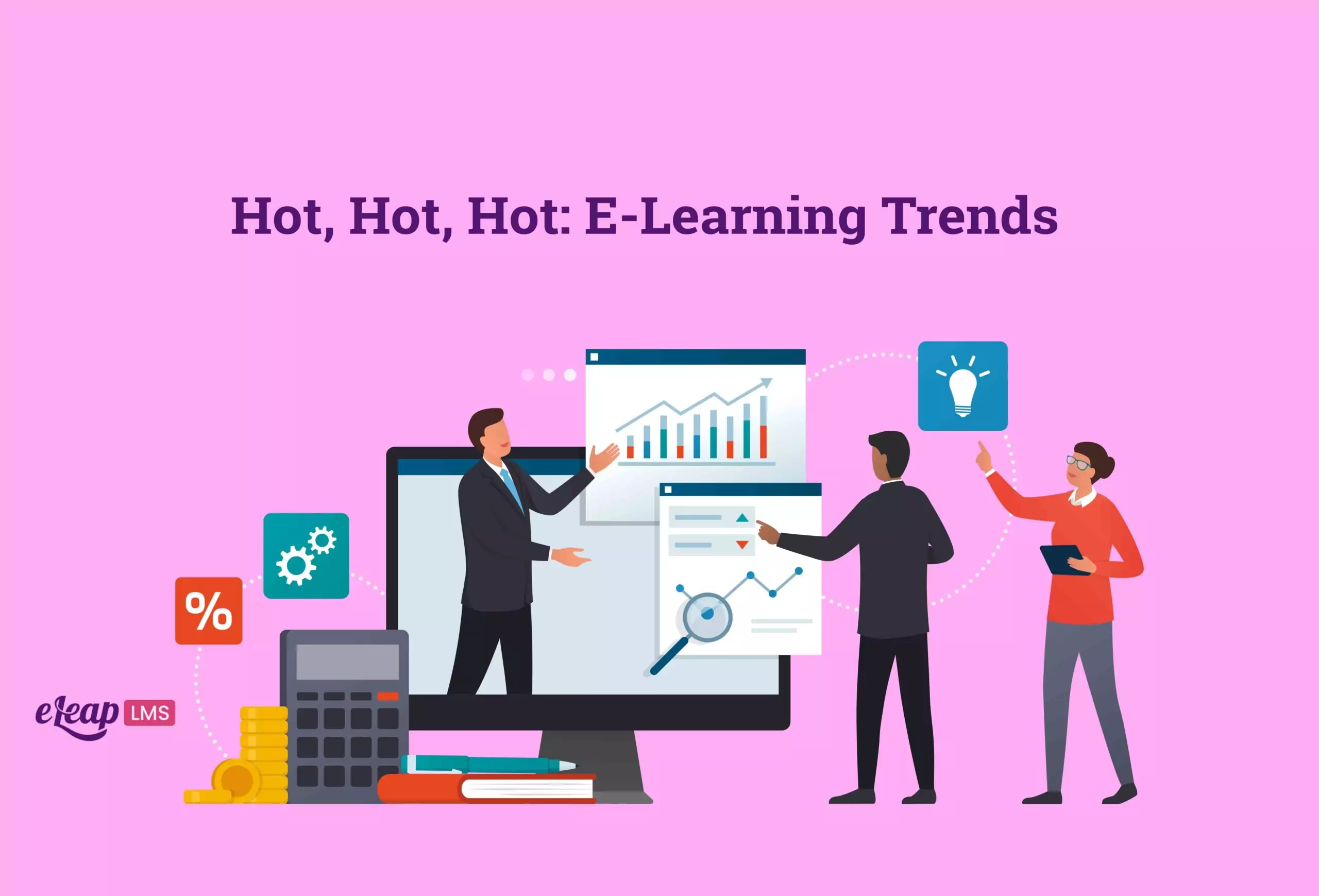 Notwithstanding whether you are six or sixty years old, learning is more digestible and exciting when it is fun-filled. This learning style has established itself as a viable technique for boosting learners' involvement. It includes a much-needed element of fun to engage learners, hook them, and keep their interests all through the period the training will span out for. This method of training can enliven even the most challenging courses. Learners keep returning to learn due to the awards, gifts, and points attached after completing each training.
Game-based learning influences learners positively and boosts their motivation and attitude toward learning. Given the positive result this facet of learning has amassed, there is no reason it will not be implemented in training in the nearest future.
Learning Management Systems
In many collaborative workplaces and environments, managers and employers implement a content management system (CMS) for creating and storing digital content. Recently, this method has made its way into the world of E-Learning. With the introduction of the Learning Management System (LMS), instructors can create, administer and document the produced curriculum and courses. An excellent example of LMS is the eLeaP Learning Management System.
Considering the nature of the Learning Management System, it has become easier for instructors to plan and effect any course correctly. This feature is possible due to the Learning Management System user's ability to integrate materials and share information at the very last minute. LMS makes course planning and management seem like a breeze; thus, this facet of learning is here to stay.
Microlearning
This is a new approach to training that involves breaking down extensive courses into smaller, digestible, and more manageable sections. In recent times, it's no news that the attention span of an individual has become increasingly short; therefore, this learning style is quite advantageous. This learning style filters lessons in a manner that reduces the volume of the content significantly.
This learning style thrives in a virtual setting because it keeps the learners engaged, holds their attention, and enhances their comprehension due to the short-term and focused nuggets. Microlearning works on any device, including mobile, video, and desktop. This is mainly why it is accelerating as a trend in E-Learning.
Video-Based Learning
Undoubtedly, video-based learning has emerged as one of the most effective training modes. In recent times, video has exploded. This is due to the rapid growth and emergence of video-sharing platforms. According to Forbes, Youtube users unarguably watch more than one billion hours of videos. Another study established that about 69% of consumers would choose to watch a video over any other content form while trying to learn about new products or services.
With the above statistics, video-based learning, such as the eLeaP courses, is overtaking the E-Learning world. Today, learners would choose to see demos, interviews, how-tos, and explainers in video format over plain-text instructions.
Mobile Learning (Mobile-first)
It is one thing to create an E-Learning course; it is another thing to design mobile-first courses. According to GlobeNewsWire, mobile learning is booming and will likely exceed $280 billion by 2027. Mobile adoption is fast becoming a standard. This means although laptops were the standard in the past years, it is now generally accepted that employees spend more time on their tablets and mobile phones than they do at their sitting desks.
Therefore, even the best courses must focus on mobile first to be effective. The mobile courses have better accessibility advantages over others; they keep learners interested and make it relatively easy for them to be up-to-date on topics as they can study whenever and wherever possible at their convenience.
Final Thoughts
After reading the above, you would have discovered and understood how much influence the trends in E-Learning have had on the conventional learning system. Things are no longer how they used to be; therefore, an evolution has occurred. Although trends come and go, these highlighted trends have refused to fade.
Forward-thinking organizations should pay attention to these developments. You should reshuffle your training programs and learning process with these E-Learning trends in mind.
E-Learning trends  is growing by leaps and bounds. As technology advances, online training techniques and e-Learning methods are advancing too. Each year brings new e-learning trends and refines old trends to make them bigger and better than ever before. Uncover some of the hottest trends for e-Learning. Learn about the top 5 e-learning trends for this year.
Mobile Displays – Mobile Learning
Employees are on the go more than ever before. In 2012, 205 million learners used laptops, while 155 million used tablets for e-Learning purposes. By 2016, these numbers are expected to grow to 268 million and 282 million, respectively. This constantly moving population is using various mobile devices to keep up with their training and development needs.
This means that it is imperative that e-Learning modules and initiatives display on any and all mobile devices properly. An employee viewing the course on a tablet should have just as good a viewing experience as another employee attending the e-Learning course on their cell phone. This technology is becoming smart enough to detect which device the learner is using so that it can display optimally.
Gamification
E-Learning is transforming from dry and dull to fun and exciting. Businesses and organizations are infusing games, activities and game-like features into their e-Learning courses to make them more engaging and motivational for training attendees. Even developers of Learning Management Systems are including gaming options as one of the features of the systems to meet these needs. Growth in the gaming industry as it pertains to e-Learning is expected to grow by $5.2 billion by 2015.
Tin Can API
Developers are transitioning away from SCORM and heading more and more toward Tin Can API, which means organizations and trainers have to accommodate this API to keep up with the change. Tin Can API provides the tools and activities learners need for training and development that advance their skills and advance them in their careers. This version is more comprehensive than APIs that came before it.
HTML5
HTML5 is on the scene now. With its arrival come better connectivity, performance, multimedia and other benefits. Some of the additional benefits include supporting a more comprehensive list of mobile devices, the provision of offline accessibility, offline storage possibilities and three-dimensional graphics.
Interactivity
E-Learning is no longer a solo activity. Learners can go through the courses at their own pace and on their own time, but they still have access to trainers, resources and fellow trainees along the way. Learning Management Systems and e-Learning courses are incorporating more forms of connecting trainers, resources and trainees than ever before. This includes social interactivity options, as well as sharing and liking options.
E-Learning might not be a new concept, but the features that make this training and development option hot are constantly changing. Keep up with the latest e-Learning trends in 2013 to ensure that your Learning Management System and e-Learning courses are serving the needs and want of your trainees.
Don't Miss These Essential Tools