Observational Assessments in the Health Care Sector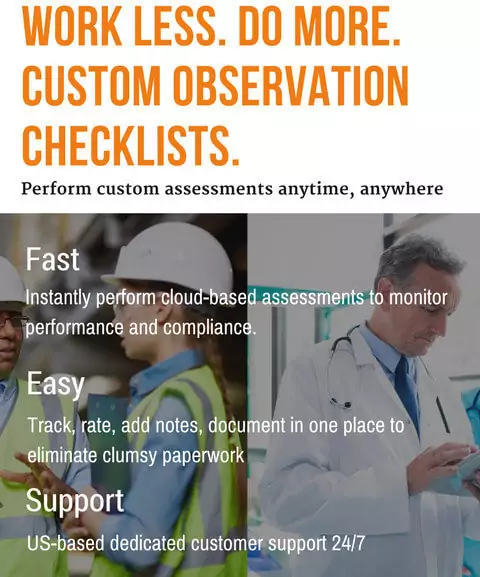 By definition, an observational assessment is any assessment that entails obtaining evaluative information through a form of direct observation. To be clear, observational assessments are used across sectors and with learners of all ages in both educational and workplace settings. For a variety of reasons, however, observational assessments are especially important in the health care sector and are used extensively in medical and nursing faculties and other health care sector training contexts. Indeed, many educators in the health care sector maintain that observational assessments are the most valuable way to evaluate the knowledge and skills of medical professionals in training.
The Benefits of Observational Assessments in the Health Care Sector
A recent study by the Association of American Medical Colleges found, "Direct observation of clinical skills is vital to medical student development, improvement, and accuracy in performing appropriate histories, physical examinations, and communication, including information sharing with patients." Indeed, it is on this basis that the Liaison Committee on Medical Education (LCME) mandates that a "medical education program must include ongoing assessment activities that ensure that medical students have acquired and can demonstrate on direct observation the core clinical skills, behaviors, and attitudes that have been specified in the program's educational objectives." 360s, which are observational assessments that seek to acquire feedback from all members of a medical team, are also considered vital.In nursing and other areas of clinical practice, observational assessments are also highly valued. Among other areas, observational assessments are used to assess critical competencies ranging from compliance to team work to communication.
The specific benefits of observational assessment in the healthcare sector include:
1. Reliability of Data
Observational assessments are considered to be more accurate since the assessor is actively observing and recording the employee's actions in context.
2. Direct Practice of an Action
Observational assessments evaluate candidates as they are immersed in the actual work in question. By relying on observational assessments, employers can identify any gaps in skills or knowledge that need to be filled.
3.  Results
Since the assessment takes place in real time, employees can receive immediate feedback and respond accordingly. This too can reduce compliance errors.
4. Assessments Take Place on the Job 
Unlike many traditional formal assessment techniques, observational assessments are carried out in the workplace. This can lower cost and increase the impact of the assessment.
5. Ideal for Assessing Team Work
Health care work is collaborative. No one person ever works effectively alone. This means that health care training must be able to assess team work and collaboration as well as core knowledges and skills. Observational assessments are especially well suited to evaluating team work and collaborative skills/adeptness.

Using Online Tools to Your Support Observational Assessments
Without the proper tools, direct observation of medical students and other healthcare trainees tends to be sporadic and unstandardized. To deliver consistent observational assessments, observational checklists are critical. With an effective learning management system, it is now possible to create complex and integrated observational checklists. The result is a 360 assessment that evaluates trainees from every angle in a consistent manner and gives multiple administrators access to a single observational tool.
"This feature is amazing! I can definitely see this as a game changer especially when we get our Supervisors to log on and complete these observations on their own", Alaina Wilson, Training Coordinator, Hohman Plating
To get started, explore eLeaP's Observation Checklist Tool. eLeaP's Observation Checklist tool enables administrators to quickly create and add assessment checklist statements. Administrators can use a simple binary (Yes or No format) or opt for a rating scale based on a five-star rating system. A verbal scale option is also available as is a custom rating system based on a range of points (0-10). eLeaP's Observation Checklist option can be accessed on your laptop, tablet or mobile phone and is a powerful too to assess the skills and proficiency of team members. Best yet, by adopting eLeaP's Observation Checklist tool, organizations can easily automatically assign additional training courses to employees who need a refresher course or who are exhibiting a larger deficit in their skills or knowledge. eLeaP's Observation Checklist tool is an affordable way to bring increased efficiency and accuracy to observational assessments.