Mobile-First Design and Why It Matters to Your Organization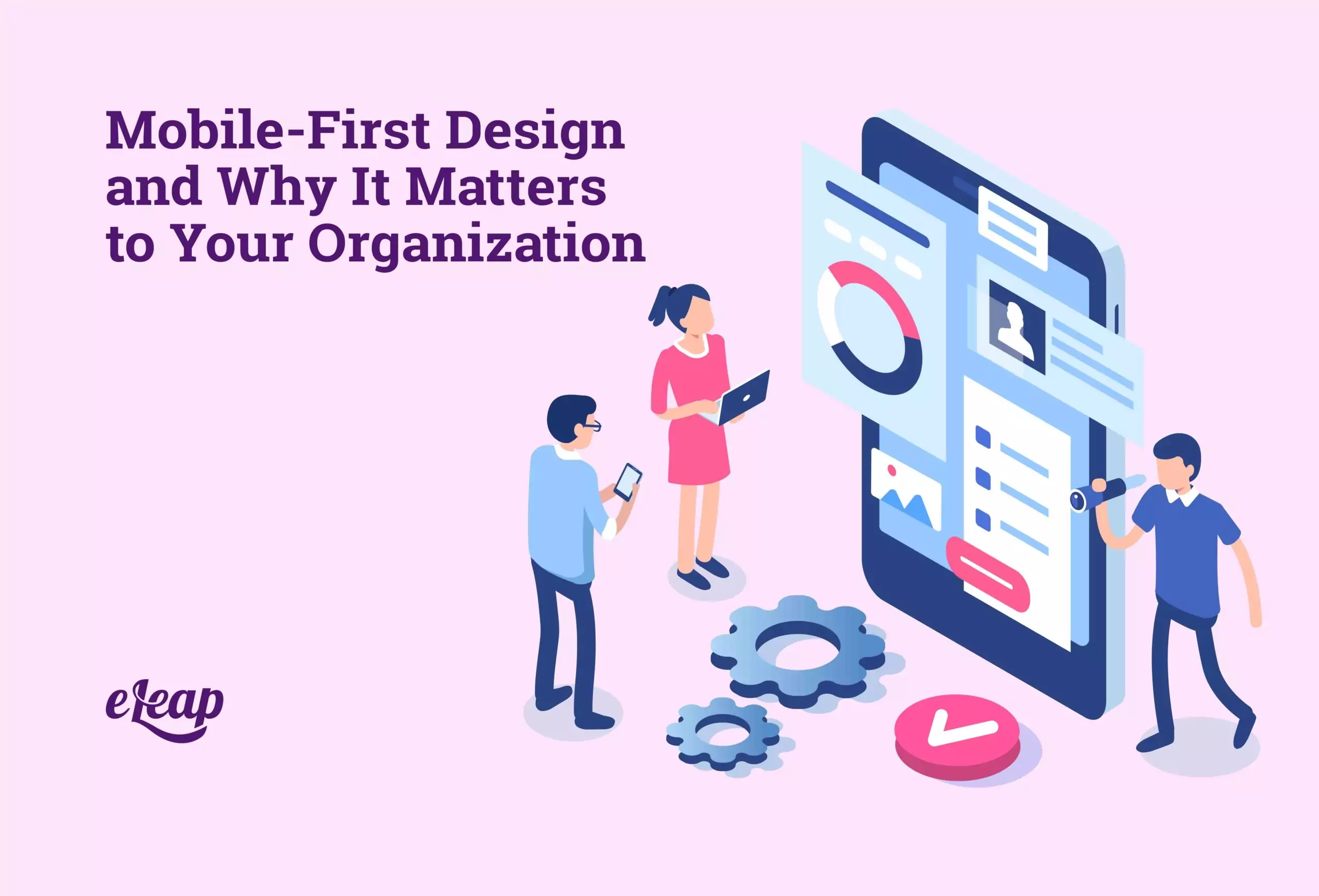 Having a well-designed and defined training and development plan for employees is important for an organization. That plan needs to consist of a variety of strategies and tools utilized to create learning modules, manage, deliver, analyze the success of training, and keep tabs on employee performance, training initiatives, and more. That's where the LMS comes into play. A learning management system isn't just a place where you can deliver course content to employees. It's a dynamic place where companies can monitor, manage, and deliver employee training and development in the digital space so that it's more streamlined and efficient than ever before.
Speaking of efficiency, mobile development is the next topic under fire—some companies are balking at the idea of mobile learning, citing the "inability" to deliver dynamic content in a mobile format. However, anyone with a smartphone can tell you that "dynamic content" comes standard these days. The people making excuses about mobile development either don't understand the value or they're just scared of the transition.
In any case, mobile design does matter, and in fact, many organizations should start looking at a mobile-first approach to everything that they do. It's not just the company website that needs to be optimized for mobile. The onboarding platform, the LMS, the performance management system—it should all be ready to go on any mobile device, easily accessible and digestible from anywhere.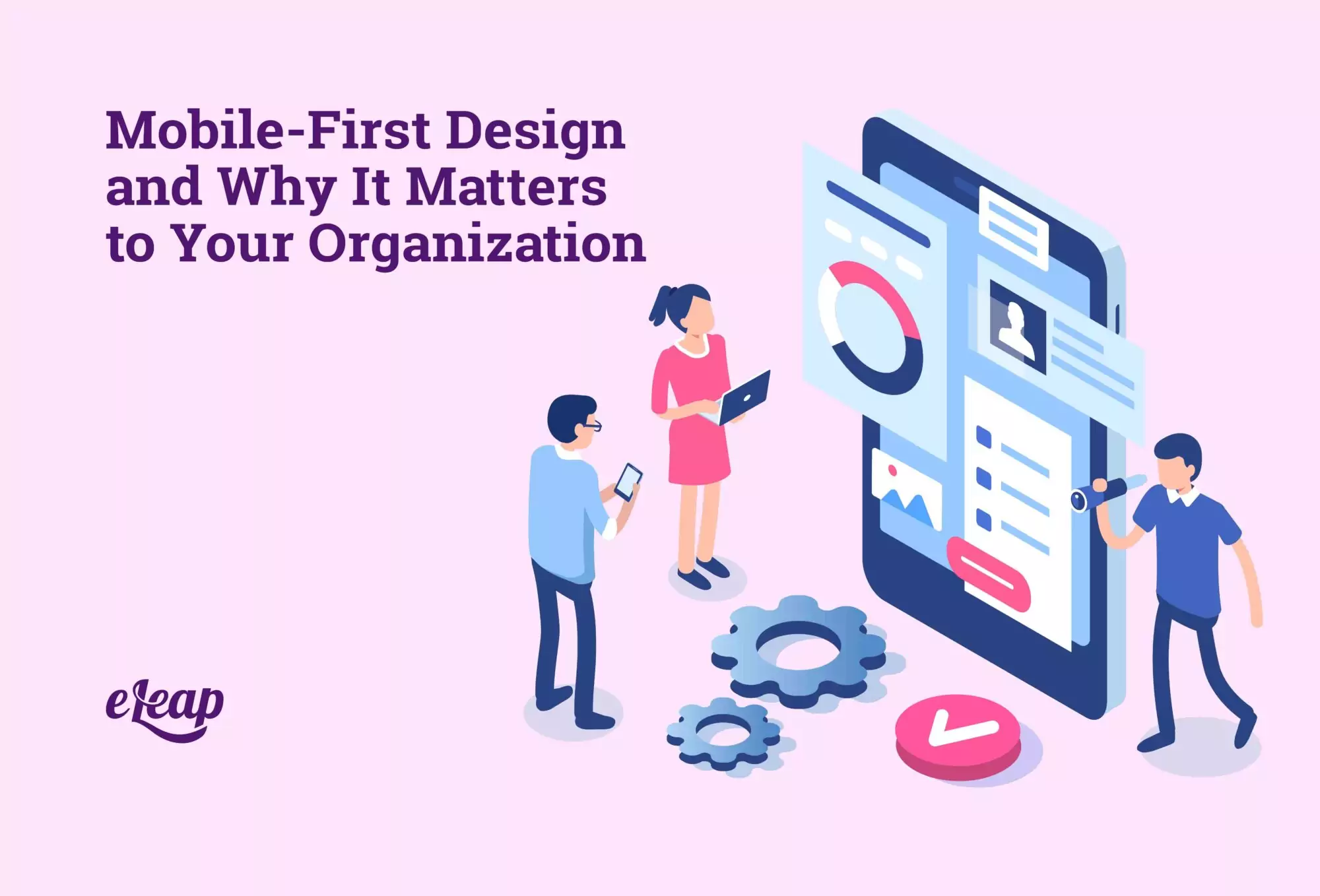 What Does Mobile-First Mean?
Essentially, instead of creating a "mobile-friendly" design that is based on the original website design, going mobile-first means that the entire website structure is built with mobile in mind and then scaled to a full website for access from anywhere. It means making all content easily accessible on any device and it provides increased convenience and other benefits for employees. For example, a mobile app for learning and development could let people do short training modules while they're waiting on a flight or on hold at the office—it's a great way to squeeze in training and encourage ongoing learning.
Mobile-first means making a site that's agile, quick to load, easy to navigate, and fun to engage with. It also means considering the development and deployment of an app for L&D or as a way to enhance training tools. The big highlights are:
Real-time content
Easy navigation and interaction
Access to content from anywhere on any device
Better retention of knowledge
Higher course completion rates
There are several other advantages to mobile-first design, but these are among the most popular.
Customization Means the Sky Is the Limit
There are plenty of off-the-shelf courses and platforms for organizations that are just starting out or that aren't ready to customize. However, the ultimate goal of a modern, mobile-first LMS is a customized solution that is branded and designed specifically for an organization's needs. Some organizations even launch a mobile-first LMS and then solicit feedback from employees to make tweaks and adjustments to the system before they lock anything into place.
Ultimately, organizations can create the agile, dynamic learning tools that they need when they choose to customize an LMS. A mobile-first design has to be lighter but that doesn't mean that anything will be missing—today's content comes in all forms and short blogs, video and infographic content, and gamified learning can all be easily accessed from mobile devices.
Themes and layouts can be customized, as can logos and branding. Then, companies can even go so far as to personalize each learner's journey so that employees get the training and development that they need based on their current skills, their role, and other details. It's all going to make learning and development easier and more engaging for everyone. Organizations will enjoy delivering while employees will enjoy engagement and being part of a humanized process.
No More Static Training Modules
Another big aspect of mobile-first design and the modern LMS is doing away with static training courses and modules that are outdated and redundant. If companies have training courses just to have them, they're likely not up to par. They do just enough to check the compliance box but rarely go beyond that. With mobile-first LMS tools, there is a lot more room for customization, even for those who are on a budget, and there's no longer a reason to stick to the "same old training" that no one really wants to go through.
Customized LMS platforms mean that training can be engaging and forward-thinking. It can help people get involved in their roles and claim more ownership over their own career development. Furthermore, it can ensure that everyone gets the right training so that the organization can continue to grow and thrive with fewer interruptions along the way.
Go Mobile or Get Lost In the Shuffle
It's no longer about whether it's time to upgrade or if companies have "the means" to change their LMS strategies. It's time to change and organizations have to figure out how to do it before they become part of the companies that just don't make the change, getting lost to the competition as they all embrace mobile-first learning and other LMS initiatives and technology tools.
The mobile-first LMS is just the start of changing the conversation about learning and development in the workplace. It's about creating a culture of people who are excited to learn because they are given the resources to do so, along with the encouragement to grow and develop both within their role and beyond it, all on behalf of the organization. This all comes together to help companies deliver a better experience for employees all-around, which is the ultimate goal in surviving the Great Resignation.
To learn more about customized LMS solutions and how to create a mobile-first LMS, talk to the experts at eLeaP Software. There are solutions for all organizations and industries to ensure that learning and development embrace all that technology and AI have to offer to deliver a better experience for employees and organizational leaders alike.