Instructional Design for Older Workers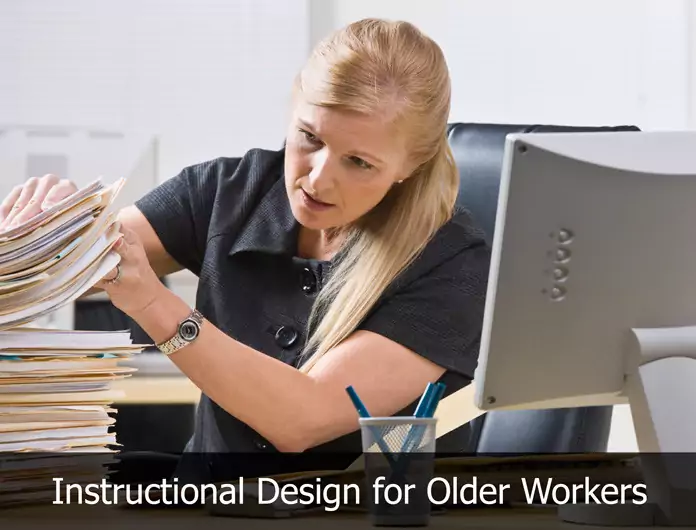 As the ability to retire at 65 becomes a pipe dream for many Americans, there are a growing number of older adults in the workforce. While some younger workers like to joke about their older colleagues' work habits – for example, printing and filing important emails due to a deep mistrust of cloud storage – instructional design for older workers is not a joking matter.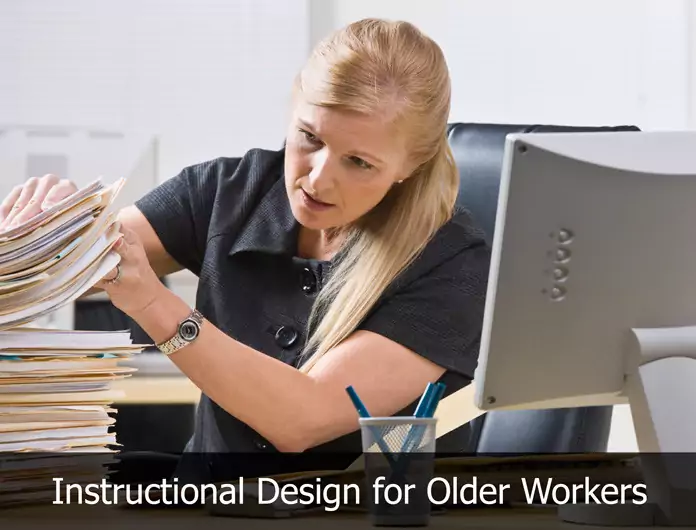 To put the challenge into perspective, consider the case of Shirley Fontaine. Shirley started working at her local county clerk's office directly out of high school in 1962. At the time, she was charged with a number of tasks – duplicating documents on the copy machine, typing letters, creating duplicates on the office's mimeograph machine and filing. Over the years, Shirley has upgraded her skills. In 1980, she took an introductory computing course at her local community college and in the late 1990s, she completed a series of computer workshops at the local library. Shirley doesn't consider herself a technophobe, but she is concerned about technological change in her workplace.
Now 71, every time her office introduces a new technology, program, system or procedure, Shirley starts to worry. She assumes that the change is not just an attempt to heighten efficiency at the county clerk's office but also a ploy to force her into retirement. In reality, Shirley is wrong. Her supervisor values her integrity, precision and extensive knowledge of the local community. After all, over the past five decades, Shirley has filed thousands of birth certificates, marriage licenses and death certificates for local families, but she does more than help organize local records. Shirley knows the local community like no one else. In fact, her supervisor once joked that Shirley is the county clerk office's "backup cloud storage."
What her supervisor doesn't realize is that when Shirley goes home, she spends most of the evening checking her Facebook page, Skyping with her grandchildren and reading eBooks on her tablet. While this may come as a surprise, Shirley is not alone. Between 2011 and 2012, the number of tablet-owning adults over 65 nearly doubled from 8% to 15% and over the past three years, the numbers have continued to grow.
Unfortunately, instructional design for older workers is a topic that has yet to receive the attention from training professionals that it deserves. If we agree that older workers like Shirley are a rich source of human capital, however, it's important to begin developing instructional design models that take their needs and perspectives into account.
To begin, instructional design for workers over 65 means dropping assumptions. Don't assume that they are necessarily unable or unwilling to engage with new technologies in the workplace. Like Shirley in the above case study, many older workers are excited about using new technologies and even do so in their spare time. The problem is not necessarily the workers but that instructional designers often fail to take their perspectives and needs into account.
When introducing new technologies, programs, systems and procedures, create opportunities for older workers to express their reservations. After all, while a filing cabinet or Rolodex may look like nothing more than an interesting artifact to the average 35-year-old trainer, from the perspective of many older workers, these systems of data storage are still working. By asking older workers what they like and dislike about old versus new systems of data storage and retrieval, we can also learn how to more effectively blend existing and new information management systems in the workplace.
Finally, use (but don't overuse) analogies to communicate the essence of the new technology, program, system or procedure being introduced. As with other demographics, analogies can work well when introducing new concepts to older workers. Of course, this means choosing appropriate analogies that build on the workers' existing knowledge base.
Think Shirley and her counterparts can't adapt? Think again. Smart instructional design, which takes the perspectives and needs of older workers into account, is one way to ensure that the vital human capital of older workers can continue to be harnessed as long as they are able and willing to share their knowledge with us in the workplace.