How to Implement Content Curation in Your L&D Strategy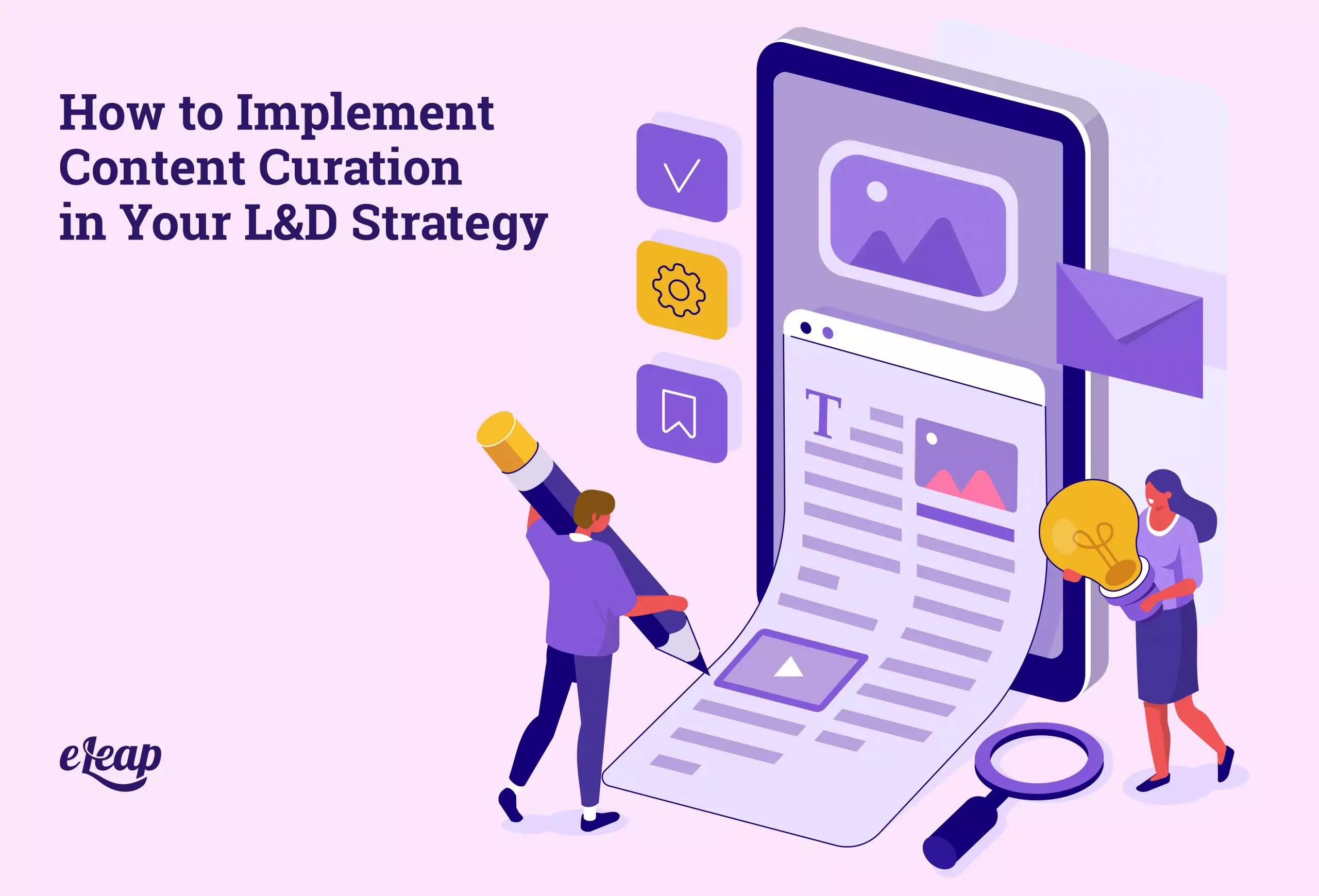 How much time, effort, and money go into creating your L&D materials? If yours is like most organizations, the answer is, "a lot". It can be a significant investment, and it can also be quite challenging. After all, your team must balance content creation with other responsibilities, and there is a lot required to create engaging content that supports optimum learner outcomes.
One option that might lighten the load while ensuring you have access to compelling, relevant information for your learners is called content curation. What is it and how does it work? How can you implement it within your L&D strategy? We will take a closer look at those answers in this post.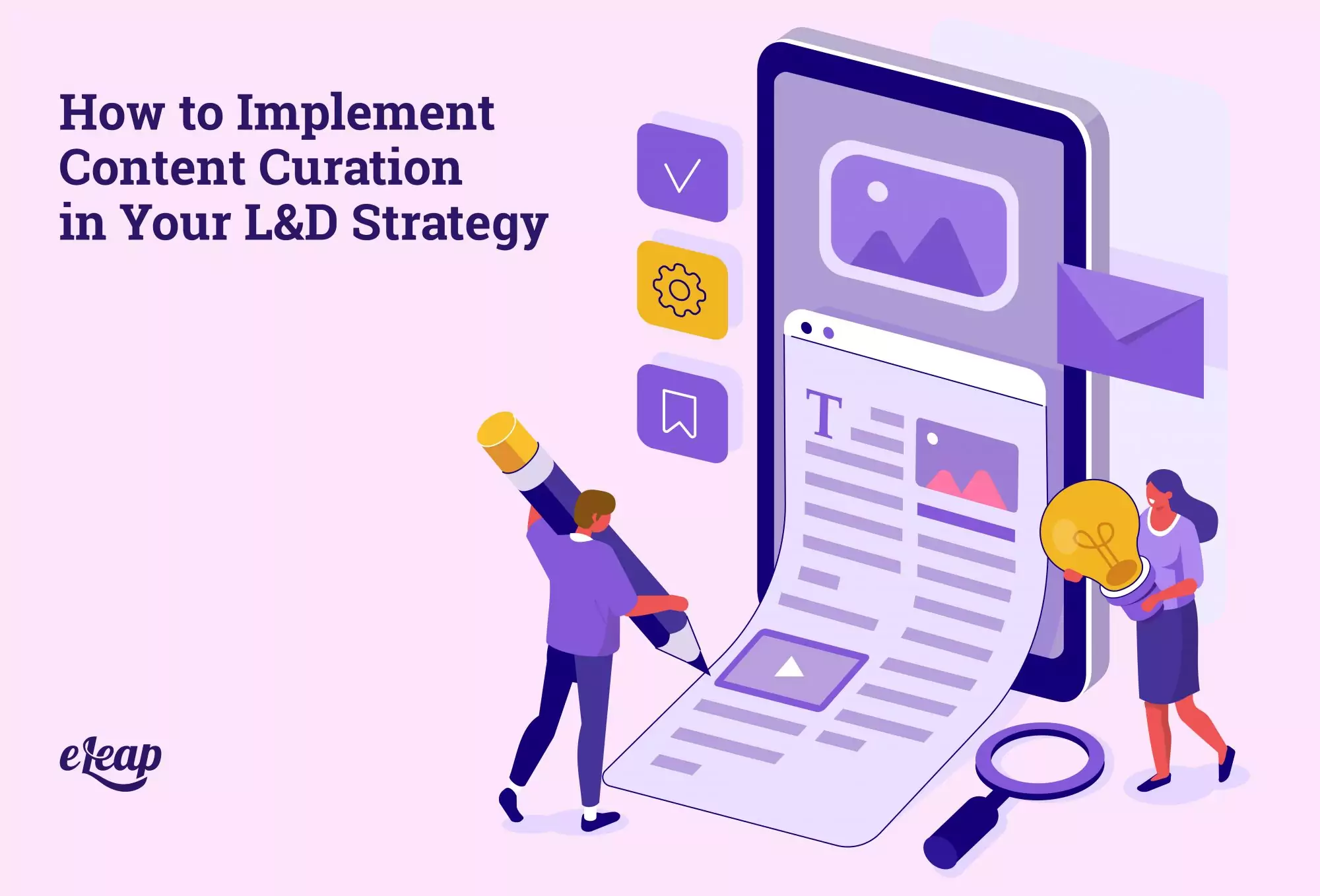 What Is Content Curation?
Content curation is precisely what it sounds like – the curation of relevant content created by other organizations or outlets and then provided to your learners through a variety of methods, including within the LMS. You will find an incredible wealth of web-based and enterprise-based content out there that can save time, money, and effort over in-house content development, without sacrificing learner outcomes.
The Benefits of Content Curation
Why should you consider content curation? There are plenty of reasons, actually. Some of the most important include:
Reduces Time Spent to Develop Curriculum: The average organization spends an immense amount of time developing custom content. Curating it saves that time and allows HR to focus on mission-critical objectives instead.
More Value: Looking for a way to offer your learners more value? Curated content is a great way to do that.
Variation: Curated content can take many different forms, including videos, blog posts, infographics, and so much more. This makes it an excellent option for mixing things up and providing your learners with variation.
Create a Culture of Learning: Trying to create a culture of learning within your organization? Curated content offers a means to deliver content on topics that your audience cares about and even encourages learners to share it with others.
However, to curate content accurately, you must follow several steps. These are as follows:
Find
The process of finding content to curate is often the most challenging. It involves searching online for relevant material published by authoritative sources. This requires several different things, including:
Knowledge of the Audience: Anyone curating content must understand the audience for which the content is being curated. This is vital to ensure relevance and resonance. Simply put, if you do not know your audience, it becomes difficult or even impossible to accurately curate content that will offer them value. And curating valueless content is a waste of time and money.
Knowledge of Sources: If there is one thing we are not short of in the 21st century, it is low-quality information and outright misinformation. Sometimes it is published in an attempt to drive visibility in the SERPs. Other times, it is published for other reasons, such as opinion manipulation. Anyone curating content should have a good understanding of what constitutes an authoritative source within the industry, as well as how to vet reputable sources from disreputable sources.
Content Libraries: If finding content online is proving too challenging, you can also consider just sourcing content from content libraries or providers. eLeaP has a solid library of content covering most of the business topics you might need. You can check out the eLeaP content library.
Curate
The ability to curate content requires specific steps in its own right. These include the following:
The Ability to Filter: Knowing your audience and being able to source from reputable organizations is just the start. You must also be able to filter the content you're curating with an eye toward applicability, meaningfulness, value, and relevance to your learner's needs. Any old content on a particular topic may not be valuable or relevant, so it requires knowing what your learners need to progress and grow.
Choose the Best: Sometimes, you may be presented with relevant, valuable content from multiple sources. In this case, you cannot simply dump it all into your system. Instead, you need to choose the best material for your learners. This will require delving into the content, comparing and contrasting different options, and choosing the option(s) that offers the most value combined with other important benefits, such as brevity, ease of access, digestibility, and more.
Share
The final step in the content curation process is sharing. Here, you will need to publish and promote the content you discovered.
Your LMS: One of the best options for sharing is your Learning Management System. It should be relatively easy to incorporate curated content into a modern, cloud-based learning management system and then provide access to your learners. Also, your LMS should provide the means to make new content available only to specific learners and to map it to specific learning or career paths.
Email: One distribution option you may not have thought of using is email. It's a simple matter to create an email list and then distribute relevant content to your learners directly. In addition to simplicity, it allows learners to go through the content when it works best for them, whether that's at work on their PC, at home on their smartphone, or at some other time and in some other place.
Bringing It All Together
As you can see, content curation offers a lot of benefits but requires specific steps. How do you include it in your L&D strategy, though? That part is simpler, thankfully. If you need help developing great e-learning content, contact eLeaP.
Add It to Blended and Social Learning
One option is to add curated content to your blended learning efforts, as well as your social learning activities. This makes it simpler to engage your audience, as well as for them to share it with others.
Analyze Results
Keep an eye on your curated content results. That can be challenging to do in some instances, particularly if you are only distributing through email or social platforms. Bring your Learning Management System into play, and make sure you seek feedback from your learners, as they are the best positioned to help you understand if your efforts are having the desired results.
In the end, content curation offers a valuable addition to your content creation and L&D efforts With time, patience, and an understanding of the steps required to source relevant, accurate information your learners will value, it is possible to build a stronger culture of learning.