Outside the Box Thinking to Drive Learner Engagement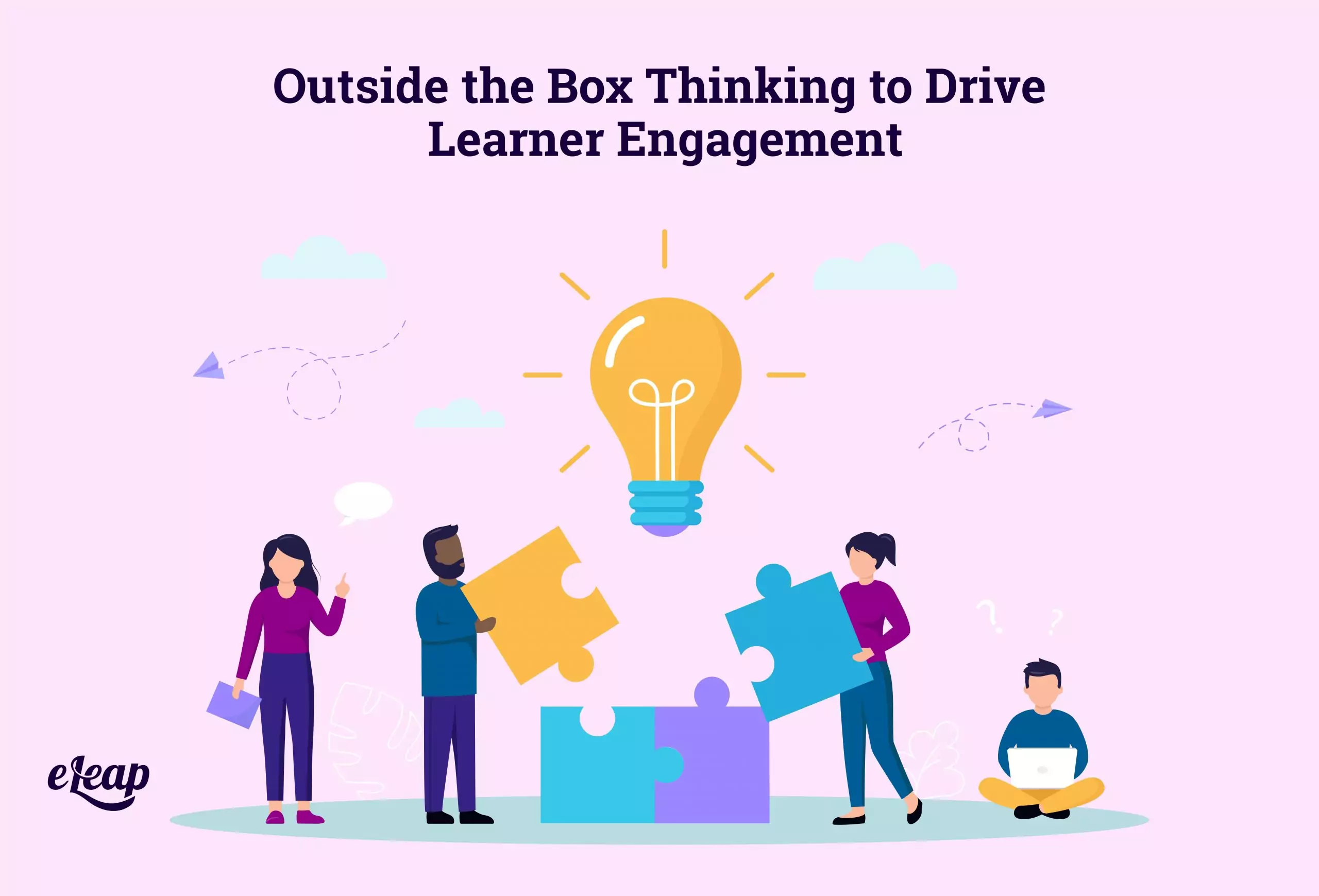 Struggling to boost learner engagement? You are certainly not alone. Across all industries, L&D initiatives are flagging simply because HR is unable to get learners engaged.
While it is a major problem, there are a few simple but effective solutions. One of those is to think outside the box when it comes to driving changes that boost engagement. In this post, we will explore several important steps that may not be immediately obvious for most HR professionals, but drive learner engagement and improve overall outcomes.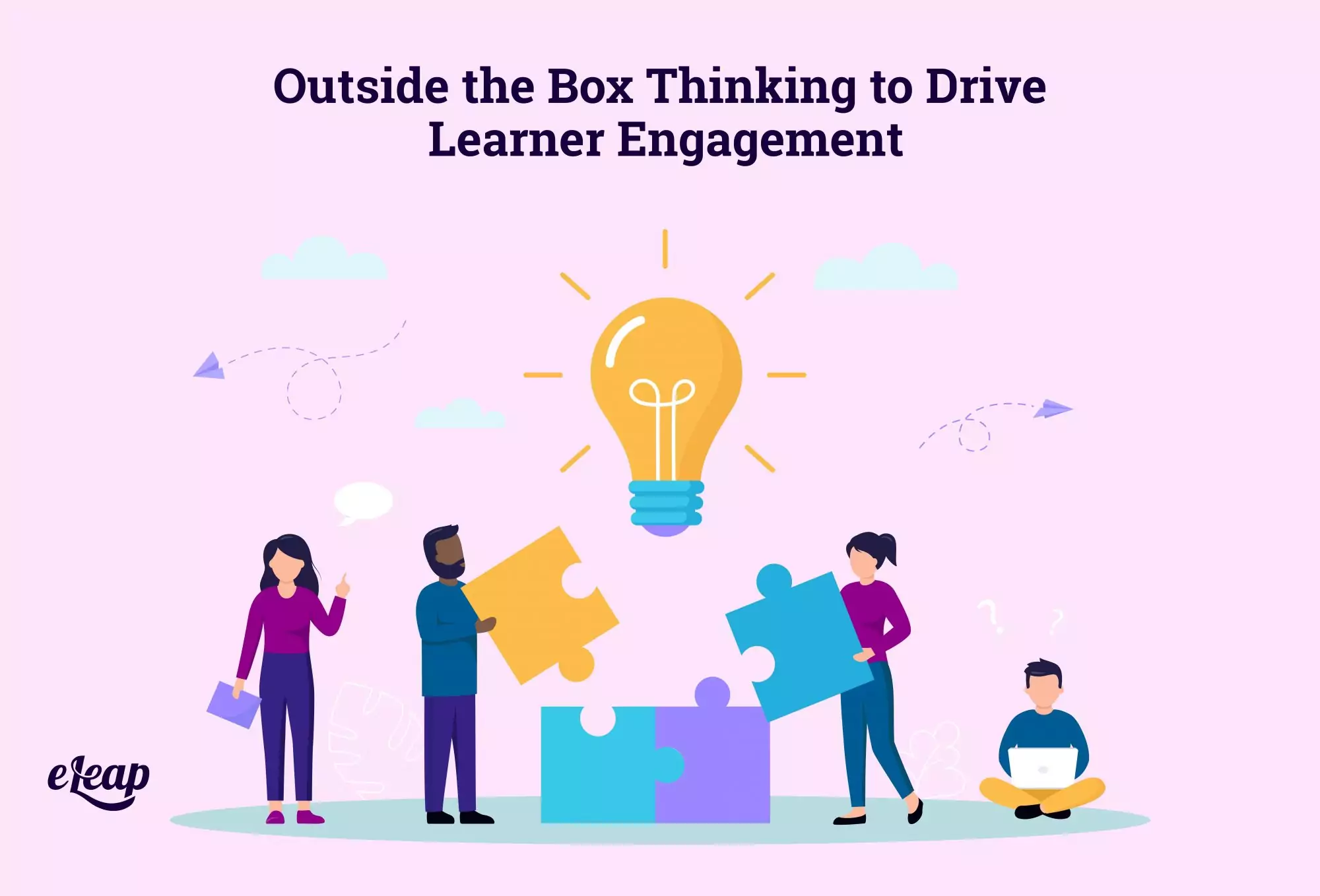 Create and Deliver a Collaborative Social Platform
Learners' expectations have changed over time. Today, they are no longer content with a solo journey through dry, boring material. The evolution of the Internet, social media, and digital technology, in general, has brought us together. Learners now expect some element of social interactivity within the L&D environment.
If you fail to deliver that, the experience will certainly be less than engaging. However, creating a collaborative social platform can do more than just create a more enjoyable, engaging experience for individual learners. It makes possible improved outcomes for entire groups of learners. It also drives self-led learning, spurs innovation, and bolsters collaboration across the board. Those spill over into employees' regular responsibilities and drive better teamwork, create a more cohesive sense of the business as a whole, and more.
Consider Development Days
In the past, employee learning and development occurred during their regularly scheduled shifts. However, that imposes a significant time burden on them. Not only are they expected to complete their usual duties, but they must somehow shoehorn in time to complete L&D material. When learning is a burden, engagement drops. You can boost both engagement and learning completion by giving employees time to focus on development specifically.
To be clear, this is a modification of the development day model followed by companies like Google. In these situations, employees are given one paid day off each month to pursue passion projects that relate to the business. However, in this instance, you will give employees one paid day off each month to focus on professional development within the LMS. This is a great way to free up time and to avoid the challenges that stem from requiring employees to combine both regular work and L&D during the workday.
Make Learning Affordable
How much does it cost employees to learn and grow? While it may require nothing but an investment of time to complete modules in the LMS, that may not be the case for other things, such as professional CE. Employees looking to improve their professional prospects must also usually foot the bill for their training.
To boost learner engagement, consider paying some or all the costs related to professional development. Whether it's continuing education for credentialed professionals, or an employee looking to upskill to gain a promotion, this could be incredibly beneficial. Paying for employees to learn and grow achieves numerous goals, including:
Alleviating financial challenges and making it possible for employees to grow and learn without worrying about how they will pay for it.
Providing employees with the opportunity to learn and grow fosters loyalty and improves engagement.
Funding employee learning and growth shows that the company is committed to them and values their continued input, which further drives both engagement and longevity with the company.
Foster Career Exploration Capabilities
Not all learning and development should take place within your Learning Management System. Make sure that real-world training is part of your efforts. One interesting way to do this is to make it possible for employees to train in different departments.
You'll discover numerous advantages with this method. One of those is that employees can explore new positions within the organization, which can enable them to make a move to positions that are better fitted for them personally and in terms of professional development. Another is that it helps create additional redundancy within your organization. When you have multiple employees trained in specific positions, then absences are not as challenging. You simply have an already trained employee fill in for the absent worker.
Consider a Reverse Mentorship Program
You know about mentorships and their tremendous benefits. However, this model turns the old one on its ear. Rather than allowing the longest-serving employees to mentor new ones, it allows new employees to mentor existing ones.
Does that mean that you should let new hires mentor employees who already have experience with a particular technology, task, or job role? Not at all. It means understanding that experience and expertise do not necessarily go hand in hand with length of time at the company.
Take a long, hard look at your new hires during the onboarding process. What are their strengths? Where do they have the most experience? What can they teach others within your organization?
Reverse mentorships can help you achieve several important things, including the following:
A better fit with new hires in a shorter period
Leveraging new expertise to build a stronger team overall
Increased learner engagement with long-term employees
An influx of new skills and knowledge
To create reverse mentorships, you simply need to identify people with the most skill in a particular area. One common area where this works well is in teaching technology skills. Millennials and Gen Z are much more technologically savvy than Baby Boomers or even Gen Xers, and having new hires train long-term employees can bolster the use of new technology within the organization.
Let's Get Engaged!
As you can see, there are plenty of interesting ways that you can approach learner engagement. Thinking outside the box doesn't have to mean taking a complicated approach that costs more than the value of the benefits offered. It just means trying to look at an old problem from a fresh perspective and then finding ways that L&D can support optimum outcomes.
What out of the box methods have you used within your organization? Have you experienced any significant successes or notable failures? Let us know in the comments below.