Critical LMS Implementation Mistakes to Avoid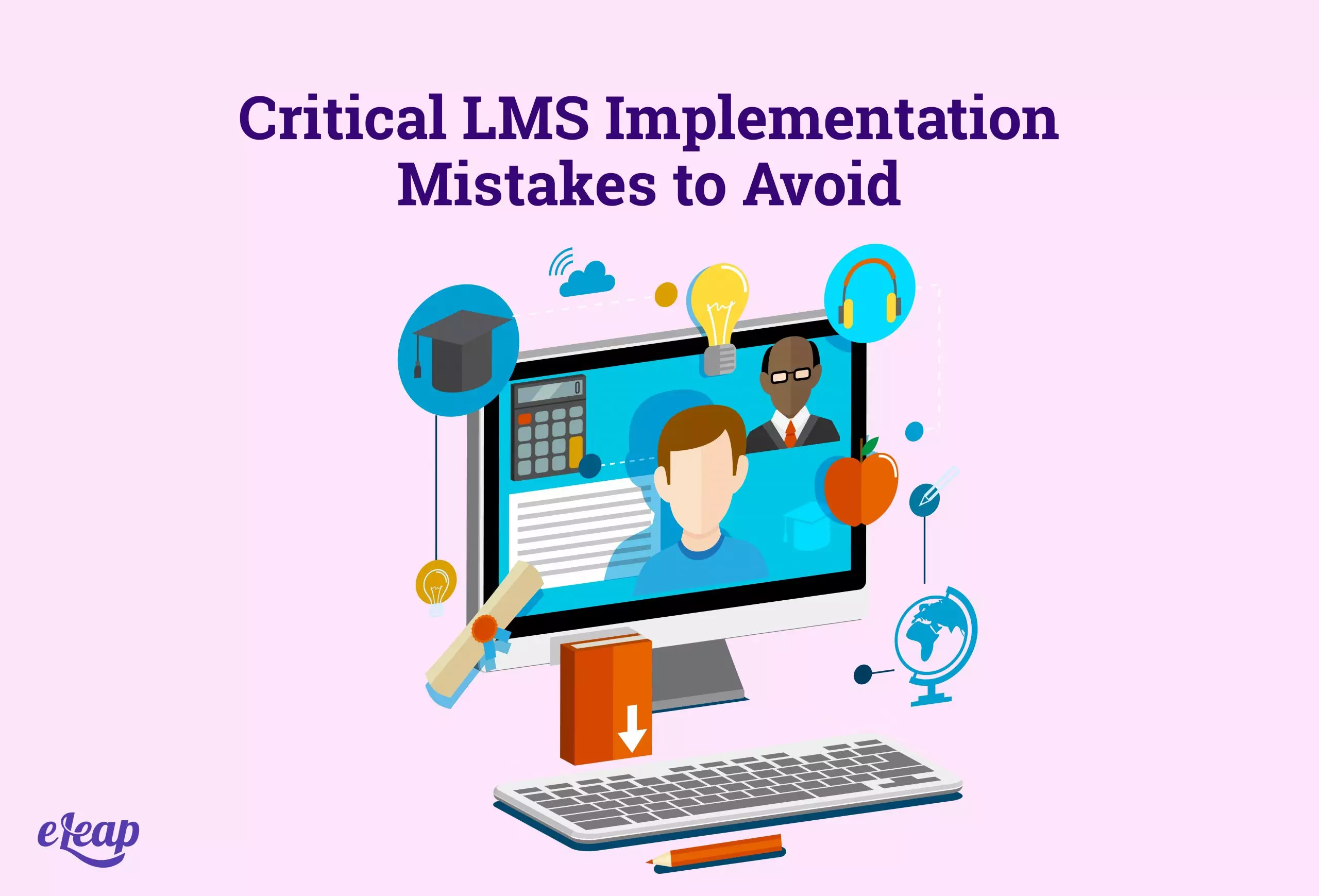 Finding the right LMS for your organization can be time-consuming and challenging. Even if you find a system that "ticks all the boxes", there's a good chance that it's going to fall short somewhere, at some point. That will cost you more money (and time) to deal with and may impact your organization in other ways. It is for this reason that your LMS implementation strategy should be strategic but cautious to minimize mistakes.
While there is no way to guarantee that you can avoid all the pitfalls here, understanding some of the more common LMS implementation mistakes can make a big difference. We'll explore those mistakes and more below. The goal here is to help you make an informed decision regarding the LMS you ultimately purchase while being able to leverage all the features and avoid problems that could reduce usability or ROI.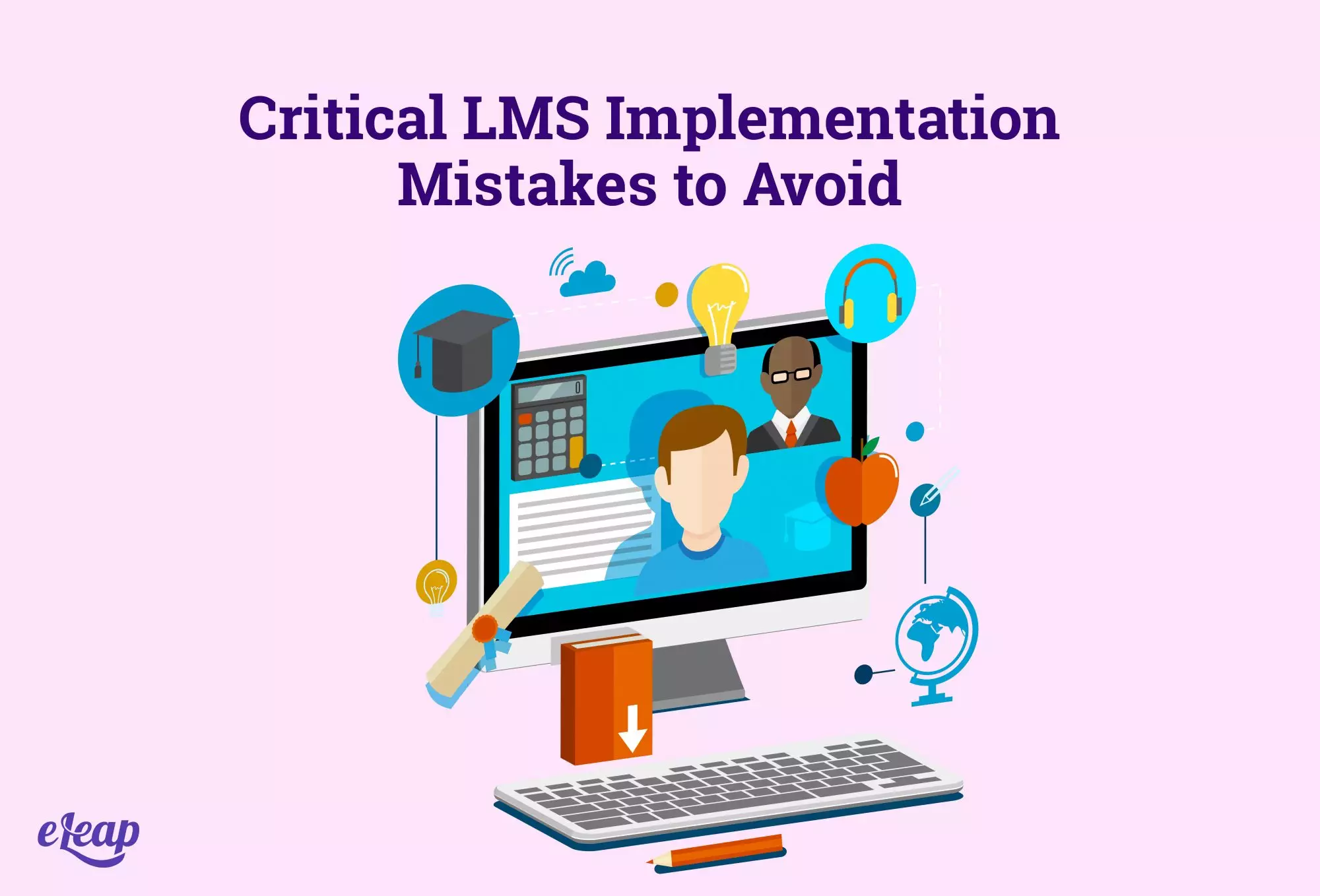 Focusing on Functionality and Not Outcome
The first mistake in LMS implementation actually occurs before you make a purchase. Yes, it can seem like one LMS is pretty similar to another. That's the nature of the beast. They're all designed to do roughly the same thing – that is, make it simpler to manage the learning process for your employees.
However, pop the hood and you'll find that these systems are anything but identical. It can be pretty confusing to choose between options. Do you need AI? What about an AR or VR-ready system? Do you need multi-tenancy capabilities? You must be able to look beyond the functions and features offered.
What this really comes down to is knowing the outcome that you desire from your LMS. Do you only want collaboration and reporting capabilities? Do you want to sell your own courses? How will the LMS meet your needs and empower your organization to achieve the desired outcomes?
Failing to Set Expectations
LMS implementation can be a lengthy, involved process. And, if you've done your legwork, you've found a vendor that will handle at least a large portion of the implementation process so that you can focus on what you do best. The problem here is that you and the LMS vendor may not be on the same page when it comes to expectations.
Make sure that you set clear, defined expectations on milestones, timelines, and who is responsible for what. It helps if you have a clear understanding of your own needs and desired outcomes. Answer the following questions before discussing expectations with the LMS vendor:
When should critical milestones in the implementation process be reached?
How involved do you want to be in the implementation process?
How willing are you to communicate with the vendor throughout the implementation process?
Are there additional fees that you'll incur during implementation if you choose to have the vendor handle certain aspects of the project?
Set expectations for the project. Be clear in what you want to accomplish and then hold the vendor accountable for their role. Be committed to clear, ongoing communication and understand where various responsibilities lie throughout the implementation process.
Failing to Plan for the Future
Your organization is dynamic. It will change over time. As it changes, so will your demands on the LMS. However, too many decision-makers fail to plan for this eventuality.
When it comes time to compare various LMS options on the market, make sure that you choose one that's scalable. It should grow and change with your organization, whether that's increasing the number of features available over time or decreasing them. Consider some of the following to ensure that you've planned effectively and chosen an LMS that will offer the flexibility necessary to minimize your LMS implementation mistakes.:
Can you add more courses down the road?
Can you scale the number of users up and down without incurring additional fees?
Is there room for growth in terms of course type?
Can you author your own content or are you limited to what's contained in the LMS?
Can you monetize the content you create?
Launching Too Early
It's tempting to go for broke when it comes to LMS implementation and system launch. After all, you need to get things up and running so that your employees can take advantage of the training offered. It may even be a question of cost. Perhaps you have professionals in need of CE and if your shiny new LMS isn't up and running in time, you'll have to pay for traditional classroom-style training.
Don't give in to temptation. Don't rush things. LMS implementation shouldn't be hurried. Cutting corners inevitably results in mistakes.
Here's the thing – when you rush the implementation process, you create the potential for serious issues to occur. Ideally, the process should take several weeks to several months. It should also culminate with a soft launch that allows you to test the system with a few users first and make sure that everything's working the way it should.
Not Ensuring You Have Access to Support
Let's face it, no LMS implementation goes off without a single hitch. However, when problems arise, will you have a partner to whom you can turn, or will you be responsible for handling it on your own? Ideally, your LMS vendor will support you not just during implementation, but afterward, too.
The relationship here shouldn't be a "once and done" sort of thing. Your LMS vendor should be a business partner – dedicated to supporting and helping you grow by working together to answer questions and solve problems that you will encounter with the LMS down the road.
Confidence in Implementation
LMS implementation can be a risky, tricky process. However, it doesn't have to be fraught with danger. Avoiding the mistakes outlined above really just comes down to a few key things:
Know what you want to achieve with the LMS. Base your system choice on that understanding.
Make sure that the LMS is flexible enough to grow with you over time.
Set expectations for the entire implementation process and define key roles and responsibilities.
Do not launch too early. Go easy and test often.
Make sure that the vendor you choose will be there for you in the long run.
With the right LMS, growth, success, and employee development are possible. However, even the best LMS needs the right implementation process.