Does Your Learning Management System's UI/UX Actually Matter?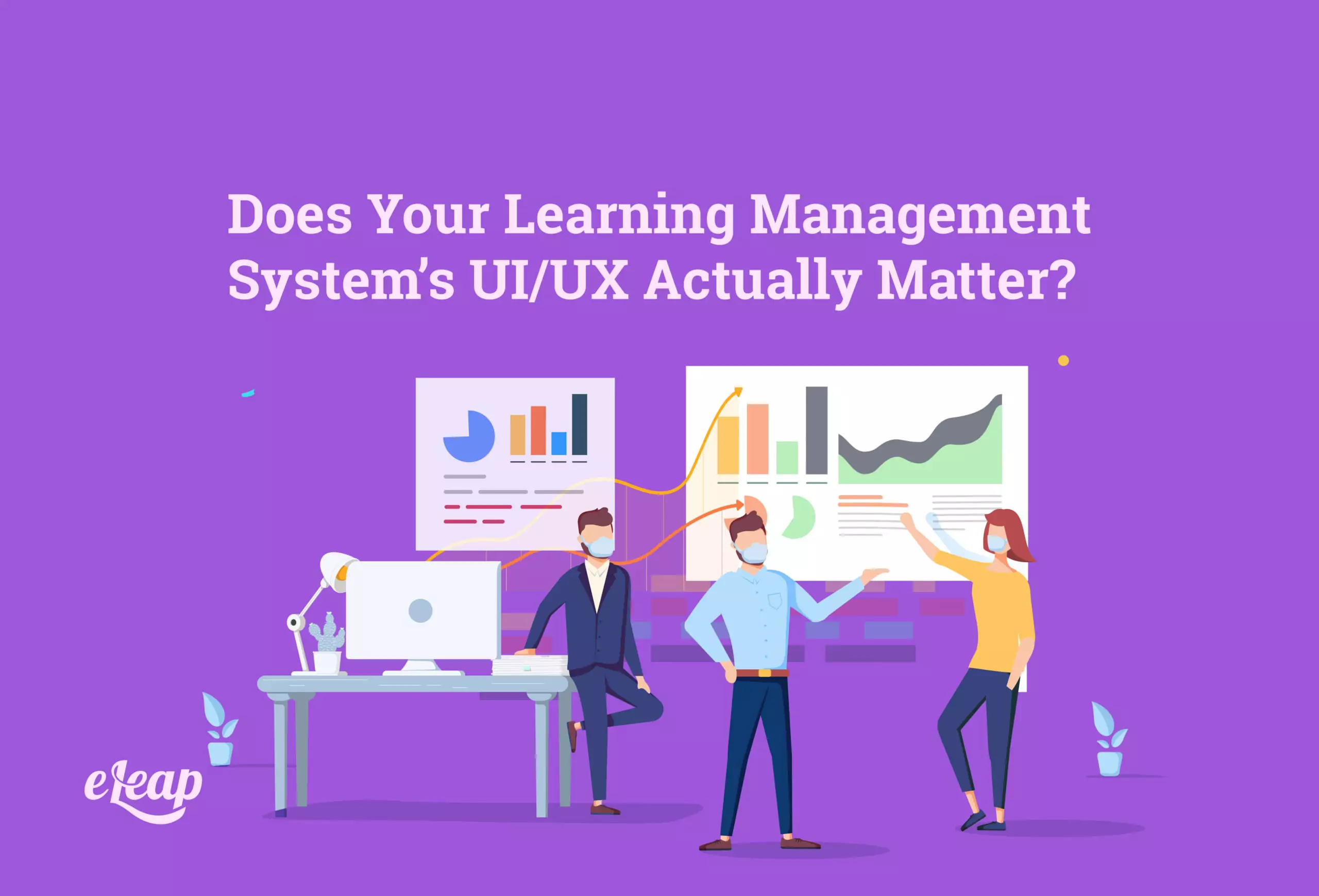 Learning management systems have become a heavily relied upon software solution for multitudes of organizations. But all LMSs are not created equal. There are numerous components that make or break your LMS. Typically, organizations don't consider the details of the UI/UX. But user interface and experience are critical, as when you combine good looks with good functionality, you have a learning management system that can perform outstandingly. A poor UI/UX experience can easily lead to lower levels of learner engagement.
Modern learners, namely anyone who grew up in the Millennial and Generation Z era, have been exposed to a huge variety of technology during their lives. The early 2000s saw the invention of gadgets such as camera phones and DVDs. Children born during this period have been exposed to high-tech booms that have characterized the second half of the twentieth century. With each passing generation, technology has become an increasingly important part of human activity. And technology in the workplace is no different. It's changed the way that we train our employees. To keep up to date with changes in technology and ensure ultimate learner engagement, the UI and UX that is implemented within your learning management software is critically important.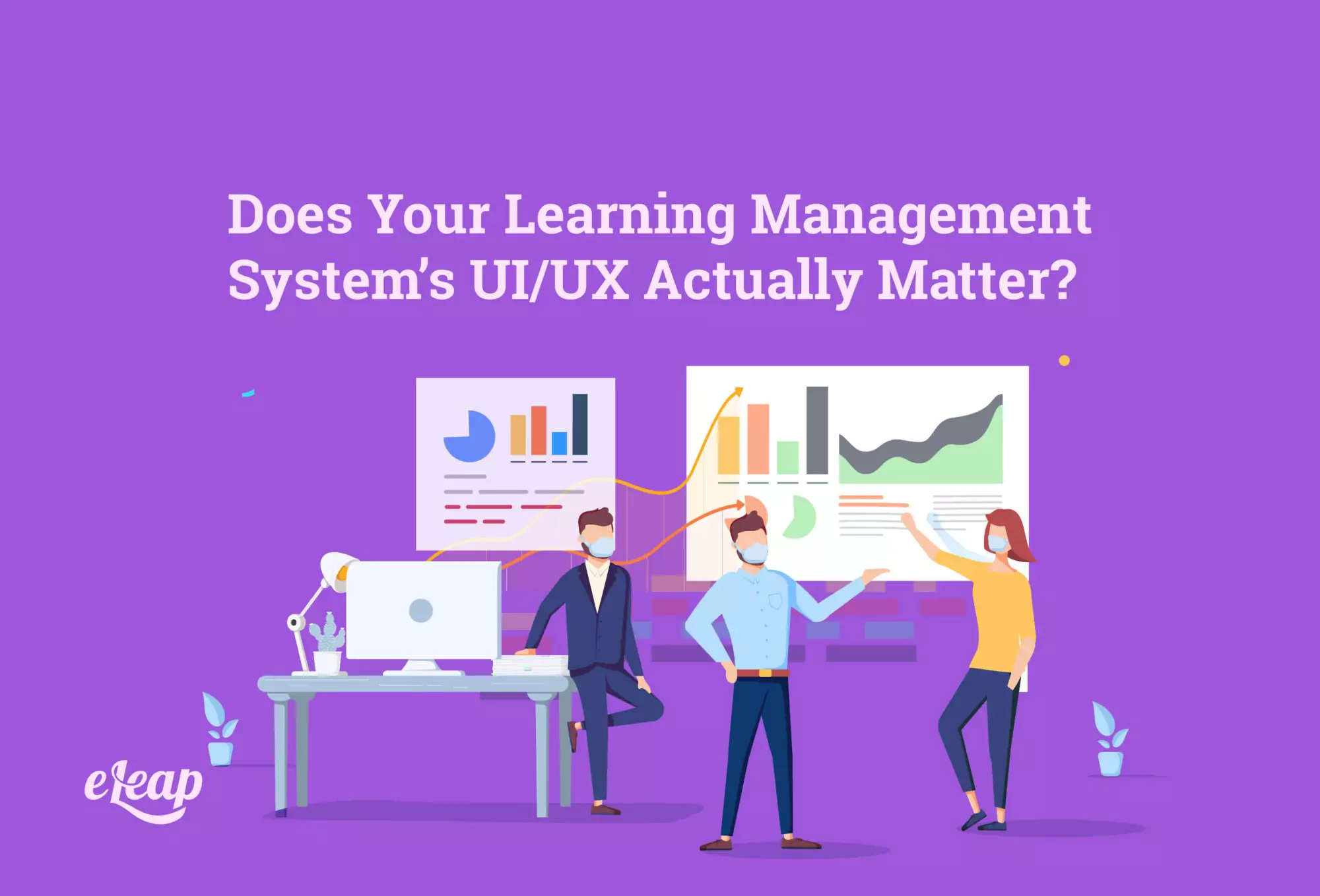 Why Is UI and UX Important When It Comes to an LMS?
So, you understand that an LMS' UX and UI are critical, but why? Platforms and software are continually upgrading their UI and UX, which attracts millennials and modern learners. An LMS that fails to act at a time when most popular platforms and software are regularly updating their aesthetics will very rapidly become irrelevant and outdated. This will lead to low engagement rates amongst learners. That LMS that your organization invested so much time, money, and effort setting up won't be doing its job effectively.
An LMS's primary defense against low engagement rates includes its UI, UX, and accessibility. Unfortunately, training and development have already become tiresome tasks for many of today's learners. Let's be honest, the training process can be largely boring, uninspiring, and time-consuming. You implemented an LMS to try and mitigate some of those negative effects, but a clunky LMS or one that's hard to interact with isn't going to do that. Instead, it will counteract a learner's desire to engage in any sort of training. Take a look at eLeaP's UI today.
The Best UI/UX Factors for Keeping Learners Engaged
There are several UI/UX factors that the modern learner values in a learning management system. Here, we will go over user interface and experience components that can help bolster the engagement of your employees during training.
Stay Away from Over-the-Top Graphics and Design
It might seem that implementing fun, loud, stimulating graphics and design elements can help to boost learner engagement by improving their experience. However, jarring colors, shapes, text, and images should be avoided when designing an eLearning course. A more relaxed approach to UX and UI design, one that uses light colors, rounded edges, and subtle fonts, can improve the learner's experience. Look at popular apps and platforms such as the most utilized social media sites. You'll notice the design elements aren't too busy or over the top. Why? Because it makes it easier on the eyes to read and absorb materials. The best modern UI and UX designs are calming rather than aimed at grabbing attention with a bunch of loud, distracting graphics.
Utilize Easy Navigation and a Simple Interface
No one likes an overly complex learning management system. LMS interfaces should be as simple and clutter-free as possible. This provides learners with a distraction-free environment to log in and start training right away. What's more, it can mean that administration tasks are simplified as administrators can see only important data and have fewer clicks to complete tasks. Remember, a simple interface doesn't mean boring, it just means it's easy to navigate and draws the user's attention to important information.
Implement Light and Dark Mode
These days, with such hectic schedules, employees often find themselves consuming training materials at night with minimal ambient lighting. Unfortunately, it's not a great practice since it can have a negative effect on the eyes and brain. A learning management system that only has one default mode, usually light mode, is not suitable for nighttime learning. Learning outcomes suffer because of a learning management system that does not support nighttime reading.
It is possible to solve this problem by using an LMS with a light mode during the day and a dark mode at night. Small features like this might not seem that important, but it can help employees accept the system as well as improve training by allowing the easy consumption of materials whenever is most convenient for the learner.
Keep Your LMS in Line with Other Software
Your employees likely interact with dozens of other pieces of software on a day-to-day basis. Because of this, expectations are sky high. Learning management systems that don't provide the same level of functionality as other software can quickly lose their appeal. When learners interact with advanced, sophisticated software, they're used to a top-quality UI and UX experience, so your LMS needs to keep up with that trend.
Your employees, particularly those who fall into younger age demographic categories, are very used to advanced, beautifully designed software systems with excellent UI/UX. These days, far too many organizations are losing employee engagement during training because they use learning management systems with outdated features. Learning management systems and subsequently their UI and UX need to be updated to engage and inspire the latest generation of learners. You spent all those resources and money on an LMS, so do your due diligence and make sure it performs to the best of its ability. In our contemporary world, that means paying close attention to UI/UX and keeping it modern, forward-thinking, and engaging. Try eLeaP today and see the difference good UI/UX makes.