Building Your LMS vs. Buying: Weighing Your Options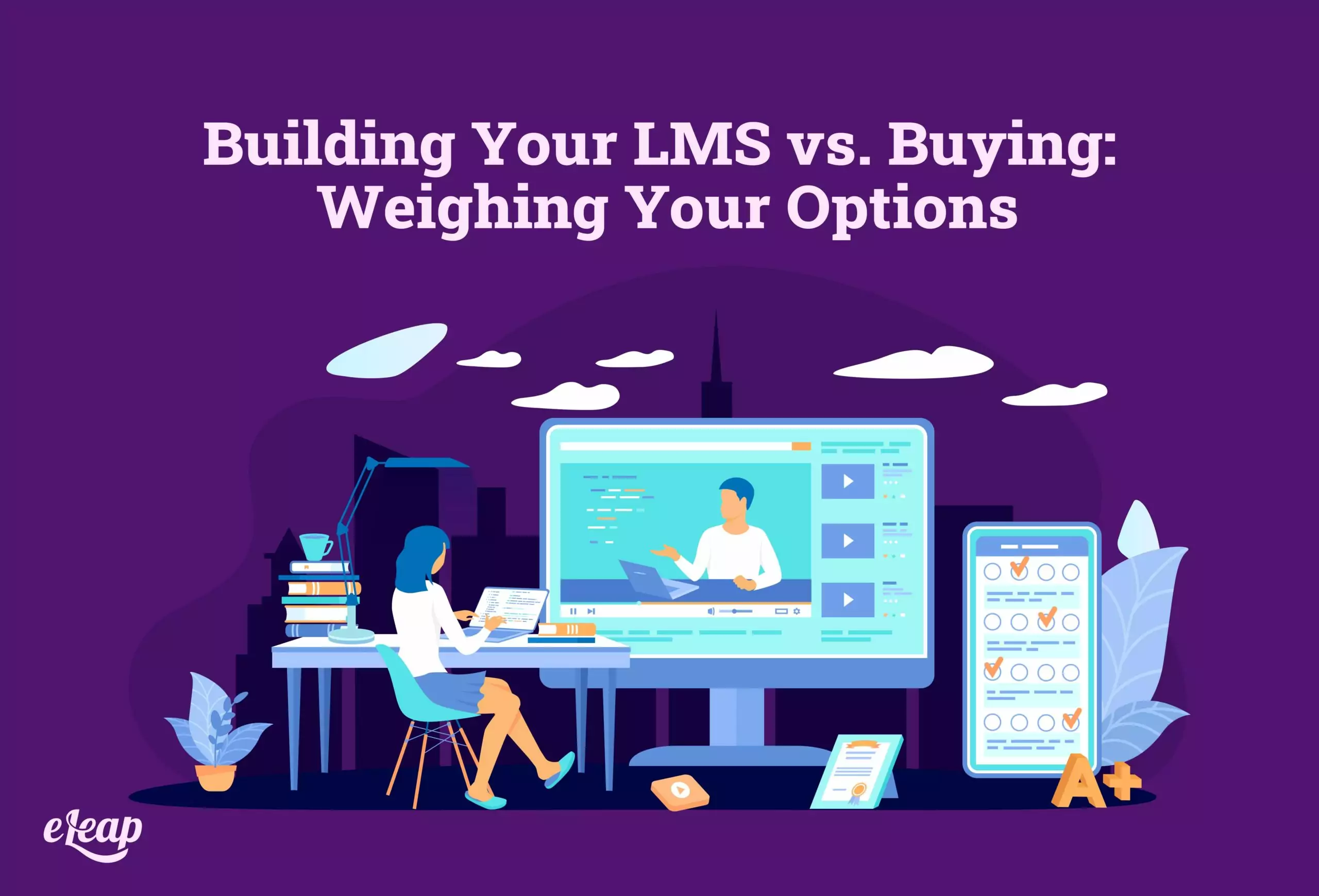 Many organizations face the pressing question of whether to build their LMS or buy something that's already put together and ready to implement. Two primary lines of thinking exist for this vital inquiry.
The first line of thinking favors customizing your own LMS because of the belief that a store-bought version can't cater to an organization's specific needs. Alternatively, companies that prefer the latter argue that purchasing a "one size fits all" platform is more cost-effective.
The truth is, both courses of action have the potential to lead to failure if the decision isn't well thought out and strategically mapped. In the following article, we'll examine the most critical elements to consider when you're wrestling with the build vs. buy decision.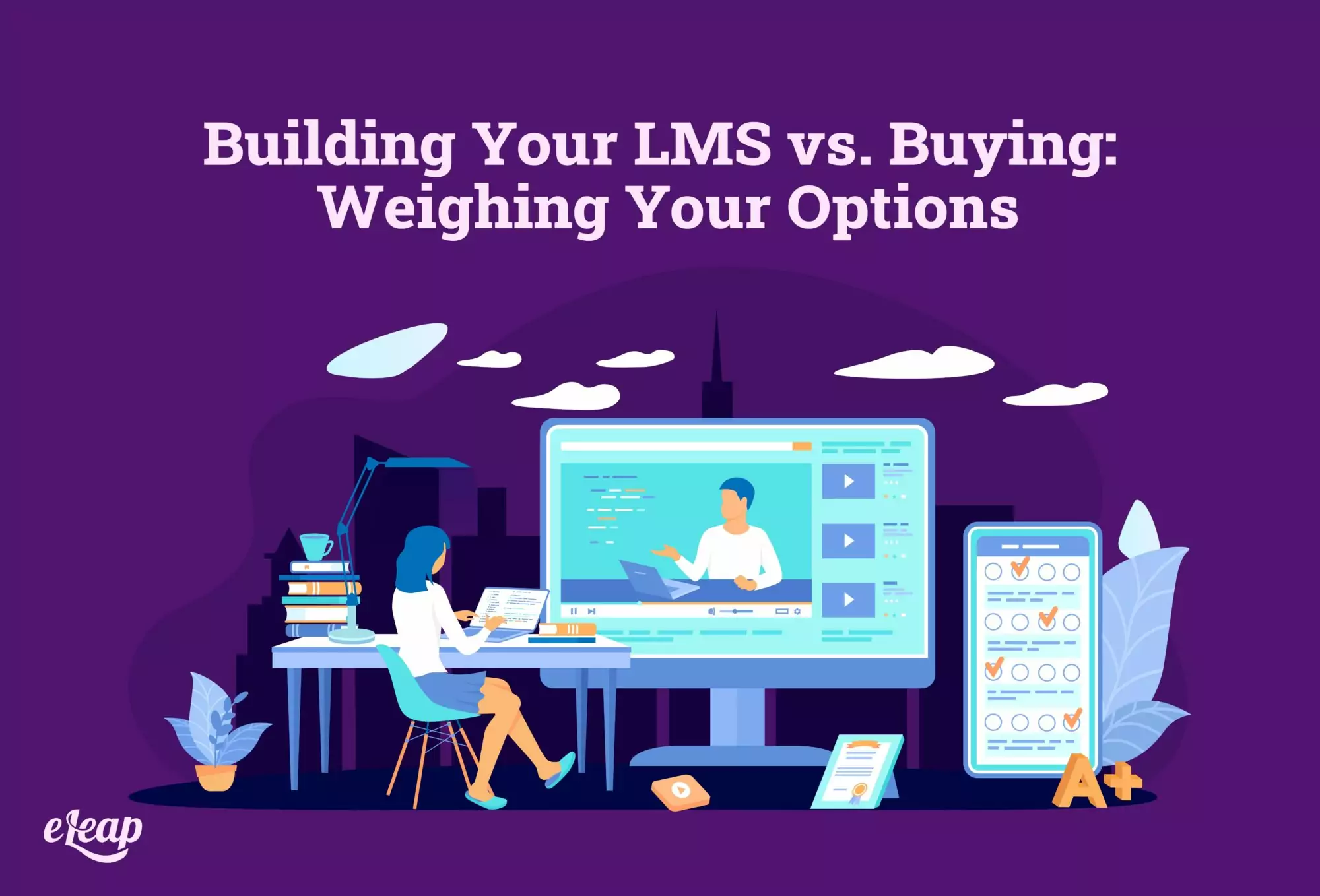 Do Generic LMS Platforms Match Your Corporate Requirements?
You first need to understand how close a store-bought LMS matches your business requirements and what that platform provides. The general rule is that a store-bought LMS must match 90% of your critical functionality and 80% of the required functionality.
The easiest way to assess these requirements is to create a list and break down your requirements based on how significant of a role they play. Any store-bought LMS should provide a large number of options when it comes to integrating your business requirements with minimum changes.
Compare the Cost of Customizing a Store-Bought LMS vs. Building Your Own LMS
If a store-bought LMS matches about 85% of your requirements, it becomes crucial to understand how much it will cost to customize the remaining 15%. Alternatively, if you decide to completely customize the LMS, how much will that set your organization back?
When you evaluate these options, it's important to get a clear understanding of the level of understanding required to design and develop the LMS. The development and project management costs need to be clearly figured as well.
If you choose to develop the learning management system from the ground up, the in-house capabilities are what end up inflating the price of these types of projects. When you choose a store-bought LMS, know-how comes with the vendor itself providing all of your support.
Time to Implement
A store-bought LMS gives you a more reliable prediction time as far as how long it takes to implement the platform. If this is a crucial factor in the decision of which LMS to go with, the smarter idea is to evaluate the store-bought LMS instead of building it. By doing this, you can set your sights on the actual learning portion of the platform instead of the technical jargon.
When you choose a store-bought LMS, you get a much clearer picture of what the rollout is going to look like. Nobody knows what the rollout of the customized version will entail since everything is entirely brand new.
Ownership Cost
Building an LMS from the ground up leads to a much higher cost of ownership as opposed to developing a store-bought version. Project management, support, and other third-party services require a full workforce. A store-bought LMS substantially lowers the cost because the modules are mostly all prepared for you already.
If the store-bought version you choose has its own hosting, you also eliminate the cost of purchasing actual software or hardware. Support also comes at a pretty fair bargain when it's already managed by the vendor providing the store-bought LMS.
Risks
Any project you take on as an organization involves risk. Some projects have a substantial amount of risk attached to them, and some have minimal risk.
Every option you have as an acceptable solution should be examined with a risk vs. reward type of assessment and how sizable an undertaking the project will become. These are the most pertinent dynamics when it comes to making a decision on something like an LMS.
You may discover that by purchasing a store-bought LMS, the implementation and rollout can be broken down into small phases over a long period. This eliminates the need for a huge implementation that may require third-party support or hiring of an expert to come in to assist your team with how to use the platform.
This gives your management staff and current team members a chance to acclimate to the new, efficient onboarding and training of new team members. With a customized, built from the ground up platform, typically, there has to be an implementation that's done all at once.
The reasoning for the larger, more sudden rollout for customized platforms is mostly because this leads to more effective testing and feedback on how the platform can be made more efficient. This point actually leads us to our final point.
Longer Time to Final Product
When you choose to use a customized platform you built from the ground up, it could take quite a bit longer to begin even using the final product. This means that many new hires won't even reap the benefits of your permanent solution until months down the road.
Meanwhile, you're still shelling out money for testing and updating to implement the changes based on user feedback. The decision to buy vs. build is solely based on the needs of a company. However, after everything mentioned here, it's easy to see which method provides less hassle and substantially lower amounts of time and money invested.
It's important to note, however, that this is no clear cut recommendation for buying vs. building. If your company has more specific intricacies and more varying needs for customization, building may be your only option. However, you should always look to a store-bought program that allows you the flexibility to work around the needs of your company first.
The best piece of advice, regardless of the size and needs of your company, would be to take advantage of a trial before pulling the trigger. You may find after testing a platform that you're able to develop a store-bought version instead of complete customization like you may have previously thought.