Why an LMS is Essential for Your Pharmaceutical Organization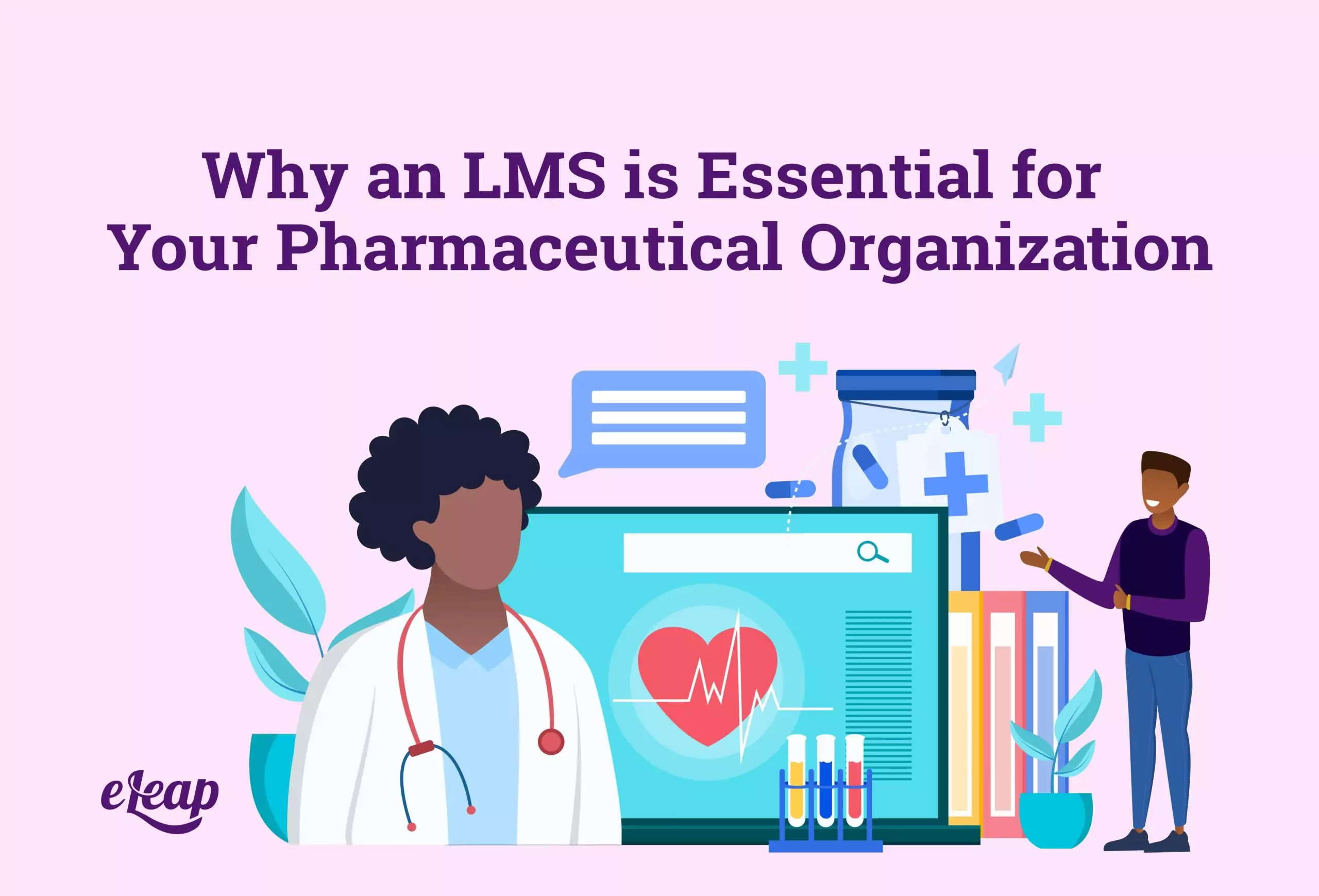 Learning management systems are a predominant factor in how the modern organization goes about training their employees. Just as with organizations in most industries, organizations in the pharmaceutical sector stand to gain a great deal from implementing a learning management system. Pharmaceutical businesses can use a learning management system to reduce onboarding time, manage compliance training, and equip sales and channel partners with the information they need to succeed.
Despite the fact that an LMS is considered an essential training component across most industries, it can be challenging to build a business case for investing in an LMS if you work in the pharmaceutical sector. If you're trying to convince leadership to implement an LMS for your pharmaceutical organization, there are a few key points you can use to prove the value of an LMS within the pharmaceutical industry. Whether you're looking to introduce eLearning technology or replace an older LMS, keep reading to find out exactly why a learning management system is so important in the pharmaceutical world.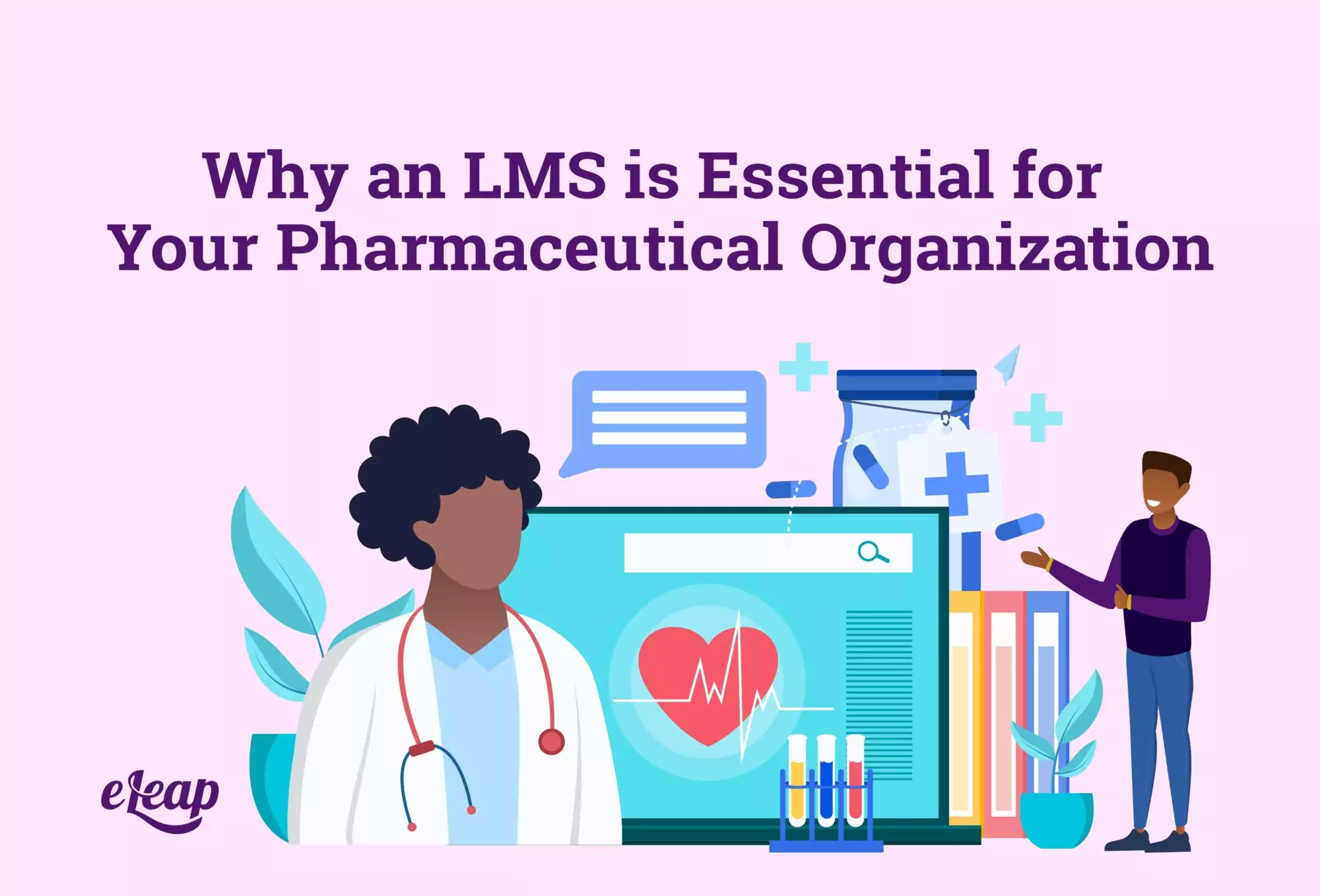 Why Is a Good LMS So Important in The Pharmaceutical Industry?
Training is crucial in any industry, but in an industry with a lot of regulations like pharmaceuticals, where users must be trained efficiently, and organizations must track their training efforts, it's even more critical. Regulatory compliance in the pharma industry can only be achieved by a training program that is effective and efficient.
Learned content for a particular topic expires when government regulations change. To ensure that all training materials are current, training materials must be updated efficiently and quickly. In addition to enabling seamless implementation for both learners and administrators, the right learning technology will automate audit trails that will ensure compliance is met by all organization employees.
In spite of the obvious benefits, getting corporate buy-in for a learning management system can be challenging for training professionals in the pharmaceutical industry. Pharma companies need to be equipped with an effective toolkit that ensures LMS advocates within the company are well prepared to confidently explain the benefits of LMS investment to leadership. Let's take a look at some of the key LMS features that can benefit pharmaceutical organizations.
Key LMS Features for Pharmaceutical Companies
Today, pharmaceutical companies have to deal with compliance day in and day out. The truth is, compliance is critically important, but it can also be a huge headache, particularly for companies that aren't equipped with an efficient LMS to deliver regulatory and compliance training seamlessly.
The reason for strict adherence to compliance laws is completely justified in the pharmaceutical industry. In other industries, failure to comply by some employees can lead to irritating problems, but in the pharmaceutical sector, compliance failures can be very severe.
The emergence of electronic health records has led to an increase in regulations. A failure to comply with SOPs and cGMPs can result in fines, licenses, and authorizations. Pharmaceutical organizations need to ensure compliance programs that are reliable, complete, and consistent, given the high cost of non-compliance.
Training and compliance monitoring are made easier with the help of a good earning management system. Training that is flexible increases ease of maintenance and decreases potential violations. Flexible and accessible training is also made possible by the cloud capabilities of some learning management systems.
Course Management
Using the course management feature, pharmaceutical professionals can create courses for all types of subsectors, including microbiology, pharmacology, medicine, and other categories such as pharmacology and physiology. Good course management capabilities are also necessary for the orientation of new students and employees into labs. What's more, the learning management system can be used to deliver instruction and training on how to use and maintain equipment.
Generate Compliance Certificate
An excellent LMS provides authentication of courses in pharmacology, science, and other areas of research for the American Society for Clinical Pathology (ASCP), American Medical Technologists (AMT), and state licensing agencies.
Certifications can also motivate employees to actively pursue ongoing education. Furthermore, the FDA (Food and Drug Administration) has made it mandatory for the pharmaceutical industry to comply with Title 21 CFR Part 11 of the Code of Federal Regulations. Compliance certification is, therefore, a necessity for the pharmaceutical industry.
Training and Certification
Learning management systems can enable employees and students to schedule learning programs, participate in discussion boards, take online tests, and listen to podcasts. In addition, diagnostic assessments can be created for employees to test and then access their grades. Documenting performance is possible with this information.
Through an LMS, adherence to compliance training leads to certification for learners, which is significant for the learning process. Certified employees are better trained, have increased company credibility, are recognized throughout the world, are committed to safety, and have their skills and knowledge relied on by third parties.
Compliance Management
Perhaps one of the most important things an LMS can provide for a pharmaceutical company is easier compliance management. Compliance courses can be seamlessly provided through the learning management system that helps organizations abide by global norms, standards, policies, and regulations, such as SOPs and CFR Part 11.
Solid Compliance Reporting and Tracking
Pharmaceutical companies can make use of learning management systems for compliance reporting. In order to meet all HIPAA and FDA audit requirements, an LMS can provide an audit trail of the company.
Unfortunately, the majority of compliance experts do not gauge the effectiveness of their compliance programs, despite the known importance of compliance training. This is largely due to the fact that compliance training delivered without the use of an LMS is difficult to follow, arduous to complete, and often boring and unengaging for learners.
Investing in an appropriate LMS is critical for any pharmaceutical organization. It can be both economically beneficial as well as provide better training, course management, and, critically, better compliance management. In order to ensure that pharmaceutical organizations are running as efficiently, productively, and cost-effectively as possible whilst continuously staying compliant with rules and regulations, an LMS should not be overlooked.