LMS User Experience: Critical Considerations to Make Before You Buy
Whether your current learning management system (LMS) no longer meets your needs or you're in the market for your first one, it pays to take your time. You need to choose wisely. Buyer's remorse is real, and a hasty decision here could mean paying a lot of money for something that will never fit your needs. You and your users' LMS user experience will be shaped in large part to the steady and well thought process for identifying the best system for your needs.
Learning management systems provide a lot of benefits. They offer access to just-in-time training, provide flexibility, and even allow learners to complete modules on the go. However, they're not all created equal.
Below, we'll cover several important tips to help ensure that you can evaluate the user experience an LMS offers and make an informed purchase decision.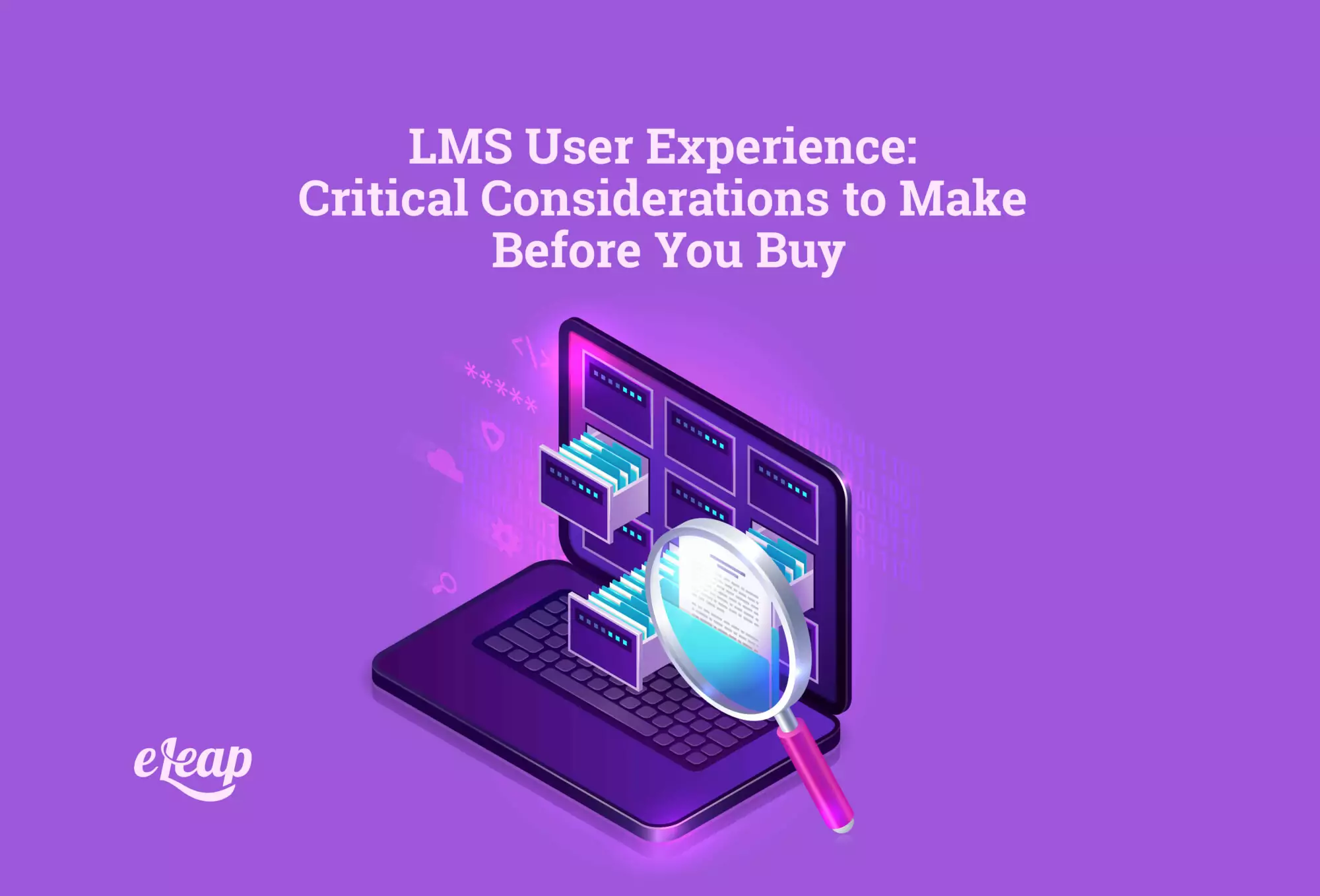 Know the Developers
First, make sure that you're aware of the developers in the industry. Sure, there's something to be said from finding that diamond in the rough. Or stumbling on a super-small but innovative designer that really "gets it". However, it's more important to define a list of your requirements and wants and then butt that list against what's offered by developers. Usually, you'll find that helps you narrow down your list to a few top choices.
What Do Other Customers Say?
When you start comparing learning management systems, you'll invariably encounter hype from the developer. Try to look past that to the features and functionality offered. One way to get at the root of whether a particular LMS is worth your time and money is by listening to what other customers have to say. Where do they rate it on a five-star scale? Would they recommend it? Did they encounter any additional charges that weren't made clear initially? Did they have to purchase an expensive upgrade to get access to the features that they needed?
Now, dig beyond those baseline metrics. You need an eye for user experience (UX). How simple is the system to learn? How easily can users move through the menus and access modules? What distractions have their users found that detract from the learning experience? A system's UX is a critical consideration and you can glean invaluable information by paying attention to what other customers have to say.
Take It for a Spin
While you can learn a lot by ticking off features and capabilities, as well as by learning about other customers' experiences, it's not the whole story. To do that, you'll need to take any potential LMS for a spin. This will give you hands-on experience with it and help you understand what the user experience might be like.
Of course, if you're considering several different LMSs, it's challenging to implement a trial across the entire company. Thankfully, there are workarounds here. One option would be to create an exploratory team. This team's responsibility would be to put any potential LMS through its paces while exploring both its capabilities and its user experience.
Too time-consuming, you say? Consider creating a couple of teams. This would effectively cut the time required to vet multiple systems in half. In the end, the teams could compare their notes and enable you to make an informed decision.
Leverage Social Connections
While we're not recommending that you put out a call for LMS recommendations on Facebook, you can leverage existing online social connections to help simplify your project. Where should you turn? LinkedIn is a good option. Any eLearning social media groups are also worth exploring. Online forums focused on eLearning can also yield good results.
Doing this will give you access to yet another pool of information. This time, you'll be able to talk to people who've already used different LMSs, allowing you to get their recommendations and any words of caution they might want to share. However, it helps to go into this conversation armed with some specific questions. Consider asking the following to make sure the recommendations you get are accurate:
·       Was there a built-in authoring tool? If not, did it detract from the user experience?
·       Were the navigation controls intuitive?
·       Did the LMS include an easily accessed asset library?
·       Was the design interface too busy or distracting?
The goal here is to listen to recommendations and comments and then ask follow-up questions. With a little time and communication, you can begin building a pretty accurate picture of how each LMS stacks up in terms of user experience.
Dive into Support
While it's hoped that you won't need it very often, you will eventually have a problem that requires you to get in touch with the developer's support team. Our recommendation is to do this early – during the vetting process if at all possible. While much of the user experience hinges on interface design, tool accessibility, and capabilities provided, you cannot forget how critical it is to have access to support.
Consider submitting a support ticket. Or you can call them directly if you like. What is the response like? Did the support team brush you off by recommending you go to their knowledge base or FAQ list? Or were they dedicated to helping you find a solution to your challenge?
Without a dedicated, caring support team, no LMS is going to be the right choice for you. It could be incredibly well polished and provide all the functionality you need, but without help when you need it, the user experience is sadly lacking.
Finding Your LMS
Finding the right learning management system will take time. It requires that you have a good understanding of your needs, as well as how those will change over time. You also must have a good grasp on what you need to see in terms of user experience – a streamlined, positive experience coupled with the right tools and capabilities, and augmented with a dedicated support team should all be part of the package.
At eLeaP, we're proud to offer one of the best user experiences in the eLearning industry. We invite you to take advantage of our free 30-day trial to explore everything we can provide.