What to Consider When Choosing the Right LMS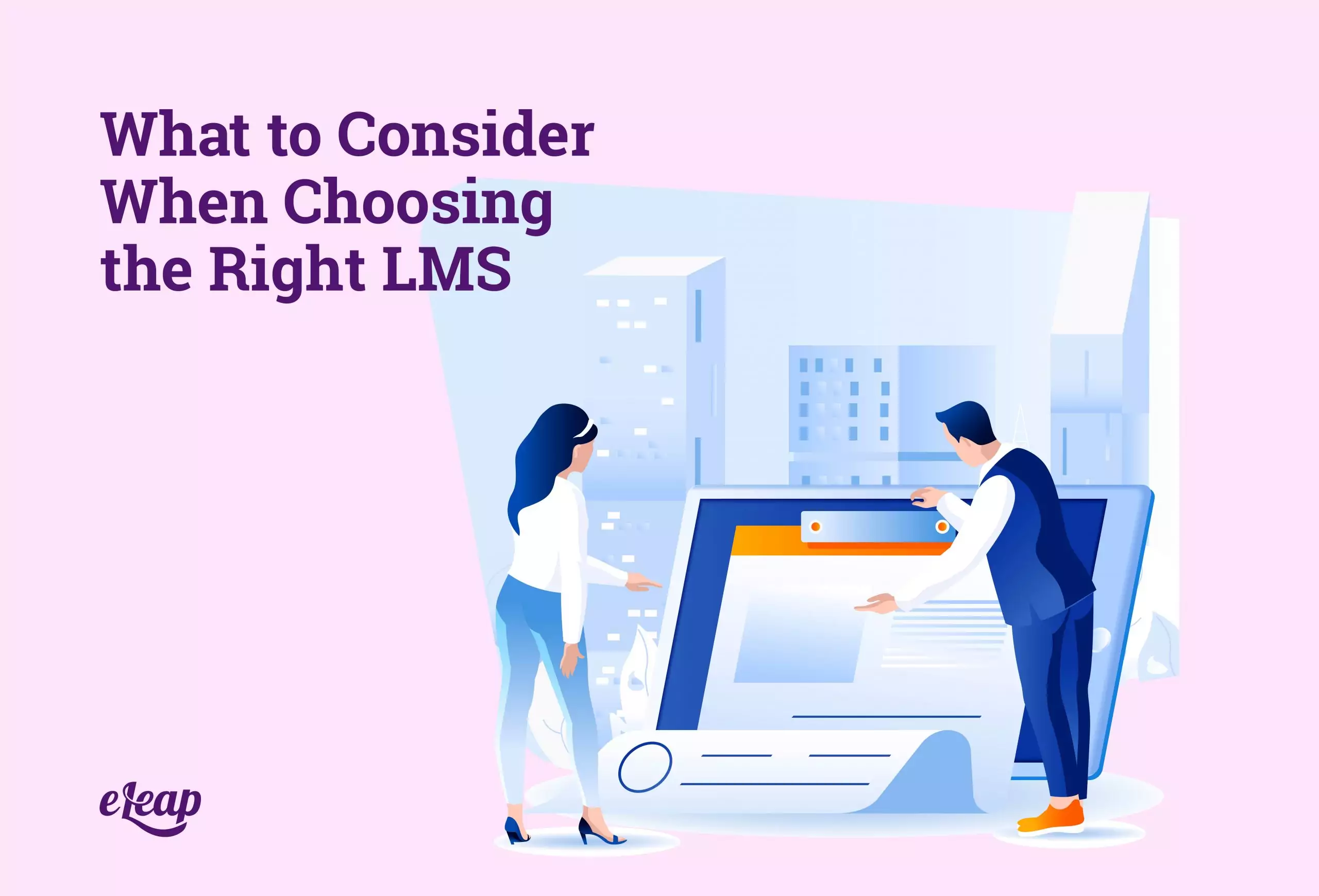 Choosing the right LMS for your organization is very significant in  order to provide the best experience to it's employees and customers. And if you've taken the leap and decided it's time to search for a learning management system then congratulations, you have made a smart decision. However, it can be extremely overwhelming to try and figure out exactly what features and functionality the LMS that you select needs. Every company or organization has unique and individual requirements, but there are typically some features that are common and useful across all Learning Management Systems. When choosing the right LMS, consider the following factors.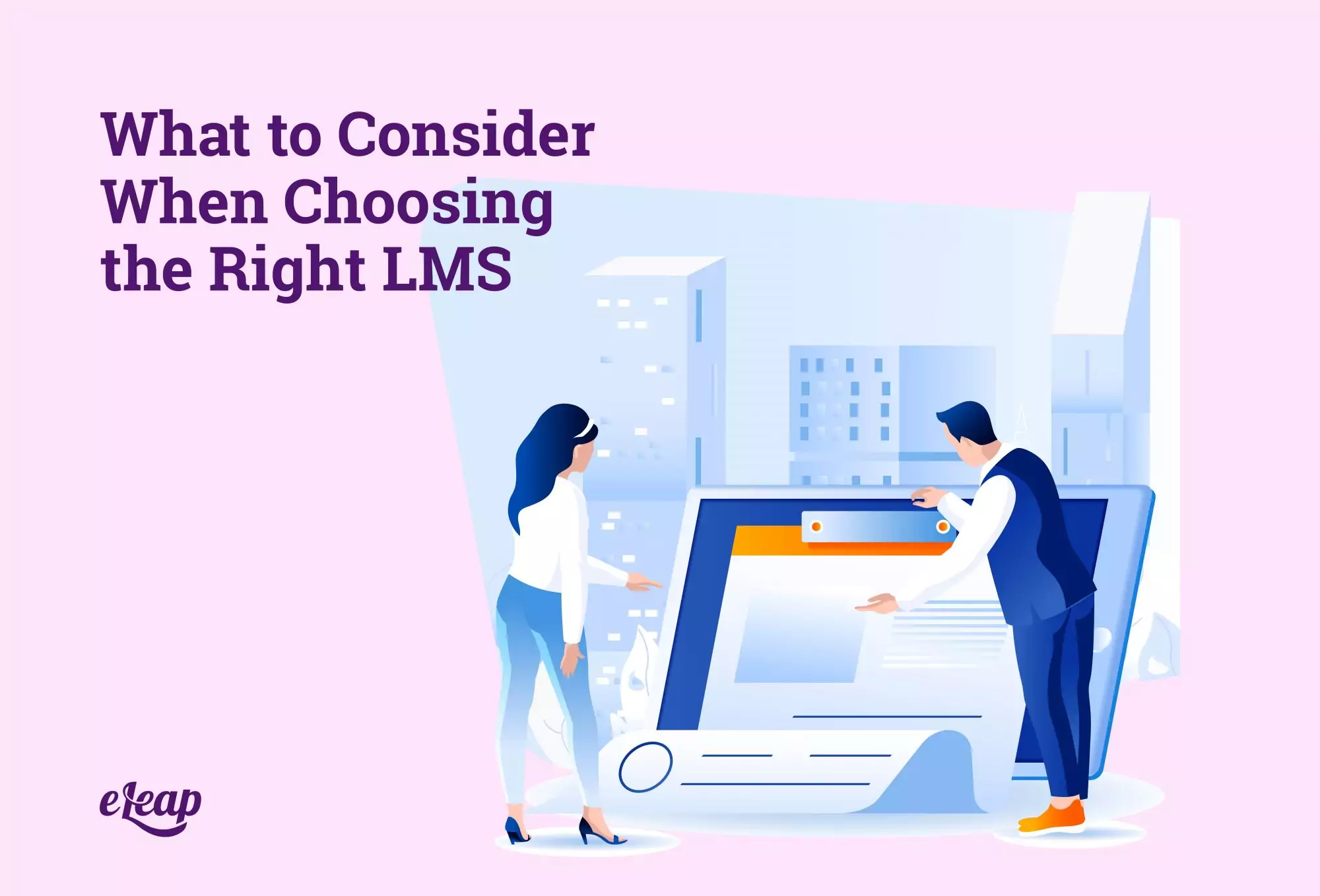 Consider End-User Experience while Choosing the Right LMS
Any LMS that you choose needs the learning audience to be at the forefront of its functionality and design. Ultimately, how successful the implementation of your LMS is will depend entirely on the end-users feedback and experience. And how easily they can adopt the system. If your company operates across multiple disciplines and has a large number of end-users, then it can be very difficult to ensure each user's need. Essentially, you need to make sure your LMS choice appeals to a broad range of learners.
Think About Accessibility
Training can be difficult and often tedious if done incorrectly, that is. Moreover, training all staff equally, particularly in a multi-discipline environment, can be even more of a challenge. This is even trickier when some of your staff work remotely or are based in different areas of the country or even the world. It's very common for organizations to have entire teams that are located in different areas or work remotely. But it doesn't take away from the fact that your LMS needs to serve all of your employees.
It's critical that every employee can access and work the system, no matter where they are. Bear in mind that remote employees won't have easy access to IT support if they can't work the LMS. So, it needs to be easily accessible. The LMS also needs to be diverse enough in its functionality. So that it can be accessed from a wide range of different devices such as a laptop, tablet, or smartphone. If the correct system is selected, it can make remote training much simpler. But choose the wrong one and you'll really just end up complicating things..
Understand Your Audience
A learning management system should be user-friendly, and the interface should be straightforward. There's nothing more likely to put a learner off from actually learning or understanding how a system works than if it's overly complicated. If completing courses takes too long for the end-user, you'll be wasting your money and your time. More importantly, your employees will get nothing out of the LMS. Furthermore,  you may have some employees that may not be very comfortable with technology, that is significant disadvantage when trying to tackle a complicated system.
When shopping for LMS, ensure that the user interface is simple to use and the system is easy to access. Consider small things, such as setting your system up to include a single sign-on. This will eliminate the need for employees to enter multiple passwords and make training much more accessible. It's a small addition, but these things can go a long way when it comes to integrating the system in a manageable manner.
Don't Overlook Automation
Consider how much time you waste completing tasks manually when they can easily be automated. There isn't as much of a need for conventional classroom-based learning that requires a lot of manual effort on administrator's part. No longer should we have to worry about arduous tasks such as tracking attendees, booking conference rooms, arrange a lesson plan, and printing materials.
All of this can be automated when the right Learning Management System is chosen. This will make your life considerably easier, but it will also be easier for employees. If they can access an LMS with a straightforward and simple user interface they won't have to worry about things. You'll also be able to effortlessly manage things like certificates and records within the LMS system, which can save administrators a lot of time and effort.
Remember The Importance of Reporting
When completing reporting tasks manually it's very common and all too easy to make errors. After all, we are only human. Errors are even more probable if you are trying to manually merge data using spreadsheets or outdated systems. At the end of the day, you're only going to end up costing your company money and wasting time. The right Learning Management System will make it considerably easier to streamline all aspects of reporting. It will also offer dashboard information that's easily accessible in real-time. This makes manual data entry much simpler and also allows you to access automated results, which renders the data more reliable overall.
In a Nut Shell
The takeaway here is that selecting a Learning Management System is something to carefully consider. You may be drawn in by Learning Management Systems that boast bells and whistles. Also, simple, straightforward, and easy to use is the better option. You need to consider that you're catering to a wide and diverse range of employees. Some will be less tech-literate than others. Some may be remote and spread across various geographical locations. Because of such circumstances, your LMS needs to be learner-friendly, easy to use, and simple to access. Also, it feature other tools that will make your life easier such as automation and reporting. If you choose the right Learning Management System, you'll make your life, and your employee's lives, much easier.