eLearning Career Guide #6: Graduate Degrees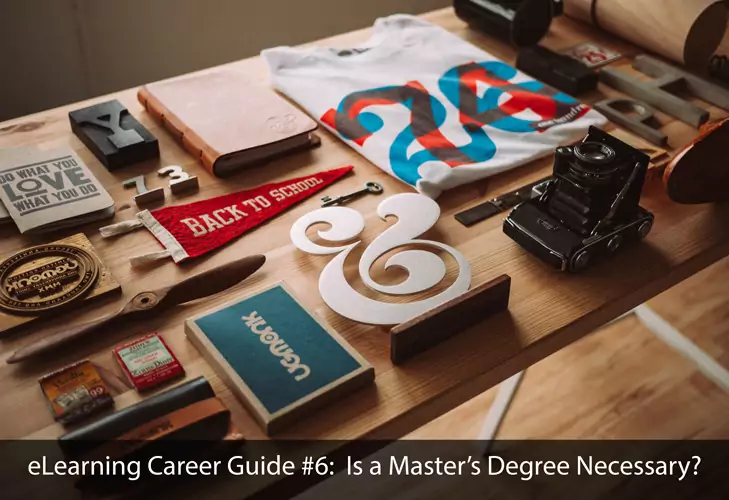 If you're planning to go far in your career as an eLearning professional, you should consider graduate education such as a Master's degree. Most of the programs out there are general instructional design degrees, man of which will have an eLearning component built into them. In this article, I'm going to specifically list the ones that have eLearning as a primary focus.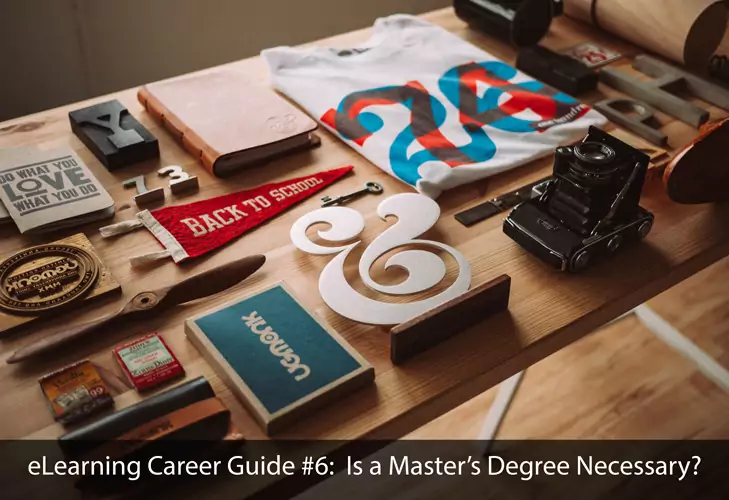 University of Maryland University College Master of Distance Education and E-Learning. This is a 36-credit online program that offers three different specializations: Distance education technology, Distance education teaching and training, or Distance education policy and management. "The Master of Distance Education and E-learning (MDE) program is designed for working adults who want to complete their degree without interrupting their careers, and are keen on enhancing their professional skills and competencies within or moving into the distance education field."
University of Central Florida MA in Instructional Design and Technology, E-Learning Track. This 39-credit program "…focuses on the design, delivery and evaluation of high-quality e-learning materials that are used for both totally online and blended (hybrid) learning environments. Candidates gain employment in business and industry, K-12, and higher education as organizations across sectors work to optimize the use of telecommunication technologies to enhance individual and collaborative learning. The e-Learning program may be completed totally online or in mixed mode."
University of Colorado Denver MA in Information and Learning Technologies, eLearning Emphasis. This program "…is specifically designed to meet your needs as you face the increasingly important role electronic and online technologies play within post-secondary, K-12 and corporate education. The entire distance accessible Masters degree takes about two years to complete. The course designs also involve you in a number of collaborative work experiences that reflect the nature of eLearning professional practice."
Athabasca University Master of Education in Distance Education. "As the demand for distance education and training increases, the need for formal qualifications in their delivery becomes more pressing. Those students who currently work or aspire to work in distance education and training and whose personal commitments demand a flexible and accessible graduate-level program, may find Athabasca University's MEd program the path to a more rewarding career."
Northcentral University Master of Education, E-Learning Specialization. "The E-Learning specialization is designed to help you explore how educational activities can be designed to incorporate technology with the goal of engaging the traditional and virtual student, enhancing teaching and learning experiences, and addressing the changing needs in the e-learning instructional environment. You will experience a unique blend of research, exploration and application using a variety of e-learning approaches and practices. As a graduate, you will have the skills and knowledge to engage in e-learning planning, organization, implementation, sustainability and continuous improvement of the learning environment."
University of Alaska Fairbanks Master of Education in Online Innovation and Design. "Demand for eLearning continues to expand rapidly—both in the state of Alaska and around the world. Teachers and business leaders who are asked to develop educationally sound online learning experiences need a unique combination of skills and knowledge. The Master of Education in Online Innovation and Design equips graduates to create and facilitate meaningful learning experiences for the online environment." This is a 30-credit, completely online degree program."
Jones International University Master of Education for Adult Educators and Administrators, e-Learning Technology and Design. "Put latest technology to work with an online instructional design degree from Jones International University. Advancements in educational technology have made instructional design a critical skill for corporate trainers and adult educators. A well-designed learning environment improves learning and makes information available on demand anytime, from anywhere. Corporate trainers and those who design education for adults must keep pace with changing education and training technology to infuse e-learning into national and international teaching and learning models."
Texas A&M University Commerce Online Master of Science in Global Elearning. This program "…equips specialists in education for practice in public education, private education, business, industry, and non-profit organizations. Learning and technology are intertwined as we develop the next generation of enhanced training, development, and teaching to engage learners with key components of instructional technology. Technology provides access to all forms of education and this program will teach educators how to implement technology across curricula and classrooms of all kinds. With a blend of theory and technical skills, this program will prepare teachers and corporate trainers alike."
The eight programs listed above are all great options for getting the graduate education you need to either launch or enhance your career as an eLearning professional.
Don't Miss These Essential Tools
Download our The Strategic Value of Workplace Training and Development white paper
Discover the Top 10 Ways Learning Management Systems Can Improve the Workplace Environment to enhance productivity
Explore the 10 Ideas To Optimize Online Training And Maximize Impact in your organization
Quickly see How a Learning Culture Can Improve Your Organization