Corporate Training That Works
Create Corporate Training That Empowers Your Employees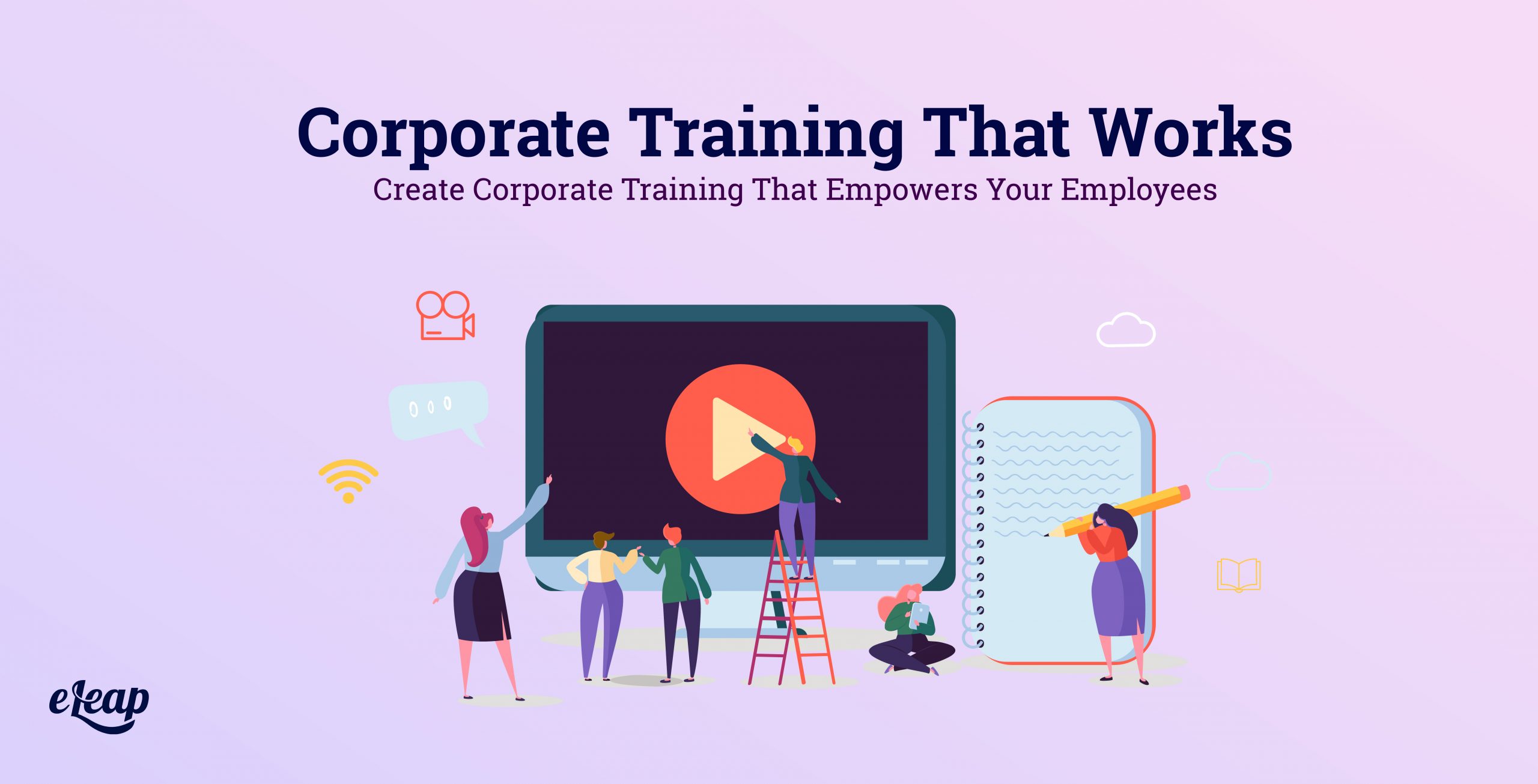 How to create and track corporate training programs
Corporate training is a phrase that makes many rank-and-file employees and managers in a company roll their eyes or heave a sigh of dread. But company leaders have a different perspective. They know that corporate training is one of the most critical factors that impacts the company's day-to-day operations, efficiency, and bottom line. Employees lacking proper training cannot be expected to perform to the levels needed to achieve the company's business goals, plain and simple. If you want to see a company that deeply understands the relationship between training and profitability, take a look at how Adidas innovates when it comes to corporate training. And what the company is doing is bringing the powerful benefits of easily accessible eLearning to employees when and where they want it.
Corporate Training Courses, eLearning, and the Cloud LMS
 If your company wants to make the most of its corporate training efforts in the 21st century, there are several elements required to get the biggest payoff. It's time to shed the old outdated ways of doing training – requiring your employees to attend mandatory, instructor-led face-to-face classroom sessions that take them away from their regular duties to sit through what are often considered mind-numbingly boring content. It's time to more fully embrace eLearning in the Digital Era, and adopt a cloud-based learning management system (LMS) to manage your efforts and track results.
When you choose a robust cloud LMS, you gain the ability to put your learners in the driver's seat, giving them the freedom and flexibility to engage the content anytime, anywhere, and on the device of their choice. You'll see their willingness to engage training rise to unexpectedly high levels and they will retain more of what they learn, both of which make for a good return on investment along with the cost savings eLearning grants compared to older more traditional forms of training. And you don't necessarily have to have your own library of courses. Many cloud LMS vendors have their own repositories of wide-ranging training courses that can be offered to your employees with just a few clicks. And if you do have your own courses, the right LMS can easily incorporate them into the offerings made available throughout your company. Read on to discover how the eLeaP LMS might just be the perfect solution you've been looking for.
eLeaP takes the hassle and expense out of corporate training
The traditional approach to corporate training is expensive. You're paying people to create the content, paying instructors to deliver it, paying for space to serve as a classroom, paying for both instructors and learners to travel to the location where the training is being offered, and losing money from the lost productivity of the workers taking time out for the training. And that's not even mentioning all the hassles and headaches of pulling all of this off in a timely fashion and in a way that engages learners enough to get the results you need. All of this makes for a depressingly low return on investment for traditional corporate training methods relatively to eLearning through a cloud LMS such as eLeaP.
With eLeaP, it doesn't matter where your workers are located. They may be spread out over different cities, states, or even far-flung corners of the whole planet, but they can all access the same content in the same format, but at the time and place that works best for them. And if you want them to engage in real-time interactions with each other, that's possible as well. In addition, eLeaP includes a robust collection of corporate training courses that are available online and can be accessed 24/7, 365 days a year. All of this comes with a pricing plan that can be adjusted to meet your needs and your budget by only paying for what you need.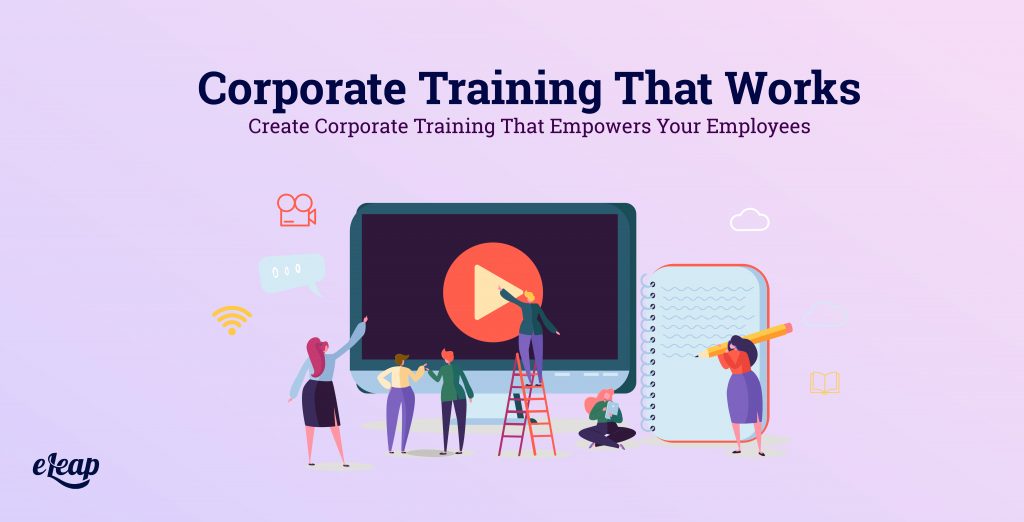 No IT expertise required
We created eLeaP to be very easy to use. You don't need to be an IT expert because anyone with basic computing skills will be able to use it quickly and easily. You also won't need any IT staff to devote their precious time or resources to maintaining the system because you don't have to buy new hardware, install software, or worry about maintaining and upgrading your system. Because eLeaP is a cloud-based LMS, we handle all of that for you behind the scenes. You could literally be logging on and using eLeaP in a matter of minutes, opening up a whole new world of training and learning to your employees. Sounds like the greatest thing since sliced bread, right? We think it is, but you don't have to take our word for it. Here are what some of our satisfied customers have said about their experiences using eLeaP:
"I found the eLeaP Training/Learning System very easy to use, from entering and formatting the information to setting up users and entering the test questions. I am very pleased with the company itself – The staff walked me through it, responded quickly to any questions I had, and were very professional, making it a very pleasant experience. I would recommend eLeaP to anyone looking for this type of software." ~ Toni Garrard, Training Consultant, Listrom & Associates, LLC.
"Thanks so much for your help. I appreciate all the assistance you and eLeap have given to KPS. It has been great working with eLeap to set up our on-line training program. We have company associates and contractors all over the US who will be able to take advantage of our new training capabilities. Prior to this we had to bring trainees into our head office, disrupting their work schedules and incurring significant costs. Now we can deliver important course material to them 24/7 without paying a cent for travel costs. They can take our courses at their home offices or while working on the road. With this newfound capability, we can expand our coursework because it is so simple to set up and administer. We look forward to greater company performance because of the eLeaP training platform." ~ James Costanza, Manager, Construction Services Kysor Panel Systems
Still not ready to commit to eLeaP? Try it for FREE with a 30-day trial to discover how it will benefit your company. You'll be able to experience first-hand eLeaP's unique combination of sophistication and simplicity for thirty days, and then make a fully-informed decision about which personalized payment package will best meet your company's training needs. Check out the Quick Overview of eLeaP and then sign up today. Keep in mind that with eLeaP there is…
Nothing to Install
Absolutely No Cost for the free 30-day trial
No Commitment
No Upgrade fees
No Licensing fees
No IT Consultants
No Hardware Requirements
No Hassle
eLeaP Corporate Training LMS Quick Tour
This quick overview lets you see some of the compelling and easy-to-use features of eLeaP so you can quickly decide if the eLeaP™ corporate training system warrants further evaluation through our free 30-day trial or a live demonstration.
Additional Training Resources