Bridging the Skills Gap: How Learning Management Systems Support Workforce Upskilling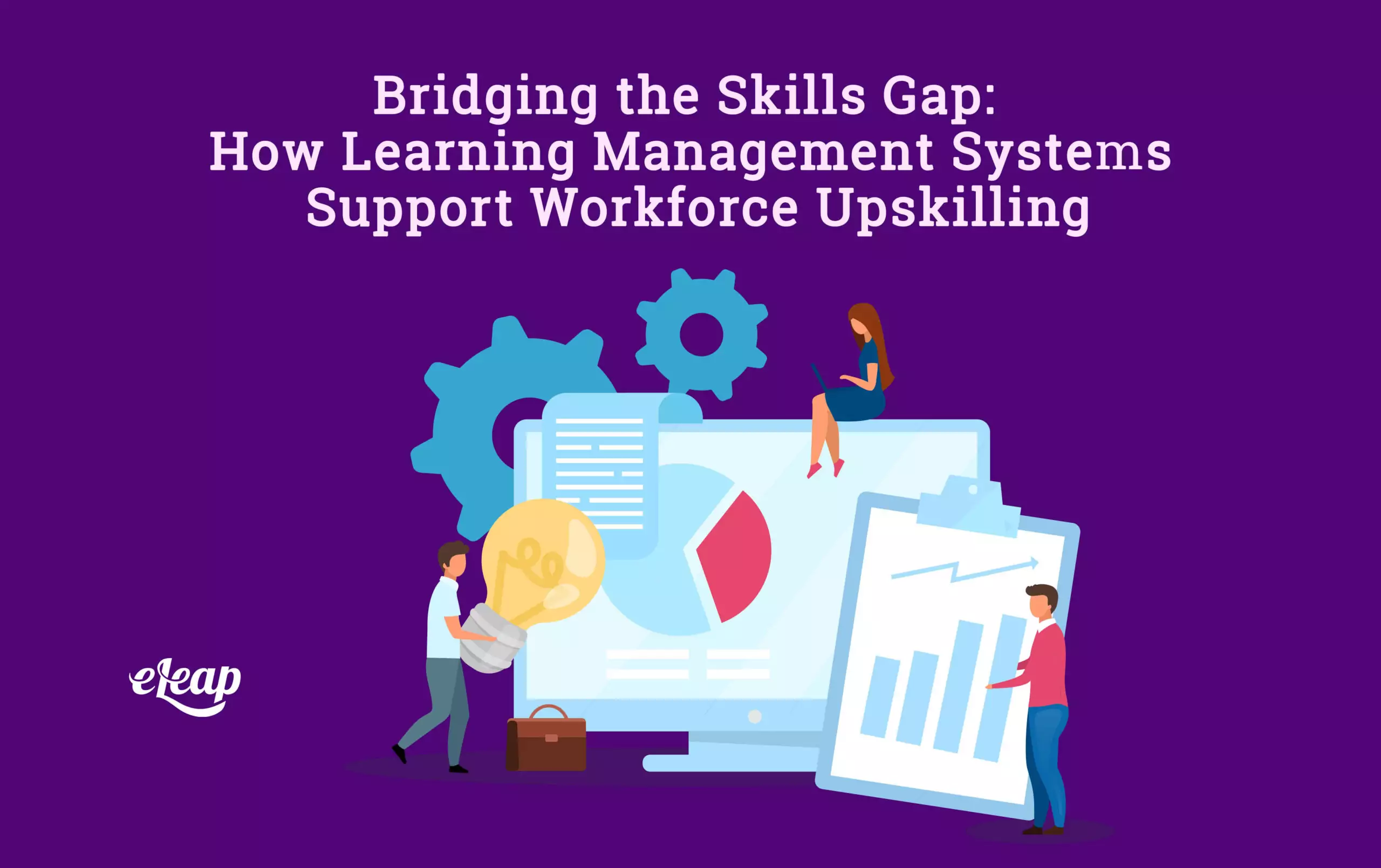 Picture a bustling organization teeming with talented professionals working on cutting-edge innovations. They're smart, they're motivated, and they're driven. Yet, a looming shadow could stunt their progress and curb their potential – the skills gap. It's a challenge many organizations face today, regardless of size or industry. According to PWC's annual global CEO survey, 80% of CEOs believe the need for new skills is their most significant business challenge.
In a rapidly evolving digital landscape, maintaining an up-to-date skillset is akin to hitting a moving target. But imagine if there was a robust, scalable, and efficient way to keep pace with this relentless change, a way to upskill the workforce and bridge the skills gap continuously. Enter the modern Skills Learning Management System (LMS), a transformative tool reshaping how organizations approach workforce development.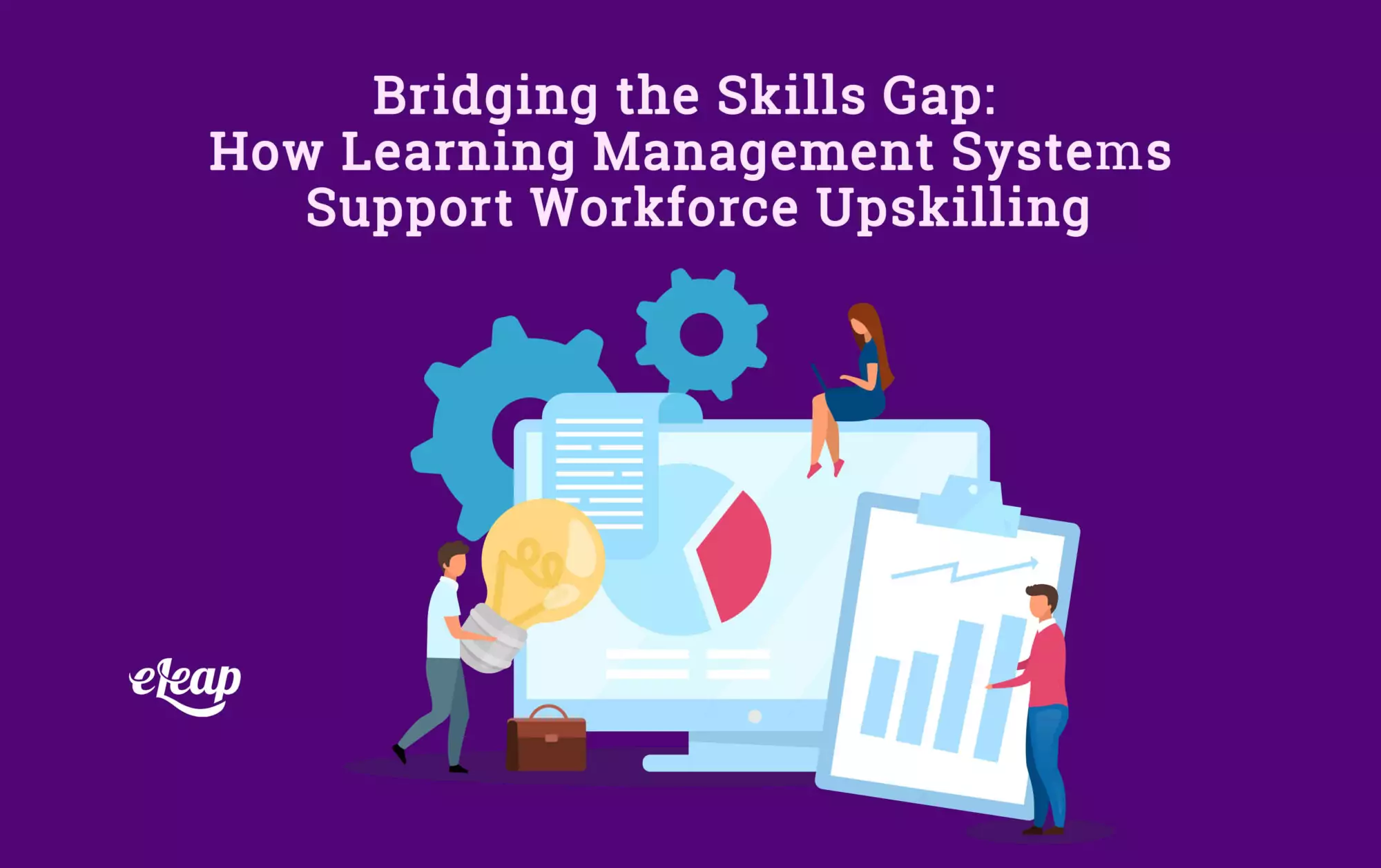 LMS: The Answer to Bridging the Skills Gap
Learning Management Systems are software applications designed to create, distribute, and manage the delivery of educational and training content. These platforms have revolutionized the approach to professional development, transforming it from a static, one-off event into a dynamic, ongoing process. Let's delve deeper into how Skills LMS platforms support workforce upskilling.
1. Personalized Learning Journeys
Every individual has unique learning needs and styles, and an LMS considers this. It allows for creating tailored learning paths that align with the specific roles, departments, or skill levels of employees. This means training can be more targeted and efficient, ensuring that employees acquire the specific skills they need to excel in their roles. By fostering productivity and engagement, this personalized approach can improve job satisfaction, increasing retention rates. This is evident by the LinkedIn 2018 Workplace Learning Report, which indicated that 94% of employees would stay longer at a company if it invested in their learning and development.
2. Flexibility and Convenience
The traditional 9-to-5 training schedule is no longer feasible in our fast-paced world. Workforce upskilling needs to be a continuous process that fits seamlessly into employees' lives. A Skills LMS facilitates this by providing access to learning content anytime, anywhere. Whether it's during a lunch break, on a daily commute, or after work hours, learning can happen at a time and place that's convenient for the learner. This flexibility makes continuous upskilling a reality without disrupting the workflow or personal life of the employee.
3. Actionable Insights through Analytics
LMS platforms such as eLeaP are equipped with robust analytics capabilities that can provide valuable insights into the learning process. They can track various metrics, from course completion rates and time spent on learning to assessment scores and learner feedback. These data-driven insights can help organizations identify skill gaps, measure the effectiveness of their training programs, and make informed decisions to enhance their learning strategies. Moreover, the data can provide personalized feedback to learners, helping them understand their progress and areas for improvement.
4. Collaborative Learning Environment
A study published in the International Journal of Advanced Computer Science and Applications found that implementing an LMS improved knowledge sharing, collaboration, and overall learning experience.
Learning doesn't happen in a vacuum; it's a social process. Many LMS platforms support this by incorporating social learning features like discussion forums, chats, and collaborative projects. These features encourage peer-to-peer learning and knowledge sharing, fostering a collaborative learning environment. This can make the learning experience more engaging and effective, as learners can learn from each other's experiences and perspectives.
5. Seamless Integration
Most LMS platforms can seamlessly integrate with other business systems, such as HRMS (Human Resource Management System), People Success Platforms, and CRM (Customer Relationship Management). This ensures a smooth data flow across platforms, facilitating comprehensive talent management and strategic workforce planning. For instance, data from the LMS can be used to identify high-performing employees for promotions or succession planning. In contrast, data from the HRMS can be used to identify skill gaps that need to be addressed through training.
6. Scalability and Cost-Effectiveness
An LMS is a scalable solution that can grow with your business. As your workforce expands, the system can accommodate more users without increasing costs. Moreover, by digitizing and centralizing training materials, an LMS can save costs associated with in-person training sessions, travel, and physical resources. This makes it a cost-effective solution for workforce upskilling.
Tackling Skills Deficit: Effective LMS Integration Strategies for Skills Enhancement
Learning Management Systems (LMS) are powerful tools for upskilling the workforce, but their potential can only be fully realized with successful integration into the existing organizational ecosystem. As such, the implementation of an LMS should not be seen as a mere technical task but rather as a strategic initiative that requires careful planning and execution. Here are some strategies for successful LMS integration in organizations:
1. Establish Clear Objectives
Before integrating an LMS, it's essential to establish clear objectives. What specific skills gaps do you hope to bridge? What kind of learning experience do you want to provide for your employees? How will the LMS align with your overall business goals and strategies? Having clear answers to these questions will guide the selection and configuration of the LMS, ensuring that it meets your organization's unique needs.
2. Involve Stakeholders
Stakeholder involvement is critical for successful LMS integration. This includes not only the management and the IT team but also the end-users – the employees. Their input can provide valuable insights into the current challenges and needs, helping you choose and configure an LMS that genuinely supports their learning and development. Moreover, involving them in the process can increase their buy-in and engagement with the system once implemented.
3. Ensure Technological Compatibility
Technological compatibility is a crucial factor to consider. The LMS should be able to integrate seamlessly with your existing IT infrastructure, including other software applications and platforms. This ensures a smooth data flow across systems, enhancing efficiency and decision-making. It's also essential to check the system requirements of the LMS to ensure your hardware can support it.
4. Plan for Data Migration
If you're transitioning from another learning platform or have learning data stored in other systems, you must plan for data migration. This involves transferring the data to the new LMS without losing its integrity. It's advisable to work with an  LMS vendor or a professional data migration service to ensure this process is carried out effectively.
5. Provide Training and Support
Implementing a new system can be a significant change for employees, and it's essential to provide them with adequate training and support. This could involve training sessions, user manuals, FAQs, and a dedicated support team to handle queries and issues. By ensuring that employees understand how to use the LMS effectively, you'll increase their engagement and maximize the system's value.
6. Monitor and Evaluate
After the LMS is implemented, continuous monitoring and evaluation are crucial. This involves tracking metrics, such as user engagement, course completion rates, and learning outcomes, to assess the system's effectiveness. Regular evaluations will help you identify any issues or areas for improvement and make informed decisions to enhance your learning strategy.
Conclusion
In the realm of professional development, the fusion of LMS with strategic upskilling is far more than a passing trend. It represents a powerful partnership for sustaining business growth and adaptability amid constant change. As our exploration has demonstrated, an LMS transcends its role as a mere learning platform. It morphs into a dynamic catalyst that nurtures a culture of continuous learning, fosters knowledge exchange, and, most importantly, arms professionals with the requisite skills to excel in their roles.
It becomes evident that organizations that will lead the future are those that underscore the value of learning today. As we endeavor to bridge the skills gap, a well-integrated LMS serves not merely as a helpful tool but as the conduit to a future where every professional is equipped to unlock and leverage their full potential. Our solutions experts are available to answer your questions. Take full advantage of our free sessions.