Skills and Competency Management with the eLeaP LMS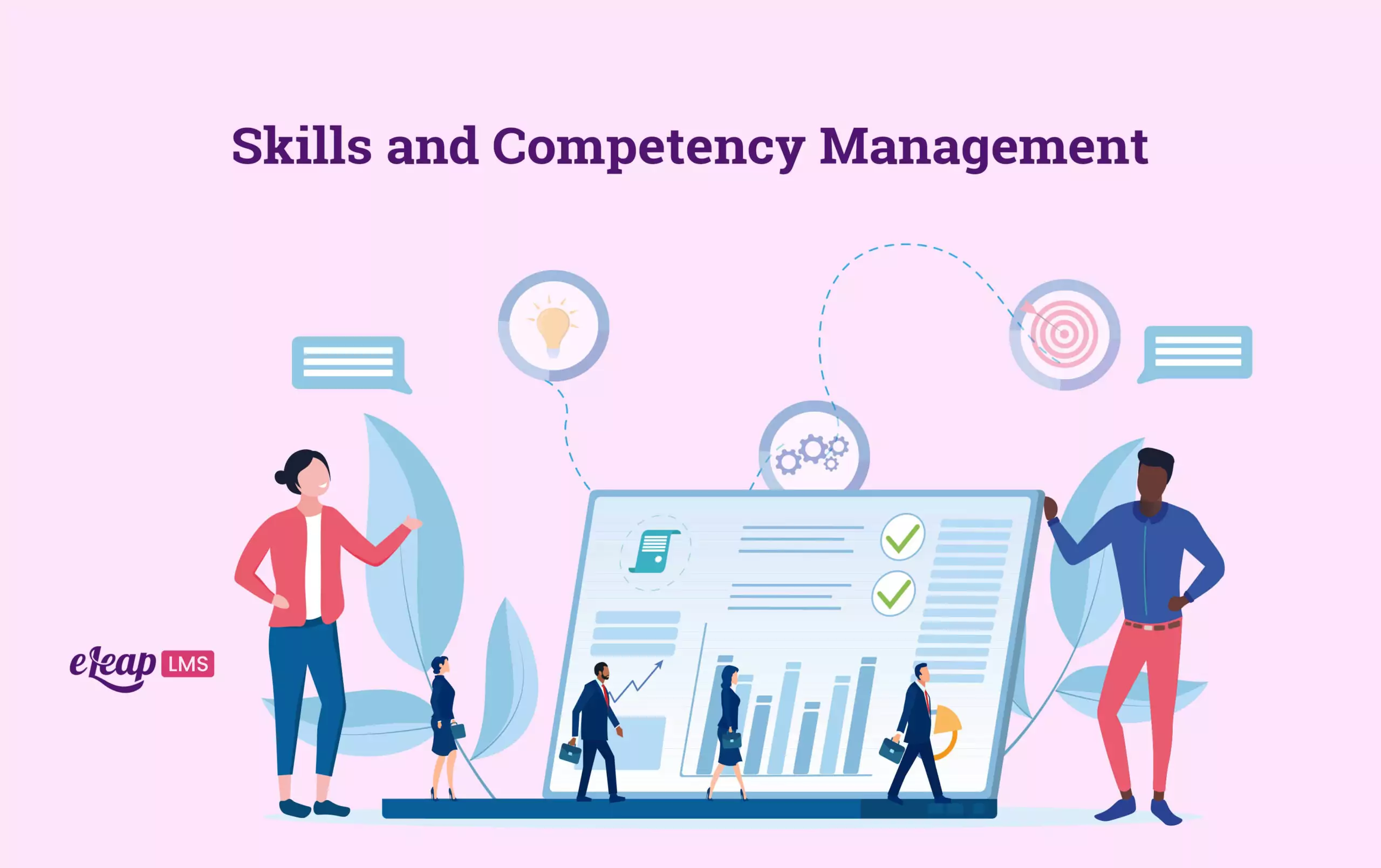 Are you ready to revolutionize your organization's skills and competency management? This involves identifying the skills and competencies required for each role, assessing employee proficiency levels, and creating targeted training and development plans. An effective Learning Management System (LMS) such as eLeaP can be a valuable tool to facilitate this process. Get your 15-minute free consultation to learn how eLeaP can help you streamline your skills development process, including performing a skills gap analysis.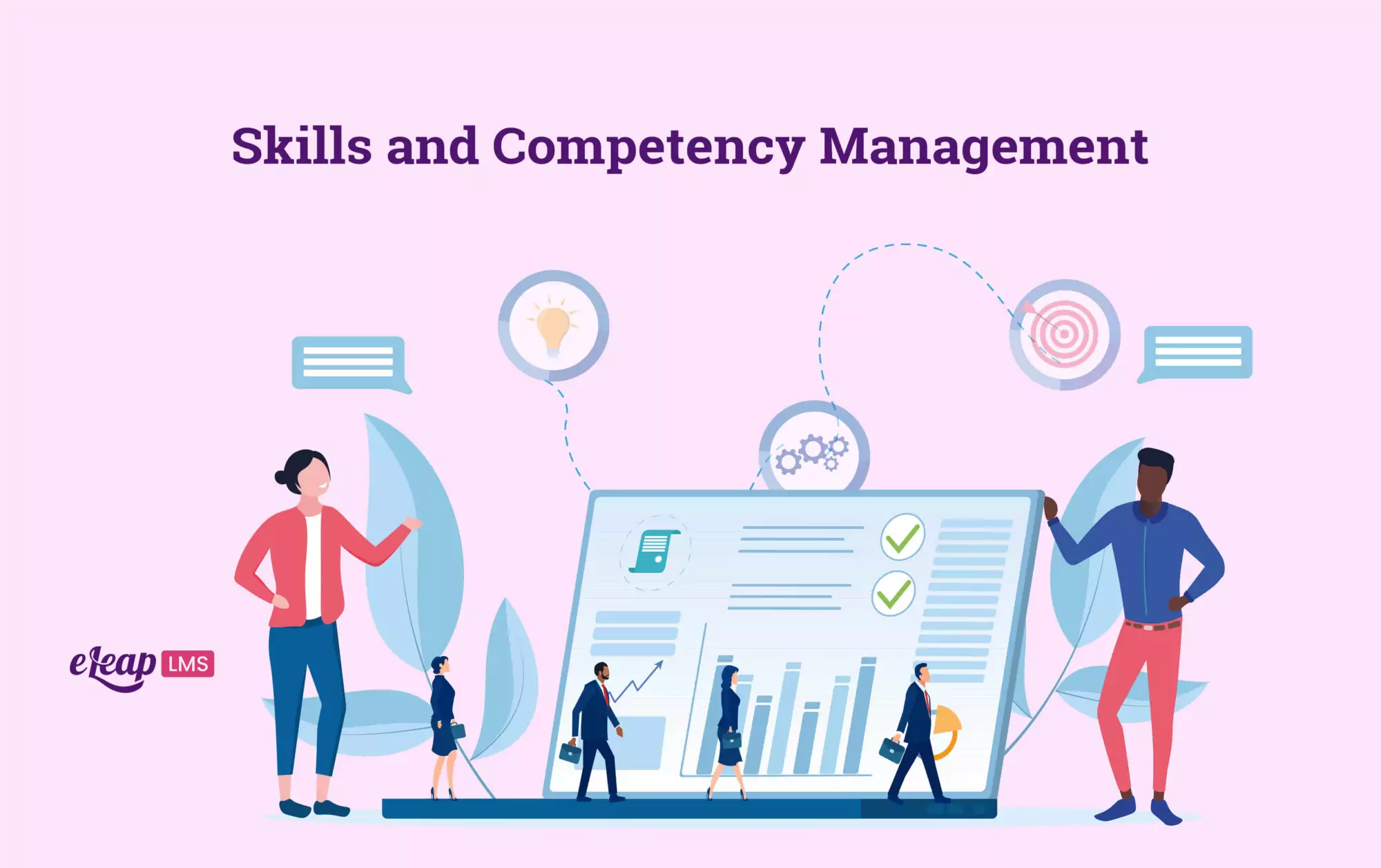 eLeaP is a cloud-based LMS that offers a comprehensive set of features to manage employee training and development. One of the key strengths of eLeaP is its competency management capabilities. The system allows administrators to define competencies for each role within the organization and assign proficiency levels to each competency. This provides a clear framework for identifying skill gaps and developing targeted training plans.
Benefits of Skills and Competency Management
Here are some reasons your organization might need skills and competency management:
Improved Performance
By identifying the skill gaps, organizations can ensure employees have the knowledge and abilities to perform their roles effectively. This leads to improved performance and productivity.
Better Workforce Planning
It helps organizations plan for future workforce needs. By identifying portfolios required for each job, organizations can develop training programs and recruitment strategies to ensure they have the right people with the right skills at the right time.
Personalized Training
Subjecting all employees to the same training at all times isn't a good employee development strategy. Therefore, an excellent way to help will be through personalized training. A good skill and competency management can help in this regard.
Improved Employee Engagement
Skills and competency management help create a culture of learning and development within the organization. This can improve employee engagement and job satisfaction as employees feel their skills and contributions are valued.
How to get started
To start with the skills and competency management in eLeaP, administrators must define the competencies required for each role within the organization. This can be done using the competency management module within the system. Administrators can define the competencies and assign proficiency levels based on the job requirements. For instance, a marketer may require soft skills like communication and customer service skills, each with different proficiency levels based on the expertise required.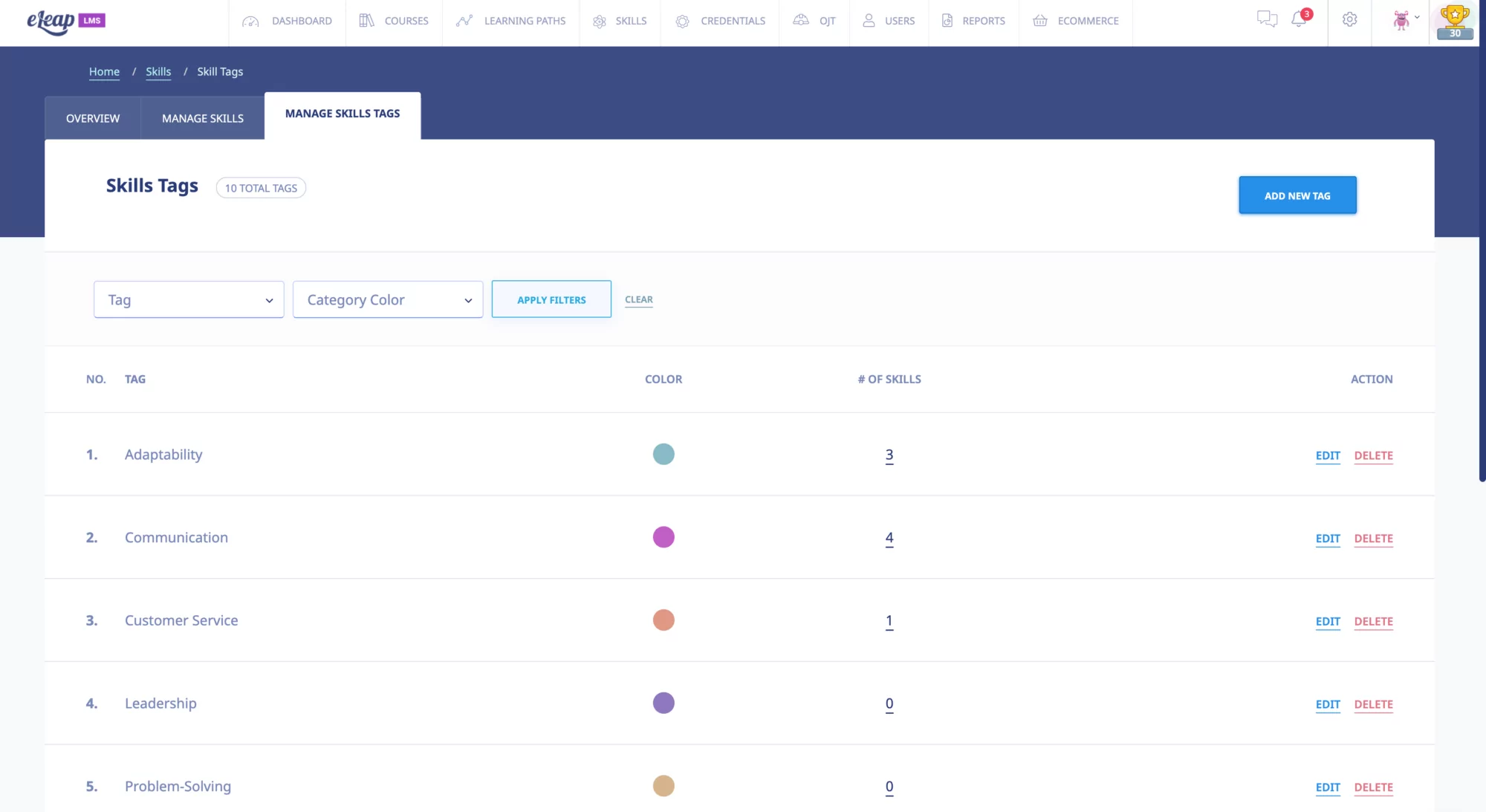 Once the competencies have been defined, administrators can assess employee proficiency levels using eLeaP's built-in assessment tools. The system offers a range of assessment options, including quizzes and tests. These assessments can measure employee proficiency levels for each competency and identify any skill gaps that must be addressed.
Administrators can create targeted training plans to address skill gaps based on the assessment results. eLeaP offers a range of training options, including online courses, videos, and webinars. These training materials can be assigned to employees based on their proficiency levels and customized to address their needs. For example, an employee who needs to improve their programming skills can be assigned a programming course, while an employee who needs to enhance their leadership skills can be assigned courses on visionary thinking, decision making, conflict resolution, and team motivation. Employees can also enroll in training without waiting to be assigned specific training. The Self Enrollment system enables course instructors to designate training courses as available for self-enrollment. Don't worry; the system is smart enough to restrict self-enrollment access if needed.
Managing Skills for eLeaP Account Administrators
eLeaP helps organizations revolutionize the way we manage skills and talents. Therefore, spending so much on the human resource department for effective talent management can now be a thing of the past. By implementing the eLeaP skills and competency feature, your HR can do more with less effort. They can now manage talents without hiring more hands to do the job. Organizations can spend less on skill management and get better results.
However, it is one thing to know this new eLeaP feature exists; it is another thing to understand how it works.
As an account administrator, the first thing you should do is identify skills gaps before assigning courses.
You should visit the [Skills] tab on the main menu. You'll find this at the top bar section of the page. Once you do, a new page will appear with a subtab where you'll find "Manage Skills."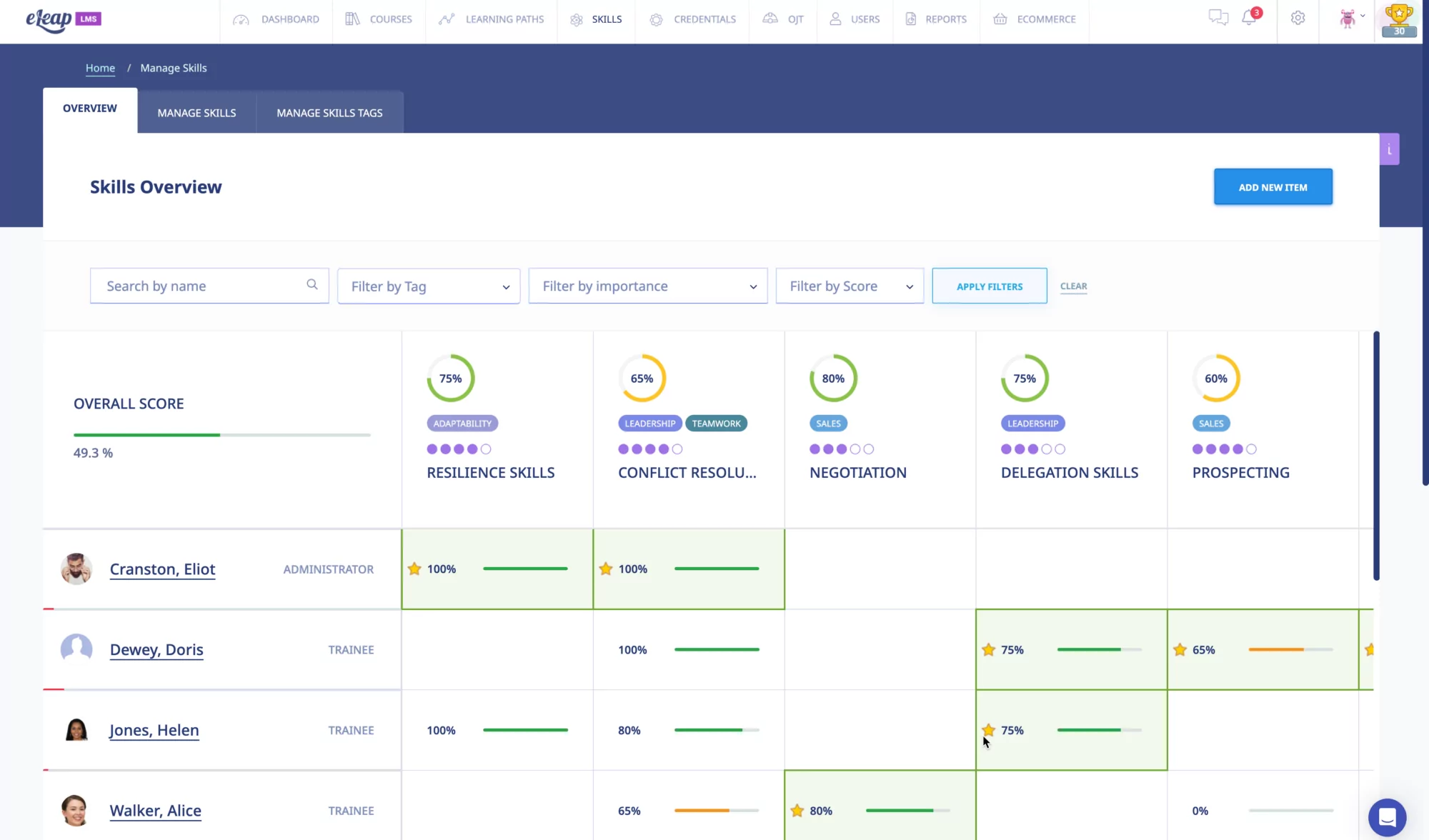 When you click on the "Manage skills" tab, you'll find a new page to filter your search. You can filter by tag, importance, or name. You'll also find existing skills and how to manage them on that page. You can edit or delete any of these skills as you desire. The page also includes the number of courses assigned to each skill, the number of users, importance, and current level.
You can also add a new item on the page. To do this, go to the top right corner of the page, and click on the "Add New Item" icon. A new page will appear where you can add a new or existing tag and name the skill.
You'll select the skill's importance scale on the page, which could be the none, low, normal, high, or critical scale. Under this, there's a level area that also allows you to set a point system from 0 – 100, which defines what happens to the end users after taking the course and earning a number of points. There are three levels: Beginner, Intermediate, and Advanced. You'll set how many points the users need to earn to be attributed to any of these levels. For instance, you could set 0 – 40 for beginners, 41 – 80 for intermediate, and 81 – 100 for Advanced. Once you're done, you hit save. Now, you're done adding your item to the system. Next, you will need to assign the required skill courses to the new item. To do this, go to your course area and select the appropriate courses for the skill.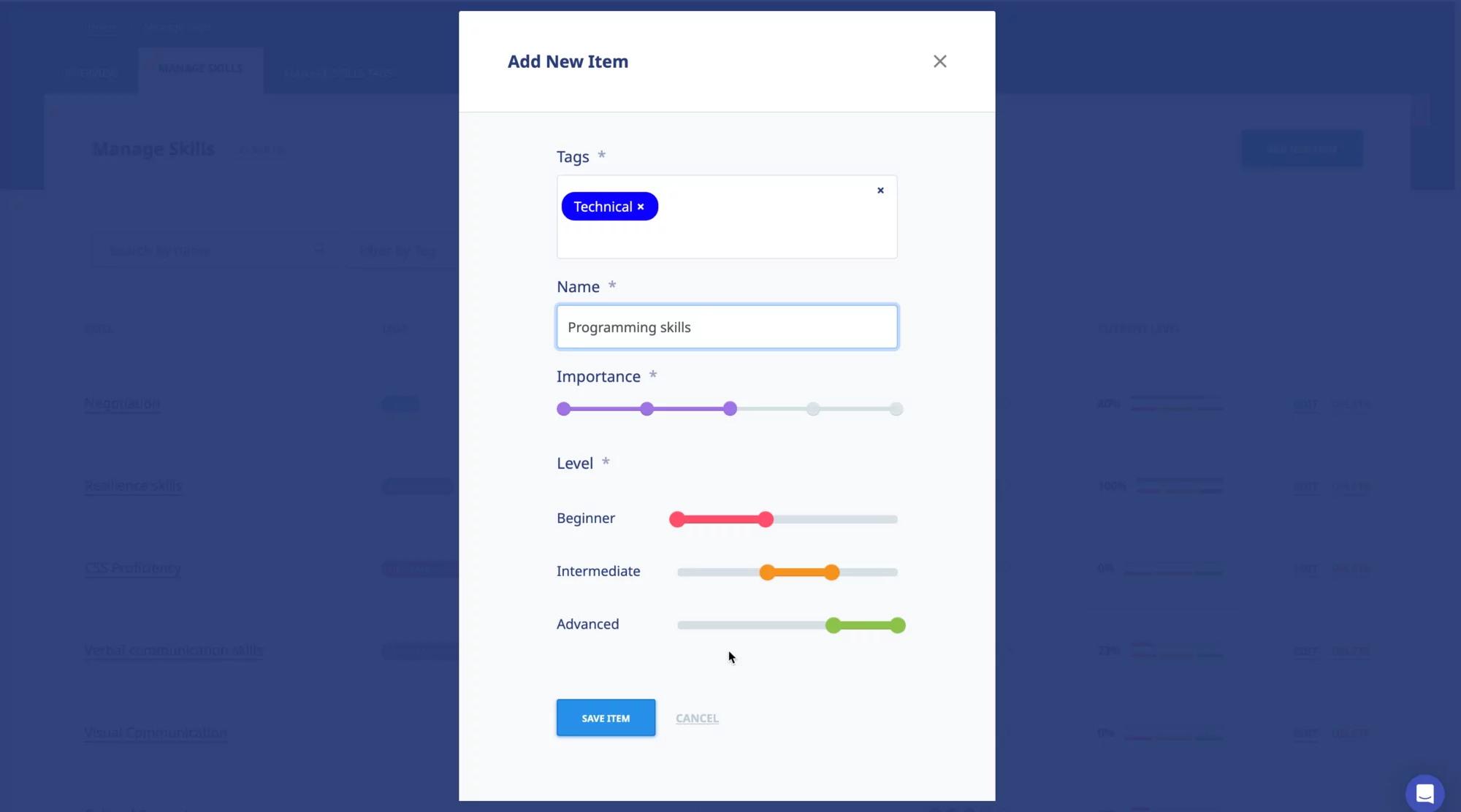 Now, you can check your employees' profiles to identify any skill gaps. You may then assign appropriate courses to fill the gap. To do this, click on the course and select the subtab "Users" under "Assign." Once you do, a new interface will appear that allows you to filter your search. You can search by employee name or email. With this, the employee information previously added to the database will appear. Tick the tiny box beside the employee's name to assign the courses. Now, click "Add selected," which will be found under the name. The course is now available for the user to take.
By following these steps, organizations can effectively use eLeaP LMS for Skills and Competency Management, resulting in improved employee performance, reduced costs, and better compliance.
Managing Skills for Non-Admin eLeaP Users
Non-admin eLeaP users, such as employees of organizations, can also manage their skills on the platform. To do this, go to the skills area at the top of your homepage. There, you'll find the skills you are currently enrolled in, the tags, the number of courses, and the current level.
You have two options as a trainee. First, you could wait to be assigned courses to earn the skill attribution once you complete them. For example, if you complete the "visionary thinking course," you can earn leadership skills.
Secondly, you can assign courses to yourself without waiting for the admin. To do this, you should go to your "courses" tab (at the top of your homepage) and click on the "self-enrolment courses" tab. A new page will display, where you'll find different courses you are currently enrolled in. Scroll down to the second part of the page, where there is a "Not Enrolled" section.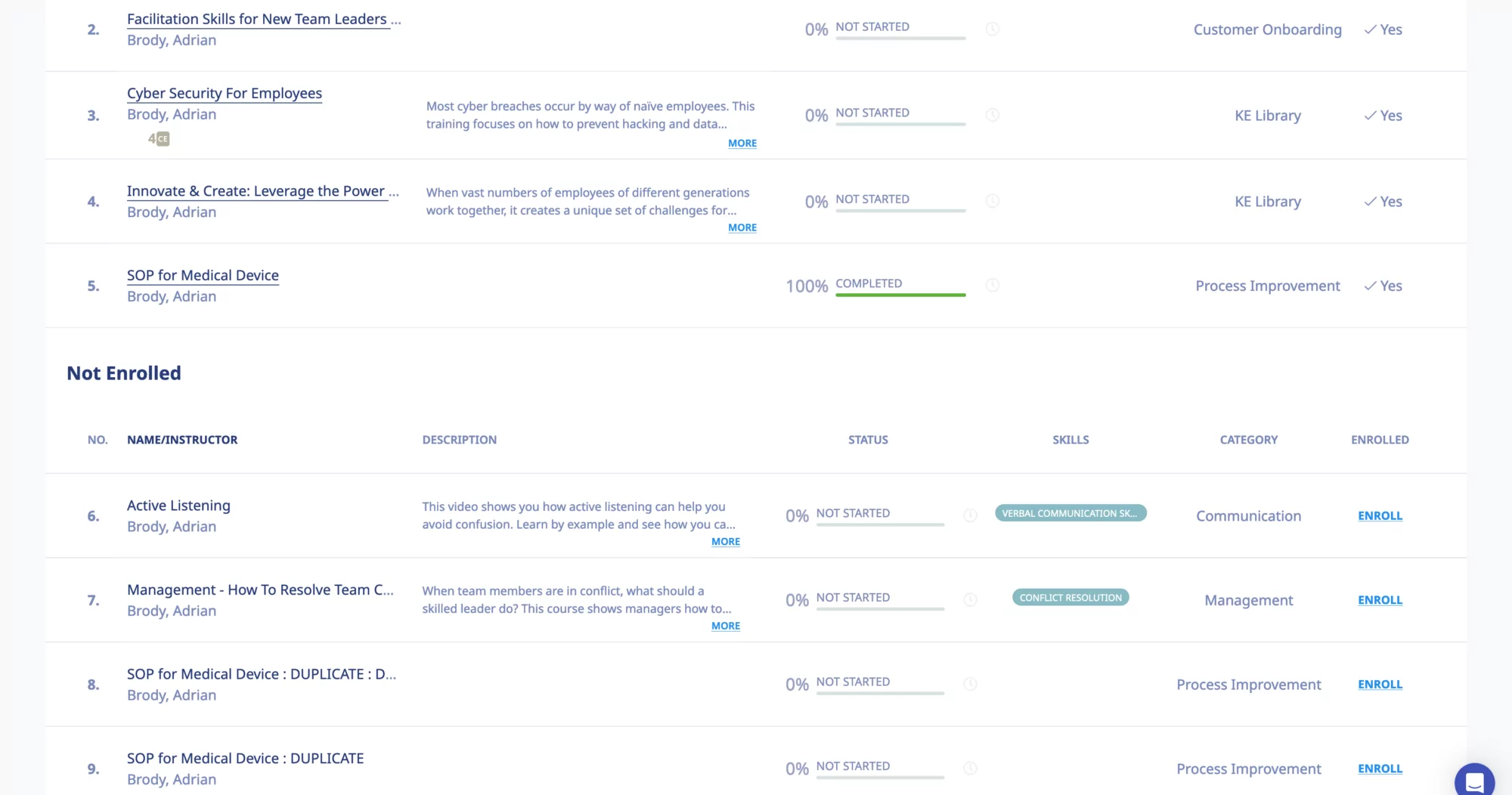 As a trainee, you should look for the column under [Skills]. There, you'll find the appropriate skills you wish to take. You'll find the "Enroll" column on the right side of the table. Once you register for the course, you can view and complete it and get the skill attribution to the course.
Why Use eLeaP?
There are several platforms offering skills and competency management. However, eLeaP is one of a kind and stands out from all available options. The system was developed after thorough research to understand what other platforms lack that organizations need. Therefore, the following are some of the benefits of using eLeaP:
Customizable Platform
The eLeaP skills and competency management platform is customizable and can be tailored to meet your organization's specific needs. You can create courses, assessments, and surveys and customize the platform to match your branding.
Easy to Use
It is a user-friendly platform that is easy to navigate. This makes it easy for your employees to access and complete training courses without technical support. They can also self-enroll in any available courses.
Mobile-Friendly
Another critical feature of the eLeaP LMS is its mobile compatibility. The system is optimized for mobile devices, allowing employees to access training materials from anywhere at any time. This flexibility is precious for organizations with remote or distributed workforces, enabling employees to access training materials regardless of location.
Reporting and Analytics
eLeaP also offers reporting and analytics tools to monitor employee progress and identify areas for improvement. Administrators can track employee performance across all competencies and training materials and generate reports to identify trends and areas for improvement. This information can be used to refine training plans and ensure that employees receive the training they need to succeed in their roles.
You should check out this tutorial to learn more about managing skills and competencies on eLeaP.
Take control of your workforce's skills and competencies today with eLeaP LMS – the ultimate solution for efficient and effective training! If you have more questions, please don't hesitate to contact us