5 Training and Development Trends Inspired by the COVID-Induced Remote Work Model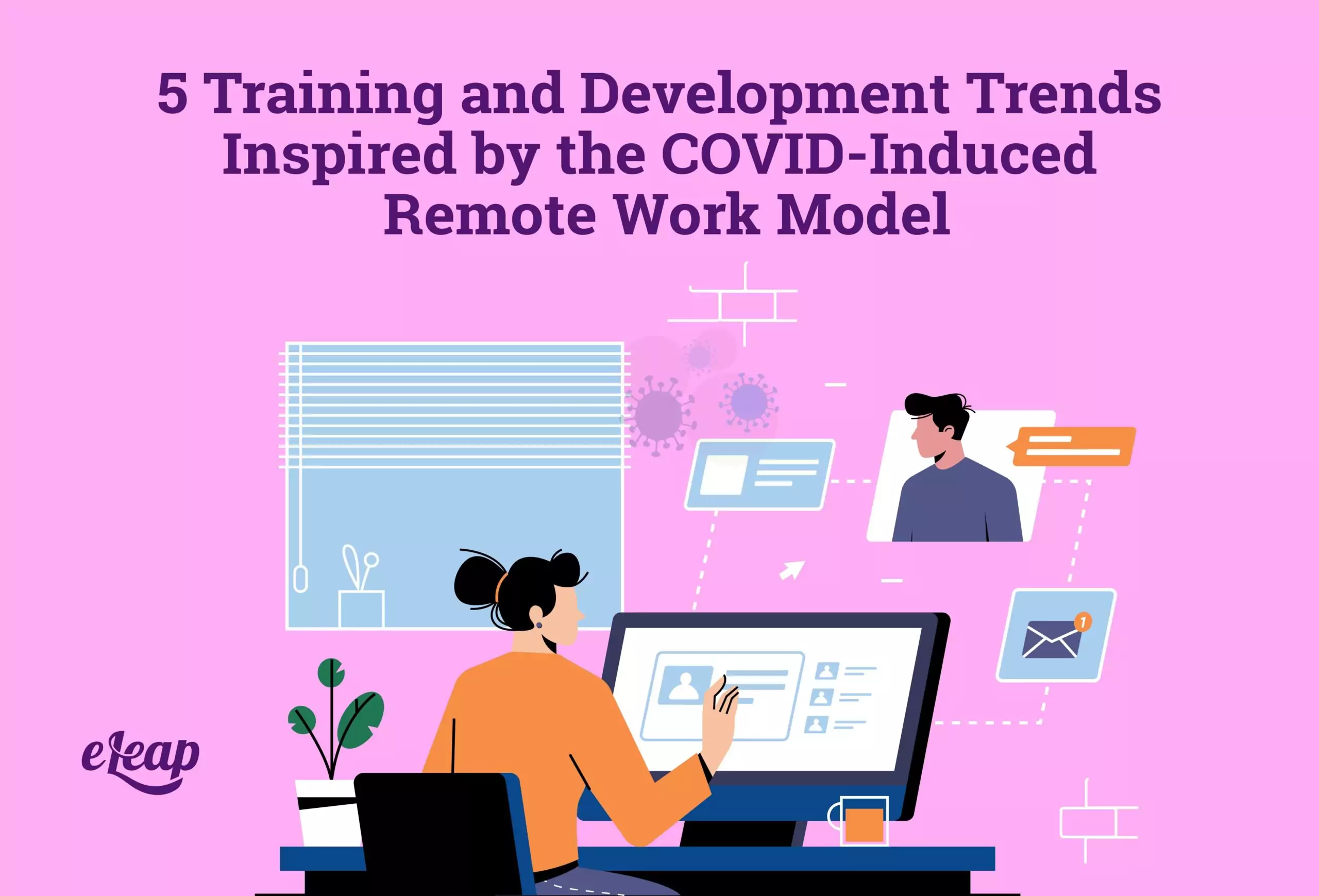 The world has changed in many ways since the early days of 2020 when everyone was sent home for the foreseeable future. Although there was (and still is) a lot of struggle, sadness, and loss, there has also been some good to come out of being forced into a remote lifestyle. In the world of corporate training and development, there are a host of new trends and best practices that were initially adopted on an as-needed basis. Although they initially were expected to be temporary, they've become so successful that companies are now implementing them as full-time policies and procedures to deliver a better workplace and a better workforce.
Across the various trends discussed below, there is one thing in common: leveraging technology to improve the training and development process instead of just "making it work" or creating a temporary solution to what is quickly becoming a permanent need. Some companies have returned to the workplace. Others are still remote. Some are offering hybrid schedules to employees in light of the changes in the way people work. Regardless, they are making these decisions with the assistance of modern technology and tools that are improving L&D for organizations across the board.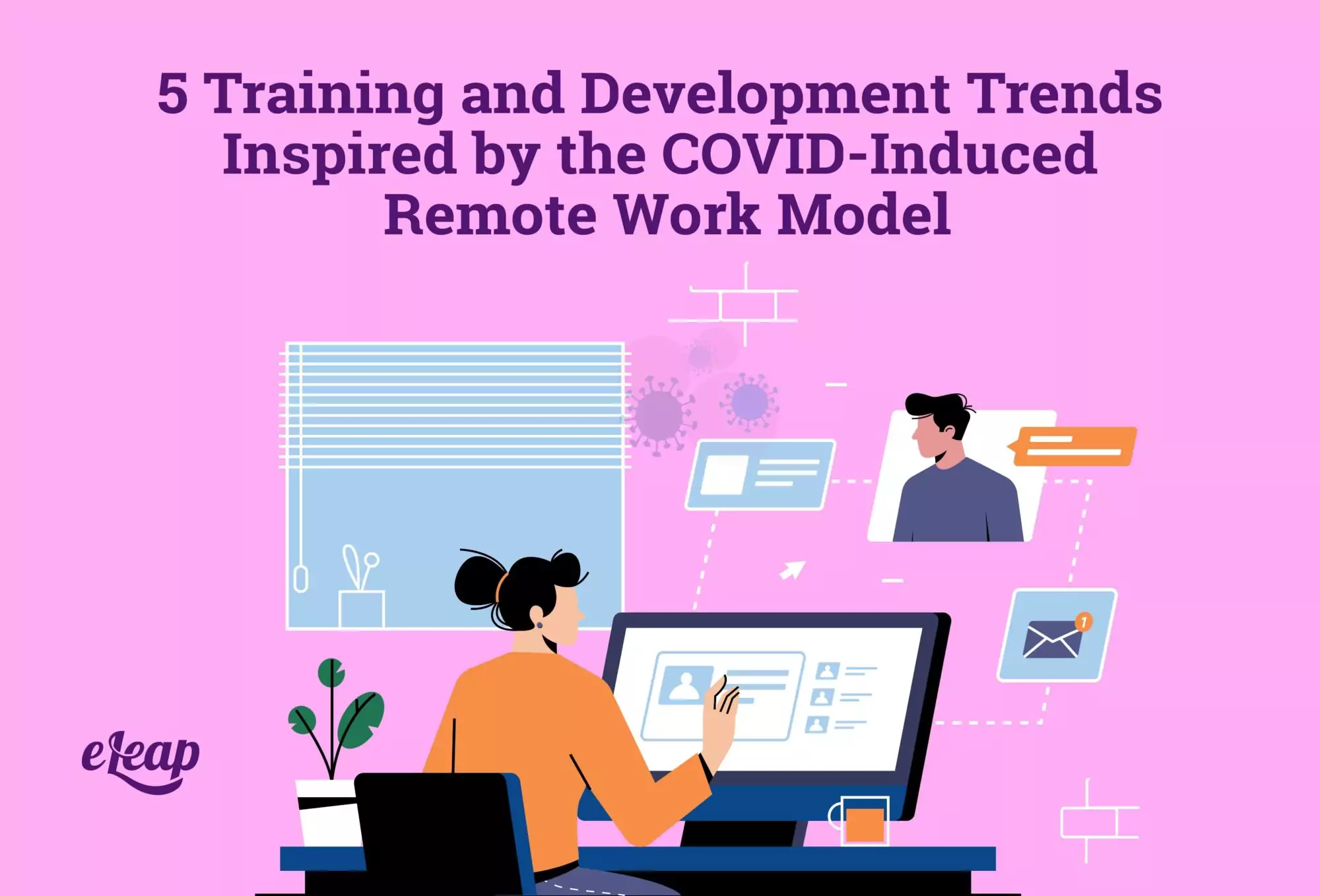 Learning within the Flow of Work
In the past, training was static, interruptive, and administered on an as-needed basis. It often wasn't taught in a practical application format and translating the skills back to the job was left to the employee. Today, organizations are embracing creating a learning-focused culture where continuous learning exists in many forms. Employees are busy, and the average worker only has about 24 minutes of extra time per week to commit to "formal learning"—if you want them to learn, you have to give them the tools and the time.
The focus is more immediate and directed toward how the business can improve at this moment, in this situation, thanks to its agile structure and development tools. Companies that look for the opportunity to add learning activities or revamp material to create micro-courses that are accessible to employees during their regular work routine. When you've got people who can't rely on the in-person advice or training the world once knew, you need to take an integrated approach.
AI-Powered Learning
With the assistance of AI-powered learning, organizations will be able to continue to tailor learning programs to their individual employees and roles. These platforms will also allow companies to track the progress and performance of each employee and integrate with the PMS and other tools that the company uses. The customization that is offered is a large part of the reason for its popularity—people learn better when they have a personalized solution and learning environment.
It's the right time to focus on engaging and motivating employees for retention and a culture shift. Part of that comes in embracing AI-powered learning and development opportunities to help your people get more out of their L&D for their benefit, as well as that of the company.
Asynchronous Approaches with Collaborative and Self-Paced Learning Opportunities
Some online learning programs are self-paced. Others have a collaborative, team-focused approach with the aid of video meetings, etc. Today, it isn't a matter of which one is best, but how to create a combination training and development solution that offers both self-paced courses and collaborative team meetings or group training sessions. As with other training and learning, it's best if these are also worked into the daily flow, instead of being offered as a static course that has to halt the work or take up valuable personal time.
Offering an asynchronous approach will ensure that all employees get the right L&D solutions and that no one lags behind. It will also help you determine which types of training are more effective for certain topics or positions, and so forth. Essentially, it's going to give you the chance to completely personalize learning for your employees, which only sets them up for much more success. You'll also see retention and engagement increase, training and development progress improve, and people who suddenly want to learn and grow because they feel like it's a valuable part of their career, thanks to the tools they've been given.
Streamlined Training and Processes
Because things are more dispersed, there was a huge need for a more streamlined, efficient training and learning process that companies could disseminate in various ways to accommodate all employees. People could be in different time zones and a variety of other obstacles present several potential risks for complex training and onboarding. Fortunately, that same AI and automation that is powering modern learning platforms can also streamline your onboarding and training processes.
Streamlined processes will ensure that everyone can easily get to the training materials, know what is required of them, and even help identify learning gaps or potential opportunities for improvement.
Focus on Upskilling and Individual Career Development
More companies are accommodating remote work these days, which creates more competition between the skilled workers of the world because they're all competing for the same group of jobs. Companies that want to attract the best talent will need to focus on providing career development and upskilling. The high-achieving, growth-focused employees that you get in exchange will help build your culture, improve employee retention and engagement, and so much more.
The Changes Continue
The pandemic is not "behind us" and the world is nowhere near back to "normal".  It's not likely that we will ever go back to where we were before. We can only move forward and as organizations strive to do that, they need to adopt the best parts of remote work to help them develop and deliver the best solutions so that they can attract and retain the best candidates, no matter where in the world they are.
Keep up with the changing trends, invest in a quality learning and development solution, and take advantage of improving remote work for your employees by taking advantage of what others are doing successfully.
Here at eLeaP, we can provide you with the solutions you need to improve your company culture and employee training program, helping you to garner your results. Go ahead and give us a call at (877) 624-7226, we would be happy to provide  a free consultation on this topic!