21 CFR Part 11 Compliance and Your LMS
Learn the Key LMS Features Necessary for 21 CFR Part 11 Compliance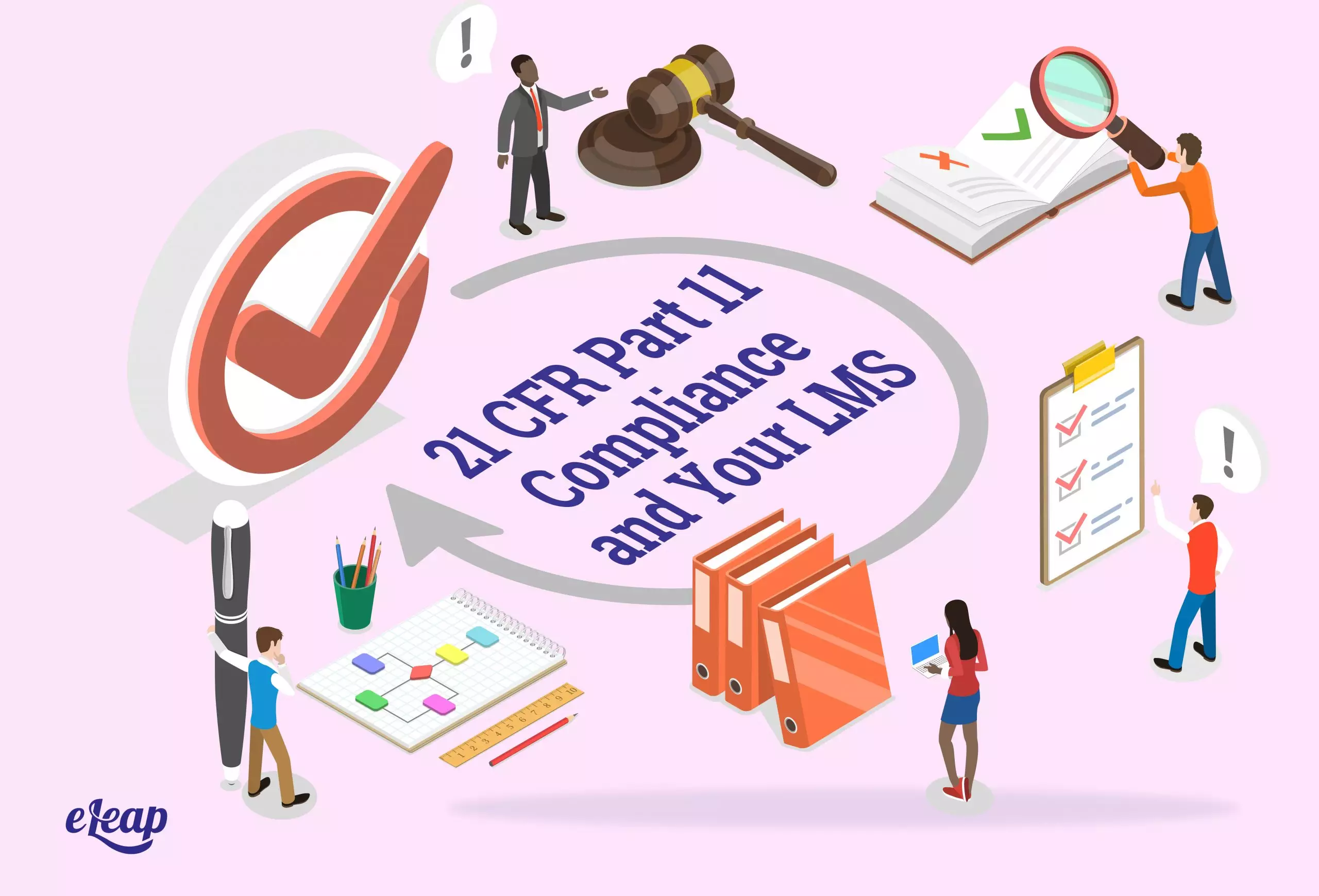 The right learning management system can offer some pretty important benefits for your business. However, there are many things that must be considered whether you have an LMS already in place within your life sciences company, you're looking to migrate to another platform, or you're interested in finding your first one. One of the most important today is 21 CFR Part 11 compliance. These federal regulations represent the benchmark for all systems.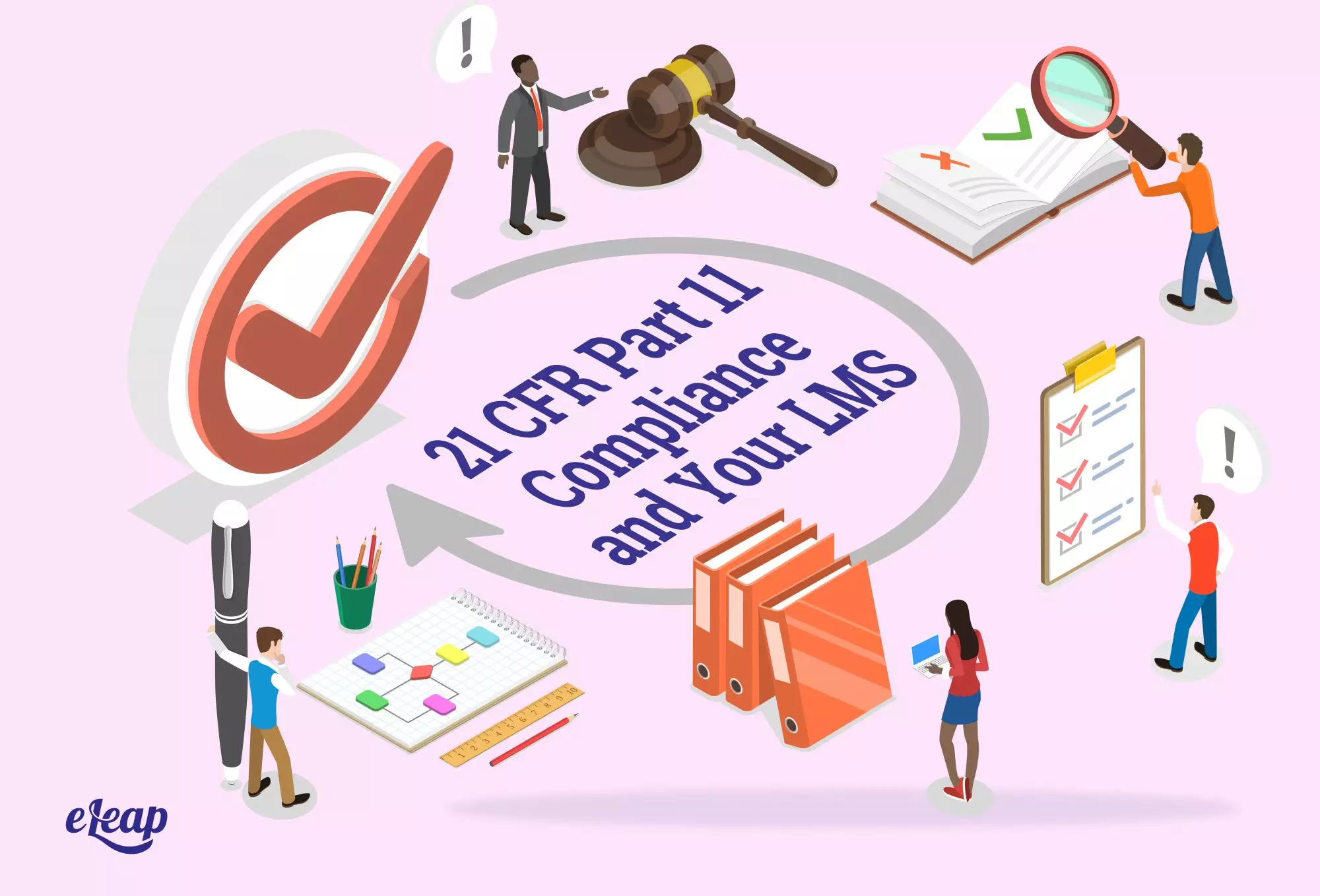 How do you know whether a particular LMS meets those requirements? There are several things you can do. First, browse through the LMS developer's literature to find out if they state they comply with those regulations. If you cannot find any supporting evidence, it's a good bet that they don't. You can also look through the system's features to ensure that it complies with the FDA's rules and that it delivers the functionality that you need within your business.
What functionality is necessary for 21 CFR Part 11 compliance and your LMS, though? Actually, there are many things to consider. In this post, we'll explore some of the most critical and what they mean for your life sciences company.
Reporting
Accountability, traceability, and audit capabilities are at the core of 21 CFR Part 11 compliance. The right LMS offers the ability to generate reports that provide access to critical information for administrators and users. Make sure that the LMS you choose can generate reports in the formats that are right for/used within your organization. For instance, if you usually need PDFs, then choosing an LMS that only offers CSV exporting is likely not the right decision. Other formats that might be important for your life sciences business include HTML and Excel. Ideally, the LMS you choose will offer the ability to export in all four formats.
Versioning
How many versions of each course are out there? How much control do you have over the ones in use within your organization? If yours is like many other life sciences businesses, chances are good that you have limited control, or might not even be aware that multiple versions exist. That can lead to serious problems for your learners (and issues with 21 CFR Part 11 compliance, too). The right LMS gives you direct control over the different course versions, providing you with the ability to provide information about the course version completed by an employee during an audit, or even provide that information in a digital transcript.
E-Signatures
Electronic signatures are part of the foundation of the FDA's rules. What is an electronic signature, though? Really, this is nothing more than the combination of information used by an individual to access your system – a username, and password, combined with specific course version, login time, and other information. All of this data must be captured and is used as a legally-binding digital signature considered under the law as the equivalent of an individual's handwritten signature.
Audits
Auditing is a critical consideration for all learning management systems, but even more important when it comes to complying with the FDA's mandates. Changelogs, user tracking, who initiated changes, when those changes were initiated and when they occurred – these are all examples of data that must be tracked and identified within an audit. It provides accountability and traceability, helping to ensure safety and security for the system and the information it contains. Auditing includes several different areas of the LMS, including sessions, courses and modules, exams, transcripts, courseware, and more.
Data/Record Storage
In order to comply with FDA regulations, the LMS must include a constant recording feature. This is a proactive tool that ensures information is saved and stored against future need without administrators having to set recording rules manually. The right LMS will include electronic storage that supports automated inspections, auditing, and in-depth reporting.
Secure Platform
Platform security is a major concern when it comes to learning management systems. The right LMS will be cloud-based, always up to date, and will include state-of-the-art encryption to help safeguard data, user accounts, and other assets. Make sure that any LMS you consider offers a guarantee of security and reliability for any information stored within the system.
Additional Considerations with an LMS
For life sciences businesses, it's important to ensure any LMS you choose offers 21 CFR Part 11 compliance, but you should also look for a few other benefits and features that will make life easier for your administrators, while also ensuring that your learners have a positive experience.
Automatic Training Plans: Does the LMS automatically generate training plans based on certification condition, renewal requirements, time from last assessment, and career path?
Always Updated: Does the LMS develop handle updates and maintenance? This can take a significant burden off your in-house IT talent and allow them to focus on mission-critical tasks.
Upskilling and Career Advancement: Does the LMS offer the ability to handle upskilling for individual employees? Can you use it to help your employees move forward in their careers?
Ensure Learning Sequence: Does the LMS ensure that learners have completed earlier modules before allowing them to access more advanced modules? Module/lesson sequencing is a significant concern for information mastery.
Is eLeaP the Right LMS for You?
21 CFR Part 11 compliance is critical for life sciences companies. The right LMS is part of that compliance. At eLeaP, we offer a cloud-based solution that is always secure, always up to date, and fully compliant with the FDA's rules and regulations. We invite you to start your free trial now, or get in touch with us to schedule a custom consultation.