What To Consider Before Selecting a Learning Management System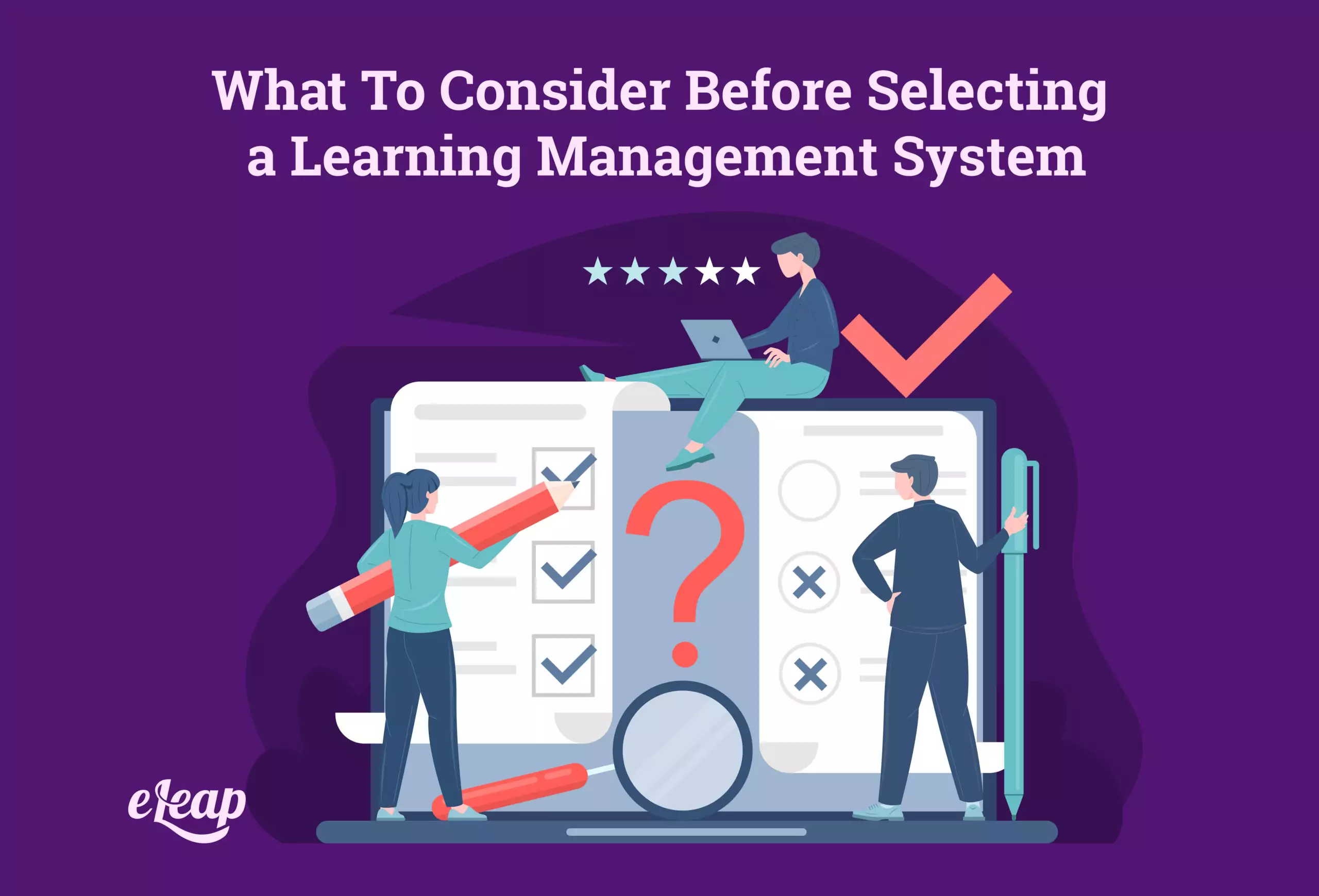 There's no doubt that a good learning management system can change the way that your organization runs. They're pretty much a necessity these days and have the ability to seriously improve your employees' engagement, retention, development, and productivity. If you're considering getting a learning management system, then you've probably already familiarized yourself with the benefits. However, have you taken the time to consider what you should do before you implement a new LMS? There are certain requirements and considerations before you select a learning management system and get it up and running. Here, we will go over some things you should finalize before implementing a new learning management system within your organization.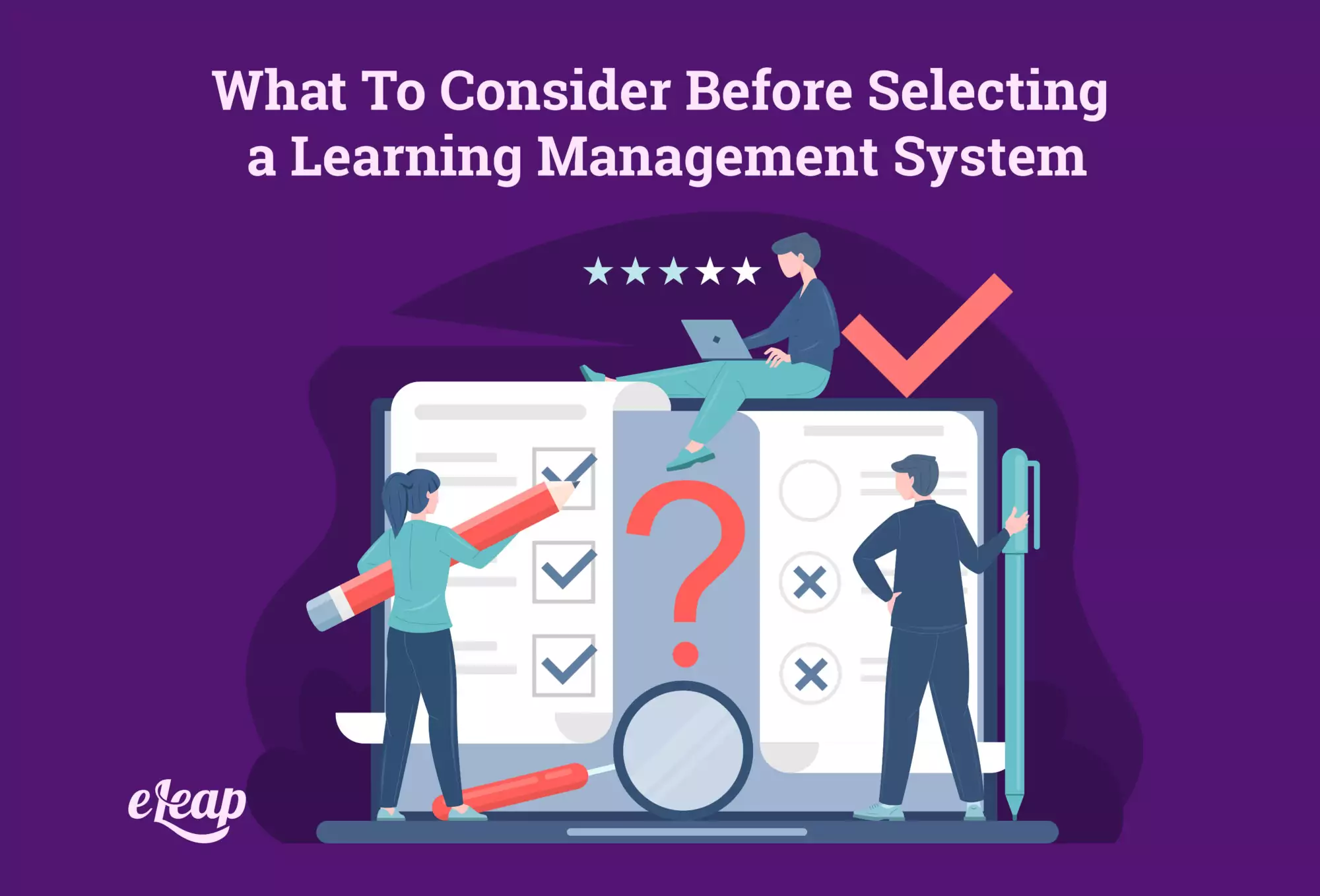 Start By Knowing Your Requirements
Before you can even start shopping for and choosing a learning management system you need to have a solid foundational understanding of your requirements. You can't choose a learning management system that will meet your needs if you don't know what gaps within your company you expect or want your learning management system to fulfill. By listing your requirements, you can avoid selecting a learning management system that has a ton of features you won't end up using. This could end up saving you a whole lot of time and money in the future. You can, of course, also make sure that the system you choose does everything that you need it to. Consider requirements such as the following:
Collaborative learning approaches
Different content delivery capabilities
Simple and easy to use interface with straightforward navigation
Software integration
Gamification
Quick and easy deployment
Easy learning path creation
These are just some of the requirements you might want to consider for your learning management system. The requirements that you settle on as necessities will be personal to your organization's needs.
Build Use Cases
Learning management systems all have their own strengths and weaknesses. You need to select a learning management system that will work as well as possible for your organization. Some systems are tailored more towards customer training or eCommerce. Some might work better for management, reporting, or data compliance.
Whatever learning management system you choose should meet the needs of your company and end-users. In order to best determine this, you should build use cases and ask vendors to demonstrate the system to you. Ensure that these use cases demonstrate the most critical and important functionalities of the learning management systems you are considering. Vendors should be able to personalize the use cases and demonstration to your organization's needs to show you exactly how the system will work for you.
Have a Test Pilot Group
It's important that you pilot and test your learning management system amongst a diverse group of users. This will ensure that you can get detailed feedback on the experience that your end-users are having with the learning management system. Even more importantly, the pilot and testing process will decrease the risk of failure once your system goes live. Pilot testing is also critical for finding out how easy the system is to use, and how well it can be navigated. It will give administrators the ability to test how easily they can use the learning management system for tracking and reporting, too.
The pilot and testing process is critical. Ultimately, you need to make sure that the learning management system will integrate well into your organization and can be easily used by everyone. The only way to do this is with real testing. It doesn't matter how the LMS looks on paper, or whether you've carefully selected it to have the features and functions your company requires, if it doesn't work in the real world, none of those matters.
Decide Upon a Realistic Timeframe for Implementing Your LMS
After all the hard work choosing, setting up, and testing your learning management system is done, you need to implement a realistic time frame for rolling it out. This should be the final set before you finalize the selection of your LMS. How long it will take to implement the system will depend largely on a number of variable factors. The complexity of setting the system up and the competency and efficiency of your chosen vendor will have a big impact on this timeframe, but so will the procedures of your organization. When you're choosing your LMS and speaking with vendors, make sure to touch base with them about the timeframe from implementing the system. You want the vendors to be able to compromise with you and meet any deadlines that you have.
Remember that during this time there will be hoops to jump through such as data migration, pilot testing, training, debugging, and much more. This can be somewhat of a hassle and may interfere with some of the day-to-day workings of your organization.
Because of this, it's critical you're prepared for any interruptions and entirely away for the length of the entire setup process is going to take. You don't want to start out on the wrong foot with your workforce by interrupting their work or causing problems while setting up the LMS. You want them to have the best possible impression of the learning management system from the get-go.
Choosing to implement a learning management system is a good decision, they're certainly the way forward. But it does take some careful consideration and planning before you're all set up and ready to go. You need to make sure that you have done your due diligence when it comes to choosing and integrating your learning management system. In the beginning, while an LMS certainly pays off, it can take quite a lot of time, money, and effort to get one set up. Because of this, you want to ensure that the LMS you choose is the perfect choice for your organization and employees and will meet all of your needs, expectations, and requirements.