Online Course Platforms
The Best Online Course Platforms Have These 11 Qualities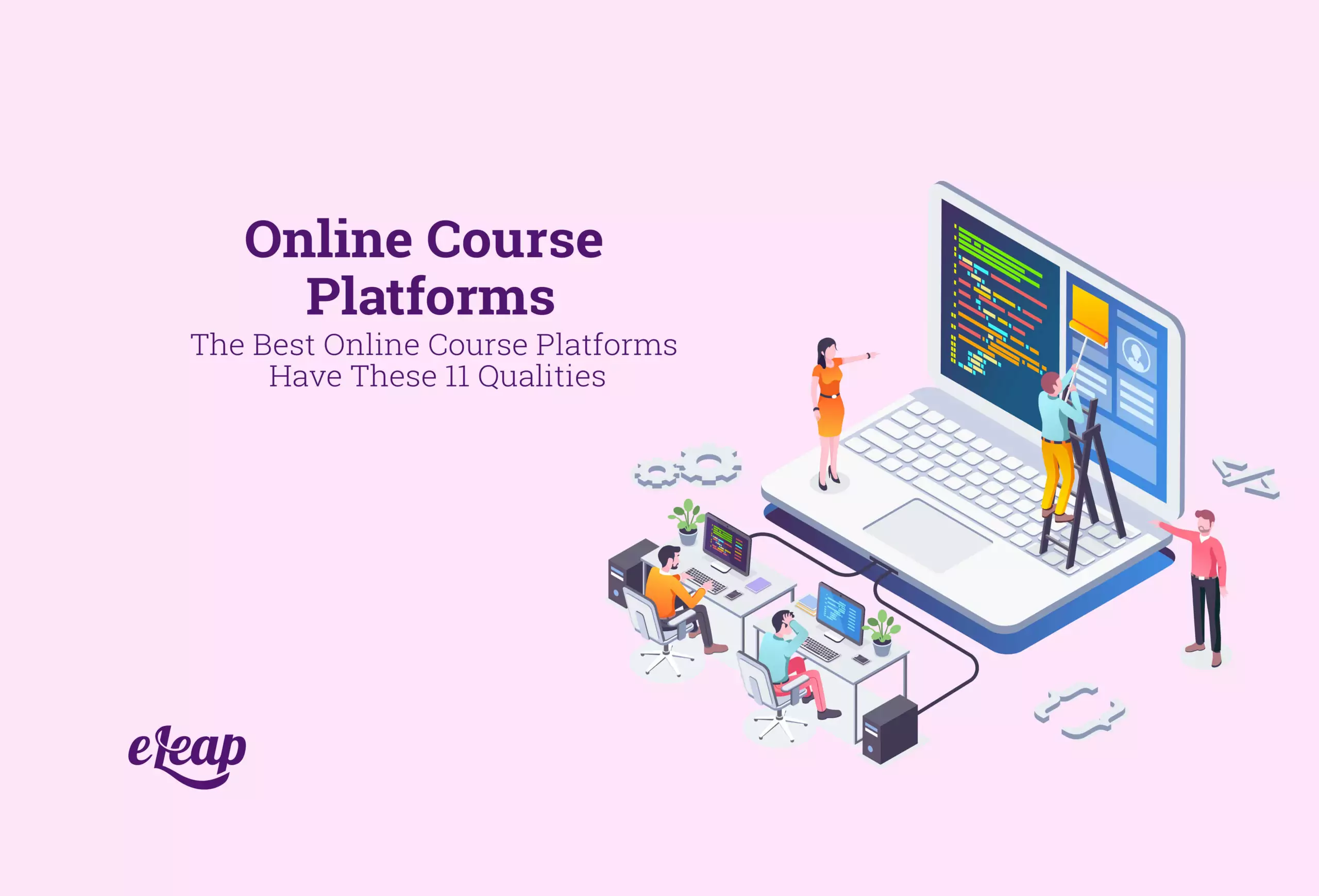 In the world of online course platforms, there seems to be an unlimited number of options. That isn't always a good thing. How do you choose the platform that is best for you and your organization's goals?
The best way to choose the platform for you is to analyze all the available options and their qualities carefully. But who has the time for that? Here are the top qualities you should quickly look for when comparing online course platforms. If you don't see these qualities, eliminate that option, and move on.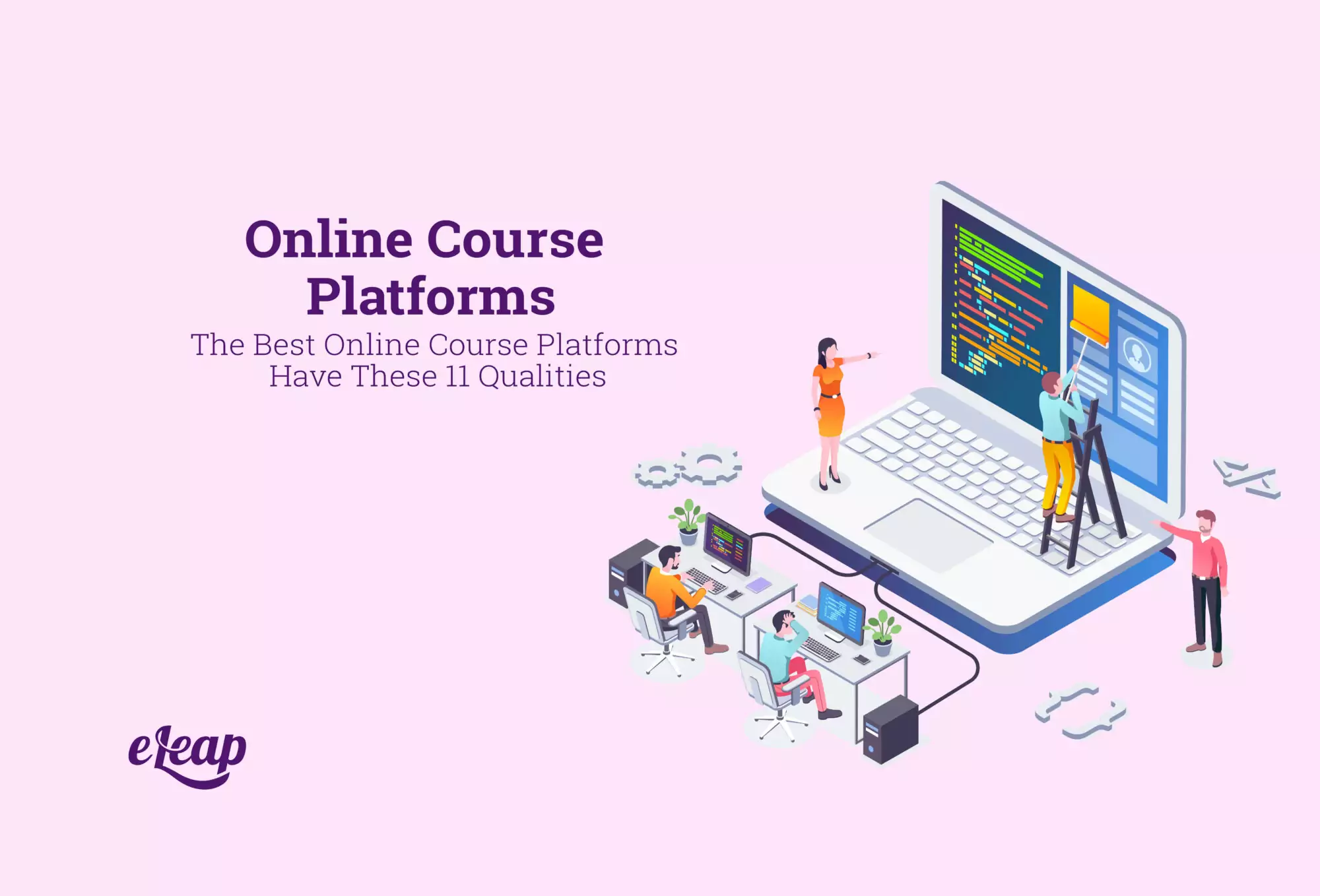 1. Choose user-friendly online course platforms.
The very first quality of a good course platform or learning management system is user-friendliness. If your team can't figure out how to use the platform or the learning curve is too steep, it will go unused. That's a waste of your money and doesn't help your organization accomplish training goals. Be sure to take a tour or a trial run of any platform you are considering to test it for user-friendly design.
2. Choose online platforms with learning tracks.
One of the easiest ways that an online course platform can help individual team members grow is to offer automated tracks for specific roles or skills. Instead of requiring that you or the learner choose which courses to take, choose a platform that will automatically suggest an entire track of courses to go from the current skill level to the expert level of knowledge needed.
3. Choose online course platforms with extensive reporting options.
The benefit of a course platform or a learning management system is that you can effectively analyze how learners are progressing through the material. Choose a platform that offers a broad range of reporting, such as how often users access material, their test scores, which courses are most effective for your overall team, and what areas your team should be focused on. Reports should be helpful and easy to access for management.
4. Social tools can make online learning platforms more fun.
If you can, choose a platform that offers social tools to encourage users to log in more often. Features such as a comment forum for questions or a gamification-style leaderboard can help make learning feel like a team activity. Collaborative learning is also a great way to help your team bond, so consider platforms with features like group discussions and personal update pages.
5. Make sure the learning platform you choose is scalable.
Online course platforms are often designed with multiple tiers of functionality so that you can pay for only what you need. Consider choosing a platform that is scalable as your needs grow. For example, choose a platform that allows you to increase the number of users you have training at one time. Don't worry if you don't see the perfect tier right away. Focus on the platform that offers an opportunity for future growth.
6. Consider a cloud-based online course platform for your hybrid office.
Many modern offices have gone remote or hybrid and having online course platforms that don't require your servers can be a huge help. Consider a cloud-based platform that will go with your team anywhere they are working. This also helps by allowing the team to learn from devices that aren't connected to the company VPN.
7. Be sure online course platforms address all learning types.
One of the best things you can do for your team is to ensure that everyone can learn. Not all people learn by listening to a lecture or watching a video. Consider how many different senses the online course platforms you are reviewing stimulate. Do they offer audio, visual, and kinetic learning opportunities? This is a critical consideration the more extensive your team becomes.
8. Can you brand the online course platform you choose?
Another thing you may want to consider is a "white label" online course platform. These platforms allow you to add your branding to the courses, which can help with company culture. If your organization has many locations and staff worldwide, presenting a unified training platform makes the information more uniform. This is also very important if you intend to offer training to customers of products.
9. Can you add your own videos and training materials to online course platforms?
Some online course platforms only offer the material that the platform designer has included. However, some have authoring tools that allow the organization to upload their own training as well. This can be a significant benefit to a platform. It allows you to include product-specific or uniform company training that keeps all employees on the same page for specific tasks.
10. Be sure that the customer service for any platform you choose is responsive.
When testing out a new online course system, try submitting a question to customer service. Check for quick and accurate responses so that you trust that your team members can get the help they may need.
11. Is the platform you are testing mobile responsive?
Another vital thing to consider is how responsive the platform is across devices. In a modern workplace, being "on the move" is common. Can your team access training on their mobile phones or tablets while traveling or commuting? This can help improve workflow and encourage your employees to learn when it is best for them.
Evaluating Online Course Platforms for Your Organization
With so many options to choose from, it can be overwhelming to evaluate online course platforms for your organization. These 11 characteristics can help you narrow it down, but don't worry if you don't find the right platform the first time. The best thing you can do for your team is to invest in their education, even if it takes a few tries to find the best fit. Start by trying the eLeaP online course platform.
As your organization grows and your goals change, you may find that you need to re-evaluate your learning platform options. That is normal. Continue using these guidelines to help choose the best platform for your growing team.