LMS Schoology
Project-Based Learning: What LMSs like Schoology Are Doing Right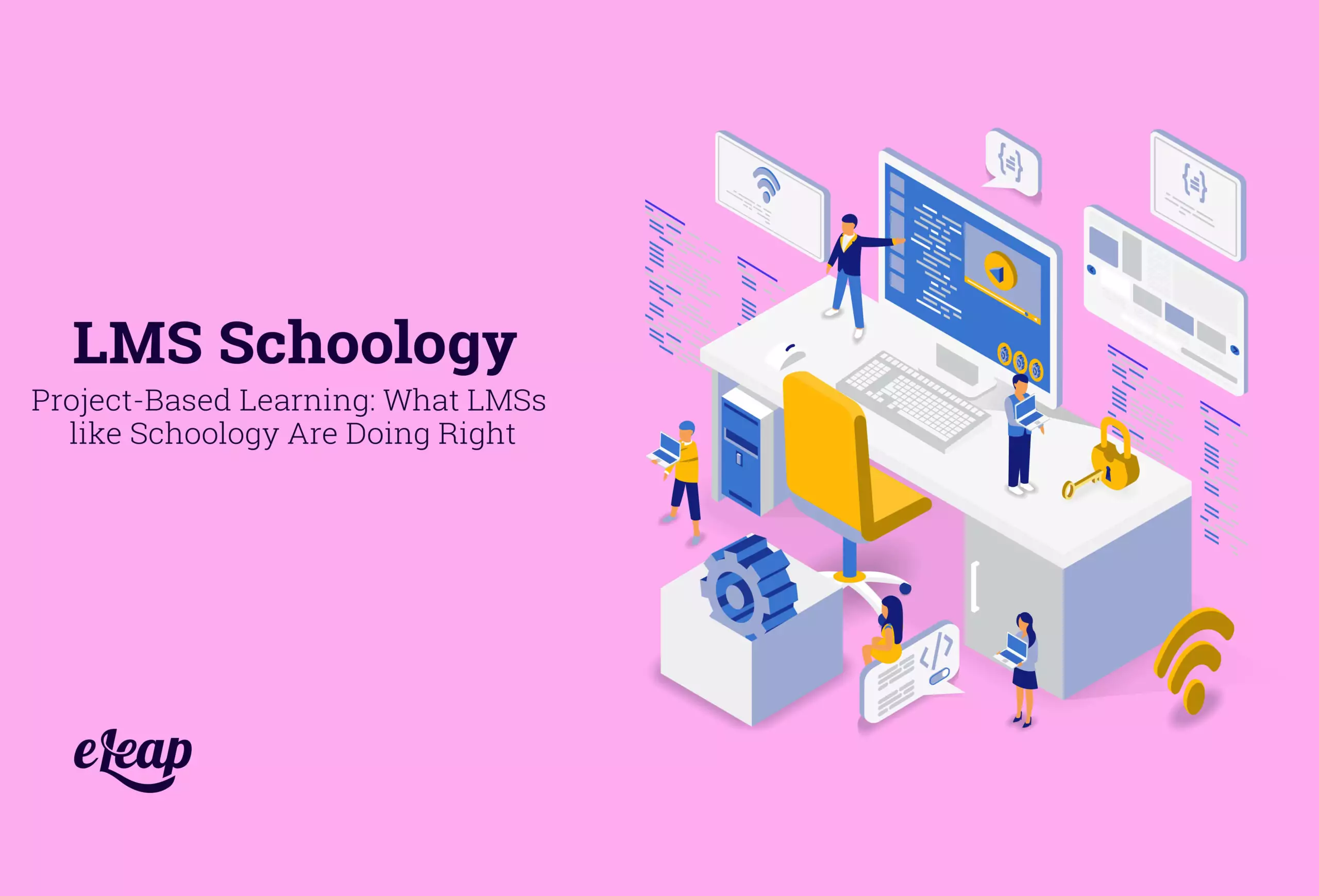 The LMS, or learning management system, industry is full of options for corporations and schools alike. One thing that makes an LMS like Schoology stand out is the unique options for all types of learners. In this case, Schoology stands out because of its focus on project-based learning, something that can be useful in the office as well as a classroom.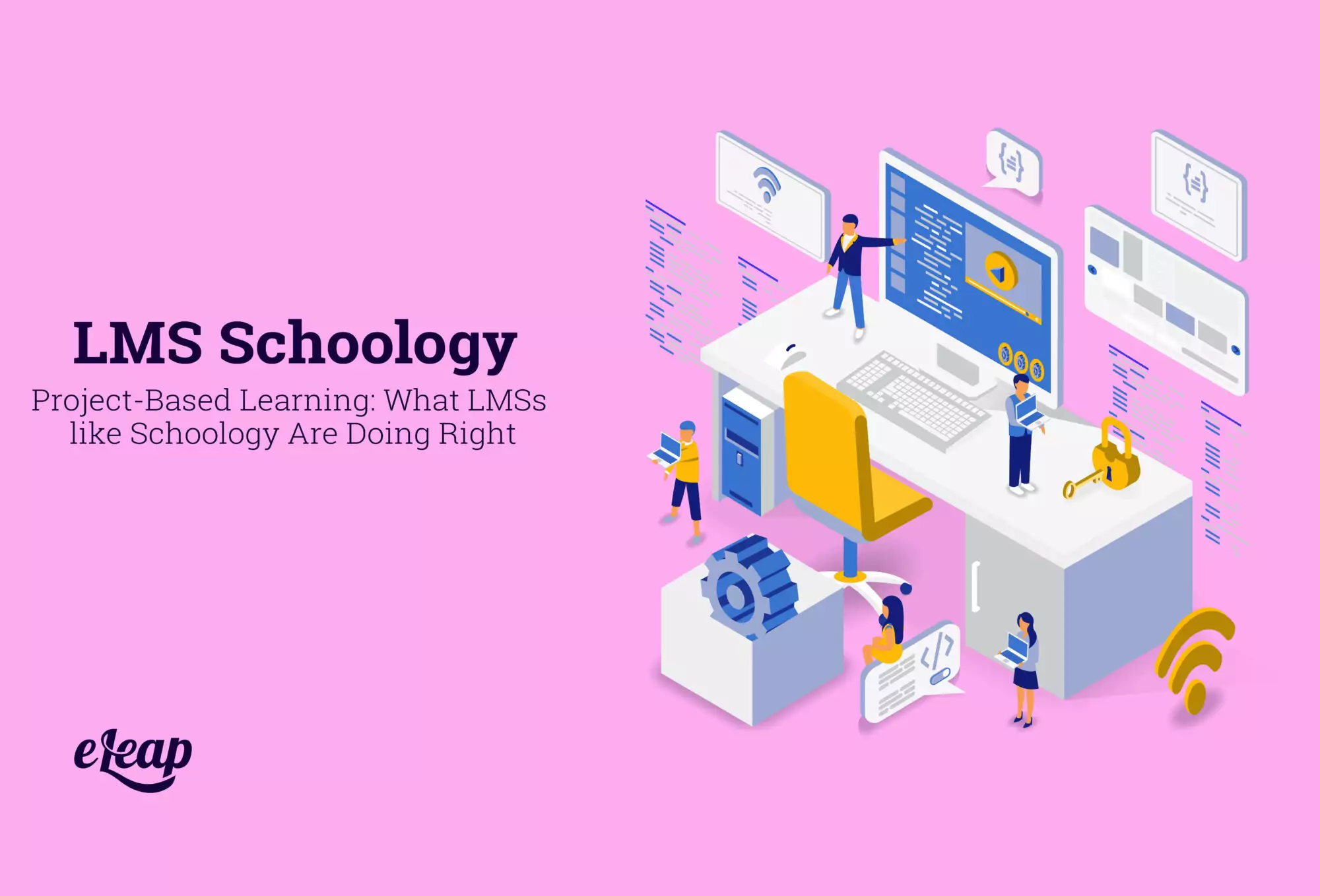 What is Project-Based Learning?
The LMS Schoology is designed for schools to teach minor students, so their definition of project-based learning is a training method that requires students to investigate a complex problem over an extended period.
That means that students are given a real-world puzzle or problem and are then asked to solve it. They aren't given coursework to guide the solution – instead, they use what knowledge they have gained so far to assess the problem and create the solution on their own.
This can be individual work, or it can occur in groups. Project-based learning is considered a progressive choice in the world of academic LMSs like Schoology. But how can you bring that into your office learning environment?
How an LMS like Schoology Designs Project-Based Learning Activities
To understand how you can adopt this practice within your office training, take a look at the steps an LMS like Schoology uses to design a project-based learning course.
First, there must be a goal for the project. For most academic LMSs, Schoology included, the focus is on teamwork. Therefore, instructors will be asked to consider grouping students with different learning styles together to take advantage of their unique skills. Consider how you can group your employees so that a diverse range of learning styles is represented.
Next, the instructor will set up times to check in with the group. Every group is expected to have specific targets they are hitting as they go through the project process. Be sure that groups set small learning goals to achieve in your workplace training and that you check in with them regularly.
Projects within an LMS like Schoology are assessed on the strength of the teamwork, how well the driving problem has been solved, and the students' resilience when solving the problem. For your own needs, consider how you will assess your employees' growth through the solutions of fundamental problems they could face in the work field.
In the LMS, there are many ways that a group can present their project solutions. You could ask your employees to present a report of their findings, create a training video for the next group of trainees, or submit written reports.
This is how an LMS like Schoology creates a project-based learning environment. But, you may be asking, why is project-based learning such a buzzword right now?
Why Project-Based Learning Works
There are many reasons why educators and trainers prefer project-based learning over traditional instruction, such as:
Learners tend to engage more with project-based learning. It can be difficult to maintain engagement with an LMS, Schoology, or otherwise because it's easy to tune out virtual courses. Engaging the students with projects is a great way to help them retain information.
Projects help learners gain a deeper understanding of a complex topic.
Projects give the course work the context of purpose. Instead of learning for the sake of it, trainees now have a real-world example of why the skills are essential.
Project-based learning helps boost creativity.
Projects can encourage networking and exposure to other departments. This gives employees a chance to be exposed to other areas of the industry that they may not have seen before.
Projects build soft skills, such as communication, initiative, responsibility, time management, and collaboration.
Projects allow trainees to build the confidence they need to solve creative problems in the field once the training is complete.
Examples of Project-Based Learning from LMSs like Schoology
An LMS like Schoology offers many different types of projects that students can use. Here are some examples and some ways to adapt them for your office training program:
Some high school students are asked to create mock business plans as part of a project-based learning assignment. Consider asking your employees to create a template for a new business plan. This can help teach management and business skills.
Many project-based learning assignments are focused on creating informative graphic design for students interested in that industry. Ask your employees to create well-designed infographics of information on your website and let them solve the challenges of how to prioritize the information best.
Event planning is another popular focus for project-based learning. Planning mock events can help teach a broad range of skills, especially collaboration and independent thinking.
These are just some examples but consider what industry-specific technical projects you could offer to trainees. Next, we'll look at how an LMS like Schoology ensures that projects will be successful.
The Most Important Elements of a Project
To design an excellent project for learners, LMSs like Schoology consider these elements:
Why does the trainee want to solve this problem? What is the exciting hook that will keep them motivated during the project?
Does the trainee have the autonomy to choose how they will solve the problem? These critical thinking skills are essential for the process to work.
Does the trainee have access to all the content and resources they need to solve the problem?
Is there a public presentation aspect that allows the trainee to show or report their answer?
Is there an instructor or mentor in place to critique and review the project along the way?
These elements will help you design a great project for your learners.
Bringing Project-Based Learning into Your Office
If you have been considering an LMS like Schoology precisely because of the excellent project-based learning activities, you are in luck. Corporate LMS software offers projects for learners, and it's not as hard as you may think to design your own. Project-based learning is a fantastic way to engage your employees in a culture of long-term learning.