LMS Edgenuity
Corporate vs. Academic LMS: Is Edgenuity the Right Choice for Your Office?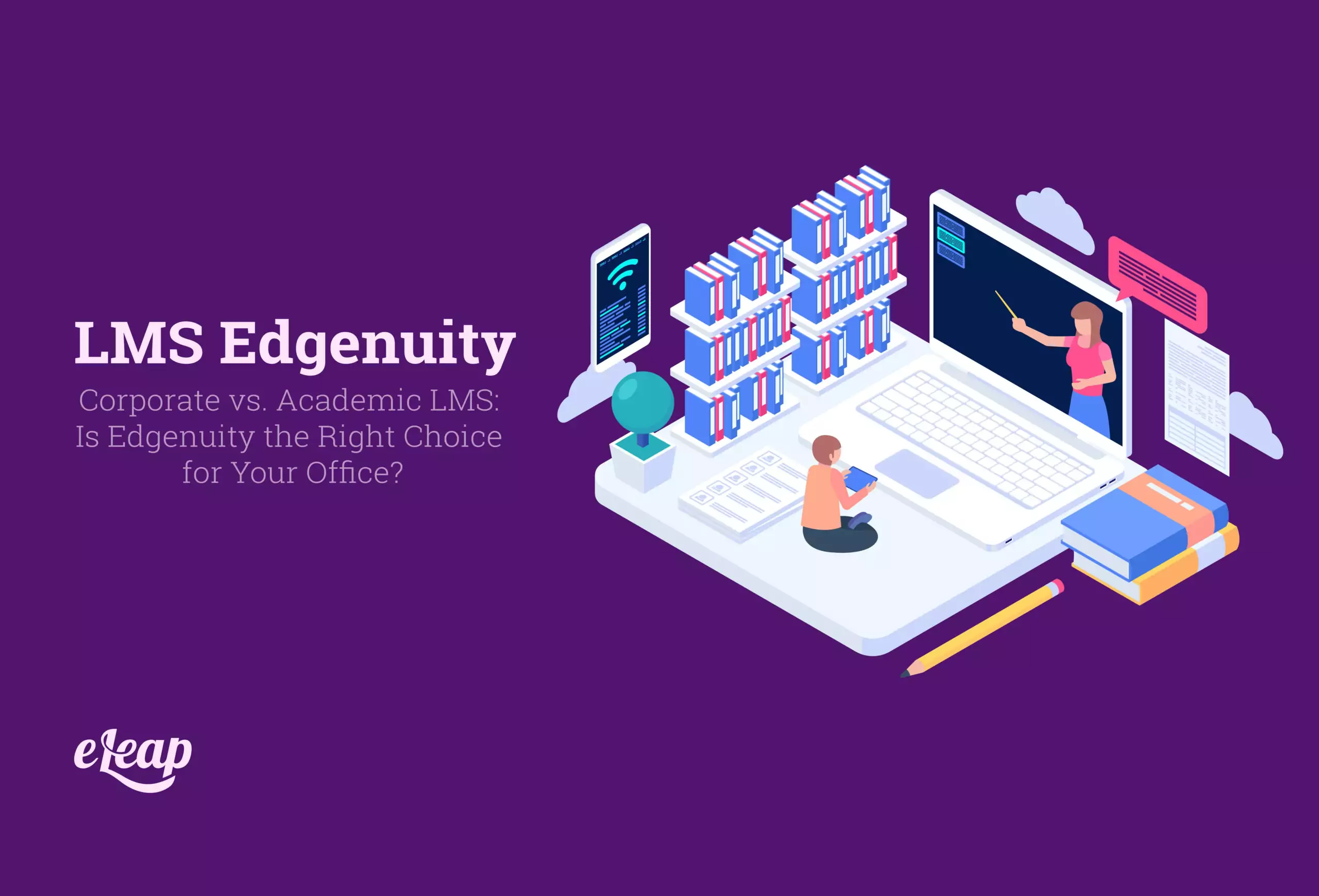 In the bustling marketplace for learning management systems (LMS), it can be challenging to know what option is best for your office. There are systems explicitly made for use within a workplace, but educational systems have begun offering office solutions. The LMS Edgenuity is one such example.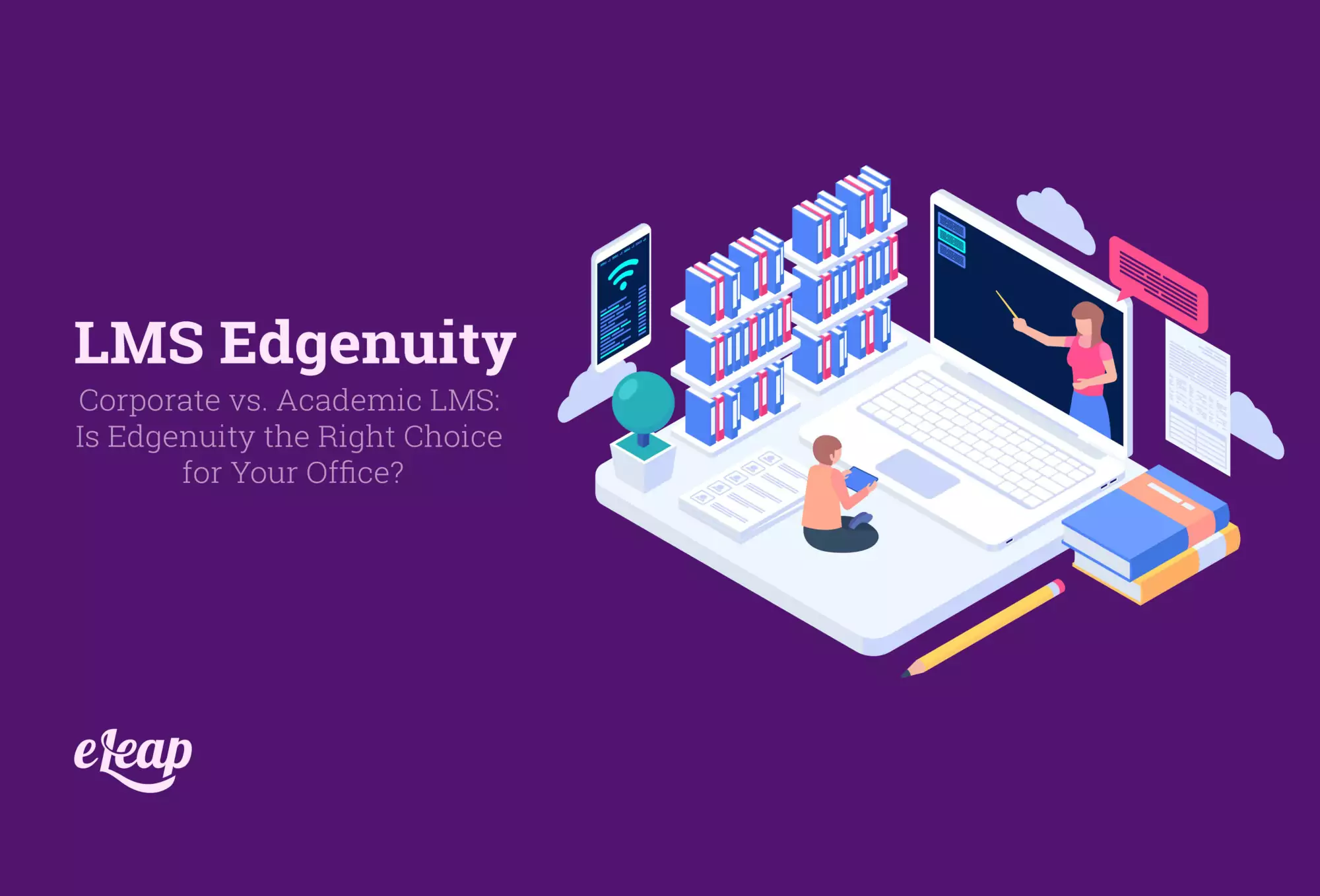 Originally an LMS for schools that offered virtual learning, Edgenuity also now offers training for professional workplace settings. How do you know if this is the right option for you? The best way to choose is to understand the pros and cons of an LMS specifically for a corporate setting instead of academic software.
The Differences and Similarities Between Corporate and Academic LMSs
There are three main similarities between a corporate LMS and an academic LMS like Edgenuity:
Each software offers remote access to virtual learning content. Learners can work at their own pace, at the time that suits them or their schedule.
Each software allows for managing the type of content that is offered to the learner. Some LMSs do this better than others.
Each software allows for automation of the learning process with things like learning tracks.
However, there are some significant differences between these two types of systems:
They each focus on different needs for the learners. Corporate LMSs tend to focus on helping learners gain expertise in a specific skill or field. In contrast, an academic LMS like Edgenuity would focus on the student's general education.
They each offer different things to the administrators. Corporate LMS software is designed to show the manager that the employee is progressing through the courses and how well their skills are advancing. An academic LMS would offer far more reporting and collaboration between the student and the instructor.
Another difference is the very definition of education rather than training. Academic LMS software is there to educate a student – in other words, it's there to teach a student why we do things. Corporate LMS software is there to train a learner on how we do things. That's a big difference.
What to Consider When Choosing an LMS
If you aren't sure if an LMS, Edgenuity, or any other such as eLeaP, is right for you, here are some qualities to consider:
How often does the LMS get updated? An academic LMS like Edgenuity may be more stagnant than a corporate-specific LMS. The business landscape is ever-changing, and you need software that will keep up. Academic education doesn't progress as fast as technical knowledge for a profession.
Is the LMS based around an academic school year? This may not be the correct timeline for your office. For example: If your office has a hectic season in the fall to prepare for the holidays, it may not be the best time to start a new course load. But an academic LMS could be built around that schedule. Corporate LMSs are often less bound by a specific schedule so that you can use them when it works best for your team.
What kind of certifications are offered by the LMS? Edgenuity and other academic LMSs may still use terminology like "grades" when you really need a simple strengths and weaknesses assessment or a technical certification.
What kind of social aspects exist in the LMS? Academic LMSs often offer more peer-to-peer collaboration for group project assignments. Corporate LMSs can offer this but focus more frequently on curating more content than a social experience.
Can the LMS be integrated with other software you use? Corporate LMSs are often designed to work with accounting software, or PowerPoint, or similar tools. This allows you to export data and presentations with ease for reports. But an academic LMS may not offer this same capability.
What kind of tech support does the LMS offer? Because academic LMSs are often geared towards underaged students, customer support may not be in place to handle user questions or needs. An LMS designed for adults should offer a full tech support service that your employees can access on their own if needed.
Is the overall user experience designed for professionals? An educational LMS like Edgenuity may still have some academic classroom design that can feel immature to some users. A corporate LMS usually offers a white-label design experience that allows you to brand the coursework with your professional look and feel.
These are some things to consider as you compare the LMS options that exist.
Should You Choose a Corporate LMS Instead?
There is no hard and fast rule about which LMS works best for offices. You may find that your organization thrives with an academic LMS. One significant benefit of an LMS like Edgenuity is that these software designers have been around for a long time. Academic LMS platforms have plenty of experience meeting the unique needs of different types of learners, for example.
Another benefit to an academic LMS is that they offer more robust control to the administrators or managers. These are two reasons not to throw out the idea of an academic platform right away.
Consider the needs of your organization's training program. Do you need generalized knowledge on a broad range of topics, with more control given to administrators? Does your organization tend to work best on the same schedule as the typical school year?
Or, does your organization need more automation for professionals who need to focus on gaining expertise in a niche topic? Do you need the integration and branding capabilities of a corporate LMS? Is the academic school year compatible with your schedule?
Finding the Right Tool for the Job
Finding the best LMS, Edgenuity or otherwise, for your team is difficult. But carefully choosing the right type of platform will help you narrow down the options. Once you've chosen between a corporate or an academic LMS, you can then go on to test out the myriad of choices within each type. Knowing the way these two software types work is the best way to start making an informed decision.