How to Configure SAML 2.0 for eLeaP LMS
How to Configure SSO, API for Learning Management System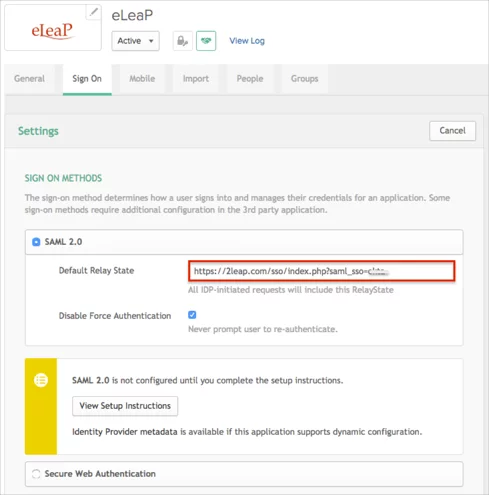 How to Configure SAML 2.0 for eLeaP LMS (using Okta SSO)
Before configuring your SAML 2.0 using the instructions presented here, you must have an Okta SSO account (or similar). You can try Okta free for 14 days here.
This setup might fail without parameter values that are customized for your organization. Please use the Okta Administrator Dashboard to add an application and view the values that are specific for your organization. Here's a link to Okta's instructions on how to integrate eLeaP.
Send an email to to the eLeaP Support team at support@eleapsoftware.com including a request to approve/activate your Okta SSO instance.
Copy the following metadata URL and include it with your email:Sign into the Okta Admin dashboard to generate this value.
In Okta, select the Sign On tab for the eLeaP app, then click Edit.

Enter the following value into the Default Relay State field: https://2leap.com/sso/index.php?saml_sso=[yoursubdomain]For example, if you log into https://acme.2leap.com, yoursubdomain is: acme.

If you are unsure of what your Default Relay State value is, contact eLeaP at support@eleapsoftware.com.

Click Save.

Make sure your Subdomain and Company Name values are entered correctly.
Click Save.Still in Okta, select the General tab for the eLeaP app, then click Edit.

eLeaP will notify you when SAML has been enabled..
Done!Notes:

IdP-initiated flows are supported.

SP-initiated flows and Just in Time (JIT) provisioning are not supported.
Contact eLeaP to discuss any of these choices or even custom requirements you might have. We try to be as flexible as possible. Call us 1-877-624-7226 or email help@eleapsoftware.com
Additional information?