Designing a Weekly Developer Check-In for Learning and Development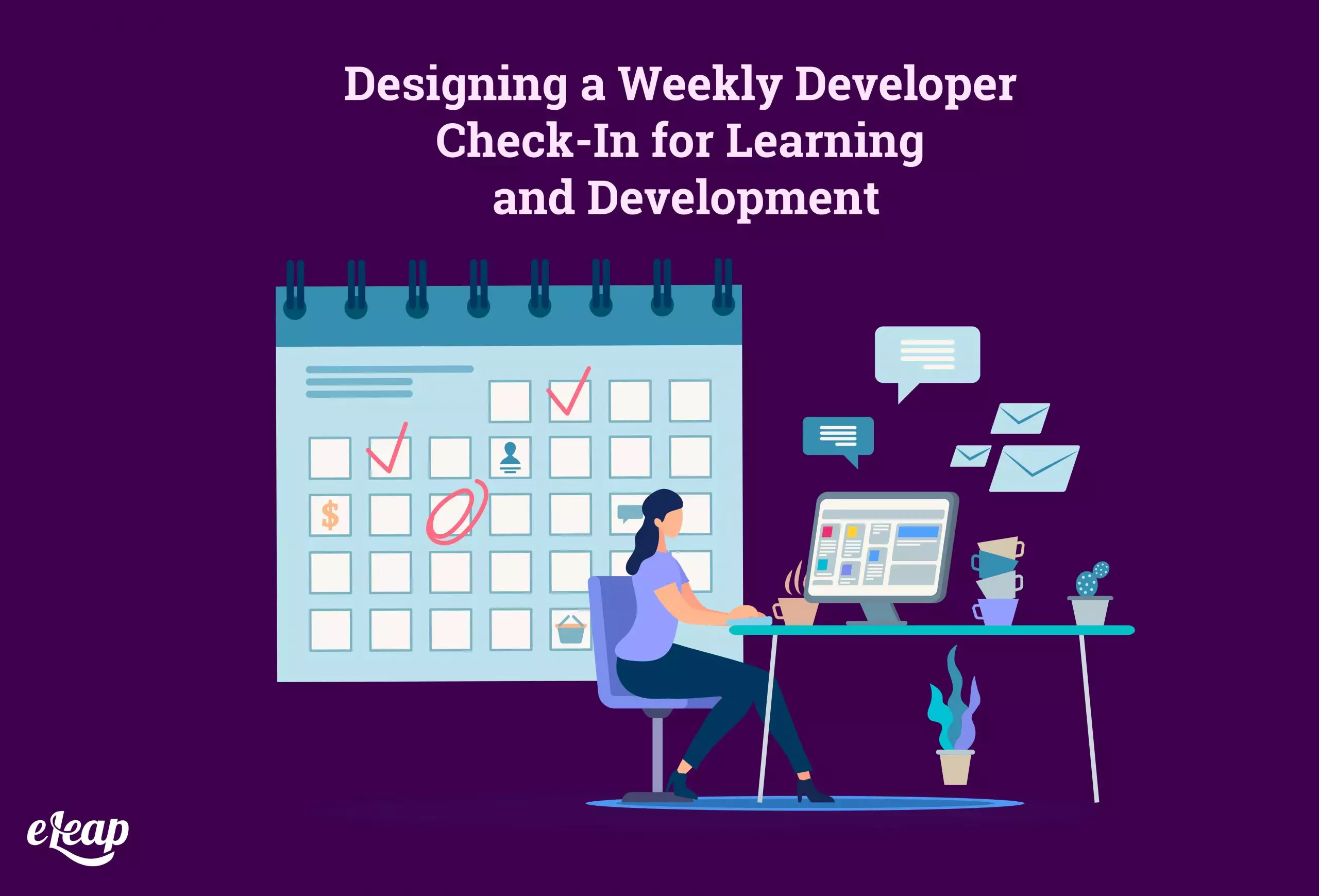 Usually, check-ins and conversations relate more to performance management than to learning and development. However, they're actually two sides of the same coin. You can't have one without the other, and when you get right down to it, the lines that separate the two tend to blur when looked at closely. That makes it natural to combine traditional performance management-focused activities, like check-ins, with L&D. One such example is to create a weekly developer check-in that can be used to track learning and development progress and even inform future activities.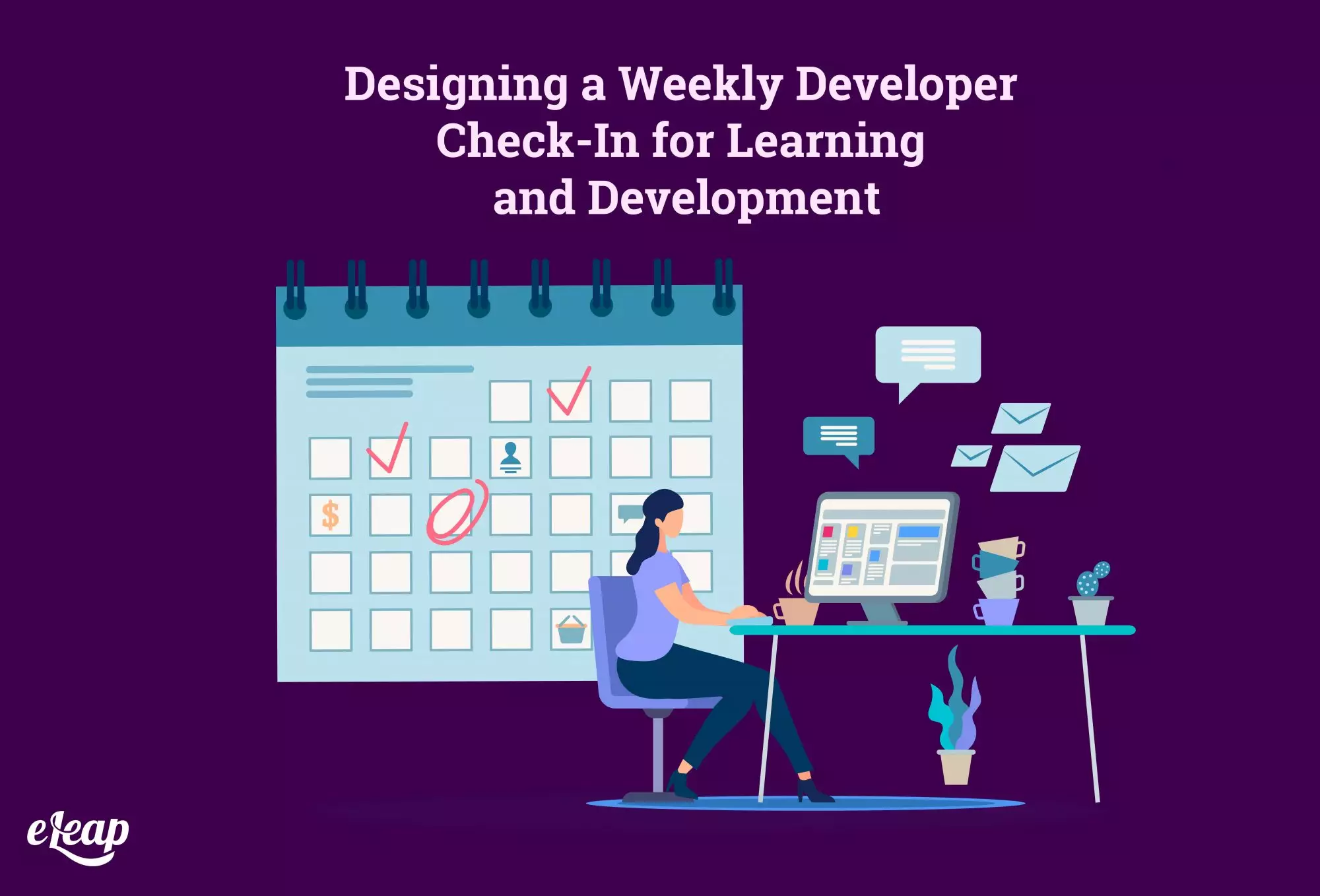 What's a Weekly Developer?
A weekly developer is nothing more than a form (digital or hardcopy) that helps you track key information each week, connect the dots between events and underlying causes, and chart a course for improvements. They sound pretty formal, but they're not. You can build them into your PM/LMS software, or you can go the traditional route, although we recommend digital since it's simpler to keep track of everything in one spot and ensure that all stakeholders have access to the information.
What Should Be Included in a Weekly Developer for L&D Purposes?
Chances are good you're using something like a weekly developer during PM check-ins every quarter, month, or week. You can use the same framework to help flesh out and guide L&D initiatives, make sure that courses and materials are relevant to individual employees, and more. Of course, to do that, you'll need to understand what to include.
There's nothing set in stone here, and each organization may find it helpful to create a custom developer to suit their needs, or even to create something specific to departments, teams, or individual employees. To help you do that, we'll explore some of the things you might want to include.
What challenging situation did you face this week?
The answer to this question can offer a great deal of insight into many different aspects of an employee's day, responsibilities, and ability to handle various situations. Based on the answer, you can decide many different things, including whether additional training is needed to help an employee deal with specific types of situations (de-escalation to handle challenging customers in need of support, for instance).
Do you feel that you have the training necessary?
This might seem like a pretty basic question. After all, if the individual is in a particular position, shouldn't they have received the basic training necessary to perform those duties? Yes and no.
There are a couple of things to think about with this question. One of those is whether or not you're providing your team members with the training they need. If they answer "no", take a long, hard look at what's being provided training-wise, bump it against job responsibilities, and ask yourself some difficult questions.
Another thing that this question can reveal is where employees may have disconnected during training or where they weren't able to absorb what was being taught. For instance, if an employee says that they have not received the training necessary, but not only have you provided relevant modules, but you've double-checked and helpful information was covered, it shows that the employee should probably go through a refresher. It may also show that the employee needs a different type of learning.
What one thing have you learned this week?
This question doesn't necessarily bear on your L&D initiatives, but it does help to develop a learning mindset and change your organizational culture. If your employees are actively looking for something new to learn every week, they'll slowly build themselves a learning mindset. They'll become more attuned to the learning opportunities around them regularly, and may even be able to support one another in development. Plus, by exploring what your employees learn on their own each week, you may be able to expand their training with relevant material focused on things they learn and find interesting.
Is there something that you're interested in learning?
Come right out and ask this. It's a great way to determine employee interests, both personal and professional, and will help you deliver content tailored to each team member. You must avoid taking a one-size-fits-all approach here.
What one thing should your manager learn?
Employees must be able to give feedback about manager performance, and one way to do that while tying in with L&D is to highlight what skills team members feel that their managers need to learn. This might be soft skills like better communication, or it could highlight a skills gap that somehow went under the radar.
How can we better support your learning and development?
Asking this question is a great way to help identify opportunities that you might have missed to support employees in their learning and development journey. Maybe it's gamification. Perhaps it's a modern LMS that can be accessed from a mobile device. It could be having someone to handle an employee's responsibilities while they complete training.
Take this information and use it to help design a better experience that ensures your employees can develop into their best selves. This is also an important part of creating a culture of learning within your organization. If you can show that learning matters at all levels, your employees will place more value on L&D initiatives.
Use the Check-In to Build a Stronger Organization
The questions we've touched on above are just some basic examples. The point of the check-in is to underscore the importance of learning and development, to identify areas where employees might be struggling, and to help put them on a path to becoming their best selves. Ultimately, with a strong fusion of performance management and L&D, you can create a stronger organization underpinned by a positive culture of learning.