CFR Part 11 Software
Electronic Records and Signatures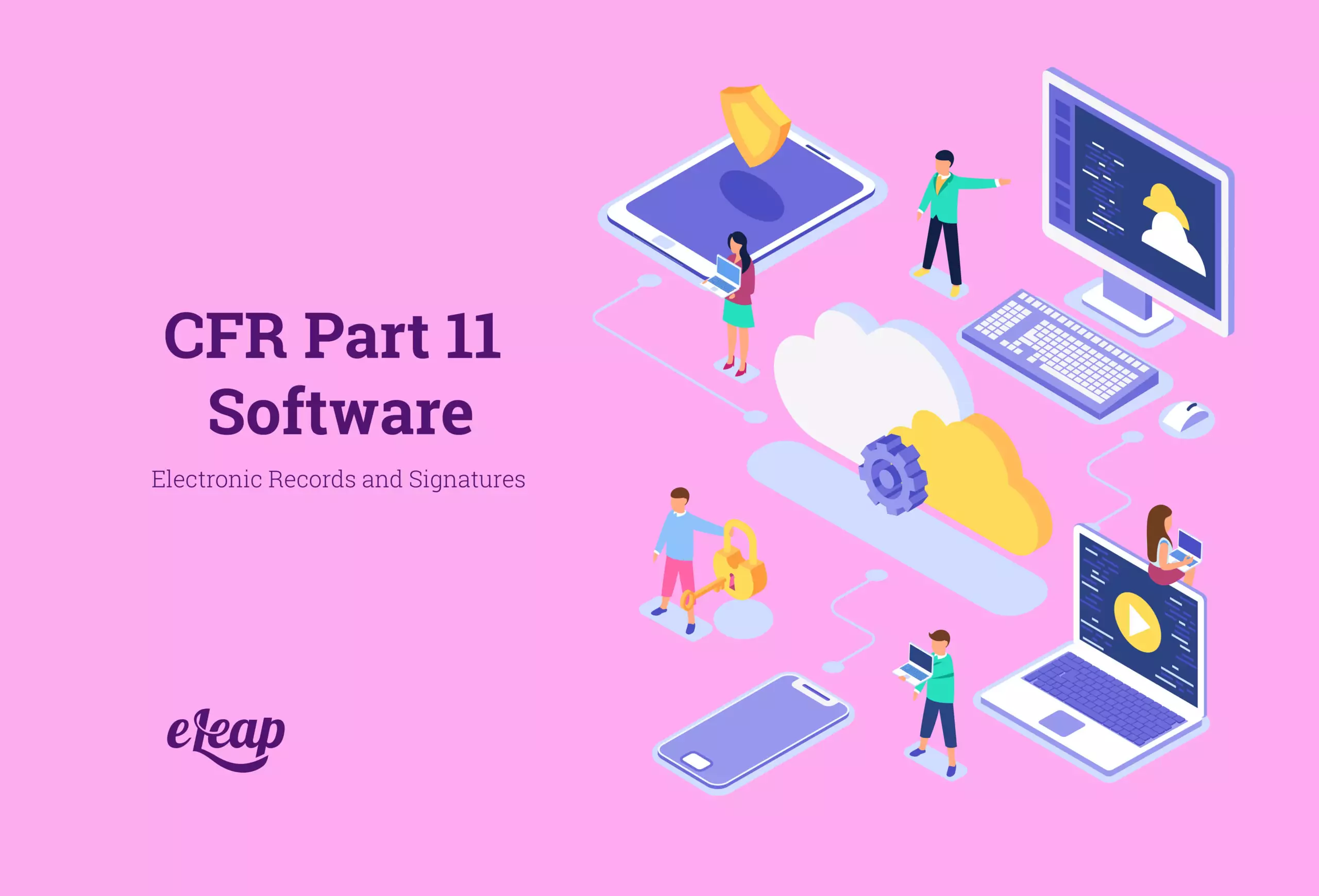 Life sciences organizations using electronic systems must check all of their software for CFR Part 11 compliance. Although many think otherwise, if the FDA requests an audit, it will not be of the software provider—it will be an audit of the life sciences organization using the software.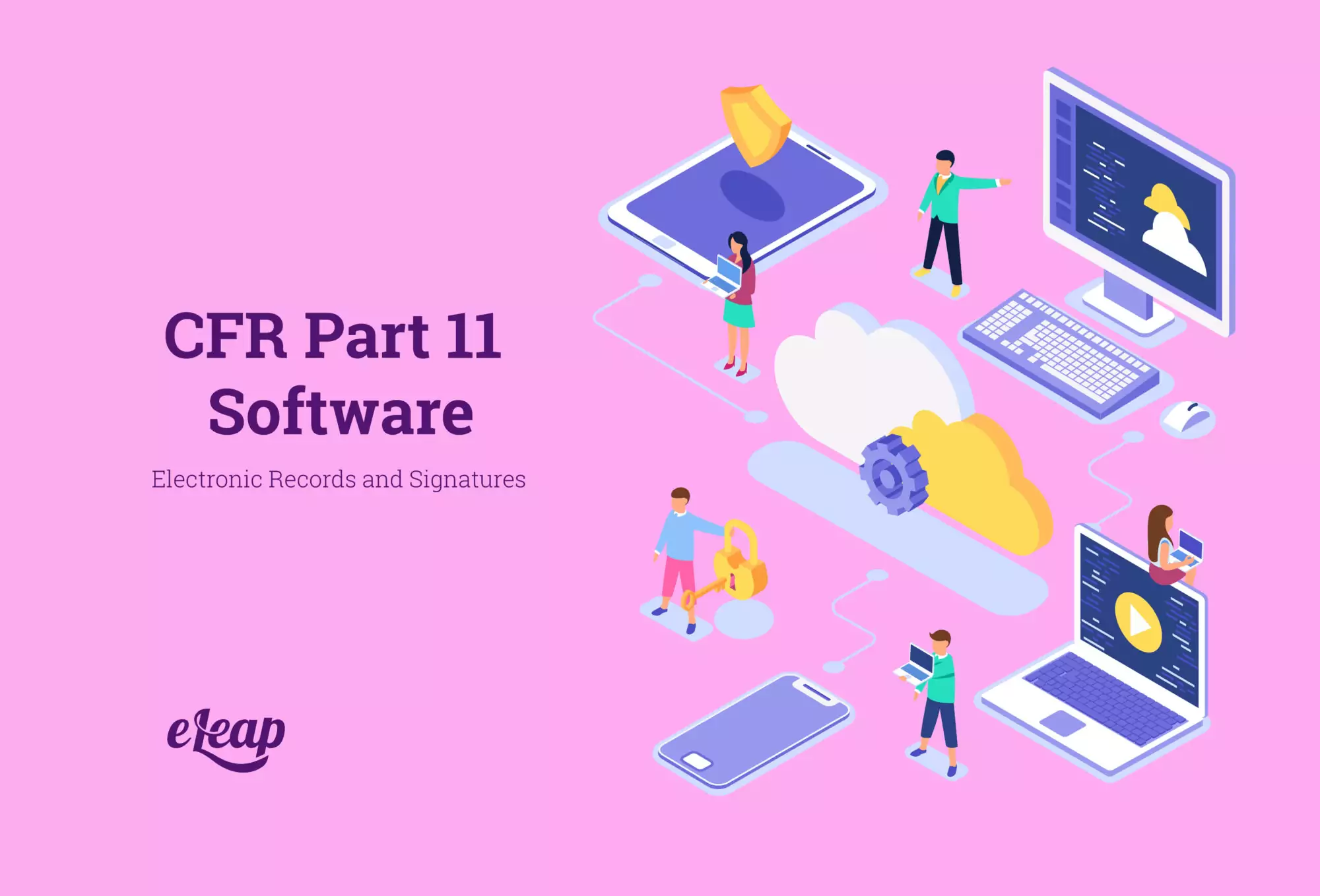 When setting up electronic systems like an LMS, employee records database, or another laboratory platform or software solution, it is crucial for companies to work with solutions that are openly and obviously meeting the guidelines of CFR Part 11 software compliance, including as it relates to:
Electronic record storage and security
Electronic signature validation and authentication
Software compliance is a topic that is on the rise, as it is expected that the life sciences software market will grow by as much as $2.55 billion through 2024. Software vendors are using SaaS-based models to enter new markets and expand their services, with cloud deployment that offers efficient, affordable, scalable solutions for all sizes and types of life sciences organizations.
Compliance is Not Inherent
CFR Part 11 software compliance is not guaranteed. Unlike some regulatory guidelines or standards, there is nothing preventing companies from launching SaaS products or other software solutions that are out of compliance with what the Part 11 mandate sets forth for electronic records and electronic signatures.
This is a standard that must be modified or added with intention. In some cases, users or developers can modify existing programs (such as Excel) to fit the guidelines of CFR Part 11 and other compliance codes. As of the time of this writing, however, most solutions do not automatically comply with CFR Part 11, nor do they guarantee it or even announce it very well.
What does that mean? Put simply, it means that it is up to your life sciences organization to choose compliant tools and ensure that you are capable of providing an audit trail and following the guidelines for electronic records and signatures.
So, What Do You Ask For?
When inquiring with software companies about their compliance and regulatory standards, you need to ask for proof of compliance with Title 21 CFR Part 11, as well as any other compliance standards that must be met. Companies should be able to produce this information to give you the peace of mind that you need. If they cannot, you should assume that the software isn't compliant.
Ask companies if their tools meet the criteria for Title 21 CFR Part 11. These include guidelines like a need for clear audit trails, password protection and data security, and even electronic signatures and guidelines as to what does and doesn't qualify as a legally binding signature. If a company doesn't advise you as to whether their software meets compliance guidelines, you should always ask.
What Should You Get?
If you're trying to make sure that you are protected under Title 21 and that your business is compliant, you are on the right track. This is your responsibility and even the software providers cannot be held responsible for your failures to confirm that all of your tools and resources are compliant.
When you are working with a company that will provide testing, validation, or supporting documentation, you will benefit in several ways. They should provide:
A compliance checklist
A certificate of compliance
Documentation of inspections and audits (passed)
This should be done for all of the electronic software systems that are used, as well as for your network as a whole. Life sciences organizations need to ensure that every aspect of their software is in compliance with the CFR Part 11 software guidelines in order to operate legally and properly under the FDA's regulatory guidelines.
A Note on Qualification
When you are qualifying or validating software and tools for their compliance, there are several different aspects that you need to consider. This statute was released in 1997, but it still delivers the basic language needed, so not much has been changed. The terms are transferable because even though they once referred to equipment, they can now be used interchangeably for software.
You'll want to check three areas of qualification on all software when it comes to CFR Part 11 policy compliance:
Performance Qualification: Is the software performing as it should? Is it processing and storing records correctly and ensuring security compliance across the board?
Installation Qualification: Has the software been correctly and securely installed, following all necessary protocols and security procedures?
Operational Qualification: Is the software capable of meeting all of the regulatory requirements of CFR Part 11 and other necessary compliance requirements?
The Rising Need for Operational Efficiency Improvements
In an industry that is expected to see so much growth, there is also a growing need for improvements in operational efficiency from an end-user standpoint. Through 2024, as life sciences software continues to enhance the performance of organizations, many companies depend entirely on this software to obtain information and create reports from them.
Another area where life sciences organizations can stand to make improvements is in the use of learning management systems (LMS). This software carries out the centralized training and management of employee data to aid in increasing compliance and operational efficiency. In turn, that will enable these organizations to remain competitive in their market.
The Software Market for Life Sciences: The Highlights
Through 2024, the life sciences industry will continue to see extensive growth in several areas, including with electronic records systems and software tools used to perform everyday tasks. Upcoming trends and changes in consumer behavior will affect the changes taking place, while the growth of the competitive market landscape will provide a more secure set of solutions for the future of this industry.
As the industry continues to evolve and grow, the factors that challenge the market for software will also evolve. It will be up to the organization, not the vendors, to prove compliance in the event of an FDA audit. Nonetheless, it can benefit everyone if vendors start embracing compliance and delivering it as standard operating procedure like we do here at eLeap. Contact us now to learn more about a custom, compliant LMS for your organization.