CFR Part 11 Compliance
Electronic Records and Signatures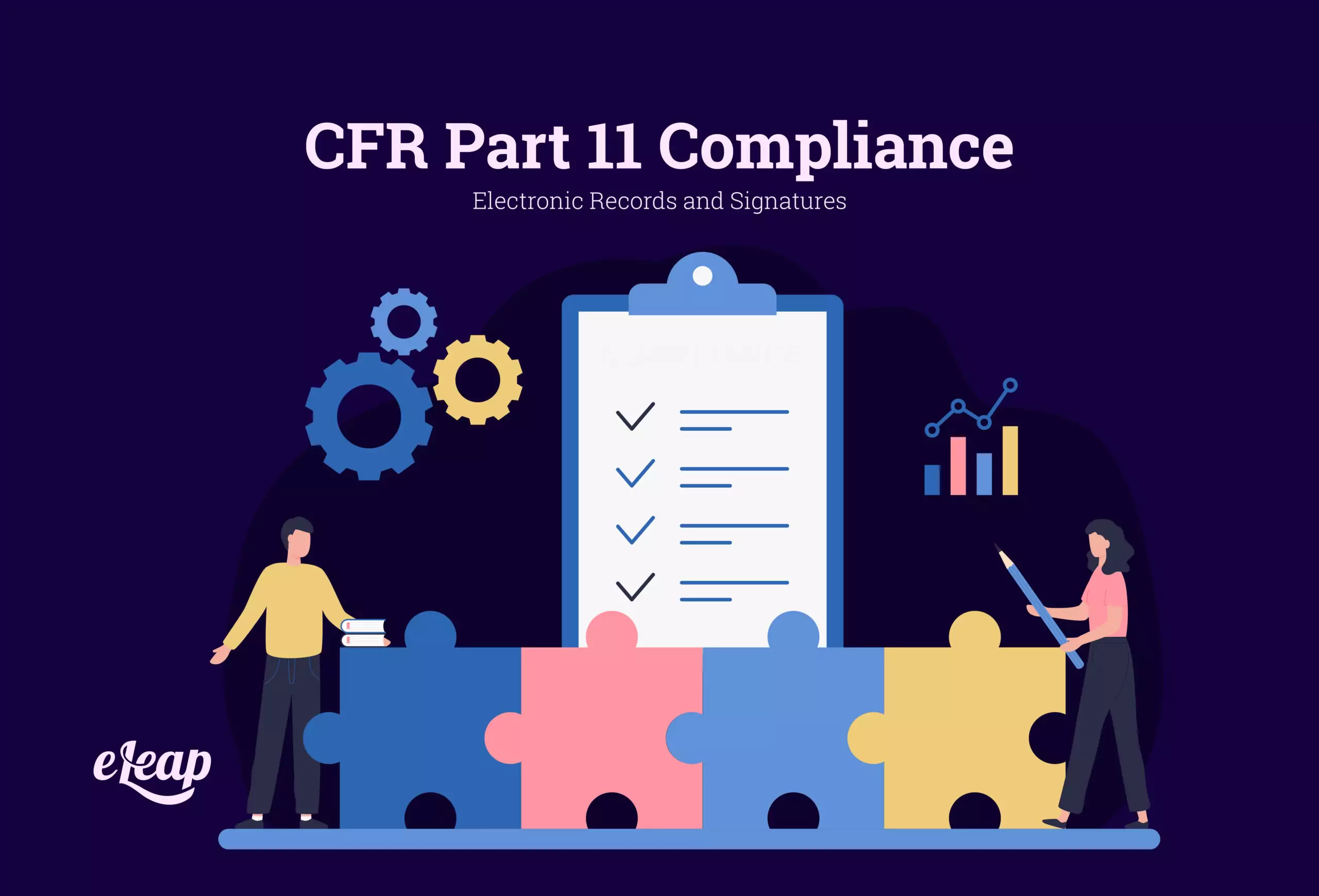 CFR Part 11 compliance is a huge issue for life science companies and it's important for everyone to be on the same page. How, though, can you make sure that your team truly understands the value of security in the digital age enough to follow the rules of CFR part 11 to the letter?
It's a tall order, even for those who are familiar with the guidelines. However, it's an essential part of your business and one that your team will need to comprehend and utilize in their day-to-day operations. That's why it's better to train everyone on data security and various tools used to provide the company with the protection that it needs.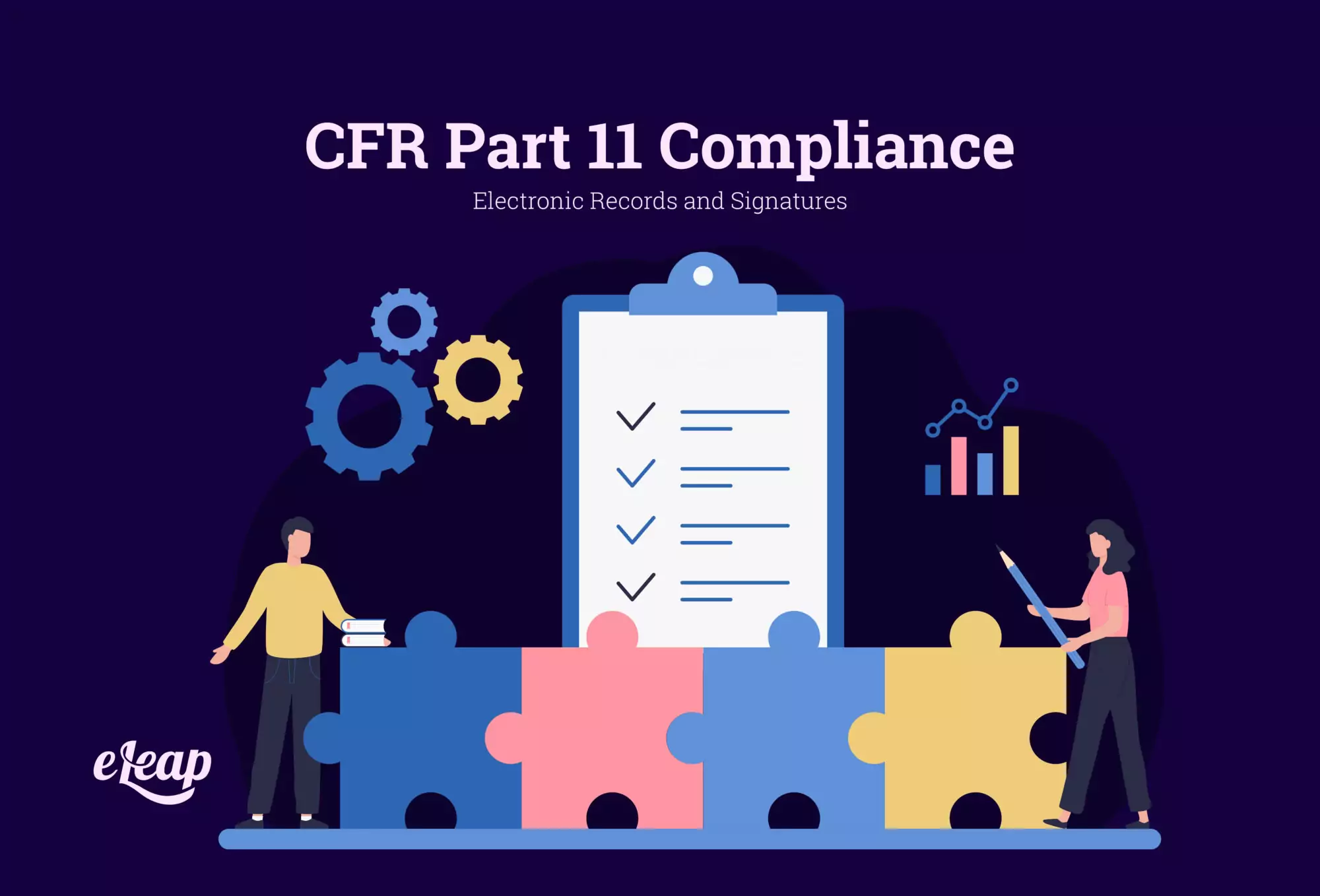 What is CFR Part 11?
For those who aren't familiar, CFR Part 11 is a section of Title 21 that pertains to the securing and regulation of electronic records, including signatures, documents, data, and more. It's a lot more complex than that, however, which is why you really have to figure out how to help your team understand it.
That starts by getting a firm grasp on the concepts yourself and fully understanding this statute and what is required by it. For example, if you have products on your own hardware, it's your own responsibility to manage that software and to ensure that the proper procedures are in place in that regard.
CFR is the acronym for "Code of Federal Regulation". The guidance in this code ensure the confidentiality, integrity, and authenticity of electronic data and signatures captured, and it's important for all researchers to demonstrate that they have software and tools that are in compliance with the code.
Now, let's talk a little more about what makes a tool or software platform compliant, as well as which features should be on the top of your list to discuss with your team.
Features to Consider for Part 11 Compliance
Although there are several different tools and software solutions on the market today, they are not all created equally. Many of them are compliant with Title 21 CFR Part 11 in every way possible, while others might lack the required compliance features for one reason or another. If you are going to invest in this kind of technology, you'll want to consider things like:
A detailed audit trail. Regulators that are performing inspections are going to need a chronological record of the goings on within the company. It will be important to use a software tool that keeps records of how, when, and how often it is used. That way, when then auditors show up, you've got all the records creating themselves automatically.
Security controls for user access. You aren't going to want every employee in every part of your software platforms. Therefore, you'll want to choose a platform that includes security features like unauthorized access detection and more. These controls make it easier for you to manage remote accounts, including data and signature integrity.
Electronic signatures. Electronic signatures are unique to each user, just like ink signatures. They are legally binding and with a system that is Part 11 compliant, users will be able to sign things electronically and have them considered to be legally binding, when done according to the letter of the code.
Being able to validate the software and security that is being incorporated as part of electronic records is a big part of the process. It is going to be up to you to figure out what type of validation is required and how it can implicate the overall success of your data security, including electronic signatures and more.
While performing research and learning about compliance, brands are going to be able to check out the software solutions available and how they are hosted. It also helps people understand data and gives everyone the secure, compliant access that they deserve.
Evaluating Your Tools
With the guidelines set forth by the CFR Part 11 rule, there are several exceptions and things to consider when setting up the proper procedures and ensuring that all software is validated and documented as being the most efficient, straightforward tool for managing products and procedures in a digital environment. You should be looking for vendors and products that have procedures and solutions in place for things like:
Logical and physical security
Backups
Disaster recovery
Installation qualification
Validation testing
Vendor auditing
When you use these criteria to explore the validation and compliance of Part 11 with the software solutions that you have in mind, it will be much easier for you to put these methods into practice and use your software and tech tools to provide data security solutions that fit the needs of your organization at this point in time.
Getting the Team on Board
Once you have taken the time to put yourself in a position to better understand Title 21 and CFR Part 11 compliance, you will be able to share the procedure and guidelines with your team. You should incorporate data security and digital or electronic signature integrity into all of your efforts and with the right tools, it will be easy to get everyone on the same page. Remember to talk to your team about the products and procedures that you have in place and help them better understand the value of integrity that comes with proper data security and compliance.
You'll have different rules to follow and things to consider depending on whether you are using software on your servers, hosted cloud solutions, or any other kind of software tools. You will also need to let your team know that each of these elements is going to impact how you comply with CFR Part 11 and your organization's overall procedures for managing that data.
It's not a challenging effort, really. It's more about being informed and understanding what this compliance means for your business and your digital efforts. When you take the time to engage everyone and share the responsibility of compliance with your team, you'll have less trouble keeping everyone on the same page when you're building your digital existence.