Understanding the Key Benefits of an FDA 21 CFR Part 11 Compliant LMS
There Are Many Benefits Offered by an LMS That Complies with FDA Standards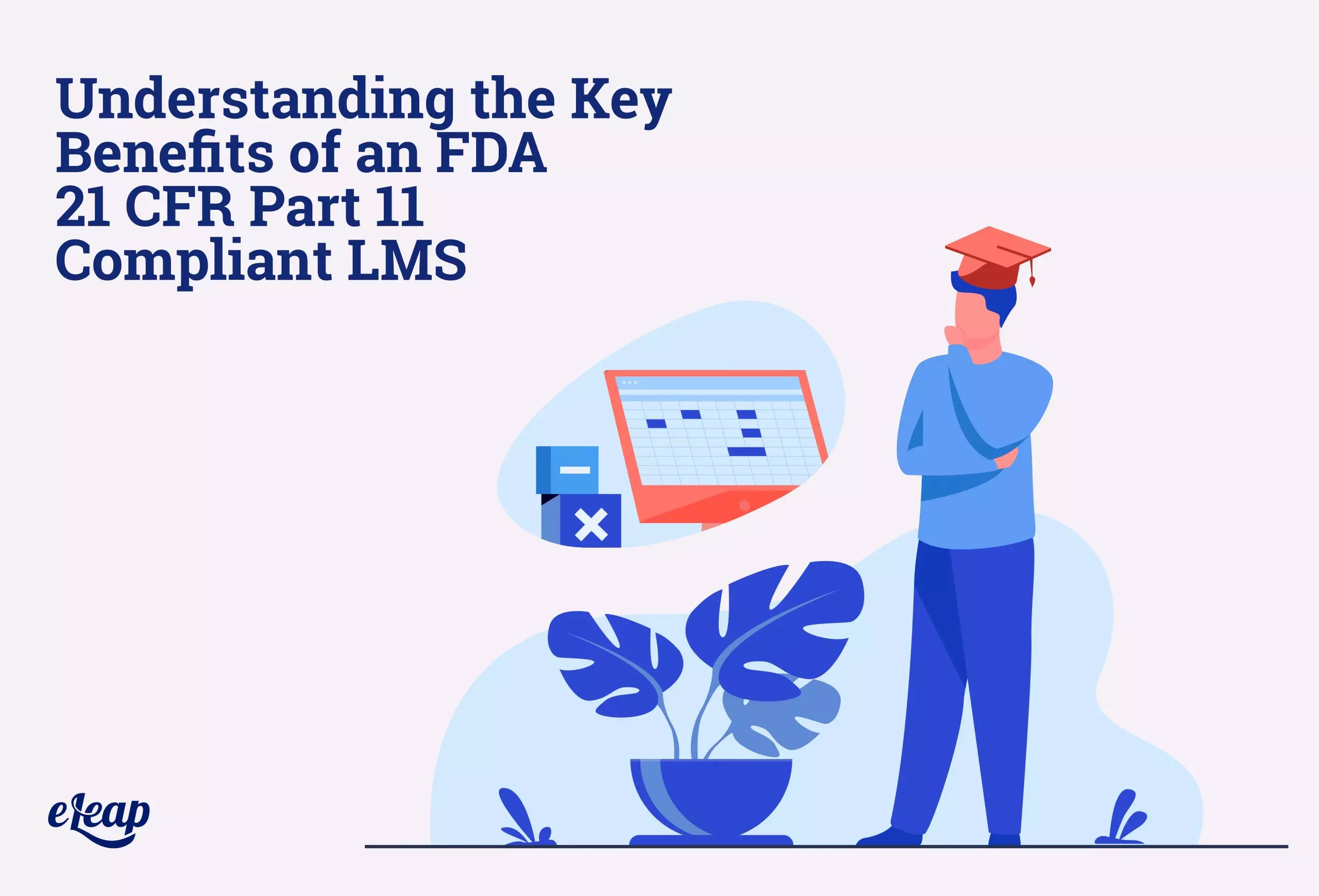 Learning management systems have advanced a great deal in recent years. They've evolved from clunky, proprietary systems to cloud-based options that offer a streamlined experience for learners, as well as numerous benefits for life sciences companies themselves. Of course, you might not be aware of the key benefits offered by a modern LMS, or by one that is compliant with FDA 21 CFR Part 11.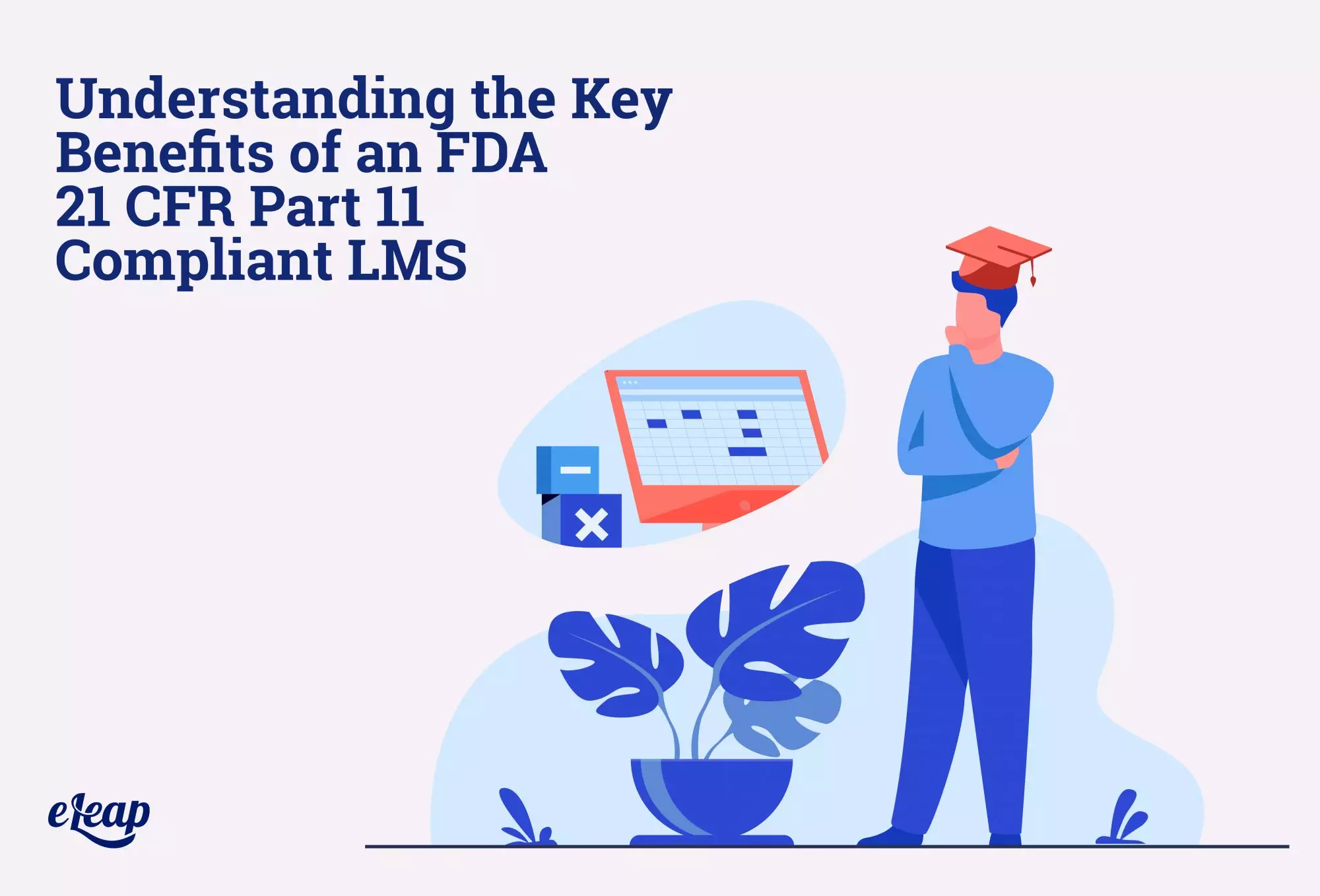 Why You Need an LMS in the First Place
Before we dive into the benefits offered by an FDA 21 CFR Part 11 compliant LMS, let's explore why you need a learning management system in the first place. What are they all about? What can they offer to life sciences companies, such as pharmaceutical firms, hospitals, or biotechnology businesses?
An LMS is designed for one thing – to make training simpler. What kind of training? Mandatory corporate training is one of the most commonly needed types. This includes things like sexual harassment training, workplace diversity training, and the like. However, that's just the tip of the proverbial iceberg. For life sciences companies, a solid LMS can offer additional capabilities, including:
The ability to develop leaders from existing employees
The ability to promote from within and strategically plan hiring
The ability to upskill employees and close skills gaps
The ability to help employees earn additional certifications
It's really all about enabling new advantages that can propel your business forward by investing in your current workforce and strategically planning your hiring. So, given that information, what benefits can an FDA 21 CFR Part 11 compliant LMS deliver? Let's take a closer look.
The Critical Benefits of an FDA 21 CFR Part 11 Compliant Learning Management System
You'll find a wide range of important benefits offered by the right LMS, but some of the most important are highlighted below:
Comply with stringent regulations via secure audit-trail and training record verifications – With the right LMS, you comply with both federal and international rules and regulations related to information security, data protection, and electronic signatures. Without that compliance, you'll be in breach and could face serious ramifications.
Manage everything under one digital roof – The right LMS will give you the ability to manage your courses, instructors, learner sessions, and individual learners at a granular level. You should have at-a-glance access to this information through an intuitive, easy-to-use interface that makes it simple to find the information you need and make adjustments on the fly.
Streamlining the entire process – Learning management can be complicated in the extreme. However, with a compliant LMS, you can streamline the entire process, particularly when it comes to regulatory and job-specific job training. Not only does that help ensure a better learner experience, but it helps ensure that you're in compliance with additional rules and regulations.
Track certifications – Specific members of your team must be certified for their roles within the organization. Other learners may be charting a course to a higher position that requires certification. With the right LMS, you can track those certifications, determine who holds what and when that certification needs to be re-upped, who needs what additional certification-related training, and so much more.
Manage your knowledge assets – Knowledge assets is a term that can cover a broad range of things, and for life sciences companies, tracking and managing those assets can be incredibly challenging. With the right LMS, you can more easily track and manage courses, quizzes, tests, videos, seminars, lectures, and more. It's all about saving time and sanity while ensuring that not only are you complying with regulatory requirements, but offering your learners the best experience.
Audit reports to make decisions – Making decisions related to upskilling, career advancement, and the like requires access to in-depth information. In older-style learning management systems, that information is often fragmented and hard to locate. With a modern LMS, you get audit reports delivered containing the most important information so you can easily made informed decisions and move your team forward.
Pre-assign necessary training – Simplify your learning management process with the ability to pre-assign necessary training based on positions, career paths, upskilling requirements and more. This can take a great deal of the burden off LMS administrators who may have had to assign training based on an individual basis in the past.
The Bigger Picture
Ultimately, a learning management system should support training and education, and allow you to develop a strong, qualified workforce. The FDA's requirements pertain to data safety and security within your system in order to help prevent data breaches and to mitigate the impact of cyberattacks. When choosing an LMS, it's important to keep that in mind, as well as how the features and functions of the system will help support your learners in their development.
Moving Your Life Sciences Company Forward
As you can see from the information above, there are some very important benefits offered by an FDA 21 CFR Part 11 compliant LMS. However, it's critical to understand that not all learning management systems comply with the FDA's mandates. Yet others leave it to you to determine what must be done to ensure compliance – that's additional time and attention that you're taking away from core responsibilities.
At eLeaP, we offer powerful learning management solutions designed for today's life sciences business. Our system is cloud-based, completely secure, and complies with all of the FDA's requirements, helping to ensure that you're able to protect data and stay in compliance. Contact us today to learn more, to schedule a consultation, or to begin your free trial!