11 Free Training Courses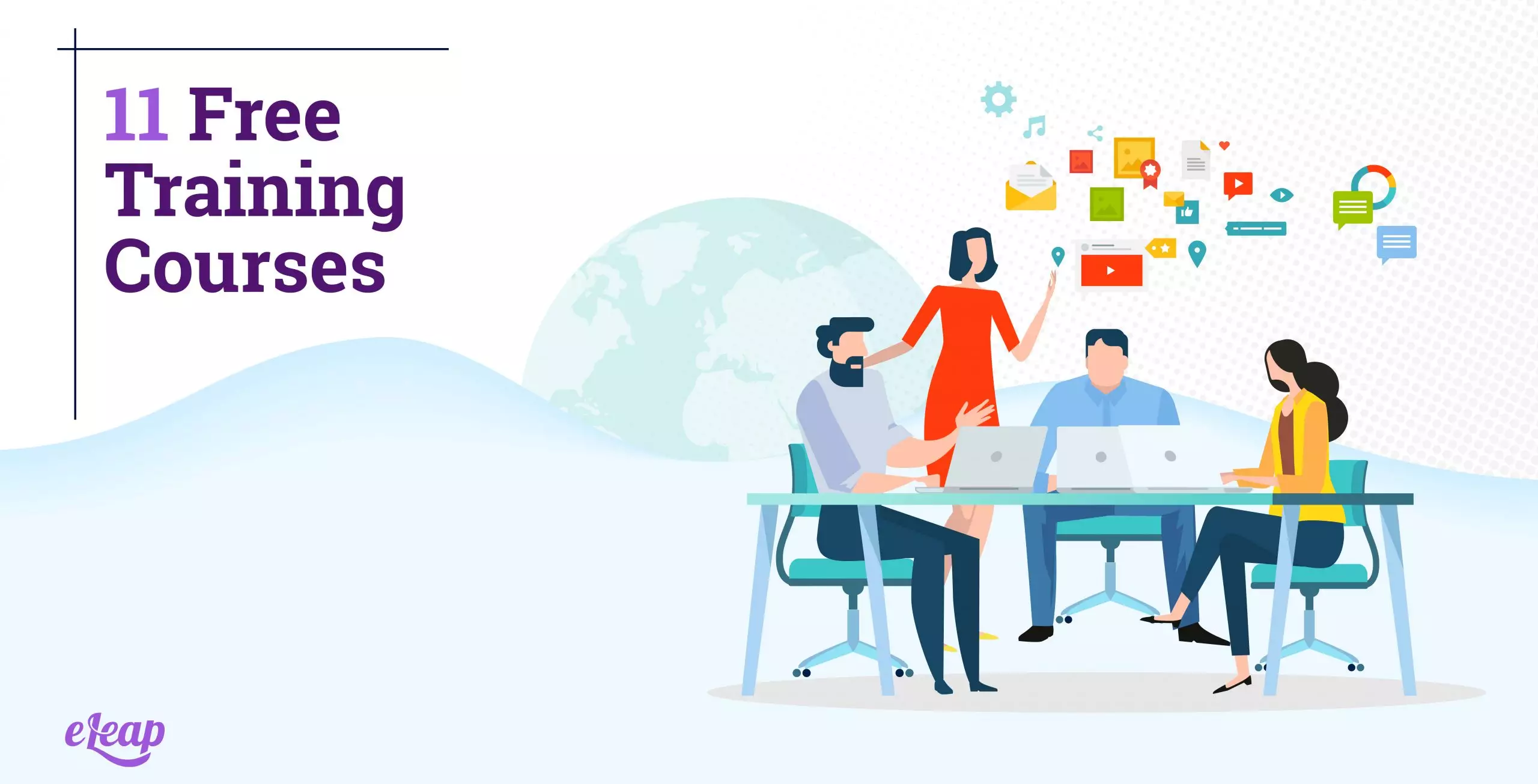 One truism that describes our present circumstance is that "things are never going to be the same". Pre COVID-19 and Post COVID-19 are probably going to enter our lexicons from now on. We know millions are losing jobs and tens of millions are going through severe disruptions in their everyday activities.
At eLeaP, we are committed to doing whatever we can to help wherever possible. Here are some recommended online courses.
Form Your Virtual Team
Lead Your Virtual Team
Legal E-Mail And Text Messaging At Work
Virtual Meetings: The Invisible Meeting
Manage Workplace Stress
Tackle Time Management Troubles
Write for Business and Be Understood
Write Effective Emails
Strike a Balance
Cyber Security For Employees
Protecting Yourself Against COVID-19 and Other Contagious Illnesses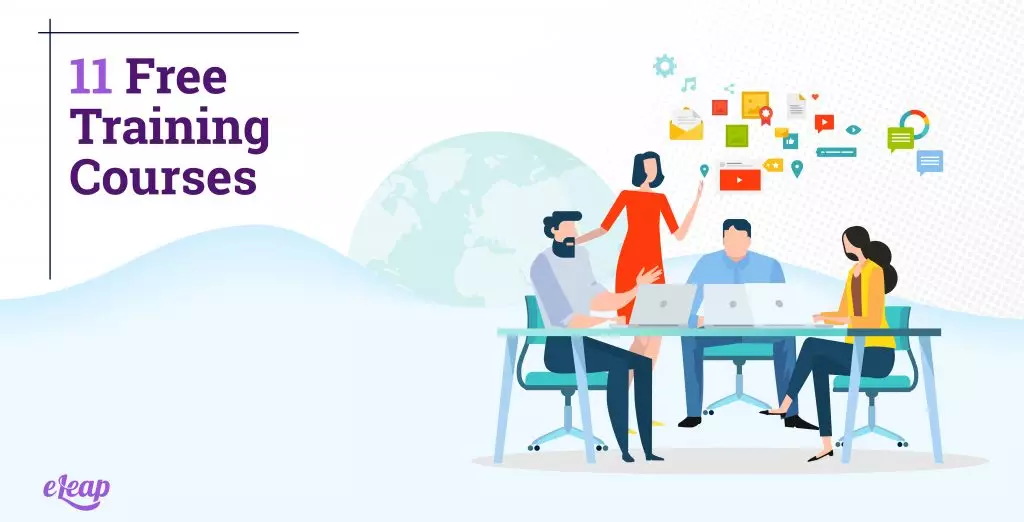 Form Your Virtual Team
There are unique challenges in managing a virtual team compared to managing a group of people working in the same office. However, with the right communication, technological tools, and teamwork you can lead your virtual team to success. This course discusses how to effectively lead a team, whether it is spread around a region, country, or the world.
This leadership training development programming shows you how to set up your virtual team for success. The course explains the importance of clear communication, trust, and how to bridge the physical distance. Differences in cultural norms, physical distance, and time zones can certainly make this process challenging, but the right leader can overcome these challenges.
Use this course to help leaders form more effective and engaged virtual teams.
1. Lead Your Virtual Team
On a virtual team, communication is the most important component needed to keep your project on track. As the leader of a virtual team, successful communication starts with you. This training for employees course covers three of the main challenges facing leaders of virtual teams. How to hold a successful meeting; how to resolve conflict, and how to coach across distances.
It is important to be able to successfully lead a virtual meeting, as they are a fundamental aspect of working across distances. Virtual meetings can be held via conference call, video chat, screen sharing service, or a combination of technologies, regardless of the way the meeting is held. You need to ensure your team has the tools to be successful. This course gives tips for scheduling meetings, creating agendas, and selecting the right technology for the group and goals.
As a leader, you will forever  have to resolve conflicts between team members. Conflict is usually driven by lake of communication this can quickly spiral out of control with virtual team members more so than with individuals working in the same physical location.
If left unchecked, conflict can easily interfere with productivity, so you will need to address it quickly. This course instructs you on how to resolve conflicts among virtual team members, including how to incorporate the three C's of conflict: cause; collaboration; and compromise.
You are also taught how to best coach your team to foster results and improve its overall skill set. Utilize the materials provided in this compliance training video and become the leader your virtual team needs you to be.
2. Legal E-Mail And Text Messaging At Work
Making mistakes with emails and text messages can devastate an employee's career and could result in liability for the organization. In a simple "do's and don'ts" manner, this course shows employees the right and wrong uses of emails and text messages. Making this course vital to every company's employee education and training program.
Focused on the hard facts about text messages and emails. This course introduces employees to the implications of the Electronic Communications Privacy Act of 1986 which covers both emails and text messages. From permanency and privacy to the "Never Send List," this course assures a full understanding of proper and legal email and text practices.
Present this course so all employees throughout the company know-how and why to use email and text messaging to avoid potential career damage and legal jeopardy.
3.  Virtual Meetings: The Invisible Meeting
Virtual meetings have advantages, such as convenience and the ability to work globally; but there are challenges too. This training course illustrates situations that hinder the productivity and effectiveness of virtual meetings and gives 6 rules to help keep everyone on track.
Viewers are shown the importance of learning management systems to cyber coordinate. This includes using scheduling software, considering time zones, providing an agenda and materials ahead of time, and getting confirmation.
Learn how to effectively handle the challenges of invisible meetings by watching this course.
4. Manage Workplace Stress
Most people can relate to stress at work or home. It carries into every aspect of our lives. This stress management training helps employees understand stress, how it works within our bodies when it occurs, and how to cope with it.
Understanding that stress can affect our body starting with "fight or flight" and how that applies to one's daily life is one step in helping maintain a resting state.
It takes practice, but the video gives pointers on how to help check stress levels and how it is affecting your overall health. Some ideas to maintain "rest and digest" include active stress moderators, such as meditation and yoga.
Everyone can use a break from stress. Take this course to learn some easy coping mechanisms to reduce stress in your daily life.
5. Tackle Time Management Troubles
Many people struggle with managing their responsibilities, especially those tasks they don't like to do. Effective time management skills are important in achieving and maintaining professional development, as well as personal success. This training course explains the importance of identifying how time is spent and teaches expert techniques to promote growth and progress.
Viewers learn the importance of setting SMART goals, an acronym for goals that are Specific, Measurable, Achievable, Realistic, and Time-bound. SMART goals help to cultivate the self-manners necessary for accomplishment. This course also teaches ways to overcome delay , interruptions, and lack of follow-through, which take away productivity.
Watch this training course to see how effective time management can transform your business and personal life.
6. Write for Business and Be Understood
From texts and emails to proposals and white papers, written communications in the workplace is vital to productivity and efficiency. And while proper grammar and punctuation are necessary, effective written communication also requires aligning the tone, style, and messaging with the appropriate audience and intended goal.
This communication training emphasizes where and how the most common writing errors happen in tone, word usage, word order, spelling, and punctuation. This course also shows learners how to prevent, recognize, and correct errors, while ensuring clarity and accuracy.
Offer this course to all employees so they can learn how, when, and why to apply the rules of written communication in all their business writing.
7. Write Effective Emails
Emails tend to be less formal than business letters, but not as casual as a text message you might send to a close friend.
This communication training helps people understand how the quality of writing in an email makes an impression on the reader.
Writing is different than communicating face to face with someone, so it is important to know how to set the right tone. This course demonstrates what information should be emphasized first. Proofreading is vital, but so is the message being sent. This training shows how to revise the message from the point of view of the recipient to make sure all the information is there.
Use this course to learn how to send well-crafted emails, which helps one communicate the desired message and demonstrate professionalism and expertise.
8. Strike a Balance
Efficient employees appear to have a grip on time and priority management. However, in many cases, their ability to hit their work deadlines is the result. Putting in more time at work on a specific task with less time available to manage other aspects of their jobs and/or personal lives. Eventually, the more neglected aspects of life make demands one can no longer ignore.
This course teaches employees how, when, and why to wisely allocate time between work/career objectives and personal life priorities so both aspects of life stay in balance.
Use this course to enable learners to adjust to their career and personal life conflicts so both aspects remain in a balance appropriate for their own goals.
9. Cyber Security For Employees
Most cyber breaches occur by way of naive employees. This training focuses on how to prevent hacking and data breaches.
One easy way hackers get through security systems is through passwords, which is why we must create strong passwords and change them regularly. This course explains how hackers get information so employees can become more skilled at protecting their information.
Phishing is another popular way hackers can get information. Opening bad files, links, or emails can sometimes give them access to your whole network.
Social engineering has helped hackers make it easier to trick people into opening a corrupt file. There are clues, shown in the training, to help employees recognize red flags when receiving emails.
Giving information on a website can also pose a risk, so being careful is important. Understanding the risks and safety requirements on different websites can make a difference in protecting data. Other ways security can be affected are through the lack of security updates at companies, wireless connections, and the use of USB drives. This course explains the best practices employees should follow to avoid being the weak link in an organizations network.
10. Protecting Yourself Against COVID-19 and Other Contagious Illnesses
Every year, like clockwork, the cold and flu season arrives and people all over the globe fall ill after becoming infected with a virus-borne contagious illness. New types of corona viruses and influenza viruses can time to time manifest and begin spreading around the world leading to local, regional and global outbreaks of illness.
The most recent example of this is the outbreak of "Corona virus Disease 2019" COVID-19 that started in Wuhan, China. Your health and wellness, as well as the health and wellness of your co-workers, friends, and loved ones. Depends on your ability to control the spread of COVID-19 and other strains of corona and influenza viruses.
This program discusses the simple and practical measures we all can take to help prevent contagious illnesses from spreading in our homes, workplaces, and communities.